Want to sell better on Walmart in 2021? 5 Steps to get more sales
Running short of time? Get PDF of the blog in your mail.

Play Now
Quick Brief: 2021 is just a blink away! While we cannot wait for this godforsaken year to be over, the new year comes with its own set of challenges. Buyer expectations will change in 2021, and old selling strategies from 2020 might no longer do their magic. In this blog, we'll take a deep dive into the 2021 market forecast, understand buyer expectations, and look into ways to sell better on Walmart in 2021 and drive more sales to your seller account.
Follow these five simple tips to improve your Walmart sales, marketing, and SEO strategy for 2021:
Think Better SEO for better discoverability
Buyers prefer Convenience over Price
Invest in more creative/new modes of advertisement
Social Commerce is the way forward
Think beyond platforms, think Omnichannel
2021: What  changing buyer expectation & increasing competition tells us
2020 has been a roller-coaster ride, which seemed to be going down a lot. However, as 2020 takes its last few breaths, the entire world waits for the new year with hopeful eyes. 
2020 forced people inside their homes, thrusting mom&pop shops into the competitive online world.  This completely changed buyer expectations and behavior.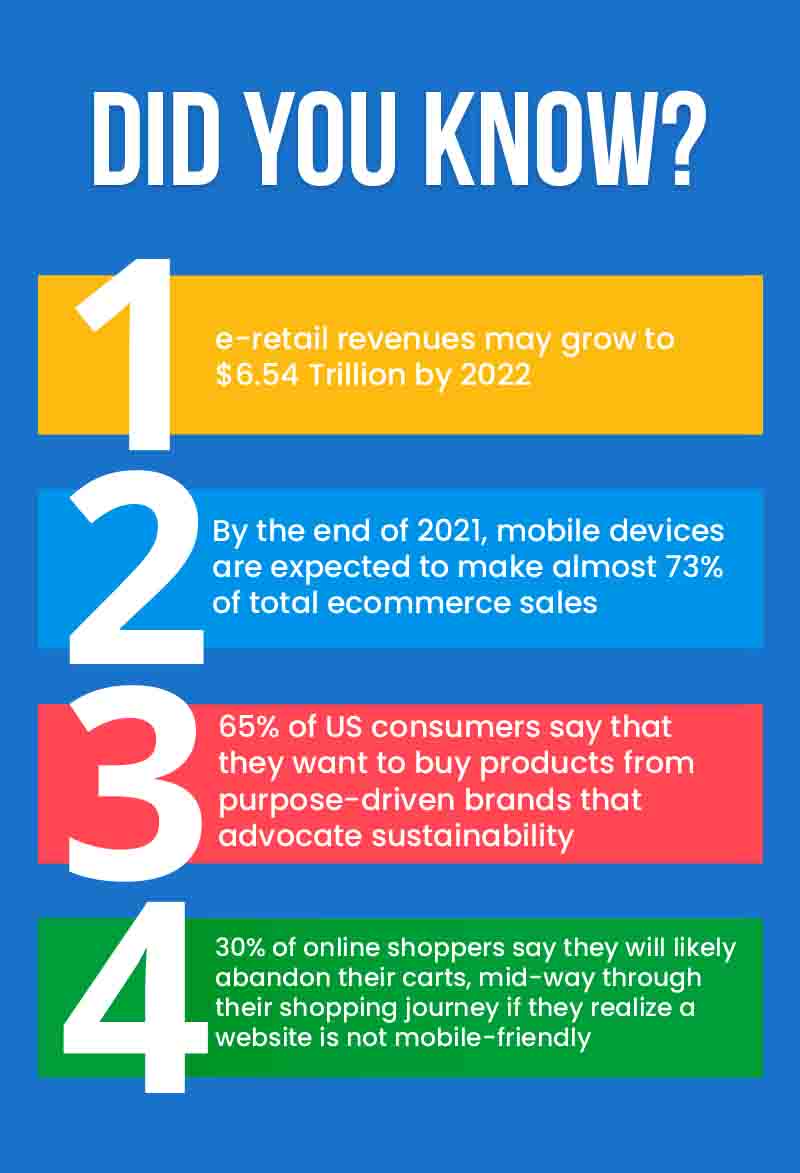 Also Read:
In 2020, the e-commerce industry saw a radical change in buyer priority:
According to market predictions, by 2022, e-retail revenues may grow to $6.54 trillion, $3.53 Trillion up from 2019.
Shoppers prioritized convenience over price, with 66% going with convenience and 47% with the price.
73% of respondents of a Harvard Business Review survey said they use various channels during their shopping journey (4 years ago!), and the number will only increase in 2021.
Another survey shows that by the end of 2021, mobile devices are expected to make almost 73% of total e-commerce sales.
30% of online shoppers say they are likely to abandon their carts mid-way through their shopping journey if they realize that a website is not mobile-friendly.
A general focus was laid on sustainability. 65% of US consumers said that they want to buy products from purpose-driven brands that advocate sustainability.
Social Platforms presented huge marketing opportunities, while Social Commerce became the newest rage.
Almost 66% of sellers and brands increase their ad investment in the Walmart Media Group.
Current market surveys and research reveal that just investing in social media marketing won't cut it for 2021. Sellers will have to focus on Product Display Pages, Optimizing for different devices, and catering to different audience types and generations.
What does this mean for Walmart sellers?
This change in shopper behavior suggests that radical changes are required to improve seller strategies, regardless of the platform. Walmart has been ahead of the curve, already introducing tools to help sellers focus on what's crucial.
These include- a new Listing Quality Dashboard for improving product discovery through a strong SEO strategy. Post Purchase Quality for customer feedback, Message Alert for seller-buyer communication, and Walmart Fulfillment Service for faster and cheaper delivery.
Even after the countless measurements introduced by Walmart, it's the seller's responsibility to find the right tactics to strengthen their brand. Hence, we have combed through all corners of the internet to find full-proof strategies that help sellers drive more sales. 
Walmart Sellers can follow these 5 steps to drive more sales:
Think Better SEO for better discoverability
Walmart has brought significant focus on listing quality and product display pages. However, to stand out from the competition, sellers need to improve their SEO strategies for 2021. This includes- revamping the product display pages with more detailed and in-depth information.
The richer and informative a product page, the better are your chances of conversion. Market predictions reveal that 63% of shoppers who visit Amazon or Walmart.com visit these sites for initial product research. Make use of Walmart's new Listing Quality Dashboard and ensure that your product can surpass the competition to stay more visible.
Buyers prefer Convenience over Price
Market predictions also reveal that 66% of buyers choose a retailer based on convenience, while only 47% prefer a retailer based on price/value. What does this mean?
This means that the buyer is looking at your shipping speed, listing image/description quality, your return policy, ease of buying products, and even taxes when deciding item prices. Complicated shipping, added taxes, barely-visible images, or over-the-top return policies can turn off buyers. Focus on making the buying process seamless. Enroll for 2-Day 3-Day delivery, choose clear-precise policies, and pick high-quality images.
Invest in more creative/new modes of advertisement
It's smart to advertise with Walmart reaping the benefits and the reach of Walmart Media Group. However, it is essential to promote on other, newer platforms as well. Research also shows that 54% of shoppers, who are exposed to advertising, say that it helps remind them of something they need or prompts an idea for something they want. So invest in social media advertising, influencer marketing.
It is also advisable to pick the platform according to your audience type and create content with the same in mind. Often- each platform has its special requirement and creating generic content only turns off buyers.
Podcasts and OTT platforms have also come up as alternate and more creative marketing options. It is also advisable to invest in them.
Social Commerce is the way forward
As more and more people turn towards social platforms such as Instagram, Facebook, and Tik-Tok, it becomes essential to keep Social Commerce in mind.
To increase sales, it is crucial to think beyond Walmart and expand your Walmart store to popular social platforms. Instagram shopping is gaining momentum every day, and it is essential to onboard that ship while still afloat.
Recent studies reveal that 59% of online purchasers are aware of social commerce. So club social media and influencer marketing with social commerce, and you'll have a strong sales pitch along with a vast audience to cater to.
Think beyond platforms, think Omnichannel
With the fierce and brutal competition marketplace sellers face each day, it is vital to be present on as many platforms as possible. Omnichannel is the path to the future.
Although there's no such thing as a perfect omnichannel sales strategy, try to inch as close to one as possible. Aim for a marketing strategy that is constantly pushing and reminding buyers of the product. Mark your presence on all notable platforms, invest in advertisements, and use traditional marketing strategies such as email marketing.
Just make sure you showcase a strong and integrated brand presence across all platforms your target audience is likely to be on, thus establishing a connection with them every time they get online.
What we're saying is
The world of e-commerce is evolving, and sellers have no other choice but to evolve with it. Incorporating these simple sales strategies into your everyday selling strategy will ensure better results for 2021. Walmart sellers will especially find this easier as Walmart itself is bringing- Listing Quality, Robust Campaigns, Fast Delivery, Post Purchase Quality, and an outstanding Customer Review to the center-stage. These five seller strategies will ensure that your Walmart store drives more sales and conversions in 2021.