"How do I advertise with Walmart"[sponsored ad] : Get more sales
Running short of time? Get PDF of the blog in your mail.

Play Now
The introduction of advertising campaigns such as Walmart sponsored ads has put an end to the query of years, "How do I advertise with Walmart."
Watch this video that covers all the important aspects of Walmart sponsored ads which can drive your sales:
These ads help your products to appear in top-searches. Thus these are compatible with the site search feature of Walmart. Walmart products ad have increased product visibility, thereby driving targeted traffic to the promoted Product Listing. With Walmart products ad, get your brand noticed and drive incremental revenue.

Source: Walmart.com
By the end of this blog, you will be well-versed with all the major aspects of Advertising on Walmart.com, which are as follows:
Let's begin!
What are Walmart Sponsored Ads?
Walmart Sponsored Ads are displayed across Walmart.com to highlight your Product Listing and drive traffic to your products. Walmart takes special care of the "buyer's intent" and has designed its Walmart ads to allow sellers to reach their desired products within a short span of time.

Types of Walmart Sponsored Ads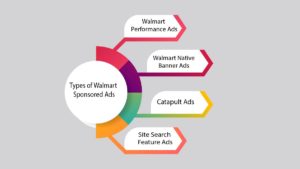 Walmart Sponsored Ads are of the following four types:
Walmart Performance Ads
Walmart Native Banner Ads
Catapult Ads
Site Search Features Ads
Let's dive into each of the four types of Walmart Sponsored Ads:
1) Walmart Performance Ads: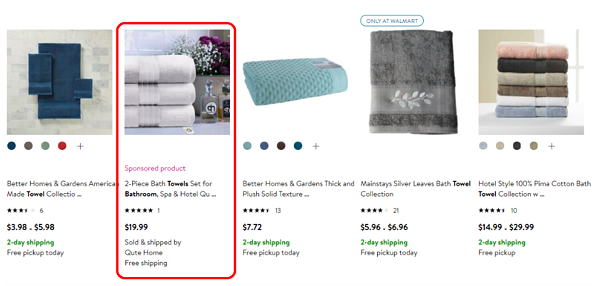 Source: Selleractive.com
These ads depend on Walmart's Internal Search Algorithm and do not demand the sellers worry about the keywords. It is a Pay-Per-Click advertising option dedicated to driving sales for a Walmart seller.
2) Walmart Native Banner Ads:

Source: webfx
If you are looking to increase brand awareness, you can partner with Walmart Media Group to run the Walmart Native Banner Ads. These ads generally appear at the top of the product categories.
3) Catapult Ads:

Source: webfx
These are the ads that are designed for marketing or promoting a specific product. These ads require the sellers to mention the relevant keywords in the product title and description. Such ads appear with the "Featured Item" tag.
4) Site Search Features Ads:
These ads promote your products on a related product page. Then click on the site search feature takes the visitors to the page that displays all of the products.
It is apt to run these ads to drive sales and increasing brand awareness simultaneously.
Source: webfx
What are the benefits of Walmart product ads?
Advertising on Walmart.com can be advantageous for sellers in the following ways:
Increased Visibility:
Promoted Product Listing rank high in the search results due to the authority they yield through the Walmart performance ad. This ensures more people viewing the product and clicking on it. Besides the Organic Search Results, the Product Listing appears on Homepage Banner Ads & category pages. It is prone to be seen by the maximum number of visitors.
Examining New Products:
When a seller introduces any new product on Walmart, gaining popularity in the absence of advertising campaigns can be tough. With Walmart products ad, it is now easy for any newly introduced product to be seen. Therefore, its performance can be easily tracked by analyzing the number of repetitive visitors and purchases.
Return On Investment:
Walmart products ad provides a sort of internal assessment of the type of customers buying your product to always have targeted marketing. This saves a lot of your money which would otherwise be wasted if you would go for google PPC ads, which would include traffic that may or may not be interested in buying your products. What Walmart-sponsored products mean to a customer is significantly visible from the impact it has on the ROI.
Seamless Customer Experience:
Apart from helping sellers to have traffic with 'intent of purchase', Advertising on Walmart.com also helps visitors shorten their purchase path. This enhances the Consumer Experience, causing them to buy your products repeatedly. Such Advertising campaigns also help you analyze and understand how the site search features of a marketplace work.
How can one check eligibility for Walmart Sponsored Products Program?
To confirm your eligibility for the Walmart Sponsored Products Program, you need to mail the following information at wpasales@walmart.com:
Company name
Legacy Seller ID
Tax ID
Seller Center Admin Email (the primary email address and/or admin email address for your Seller Center account)
Once you get approved, Walmart Media Group will onboard you, and then you can easily log in with your Seller Center credentials to manage your Walmart Sponsored products.
What do Walmart-sponsored products mean?
Walmart-sponsored products mean that Walmart promotes the products to appear with the "sponsored" tag. These products gain a lot of traffic since they are visible to many customers. These products are the ones that contribute majorly to a seller's ROI on account of the higher Click-through-rate that they get.
What is the difference between Walmart's Self-Serve Platform and Walmart Managed Service Program?
As the name suggests, the basic difference between both the program is of the authority managing it. In the Self-Serve Program, you manage your ads, while in Walmart Managed Service Program, Walmart largely takes care of your promoted Product Listing.
Cost of setting up Walmart Sponsored Ads
For the Self-Serve Program, you commit to a minimum of $1,000 monthly spend, with a $100 daily cap, while in Walmart Managed Service Program, you require a minimum budget of $100,000. Walmart Managed Service Program provides the extended support that you may lack in the Self-Serve Program. However, the Self-Serve Program is good, to begin with.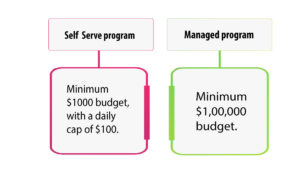 What are the Important Tips for Creating Walmart performance ad Campaigns?
Each campaign must have at least one ad group
Each ad group can have a maximum of 2,000 items
Your bidding strategy is determined at the campaign level. For example, a Manual campaign will only have Keyword Bidding Ad Groups.
You will be able to enable/disable an ad group after the campaign has gone live.
The sum of the total budgets across all ad groups within a campaign must be equal to or less than the total budget of the campaign
The sum of the daily budgets across all the ad groups within a campaign must be equal to or less than the campaign's daily budget.
The rollover budget at the ad group level will be added to the daily budget at the ad group level.
Why is 2021 the best time to make use of Walmart products ads?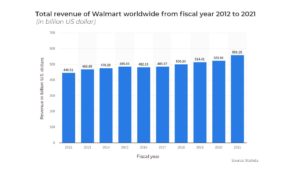 The above Walmart Revenue graph clearly shows that Walmart, majorly, has been increasing its earnings over the last several years.
Thus, too many products for yours to get noticed. Right? In this scenario, the promoted Product Listing grab the desired attention of nearly 250 million customers.
Want assistance in running Ads for your Walmart products? Click Here.
To Sum Up
Walmart sponsored products ad can provide you with the required visibility in more than 23.5 million product in Walmart's worlds. For successfully Advertising on Walmart.com, all you need to do is make a wise choice between Walmart's Self-Service Program and Walmart's Managed Service Program (whatever suits your budget), check for your eligibility, and get started. It's your chance to rule the Walmart Marketplace.