8 eCommerce lead generation strategies to get more leads
Running short of time? Get PDF of the blog in your mail.

Play Now
An eCommerce business revolves around generating leads. Once it is ready, the next thing is capturing leads for creating interests in them. This will be done by applying strategies for lead generation in eCommerce.
But what are those strategies? What are the tactics of urging them to join your website? Let's discuss those effective eCommerce lead generation strategies. But before discussing the same, why don't we clear the concept of lead generation?
What is lead generation in eCommerce?
In an eCommerce business, lead generation is creating an interest in visitors of your eCommerce website and encouraging them to enter their details to know more about it. In other words, it is a way of attracting a particular type of audience for the purpose of selling products.
For example, you manufactured a football mainly for people who play football. After finishing up the creation of football, you would want to call or tell those people that you have created this football for them and it is for sale. How will you do that?
You will make attractive banners, create awareness by uploading it to your online store or displaying it in your shop, and put up an advertisement for it on different social media platforms like Facebook, Twitter, and Instagram.
Didn't start your own eCommerce marketplace yet? Start one now.
Now, any person looking to buy a football online will, in the end, land on your website via these sources or search engines.
After reading the information about your football and the website, he decides to sign up on it to proceed further in the buying process. 
In other words, he has generated an interest in your product and is likely to buy in the future. Hence, you were successful in getting a lead via the awareness you created. This entire process conducted in a business is called lead generation. People working for their eCommerce business implement various effective strategies for generating leads.
What is a lead generation strategy?
Lead generation strategy is carving out ways of creating an impression upon visitors who are showing an interest in your website. They further want to know more about its services.
The motive of an eCommerce businessman is to convert these visitors into a lead. In other words, he is generating a lead. A lead is a person who decides to enter his necessary information like email and address to know more about your services. This is the second step of a buyer's journey; the first being the visitor forming a brief idea of your services.
Effective eCommerce lead generation strategies
A lead signs up an eCommerce website within sixty seconds on an average if he or she has a credit card nearby. Considering this average time, these effective eCommerce lead generation strategies mentioned below can help you get leads within 'sixty seconds'.
1. Conversion rate optimization
You need to optimize your website to convert visitors into leads. This is done by eCommerce conversion rate optimization. It helps you to give results about how the content in your eCommerce website is performing.
This optimization tells scores of visitors who are taking an interest in your website. You even get to know the details they enter to fetch more information about your eCommerce business. They may even be serious visitors who want to buy your service immediately.
Talk to our expert in e-commerce business.

Conversion rate optimization is the way of analyzing elements in your website that are generating more eCommerce leads.
It also analyses those pages that do not convince to-be leads to take action on your website and tells you that this page needs to be optimized well for the average conversion rate.
Experts define the average conversion rate in an eCommerce website to be between 1% and 2%. For securing this percentage, the things set for conversion are online sales, ads, emails, product pages, an educational blog, a newsletter, and much more. These things will help lead generation in ecommerce.
2. Make an attractive homepage
Your website's homepage is the first page visitors land before they decide to become your leads. Therefore, it should be impressive and organized to gain leads quickly. We can study from popular online stores how their techniques proved favourable for making their homepage valid and informative. Let's take a look at the website of a renowned online store exclusive for watches- Titan.
When we opened the website for the first time, we observed that it has a slide of banner images. It is giving an idea of what the website consists of. This visual representation tells the visitor about the standard of the company.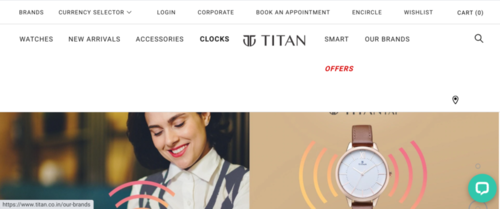 As we further went down, we see the types of watches for every visitor. This strategy let leads to decide what kind of watch they want. The website also categorized top-selling watches according to gender and age group like for men, women, and kids. Apart from categories, the website is showing its rating to build trust and is displaying watches in trend and top-selling watches.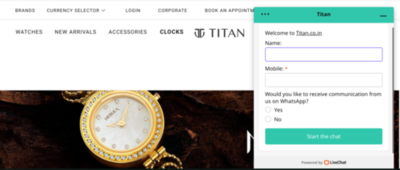 Image Source: Titan.co.in
It also has a chatbot for leads to solve their queries immediately. The chatbot has fields for name and mobile number and asks for a communication device. This chatbot is also an effective way of lead generation in eCommerce.
Looking at the example of Titan's website, we learn that an ideal eCommerce website homepage should build trust in the mind of visitors by displaying how people are satisfied with their service.
We have also learned that the listing of top-selling or trending products and banner images play an important role in narrowing down needs of visitors and strengthen their decisions of signing up for your website.
3. Optimizing your website for search engines.
Think about words that your future leads type in Google's search text box while looking for a product. For instance, they want to buy a new laptop. They will probably type "latest laptops in 2020." Will your website come up in top results when they enter this phrase?
It will appear on the first page of Google if it has ranking keywords. These keywords help in bringing leads to your eCommerce website. In other words, optimize your website for search engines.
The high amount of traffic is one of the primary reasons for getting new leads. A study by Outbrain shows that search is the number one driver of traffic in eCommerce. Key tips for making your website optimized-
Determine thought processes of leads– Analyze the intention of your target users behind their search. If Anna wants to buy a pair of gloves and many websites are offering types of gloves, then she will do research and compare the sites. In that case, your website should appear for comparing it with other top sites offering similar gloves. How will that happen?
Long-tail keywords– Imagine she is searching for gloves to wear in winters. Her probable search words will be classic gloves for winters. Then the top results on search engines display "Classic Fashion Gloves, Winter Gloves' from the Amazon website. This phrase is called long-tail keywords. These keywords give serious leads. They are not common keywords that your competitors are still not ranking for. The traffic drawn through this keyword is more committed and more desirous of your service.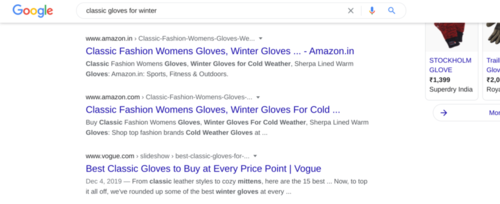 Image Source: Google.com
Optimize the webpage– Include keywords in the content of web pages. Making your page optimized for search engines helps new leads to easily find you.
Optimizing your website is one of the basic eCommerce lead generation strategies.
4. Develop your reach on social media
Having a social media page is crucial for lead generation in eCommerce. This is because the number of social media users reached 3.81 billion in 2020. It is an increase of 9.2% year on year since 2019.
This enormous growth is promising billions of leads on your social media page in the future. But you should put your efforts into bringing those 3.81 billion and more on your page too. How?
The answer includes creating an attractive page for your eCommerce business. Make sure it is regularly updated. Update the latest discounts you have placed on your products, the giveaways you have planned, new product launch. Upload its videos or blog posts your content writing team wrote.
Other than your eCommerce page, social media platforms like Facebook offer advertising options. It has options for designing an ad based on information like age, gender, location, interest, career, and education. The algorithm of ads recognizes the target users through such information. They appear on the social media page automatically.
You can see how impressive is the way Wayfair used Facebook's carousel ads. The carousel ads feature lets you display up to ten images of your products.
Instead of products, Wayfair showed the benefits of shopping on it. For example, free shipping over $49. They are using this strategy to give a brief account of their eCommerce business. This technique of theirs is proving to be successful with an 88% higher rate of click-through and 20% lower cost per acquisition.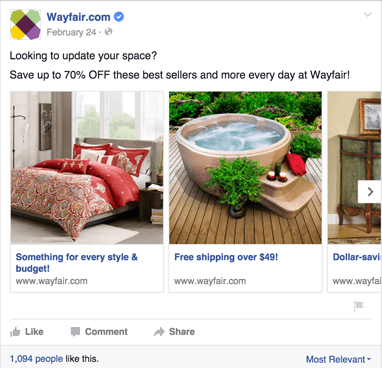 5. Organize giveaways on social media
People are always looking for shops that are giving something for free or at a low price. Therefore, holding a giveaway would be the best way of catering to their likes. Giveaways guarantee lead generation in ecommerce.
You are giving away some of the products from your end and the winners do not have to pay from their pockets. Participants might get impressed by the products you gave and can prefer shopping from you in the future. A giveaway pleases a huge crowd and your page is reaching more new leads through it.
Connect with us to begin your journey of creating an e-commerce business.

These days, businesses are simply asking their followers to tag as many friends as they can on their page. Those friends will like or follow their pages.
While hosting giveaways, you can even run a contest and ask your audience a few questions. They are fruitful not only for lead generation but also for eCommerce lead nurturing too. Here are a few tips to plan your giveaway-
Determine your target audience.
Prepare a questionnaire asking people about their interests, work, company name, company type.
Keep a prize relevant to your target audience. For example, if you have B2B eCommerce, give a laptop to the winner.
Display the prize you will offer on the giveaway poster. Indicate an email address bar for interested participants to enter their email address.
6. Use cookies to generate leads
Leads looking to get an idea of the product on the internet will visit your eCommerce store to collect information about the product.
When they complete viewing your website and close it, the very next thing you can do is making it appear on another website they are currently viewing.
For example, they have already viewed your website but in case they forget, you can recreate them as your leads by appearing on their social media profile.
This job is done by cookies- visitors viewing your website, the website tracking their activities, recognizing them, cookies getting saved on their browsers, and those cookies helping your website to appear on their social media profiles.
A cookie is a small text file that is stored in the memory of web browsers. When leads view your website and its related pages, the cookies save those details in their web browsers. They are often returned to the original site at subsequent visits or to a website that recognizes these cookies.
Cookies are useful because they allow a website to recognize devices of users. This information is not provided spontaneously but leaves the trace of users browsing their internet.
Your website can track those cookies and gather information about the leads like the place from where they are browsing. By tracking the site they have viewed, you can analyze their interests, the type of products they are viewing, their preferences.
A cookie helps your eCommerce website recognize devices through which users are browsing your website. Cookies help users to redirect your website by clicking on ads created by you. These ads appear on other sites they are viewing recently.
Ads speak about products they are viewing before. This event affirms their interests and they might return to your website.
7. Alert your leads with push notifications
Sending alerts to visitors about your business's presence in the market is also a powerful way of generating leads. The medium of alerts can be email, SMS, or push notifications. Push notifications are more effective than any other medium of alerts. They do not take a second in catching visitors' eyes.
Most eCommerce websites seek permission from first-timers to send them notifications. If they are interested and click on allow, then they receive notifications. In the end, leads are generated in this way too.
Visitors did not turn into leads yet unless they sign-up your website. Thus, only asking them for notifications will not work. Sending them flashy notifications that are relevant to their interests will spark a thought about your website in their minds.
The notifications of your eCommerce store should be compatible with all devices like mobile phones and desktops.
Browser push notifications work the best in case visitors are viewing the website version. As long as the website is on, they will see notifications if they permit. Unnecessary and irrelevant alerts can drive them away.
So, make sure not to spam them with such alerts. Continuous alerts are disturbing visitors while they study your website's homepage.
Notifications can consist of the latest products, discounts on them, the festive season offers, texts that create a sense of urgency. Notify your visitors about a flash sale that is scheduled for a day because it alarms them to register themselves immediately.
8. Let leads perform an action using CTA
Call to action or CTA is essential for converting visitors into leads. It opens a gate to your website for them. The phrase 'Call-to-action' means providing them with an option to take any action if the services of websites seem good for them. They tap on calls to action like 'learn more', 'sign up' or 'enter your email address' to become leads. These calls let them enter their contact details on an eCommerce website.
The calls to action serve different purposes to webpages of an eCommerce website. Like a product page has 'save to list' as call-to-action. Visitor click on this call to save products they are viewing. They can consider those products later.
The fact also brings to light that the 'save to list' button is also one of the effective eCommerce lead generation strategies as they are showing an interest in your eCommerce business.
Now, the question comes to mind: "how to frame a catchy call-to-action phrase?" The phrase usually has up to three words such as 'add to cart'. It is in an imperative form to sound like you are ordering something.
In eCommerce, 'Buy now' and 'add to cart' are examples of commonly used imperative phrases. These CTAs are not commanding rather they are more effective than their alternatives. You cannot use 'Download'. Instead, use 'Get your free ebook'.
Whatever CTA for eCommerce you create, it should match with the environment of the webpage It should be serving its exact purpose. The website of Airbnb is the perfect example of CTAs. Its homepage tells leads to go to a new, cool place that is close to their residence. And then included the CTA 'Explore nearby'.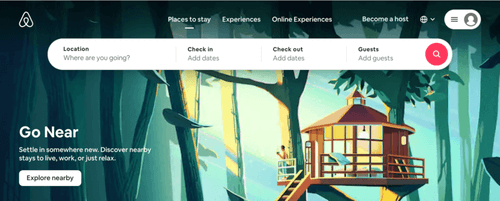 Thus, CTAs like Airbnb's are useful for lead generation in ecommerce business.
Conclusion
Effective eCommerce lead generation strategies are vital for every eCommerce business person. These are driving traffic to it and giving a huge profit in it. You mainly have to optimize your website for leads to turn into customers.  It should be engaging too.
By having an engaging website, you can grab the attention of your target audience. Even a person who is looking for something extraordinary can find that thing in your store. It does not match your competitors and make you unique that presents your website as an exception.
Also, if you are willing to create your own eCommerce business, you can read our guide here.