What is Multichannel Retail? [ Advantages, Disadvantages, and Touchpoints]
Running short of time? Get PDF of the blog in your mail.

Play Now
Multichannel retail is a dynamic strategy that takes your business beyond the confines of your website. Exploring new avenues, it paves the way for unparalleled growth and success, unlocking fresh opportunities and connections that can reshape your business landscape.
From a consumer's point of view, having plenty of choices is all about convenience. But for brands, the ease of buying can make selling more challenging. Surprisingly, only a small 10% of US consumers kick off their product searches on brand websites.
Every new sales channel brings its own set of potential customers and opportunities. Overlooking the possibilities within a channel could mean missing out on future customers. A brand's capacity to efficiently identify and make use of the right options is significantly bolstered by skill, experience, and technology.
Multichannel Retail TouchPoints or Sales Channels
To effectively reach and convert your targeted audience into potential customers, it's important to consider a variety of retailing channels or touchpoints. Multichannel retailing offers several touchpoints, each with distinct features and advantages.
Let's explore the most common ones:
Social Commerce
The buzz about social commerce is real. Did you know that two out of every three shoppers find and purchase products through social media? Investing your resources in social media is a clever strategy to actively connect and foster relationships with your customers. Every like, comment, and share becomes a valuable opportunity to build meaningful connections.
One of the best ways to increase your product's visibility is through social media channels. From organic posts to sponsored ads, these channels can drive traffic to your store, if not sales.
Platforms like Facebook, Instagram, and Pinterest let users tag products for buying, a trend that's already bringing in profits. TikTok and Twitter also have channels run by brands to advertise and interact with customers.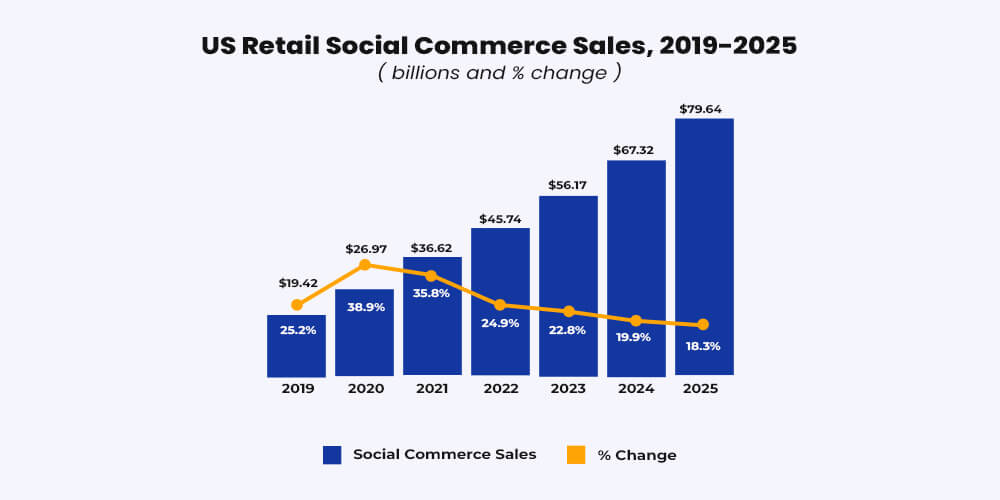 Online Store or Website
Operating an online store is a vital aspect of multichannel retailing, often referred to as "brick-and-click." This approach combines a physical brick-and-mortar store with an online presence, typically in the form of a website.
For instance, consider a bookshop that has both a physical location and a website. With this strategy, shoppers have the flexibility to shop in the physical store, explore books online, or even opt for a combination of both. They can simply enter your website's URL into their web browser, browse the available products, and make their purchases according to their preferences.
Comparison shopping engines
Two factors that influence the purchasing decision are – price and the convenience of buying.
Platforms like Google Shopping, Shopzilla, and PriceGrabber provide shoppers with quick and convenient access to pricing information, helping them make informed purchasing decisions.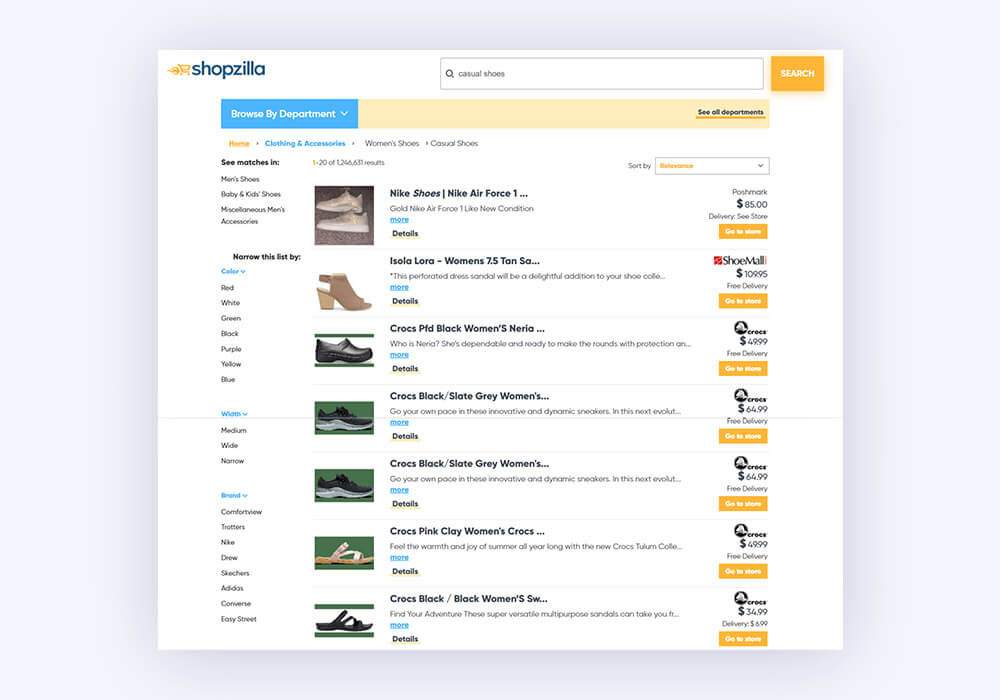 As an online seller, you can pay to drive more traffic to your website as part of your advertising plan. This way, you can take advantage of the convenience that customers are used to.
Marketplaces
1 out of 5 people who buy online start their search from marketplaces. Another study reveals that 65% of shoppers feel comfortable buying from a marketplace rather than buying from an unknown brand.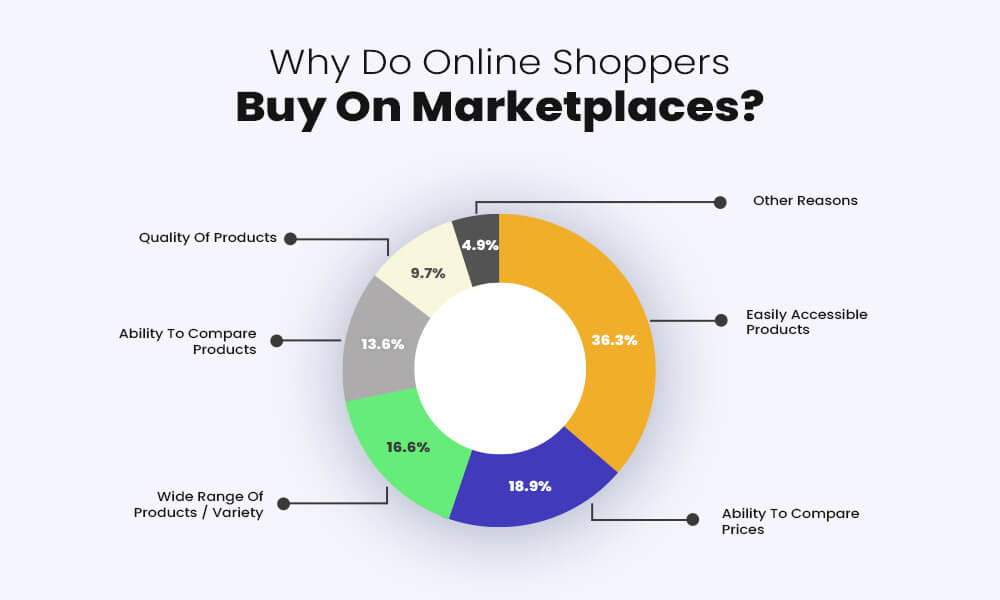 For online sellers, marketplaces are a platform that allows you to show and sell your products to millions of new customers. Plus, you get to manage fulfillment from a single inventory.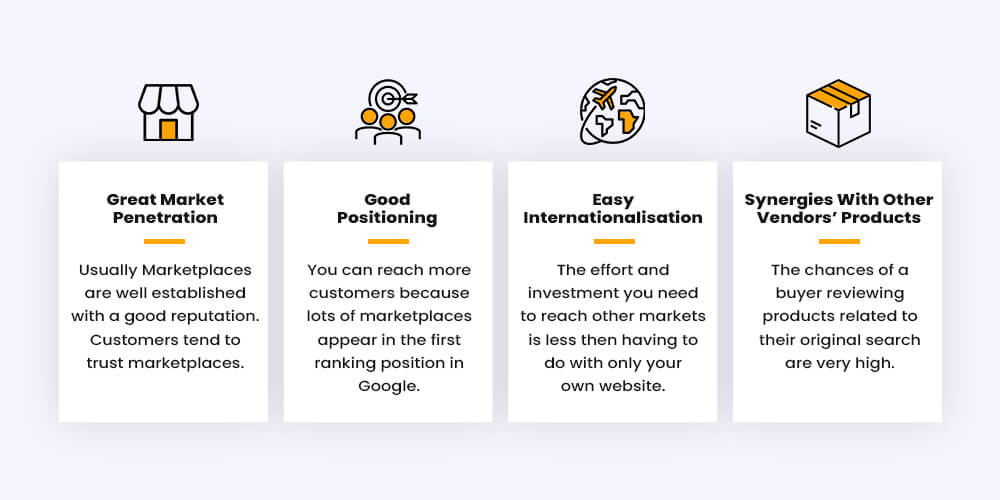 In the past few decades, eCommerce websites have penetrated the eCommerce landscape to a great extent. Here is the list of the most popular eCommerce and shopping websites in the United States in April 2023 (based on the share of visits):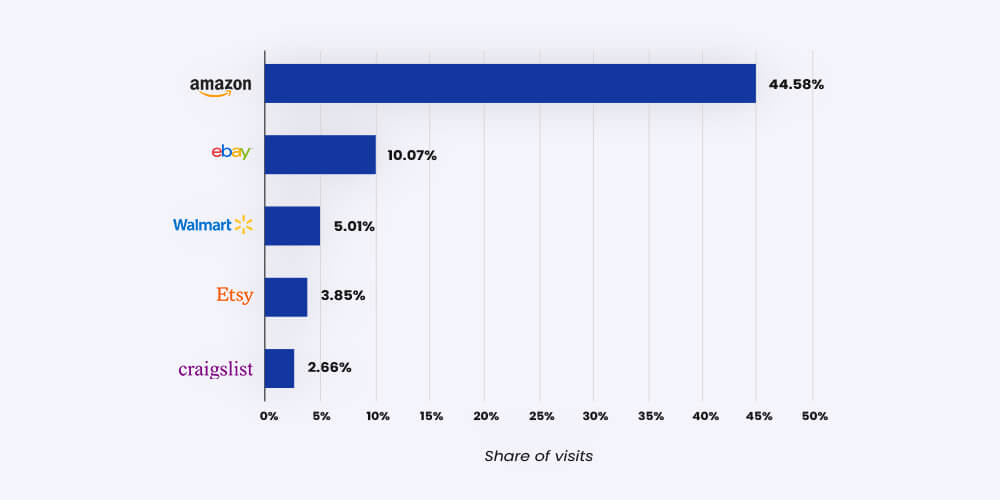 Advantages
Ability to engage with customers at different buyer stages
When people find a product for the first time, they usually take their time to browse, read reviews, and compare prices.
Businesses should understand how people make buying decisions and use strategies to stand out. Products can be discovered through social media or influencer posts, and content that answers questions can bring in new visitors.
Some shoppers are seeking information, like 'how to clean silver at home' or 'what shirt to wear with a white tie'. To help them decide, publish blogs on your website, or put out some informative content on your social media channels.
People ready to buy often head to online marketplaces or comparison websites. For instance, over half of shoppers start their search on Amazon instead of Google. These platforms are trusted because of the many products and reviews they offer.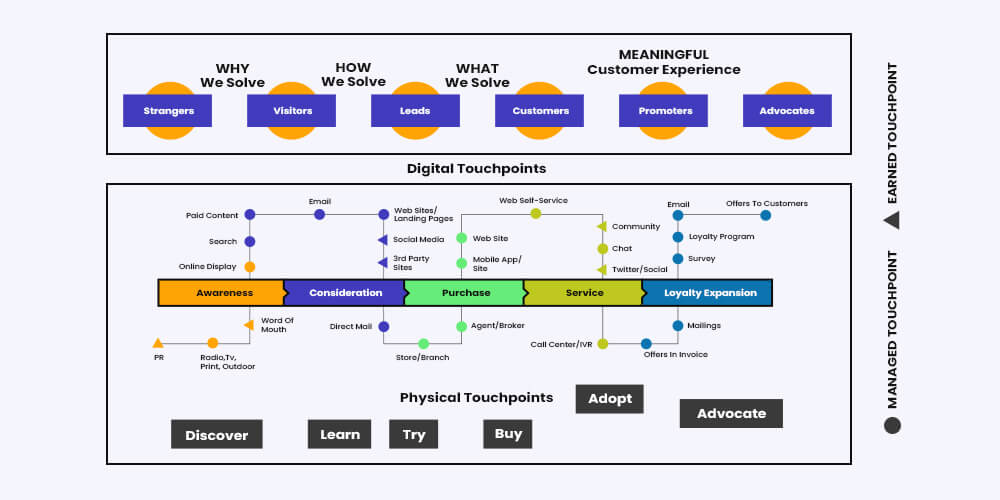 Ability to map and optimize the customer journey
Developing a customer journey map is a valuable tool for gaining insight into a customer's entire experience—starting before, during, and after they purchase your product or service. This helps pinpoint any obstacles and enables you to craft the optimal experience for every customer.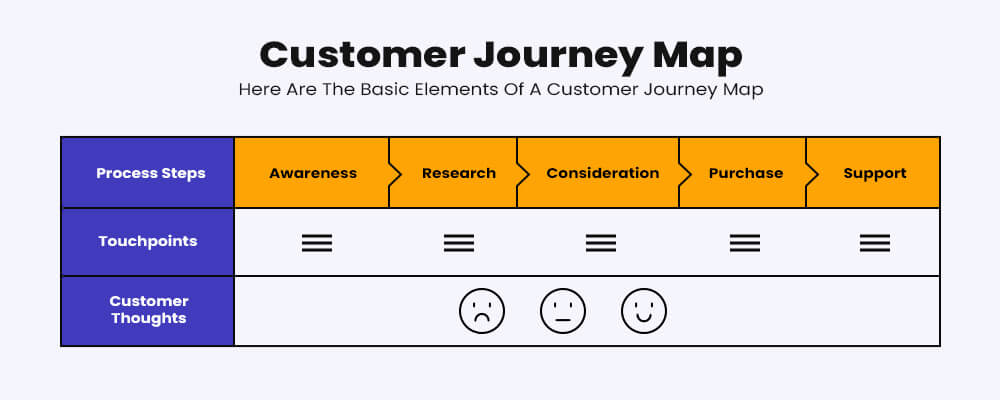 Ability to leverage marketplaces and search engines
These big tech companies like Amazon, Walmart, and eBay are working on making shopping more personalized. They want to help customers find the right products at the right time. With multichannel retailing, you can leverage their technology to make your products easier to discover, like using better search results and algorithms.
Minimize risks
Selling on multiple channels is not just about growing your business; it is also a smart way to protect your business from unexpected market risks.
Sell on different channels: Sell your products on lots of different platforms, like online marketplaces, retail stores, and your website.
Use different ways for fulfillment: Don't depend on just one way to send products to customers, have a few options for both businesses and individuals.
Go global: Look for new customers in different parts of the world, often by working with partners or stores in other countries.
Diversify your supply chain: Be ready with alternative ways to get the products you sell or make.
More revenue
A report from Stitch Labs says that retailers who sell on two online marketplaces make 190% more money than those who sell on just one.
Some traditional physical stores have been hesitant to start selling online because they worry about the costs and fees. However, this data suggests that the fees can be a good investment because they lead to more sales.
Disadvantages
Selling on the wrong channel
Diversifying your sales channels is good, but picking the wrong one can be an issue. Just putting your products everywhere and hoping for the best won't work. You might end up showing your product to the wrong set of audience.
Before you start selling on a new platform, make sure it's the right market for your products. Also, different selling websites have different rules and regulations, and they can change. So, you'll need to spend time setting up your listings for each one.
And sometimes, there are already a lot of other sellers on those websites, which means more competition.
To reduce the risk, take your time to research each marketplace carefully and try them out until you find the best fit for your business.
Required Infrastructure
There is a high chance that you might face some challenges as your business grows.
Things like listing your products, inventory, and order management, can become overwhelming if you don't have a good system in place.
There are two ways to deal with this:
Hire More People: You can get more people to work with you to manage these tasks as your business gets bigger.
Use Automation Tools: You can also use special automation tools designed to help sellers. One such tool is Multichannel by CedCommerce. An all-in-one marketplace extension for WooCommerce sellers that allows them to sell on Amazon, Etsy, eBay, and Walmart from a single dashboard.
Sales attributes
A tricky problem that comes with selling in many places is knowing which one convinces the customer to buy.
For example, if someone goes to a store to look at a product, but later buys it online, who gets the credit for the sale? Is it the store employee who talked to them, or the website where they made the purchase?
It is not an easy question to answer, especially if you don't have a way to keep track of customer information and data.
The Final Word
From social media to marketplaces, each touchpoint or sales channel targets customers at different stages. Having a presence on these different platforms can maximize your reach.
As the saying goes, "Don't put all your eggs in one basket." Diversifying your channels not only broadens your customer base but also offers you a safety net against unforeseen changes in one specific market.