How A Marketplace Marketing Strategy Helps To Boost Sales
Running short of time? Get PDF of the blog in your mail.

Play Now
For an online marketplace, a proper and well-structured marketing strategy can greatly affect the growth and sales. Increasing the sales of the online marketplace: The primary goal of all businesses. Because as a business, your priority should be your growth. Have you created your marketplace marketing plan yet? If not, then scroll down to know how you can create one. If yes, even then scroll down to know what you are lacking.
'How Can I create a proper marketing strategy and boost sales?'
The question that has crossed the minds of every business owner. We simply thought of answering this question in the clearest and informative way possible. 
So, there are multiple effective ways to promote an online marketplace.  And we will be discussing all those ways in the below section of the blog. Let's start!
Maximize Your Search Engine Visibility
Whenever I have a query in my mind I make use of Google and search on it. And not surprisingly, most of us make use of Google and other search engines to clear our queries.
Making use of search engines has become a habit of most of the people worldwide. The extent of using search engines is so high that Google has now become a verb in the Oxford dictionary.
As we are talking about the marketing strategy we obviously cannot forget to add the importance and requirement of search engine visibility in it. Among the multiple effective ways to promote an online marketplace, investing in AdWords and Search Engine Optimisation of your website is the most essential way.
Analysis of baseline metrics (CTC, CTR, Conversions, Traffic): If you are starting fresh with the marketplace marketing plan, then begin with the analysis of baseline metrics. Before making any kind of change to your marketplace marketing strategy, it is important to acknowledge where you rank and the reason behind the ranking.
Make use of Google Webmaster and Google Analytics tools in order to keep an eye on your key baseline metrics and increase your website's SEO.
You can ask the below questions or key metrics to yourself in order to start analyzing: 
-Up to what extent, the SEM is impacting the overall sales of your online website? 
-What are the total number of website visitors and new visitors?
-How many new visitors converted into customers?
-What is the CPC on the paid search ad?
-What is CTR on your online website?
Once you analyze these key metrics, the next step of your marketplace marketing strategy includes setting realistic improvement goals. Do not forget that implementing SEO improvements can require a significant amount of time in showing the desired results. So, don't pause the SEO practices and keep moving on with it.
Monitor Keywords, phrases, and landing pages
Every website's SEO and SCM tactics were impacted when Google announced keyword reporting in 2013. If you want to achieve SEO success, the primary step is to review your keywords and phrases to see how much they relate to your landing pages. The best way you can do it is by inserting long-tail keywords. Because a website can have many landing pages.
What next? In order to do the analytics keyword research, one great option is to make use of Google Webmaster Tools. There are many free SEO tools available on the Internet you can make use of any of them. The most simple and easy to use tool for long-tail keyword research is Google Autocomplete.
SEO Tactic
In order to keep control of your company sales and customer connections, you can take a dig on the refined paid search and organic strategies by doing your own online promotions. By making use of SEO, content marketing, internet advertising, or social media, you can stay ahead and boost traffic on your online marketplace. Over the past few years, content became the king of marketing.
The proof of it lies in Google's excessive emphasis on quality content. With the help of a proper content marketing strategy, you can not only enhance their SEO results but can also drive a massive number of online shoppers on your e-commerce marketplace. Here's an overview of the effective SEO tactics and methods to improve your website's search engine ranking:
Onpage SEO: On-page SEO includes the optimization of HTML tags, meta descriptions, positioning, keyword density, internal linking, and quality content. Make use of Google Analytics and Webmaster tools which score site pages and also make suggestions for improvements. Page title tags must be of 65 characters or less than that. Do not forget to optimize your permalink in order to ensure that it contains relevant page content and title.
Offpage SEO: Off-page SEO revolves around the link building activities for your online marketplace. It includes external linking the drives traffic and increases engagement on your eCommerce website.
Paid Search Campaigns: A/B testing
When you talk about online marketing, taking A/B testing into account is one very necessary step. Be it landing pages, email campaign paid search campaigns, or Call-to-Actions (CTAs), A/B testing helps with all of them. Adwords campaign requires consistent testing about those keywords and ad text which are performing well or not. When you test keywords and keyphrases, it enables you to search for terms and landing pages' relevance.
Also Check: 7 Tips To Develop A Successful Marketing Strategy
Develop a Great Content Strategy
Wondering why there's so much buzz about a great and effective Content Strategy? Well, continue reading!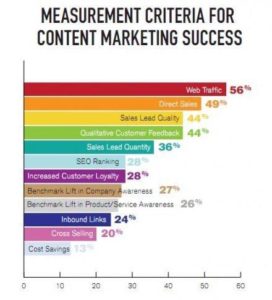 Source: Neil Patel
We will tell you all those ways that content helps your business in lead generation. Not to forget that lead generation is also the primary goal of the marketplace growth strategies. Because it helps the brand grow by driving traffic and boosting sales on its e-commerce platform.
One major benefit of implementing content marketing in your marketplace marketing plan is that it costs 66% less than traditional marketing and generates three times improved leads. Today, a great content strategy is a very crucial element of the marketplace marketing strategy. With the help of content marketing, your business demonstrates its expertise in the field via informative and valuable content.
But you must not forget that content marketing is a time taking activity. And you may not see the results of it, just after implementing it. But one thing is for sure that your investment in content marketing is only going to provide you better results and improved SEO.
When creating and drafting your content strategy try to be as creative as you can. A well-structured content strategy will simply help you occupy customers in the long run.
Importance of  Content Marketing
According to eMarketer, 60% of marketers create at least a single piece of content each day. Let me tell you why!
Among different ways in the marketplace growth strategies, content marketing is one of the very effective ways to promote an online marketplace. Content is what backs up every successful digital marketing campaign. In short, content marketing is the best way by which you can connect and understand your potential customers.
The importance of content marketing is so high for a marketplace marketing strategy because it improves brand reputation. Not just this, content marketing also helps in influencing conversions. Just for your information, content marketing enables six times higher conversion rates than other marketing methods. But when optimizing your content, do not forget to add a CTA. Content marketing also makes your SEO healthy and strong. So, do not forget to create a proper and compelling content marketing strategy for your marketplace marketing plan.
Create engaging content
When you create informative and engaging content on your marketplace, it also increases the ROI (return on investment). The fact that any business cannot ignore is content marketing requires a lesser amount of money and provides effective results. The best way you can leverage the content on your website is by taking the target market of your business into consideration. As a business, your goal while creating content should not only be focused on the sake of content strategy but in fact, should also cover your products, services, the assets you produce, and your promotional methods. 
Also Check: Content Marketing Tools That You Can Use
Create blogs, articles, guides, videos, and online catalogs.
Content can simply be molded in any form be it blogs, articles, white papers, videos, photos or Instagram posts, etc. But all these forms of content help you lure customers and as a result increase engagement on your eCommerce platform. As a business whenever you post or publish any blog, article, guide, or video, it is mainly a clear depiction of your knowledge and expertise of the industry. Blogs, articles, and guides are a means by which you provide your customers with the information they need about your business field.
Also Read: Benefits of a Well Defined Content Strategy
 Leverage Social Media Platforms
According to Statista, the number of social media network users in the world is estimated to be 3.6 billion and is projected to reach 4.41 billion by 2025. The data in itself shows the massive influence of social media. Not just this, social network penetration is constantly increasing and there's no chance of reduction in it. Leveraging social media platforms for your online business is the need of the hour in order to stand ahead of your competition.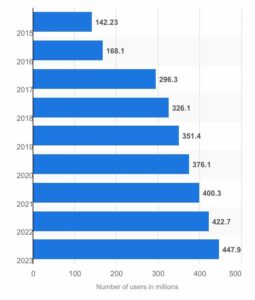 Source: Statista
In today's generation, the scope and potential of social media platforms are undeniably immense. A survey of 2019 reveals that most of the top businesses admitted that around 15-20% of the budget is allocated to social media advertising. 
As a business, your marketplace marketing strategy must include all those effective ways to promote an online business. Making use of different social media platforms like Facebook, Instagram, Twitter, etc must be the top priority of your marketplace marketing strategy. When asked the B2B marketers, about their view on which type of content is the most effective for marketing, more than 45% said case studies.
Let us have a look at these topmost effective ways to promote your online marketplace: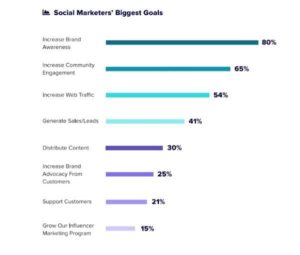 Source: Business2Community
Social media marketing mainly revolves around consistency. In order to make social media platforms work for you, it's important to post content regularly, because that will enable you to reach your consumers and thus, increase engagement. Marketplace growth strategies of any offline or online business must focus on the promotion of content on social media.
Create a remarkable social media promotion strategy
Social media isn't as easy to use as it appears to be, especially for promotional purposes. It's a long process, from choosing the right social platforms for advertising to creating the content strategy, marketers often make use of the wrong practices in their marketplace marketing strategy.
With the help of a remarkable social media promotion strategy, your business will be easily able to brand tackle its goals with a purposeful motive. As a result, a succinct marketplace marketing strategy will help you occupy the attention of consumers and increase engagement.
In order to create an impactful social media marketing strategy, as a business, you must identify your goals, research for your target audience, set important metrics, analyze your competition, create engaging and informative content and optimize your results. Let us see what you can do to make your marketplace growth strategies more effective:
Make way through Facebook Ads, Facebook Advertising Products
Now that we are talking about the effective ways to promote an online marketplace, how can we forget Facebook! 
Facebook advertising products enable your business to boost posts and broaden your reach and visibility. Such Facebook Ads can be seen in the News Feed. 
Also Check: What Facebook Marketing Strategies Are Best For Your Business
Use Twitter ads for promoting your services: Two years from now, Twitter was just a two-way informational feed delivery social platform. But, things have changed and now Twitter has the potential to effectively boost the online sales of your business.
Create videos on YouTube to increase engagement: YouTube is one of the greatest traffic sources and one cannot ignore the power of engagement a video has. YouTube stands next to Google as the second largest search engine. 
This is where your content strategy has a major role to play. Because your content needs to be high-quality, original, creative, and interesting in order to grab the attention of the audience. If you want to directly engage with your YouTube audience, you can promote customer testimonials or share the information on any kind of sale at your store. But in this process do not forget to add the links to your online store and products in the description. 
Make use of photos for Instagram: Making use of the same tactics as mentioned in the above sections, you can also occupy the audience through Instagram. Instagram which is owned by Facebook, is a photo-sharing social channel that had around 300 million users in 2014. You can share photos of your products and services on Instagram. By adding relevant hashtags and keyword strategy, you can easily reach out to your potential customers via Instagram.
Also Check: Why Social Media Strategies Are Necessary For Your Business
 Advertisement
Be it online businesses or offline businesses, advertisement is an essential and required practice for all kinds of businesses in order to grow and reach their potential audience.
Print advertising: Print advertising is a very contemporary method of advertising but has been declining since the rise of online advertising. But it can still add value to your marketplace marketing plan and marketplace growth strategies. 
Online Advertising: If you want to increase your brand presence online traditional online advertising is one effective way that you must include in your marketplace marketing plan. You can simply control and manage ad campaigns via a media buying agency.
On-site ads usually come up in the form of banners like leaderboards and skyscrapers. While doing on-site advertising, try to keep your ads simple, focused, and with a clear call to action. Make use of those media websites which go along with your target market.  Before starting up try to acquire how they work and charge and get details on their online readership.
Google display network: The Google Display Network is an all in one tool that enables you to analyze, place, manage, target and optimize the performance of your online ads that are displayed across multiple platforms by your Google Adwords account. It also allows you to create different kinds of ads through its display ad builder: text, image, or video. GDN also helps your business to remarket specific ads of some products on your website. It is a great way to enhance campaign performance and increase ROI.
Also Check: Digital Marketing Trends 2020
Conclusion
The online marketing realm is moving towards exceptional growth by the implementation of marketplace growth strategies. And is adapting all those techniques that can enrich the experience of consumers. At this point, if you want your business to stand out in the thriving competition, you need to implement the best practices into your marketplace growth strategies.
The best you can do as a business in the fast pacing digital marketing world is to stay focused on the uniqueness of your brand and products. Creating a marketplace marketing plan is the primary step towards the growth of your online marketplace.
I'm sure that you'll be able to draft a compelling and effective marketplace marketing plan with the help of the above tips.
If you need any help in creating the marketplace marketing strategy for your business, we are here to help. AtCedcommerce, we thrive to deliver you the best e-commerce solutions for a fluent online experience. Visit us today!
All The Best!