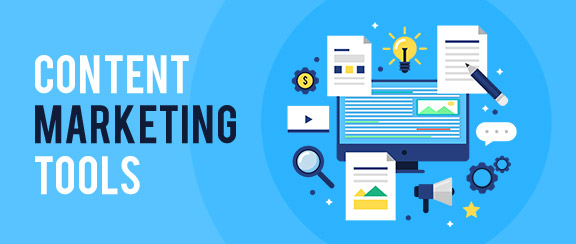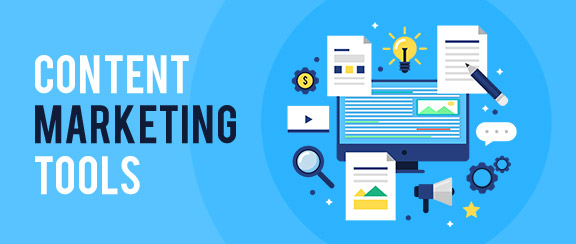 10 free Content Marketing Tools you need right now.
Running short of time? Get PDF of the blog in your mail.

Play Now
It is through content marketing that you inform people about the existence of your business or brand – and that's what makes it both attractive and a vast concept. However, content marketing is not just about content writing, it goes beyond it. Hence, you need the right set of content marketing tools to help you manage your all your content-related tasks well and avoid lags.
There are many content marketing tools available online in both free and paid plans. From keyword research to content distribution, these content marketing tools are designed to help you in several aspects of content planning. And since different tools serve different purposes and that's what makes them exciting! 
DID YOU KNOW? 70% of marketers are actively investing in content marketing.
To save your time in researching for the tool which fits the bill, here is a compilation of some of the best content marketing tools. These are the tools which most content writer or marketers rely upon, including me. So you can get started with these too. 
Let's have a look…
This is one of the most basic content marketing tools as this is the place where most content marketers draft their articles. It is easy to use and gives a good user experience. Google docs not only give you free, ubiquitous tools for writing, it is also a good tool to keep your articles at one place which you can access anytime, anywhere using your Gmail account. Moreover, it's Google Drive integration, suggestion mode, and ability to voice type features that make it all the more productive.
Let's accept that we all make mistakes, not just in life, but in our writings too. It's quite natural to make grammar mistakes while preparing the first draft of your article – because that's when you're just jotting your thoughts down.
Grammarly, however, is an all-time savior when it comes to running grammar checks on your document. It's simple to use and gives quite apt results. Moreover, you can select the tone, and voice of your content and it accordingly rates your content. You can even download it as a browser extension to avoid grammatical errors in your day-to-day emails or social media writing.
Know what's missing in your business marketing mix.
Ubersuggest 
There are hundreds of keyword research tools available online, but this one just stands apart due to its seamless user experience. You just have to log in, enter the keyword or domain you're looking to have ideas for and there you're with an extensive SEO report. It gives out a comprehensive report of keyword overview (including Search volume, CPC, SD, and related keywords), content ideas, top pages et al.
Ubersuggest helps you in generating keywords that truly take your SEO game a notch higher. You can even export your keyword reports in an excel sheet. Most of its features are free, however, in order to have unlimited access to all the features you can upgrade to a paid plan. Moreover, you can install the Ubersuggest browser extension for free, and every time you perform a Google search, it will analyze your keywords and give you the SEO analysis.
Know what's missing in your business marketing mix.
As a content marketer, Buzzsumo is a tool you can't afford to miss. It serves a two-fold purpose. It shows up results for the best performing content around a certain topic. So, it shows what your competitors are writing about through some useful metrics like social shares and backlinks. It can also give out influencers' reports so you can have an idea of thought leaders in a certain niche or topic circle. 
Readability is a factor that no content marketer can afford to ignore. And Webfx is a tool where you can easily check the readability status of your content – or your competitor's.
You just need to paste the URL or the text and it shows the report continuing 6 readability scores :
Flesch reading ease.
Flesch-Kincaid grade level.
Gunning Fog Score.
SMOG Index.
Coleman-Liau Index score.
The Automated Readability Index score.
Feedly should be your go-to content marketing tool if you want to keep yourself updated with the latest blogs flooding the internet every day. This tool connects you with all the latest information in your areas of interest. You just have to create your "feed" where you can add websites/web pages of your interest.
The feed shows all the latest blogs – even if it's published a minute before on any of the websites you've picked. Moreover, it gives an option to create "keyword" updates as well, however, it requires you to upgrade your free plan.
Know what's missing in your business marketing mix.
It is said that people who are into content or social media jobs are never really off their work. They're constantly reading something or brainstorming new ideas – and ideas can come up anytime, anywhere. Isn't it? Evernote is one such tool or rather an app, handy enough to keep your ideas and notes organized.
The app is available across all devices and platforms. You can add your notes in the form of text, link, image, or pdf file. Evernote even allows you to share your notes with your team. Now, go ahead and start organizing your ideas. You can download the app here. 
Your blog post isn't complete without high-quality graphics in it. And you may not always have a designer available to create those graphics for you. So, the next best thing you can do is – get the job done from Canva.
It's my all-time favorite design tool which is pretty much easy as it has a wide range of templates to choose from. It has preset sizes for every kind of image you want – whether social media posts, Facebook cover, blog banner, or anything else. You can also upload and add elements of your own. Most of its templates are free but it requires you to upgrade your plan to access all the templates.
Every business has its sales team, and it is important to collaborate with your content marketing team. HubSpot CRM tool helps you integrate the sales activities with the content marketing team. You can log sales activity, record content leads, and notifies other team members at the same time. And guess what? Hubspot CRM provides all the premium features for free.
SEMrush content marketing tool is a toolkit where you get access to a world of insights whether it's about your keywords, content audit, topic ideas, or traffic analysis.
Whether it's SEMrush's writing assistant or keywords analyzer, everything is amazing about this toolkit. You can even check out your competitor's keywords and backlinks by simply entering a URL into SEMRush. The tool offers few free searches, however, in order to have unlimited entry to all its tools you need to opt for a paid plan. 
Let us know your favorite tool in the comments below and also share your experience of using it.
Take a look at our digital marketing sphere and know how you can reach the right platforms for your business growth.