E-commerce SEO Basic Concepts To Understand!
Running short of time? Get PDF of the blog in your mail.

Play Now
Google receives over 75000 searches per second! Such a mammoth figure! You're sure to go through the ecstasy of fumbling! Isn't it? And you know what, an adrenaline rush is sure to flow through you when you relate with the fact that out of those 75000 searches, 67% of the clicks go to the first five organic results! Surprising digits, tempting, and deliberating!
To top it off, we see that a recent study shows much more engaging numbers! 70-80% of search engine users only focus on the organic results ignoring paid ads. Now just wait before your focus shifts, just let's take you right there!
SEO has never been a one-time process! In fact, it keeps on updating and introducing hundreds of updates hundreds of times a year. So, SEO and e-commerce SEO in particular has got a major role to play!
Let's now look at the other wider aspects also!
Difference between SEO and Ecommerce SEO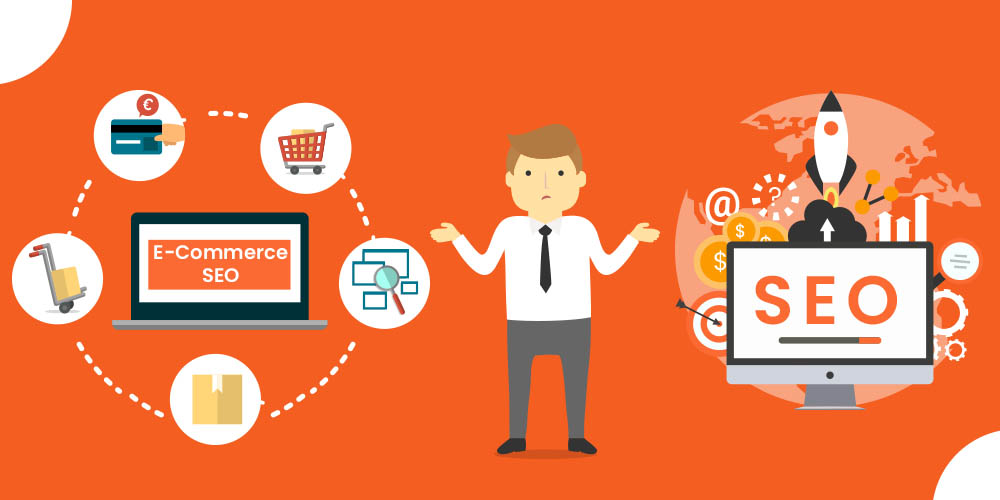 "Search, search, and search!! It's searches everywhere, whether you step back, forth, or sideways!!"
A significant difference! Or maybe a thin line of gap? Yes, a lens, and your vision, whichever way you see it. SEO for some other types of websites such as a local website, a corporate one, etc is significantly different from the SEO for an eCommerce website.
Other pertinent questions arising when we talk about Ecommerce are natural to soar. And one could get them arranged sequentially in one's mind, like,
What is Ecommerce SEO?
Is it important anyway for Ecommerce websites?
How Ecommerce sites do SEO?
And you got a plethora of them to deal with! If all are to be answered in a go, it would make things untidy and chaotic, let's take them one by one!
What is SEO for an e-commerce store? Why is it important?
Nearly 39% of global eCommerce traffic comes from search. Even 57% of those B2B marketers state that SEO generates more leads than any other marketing initiative.
Yes, SEO for your eCommerce websites carries the potential to boost your sales and revenue, making you a dominating figure holding a major market share. Apparently, to make your online store highly visible for queries, boost traffic majorly, delivering your products or services at a faster pace! And at the very first, saying SEO is pocket friendly is very tangible!
How Ecommerce sites do SEO?
"They are looking for a solution, all they got is a problem."
Consumers all around the web search incessantly for a product or service, to match their intent. Before reaching a second thought, all they do are comparisons, optional pickings, and getting informed, etc, before ultimately following a buyer's journey.
You, on the contrary, hold an eCommerce website and want them to get to you. So you optimize it to match what they think! You indulge in the optimization of your headlines, the descriptions, the internal linking, and all-important components also pertaining to the site's architecture and infrastructure, for a user first and user-friendly approach. This becomes integral while framing an e-commerce SEO strategy. 
The Homepage, the product page, the blog articles, the About page, etc, prioritizing the page optimizations, the specific page recommendations, creating a workflow, etc, a set strategy needs to be followed.
Building an eCommerce SEO strategy: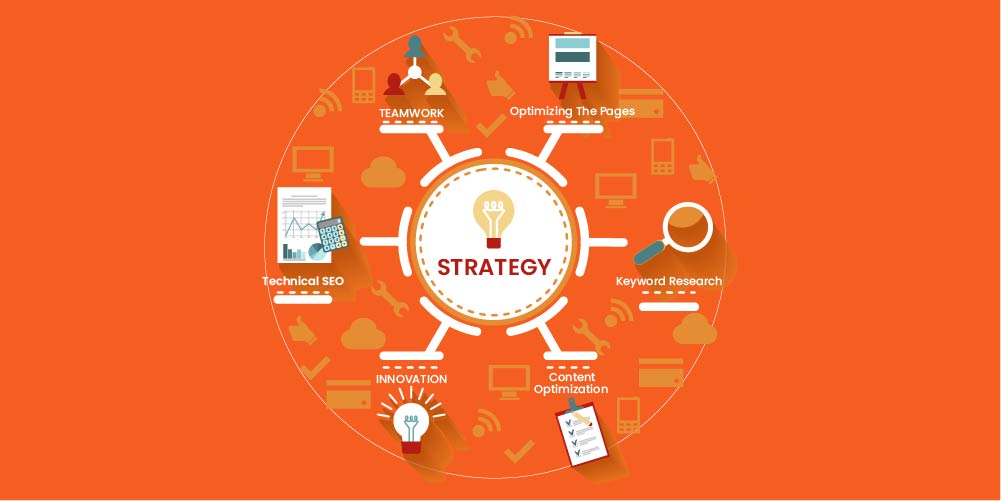 The various Ecommerce SEO basics tools and strategies are to grapple with to build a highly focused business intent, online… It isn't made for fun but holds an urge of making profits out of it. An exposure to search engines on a widened scenario needs a fair share of traffic, with a highly targeted and intended target market. A clearly defined set of audiences with an exact idea of what they want, creating an ever-lasting online business experience.
Building an eCommerce SEO strategy is a staged process, get a glimpse of the terms given below to start fresh with you strategy framing:
Technical SEO is important
Keyword research highly intended
Optimizing the pages sequentially
Content optimization
These are the various Ecommerce SEO basics tips and tricks to improve a store's s organic search ranking and visibility. Let's start one by one!
Technical SEO for an Ecommerce website is solely focused on business gains and highly defined with a goal-oriented aspect. A website review, therefore, becomes a stepping stone to boost traffic, enhance sales, and impact conversions.
Not only focusing on the aesthetic part of the website, the structure and the SEO for the e-commerce website are relatively the other very crucial ends. Either getting boosted traffic but no conversions, or getting less targeted traffic, the sales aren't up to the mark, and the blogging standards eventually going down, a website review Is needed at the very first.
"Are you getting bored? The thing is, make a cup of tea, take a 10 min break and then read!"
Though website review is inclusive of Google search console, the schema and data structurization, the social media marketing, content marketing, and whatnot, but right now let's just cling onto the technical aspects.
Identifying the crawl errors in with the crawl report,
The check on the HTTPS status codes,
The XML sitemap status check,
The site load time,mobile-friendliness of the site, audit for keyword cannibalization,
Checking your site's robot.txt files,
Checking the delicacy of metadata
Check for site-wide duplicated content
And loads more…
Highly intended and specific keyword research as the basics of eCommerce SEO strategy: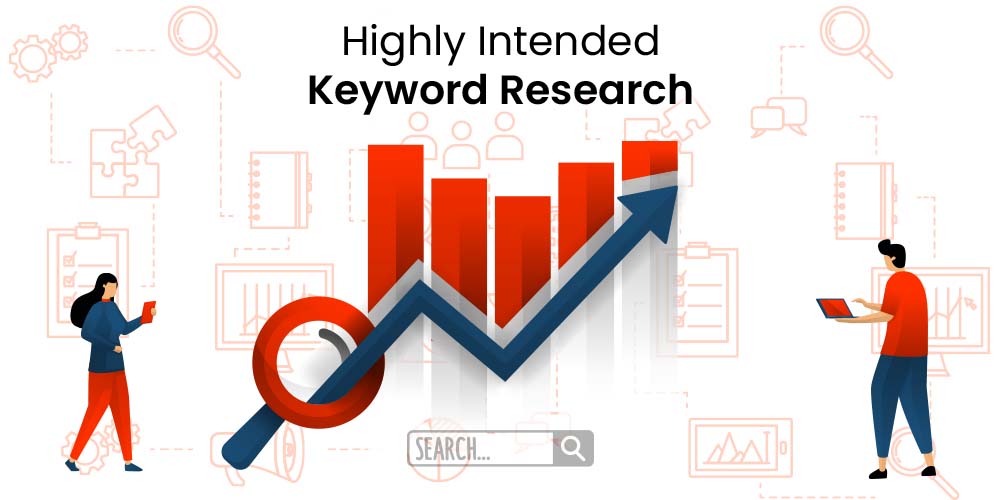 Keywords are a matter of sink or swim being an integral part of e-commerce SEO basics. It's about the search intent and keywords denote the same. They ultimately lead to higher traffic thereby boosting sales. For the other general websites or the corporate or the Non-Ecommerce oriented ones, the keywords help them provide the right content to search engines. Signaling the ease of crawling of the content on the pages.
Wherein with Ecommerce websites, targeting the search intent of the user, destines the journey of the buyer, that helps to optimize the product pages, and the category pages, taking into account the popular terms facilitating steps to conversion.
"The more specific searches are, the closest the searcher is to getting converted."
Long-tail keywords: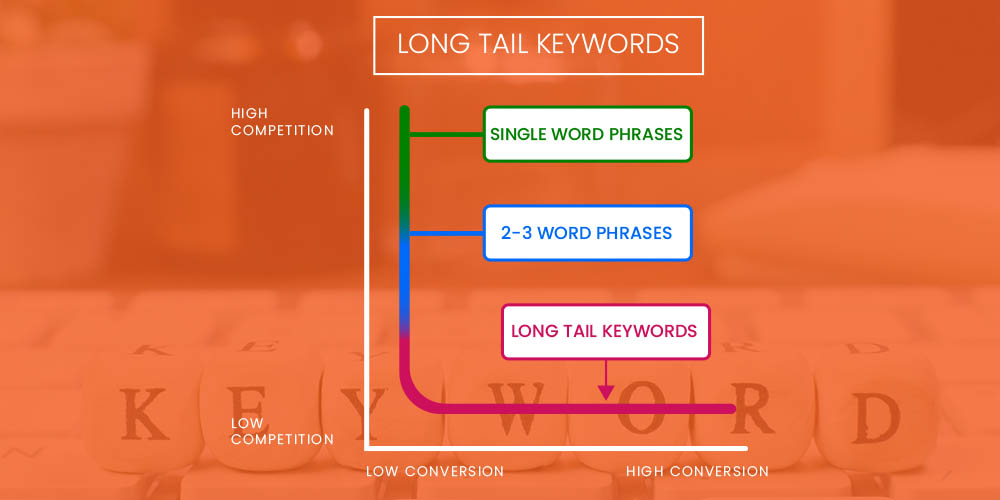 Usually, longer than the normal keywords, these denote a specific search intent, with a lower search volume but a higher and definite conversion value. Not being that competitive, long-tail keywords symbolize a much-furthered journey in the buying cycle.
Including an array of words, long-tail queries help to optimize the product or the category pages in a way they revolve around intent centric queries. The usage of keyword research tools helps you get through with the keywords research. Google Keyword planner, Google trends, UberSuggest, SEMrush, etc, are some of those.
Not only this you could directly go to Google.com and type your query there, the results shown at the bottom of the page, give you all the related searches. It gives you a better search idea, no sooner do you start typing your query, Google starts making suggestions to finish it up, that is where you select the aptest option for your search.
When hopping in the world of eCommerce SEO basics, the giant in the industry takes over. When you have to search for a category or a product, you go to Amazon and type it there. Starting your keyword research with Amazon, type a keyword that best describes your products. You get your relevant search terms as Amazon suggests tells you what other people related to your query search for.
Optimization of the store within:
By and far the idea behind eCommerce website ranking on top of search engines, needs to make sure that they are SEO friendly, easy to use, perfectly organized (segmented page-wise), and go after a user first and a user-friendly approach. To make your online store meet the best of both worlds, optimizing your site's structure follows your keyword research.
"It's time to go back to the drawing board and get the basics right, to start building again."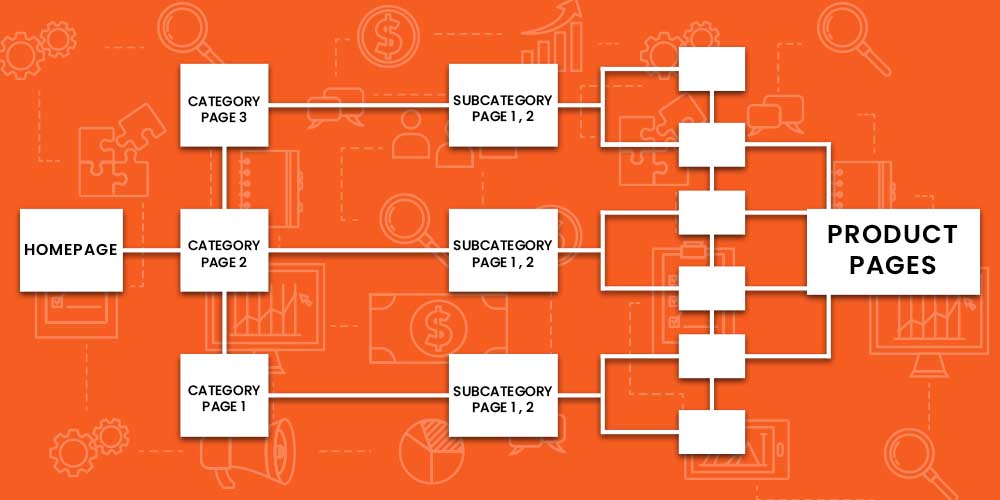 Homepage SEO at the very first:
A crucial part of e-commerce SEO, the website's homepage addresses the audience at the very beginning rather is a welcoming page! It's not like observing the way the camel sits, but things are to be following a strict pattern. It means that the homepage should by far be the best converting landing page carrying the informational attributes at the same time.
It's that juncture from where the categorization of the products based on the collection would stock up in an organized manner and the search would take place. Being at the forefront, the Homepage is the interface between your users and your brand, overviewing the products and services. Make sure it stands out of all, to build the trust factor, the credibility, and preferences in the user's mind.
 The Category page optimization thereon:
Finding their suitability for navigation purposes, these pages find difficulty in the ranking. It is so because they are the subpart of the main page and so indirectly represent the product or the service.
Nevertheless, incorporating relevant content creation, inclusive of the target keywords, structured data, brand imagery, with optimized alt text and page title rich in a keyword, could be proactive to improve the rankings of the category pages.
How can we forget Product page optimization!
Creating a comprehensive eCommerce SEO strategy, besides contributing to an overall experience of the SEO for eCommerce website, product pages make their presence felt when encouraging conversions.
"The intent of the visitor has to be changed into a decision."
Yes, it's the intent that is the opportunity for the brand for facilitating informed decision making. Writing unique product descriptions, the involvement of reviews and videos, etc focus on the user first and user-friendly approach. Remember the gateway to conversion are the product pages and so should be made reckoning the user's end goal. Setting a benchmark with the SEO friendly optimization of your product pages leads you to drive traffic, empower sales, and multiply conversions!
 Other things to be kept in mind!
For the FAQ pages, their presence matters a lot for getting a highly converting eCommerce website. To grow the organic search presence of a website, there should be a sequential put out of conversational questions in the middle of the pages. The tone of which could be highly personalized related to the behavior of the queries put in front.
A question-format schema data catalyzes the chances of getting your page featured on the rich snippet section, every time a search is made.
The cart abandonment and the improper check out procedure could be devastating at the end! Focus on optimizing your cart and checkout pages.
Content creation, its optimization, and distribution: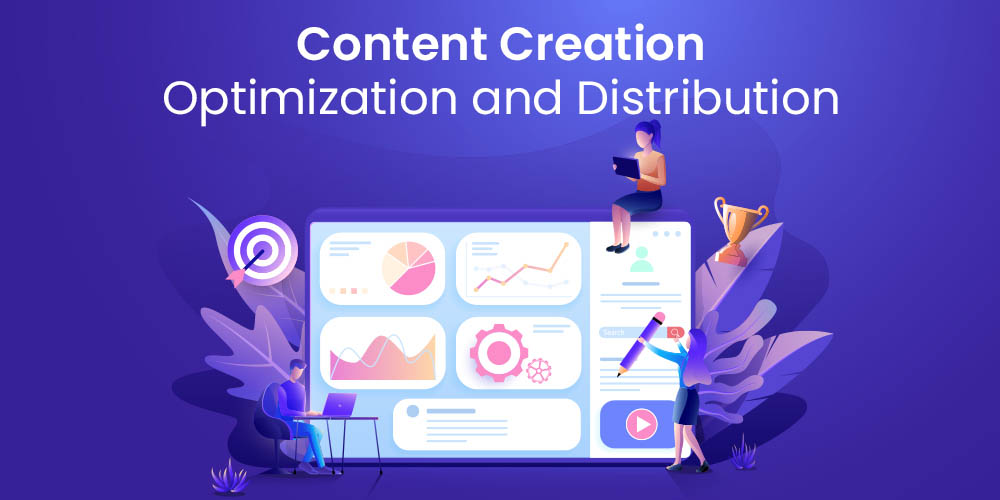 From the marketer's point of view, 72% of them feel that relevant content creation is the most effective SEO for e-commerce tactic. Internet marketing has been ever so expansive and is still broadening its horizon. People all over not only want to connect via the web but also emphasize sharing or curating information, using content differently to bridge the barriers.
"Content whereby plays a protagonist, whose role is hard-earned."
For your online store up and running, it could be facilitated with user-centric content and lays the foundation for an informed purchasing decision. High quality, dynamic, and soothingly appealing content, enhances user engagement with the brand.
Let's take into consideration a blog post! A blog post as a [part of SEO for an Ecommerce website is amongst the various ranking factors that search engines crave in order to evaluate the preciseness and aptness of it.
As a part of a strategic approach, the content has its own sharpness that could astound the reader. Creating a piece of content and then optimizing it from the SEO perspective, could provide an improved user experience.
A strict follow-up plan in order should be set up before deciding the topic to write upon and the targeted keyword research thereafter. Link building and off-page SEO techniques cement down top positions on organic searches. Inculcating intriguing and highly reciprocating short videos in your blog posts could get a deal cracked right in front.
All you need is a headstrong eCommerce SEO strategy to your online store more visible in the search engine results pages (SERPs).
Conclusion
As a part of e-commerce SEO basics, a comprehensively optimized eCommerce website means a successful business campaign running. To optimize your online store for search engines follows a structured alignment of steps outlined above. To take it to another level, Ecommerce SEO basics is a necessity, for boosting your traffic and getting sales at a greater pace.
Though it might take time and results could be harsh for prolonged periods, staying on there and holding your pose would get you a successful campaign in hand. At last, if you gift yourselves a scaremongering, designed to frighten you with the figures, you always have the experts!