How to sell on Walmart in 2020? A 6-step guide to success!
Running short of time? Get PDF of the blog in your mail.

Play Now
In Short: If you're thinking about selling on Walmart.com, we bring you a simple guide explaining the steps that can help you become a seller on Walmart in no-time! You can start right from the Walmart Marketplace Application process, move to Registration on Seller Center, Set-up a Walmart Partner Profile, Complete Item Set-up, Item and Order Testing and finally launch your Walmart Seller account.
If you want to find out everything about Walmart.com's application and registration process, this 6-step guide is all you'll need.
Follow these simple steps in Walmart's onboarding process:
Apply to start Walmart's Onboarding Process and seek Approval
(Once Approved) Complete Walmart Seller's Registration Process
Complete Partner Profile
Finish Item Set up
Test Items and Orders
Launch Your Account as a Walmart Seller!
Requirements to become a Walmart seller
Before jumping directly to the "How-To's" of becoming a Walmart Seller, we first need to understand the requirements of doing so.
Walmart is a reputed platform and exclusivity is an indispensable part of its reputation. Meaning, there are several requirements and prerequisites that you need to fulfil before you can apply to become a seller.
So if you're seriously considering Walmart as you next platform, check out the following criteria:
You need to have a warehouse based in the US with a US Tax ID and a Business Bank Account.
Should be able to ship orders and receive returns from a Warehouse located in the US.
Walmart works with established online sellers, so it helps to have some business experience. In any case, you should at least have a year's experience of excellent performance in the US Marketplace.
Dedicated customer service, compelling product assortment, competitive pricing, as well as fast and reliable fulfillment, are all the essential requirements. These need to be worked upon before you think of becoming a Walmart seller.
You should also be able to provide the UPC or GTIN code for each SKU.
If your product assortments bring value to the buyers at a moderate and competitive price, then you're surely an excellent match for Walmart. You can check out these instructions in detail when you start your registration process; it's all there on the Walmart form.
How to sell your products on Walmart.com in 6 simple steps
Now that you've read about the requirements and fulfilled them, you can take a look at 6-steps.
There are two ways to start your buyer journey at Walmart, you can- a) Be invited to the marketplace by Walmart or b) Apply to become a Seller. For most sellers, scenario B is the route, but if you have received an invitation, you can skip to Step 2.
STEP 1: Apply to become a Walmart Marketplace Seller
To start Walmart's onboarding process, you need to first apply for approval/account creation.
For this, you'll have to fill an application form- provide the details and then wait for an approval-email from Walmart with further information about your Account. This usually takes somewhere around 15-20 minutes.
If you don't want to get into the mess of doing everything yourself, it is crucial to start Walmart's Onboarding Process from this page. It is essential to start here to ensure that CedCommerce can be your Solution Provider.
Once you finish the form, click on Start Application to become a seller on Walmart.
STEP 2: Complete your Registration Form
Once you receive details regarding your account, start the process of filling your registration form. It is recommended to complete the whole application (on a laptop or tablet) in one go; the procedure hardly takes over 10-15 minutes.
Google Chrome is recommended for completing the form.
Do not close the browser tab in the middle of the process. You may lose the progress made.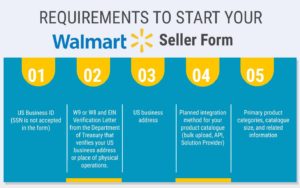 The Registration process of Walmart consists of 5 sub-steps:
Account Creation
Company Registration
Taxes (W-9)
Payment Info.
Shipping Info.
1. Account Creation
In this step, you have to to create a username and password to access the Walmart Seller Center. Your username (which will be the same as your email address) will be auto-filled based on the details you provide in your Marketplace Seller application form.
Make sure you complete this process in one go, or you will lose access to the seller center. Once lost, it won't be possible for you to restore your account, so caution is warranted.
Following this, you will see a legal agreement titled "Walmart Marketplace Program Retailer Agreement". Read it carefully and check the box at the bottom to declare your agreement. Remember, this is a legally binding document, so make sure to press agree only when you've understood the undertaking.
2. Company Registration
In this step, you have to to provide your company's information so that Walmart can create your Seller Account.
You need to fill out the following details to complete this step:
a. Display Name: The name you want your Walmart customers to see and identify you with.
b. Corporate Address: The complete address of your company, including the zip code and phone number. Remember to update your location as per your business address on tax files.
After filling out the details, click on "Save and Continue". Once you complete this step, you will come across a copy of the Walmart Seller Agreement. Please read it carefully. When and if you find it fitting, accept, and move on to the next step.
c. Taxes (W-9)
Walmart requires sellers to provide a W-9 form for tax purposes. You'll need to fill out the required fields, i.e. your name, address, and TIN (Taxpayer Identification Number).
Filling out tax-related information is a breeze at this point. So, avoid unnecessary hold-ups by providing accurate details- same as are mentioned on your tax forms.
Also, you will find some boxes in the form disabled. This means, any changes pertaining to said boxes cannot happen at this point and will remain the same for all the stages of the form. However, once the form is complete and your account is live, it is possible to apply for a change.
d. Payment Info
Walmart has partnered with Payoneer and Hyperwallet to process the payments of Marketplace partners. To receive your payments from Walmart, you must register with either of the two payment platforms.
Note: For sellers with W-8ECI tax classification Payoneer is the ONLY tax payment option.
Although the account set-up of Payoneer/Hyperwallet starts while you are in the process of registration at Walmart Seller Center, it occurs at the Payoneer site.
Since Walmart emphasizes a safe seller journey; only the people (in your team) with access to your Partner ID and Admin account will be able to manage payment details and monetary affairs.
When registered through Walmart Seller Center, all transfers will go to your bank account through Payoneer/Hyperwallet. No extra charge affects the total amount. No limit on the maximum amount exists either.
You can make updates to some of these payment settings later on under General Settings-Financial Settings-Payment Info.
Once you're through setting up your payment info, click "Continue to Next Step."
e. Shipping Info
This section will represent your default shipping price models for all items that you sell through Walmart. Walmart divides Shipping Info into two major parts:
Select Your Pricing Model: includes information about what and how to charge shipping
Select Your Shipping Methods and Regions: which included information about shipping methods and speed depending on the country/region.
To avoid future inconveniences, research all the rates and processes before filling out the form. Although you can make changes later, it is essential to go live with accurate details.
Shipping types preferred by Walmart include 'next day', '2-day' and '3-day deliveries'. In case orders cannot be delivered next day, it would help your ranking if you could ensure 2-day delivery or 3-day delivery on the entire order.
Once you have set up your shipping settings, review your selections, and then click on "Submit."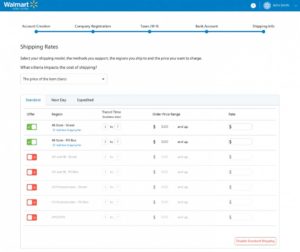 With this step, you'll be able to log in to your Seller Center, wherein you'll need to complete the Launch Checklist items. This completes your 'Registration' for the Partner Panel on Walmart.
STEP 3: Complete your Partner Profile
The third major step of registering as a Walmart Marketplace Seller is to complete the "Launch Checklist". This list outlines the requirements to launch your account on Walmart.
The list will be made available to you only after you've completed the Partner Profile and have gained access to the Seller Center.
The first checklist item "Complete your Partner Profile" is a particularly important one; since, this is the public page from where customers will find your company name, description, company logo, policies, tax information, etc.
The main steps of this first item on the Checklist are:
Company Info
Customer Service
Shipping
Return Policy
Privacy Policy
Tax Info
As soon as you complete all the steps, the checklist item will be checked off as complete.
You can check out our Complete Onboarding Guide for more details on these steps.
STEP 4: Complete Item Set-up
Item Set-up is another essential part of your Walmart onboarding and account creation process. In this step, you'll be required to input all the product-related data such as- images, titles, long and short descriptions, attributes, etc.
Item Set-up is more about staging up your business and saving your item before your seller account can go live.
Steps to be followed for Complete Item Setup:
Identifying the right category and subcategory for your items
Keeping item related image URLs and files ready
Preparing the Item Set-up Feed with all the item details
Ingesting/uploading your Item Feed files
Previewing your items on Walmart
Completing Item & Order Testing.
Once you upload all your item feed on the Seller Center, your items will move to 'Staged' Status since you'll need to perform item and order testing before you can pilot your products on Walmart.
STEP 5: Complete Item & Order Testing
To complete this step, you need to click on the "Complete Item & Order Testing" link in your Launch Checklist.
In the Seller Center, select "Preview Item" to verify the item info and pricing that you've provided in the Stage. Since the same info is displayed to the buyers once your items are live, you need to make sure that everything looks good.
Once verified, you can click on "Publish Item." This will ensure that your products are made available to Walmart Customers.
After your items are published, click on "Purchase Item." This will redirect you to the live item page where you can purchase your item (as a test run) on Walmart.

Note: To test-buy your products and buyer experience of your listings, you'll have to create your customer account on Walmart.
STEP 6: Launch Your Account
The last and final step before you can begin selling on Walmart is to launch your account. After checking all the items in the Launch Checklist as "done" select 'Confirm' on the popup message- this will confirm that you're now ready to launch.
After this, the Walmart Marketplace Integration team will review your profile, and if they assess everything to be well-oiled and running smoothly, your products will be made live within 24 hours.
That's it! Now you're ready to sell your products on the Walmart marketplace!
What we're saying is: The onboarding and application process at Walmart can be befuddling. However, with the support of a third-party solution provider and an expert integrations team, you'll be ready to launch in no-time.
These steps should answer all your questions about Walmart's onboarding and registration process. However, if you're still confused about How to sell on Walmart.com? Or What are the detailed steps for registering on Walmart online, get in touch, and we'll provide solutions to all your problems!
Read More:
Walmart's Complete Onboarding Guide