How to sell on Walmart in 2021? A 6-step guide to success!
Running short of time? Get PDF of the blog in your mail.

Play Now
In Short: If you're thinking about selling on Walmart.com, we bring you a simple guide explaining the steps that can help you become a seller on Walmart in no time! You can start right from the Walmart Marketplace Application process, move to Registration on Seller Center, Set up a Walmart Partner Profile, Complete Item Set-up, Upload inventory and finally launch your Walmart Seller account.
If you want to find out everything about Walmart.com's application and registration process, this 6-step guide is all you'll need.
Steps to become a seller on Walmart
Follow these 6 simple steps in Walmart's onboarding process:
1st Step: Apply to start Walmart's Onboarding Process and seek Approval
2nd Step: (Once Approved) Complete Walmart Seller's Registration Process
3rd Step: Complete Partner Profile
4th Step: Item Set-up
5th Step: Upload Inventory
6th Step: Launch Your Account as a Walmart Seller
Requirements to become a Walmart Seller
Before jumping directly to the "How-To's" of becoming a Walmart Seller, we first need to understand the requirements of doing so.
"Walmart is a reputed platform and exclusivity is an indispensable part of its reputation. Meaning, there are several requirements and prerequisites that you need to fulfill before you can apply to become a seller."
So if you're seriously considering Walmart as your next platform, check out the following criteria:
You need to have a warehouse based in the US with a US Tax ID and a Business Bank Account.
Should be able to ship orders and receive returns from a Warehouse located in the US.
Walmart works with established online sellers, so it helps to have some business experience. In any case, you should at least have a year's experience of excellent performance in the US Marketplace.
Dedicated customer service, compelling product assortment, competitive pricing, as well as fast and reliable fulfillment, are all the essential requirements to become a Walmart seller. These need to be worked upon before you think of becoming a Walmart seller.
You should also be able to provide the UPC or GTIN code for each SKU.
If your product assortments bring value to the buyers at a moderate and competitive price, then you're surely an excellent match for Walmart. You can check out these instructions in detail when you start your registration process; it's all there on the Walmart form.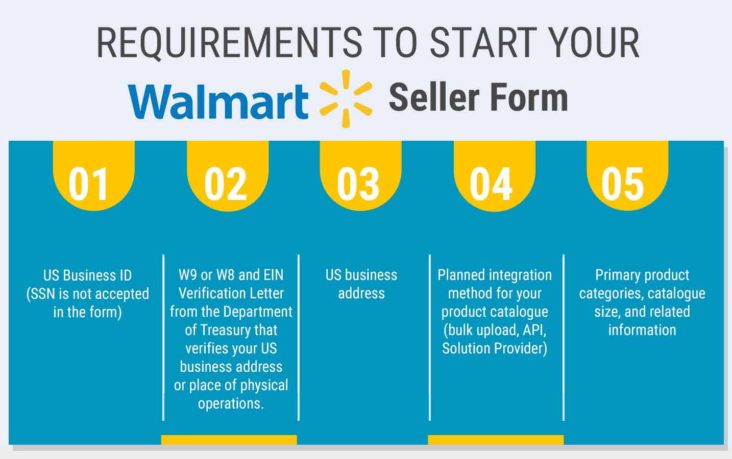 How to sell your products on Walmart.com in 6 simple steps?
Now that you've read about the requirements to become a Seller on Walmart and fulfilled them, you can take a look at 6-steps.
There are two ways to start your Seller journey at Walmart, you can-
Be invited to the marketplace by Walmart OR
Apply to become a Seller. For most sellers, scenario B is the route, but if you have received an invitation, you can skip to Step 2 as explained below. 
STEP 1: Apply to become a Walmart Marketplace Seller
To start Walmart's onboarding process, you need to first apply for approval/account creation.
For this, you'll have to fill a Walmart marketplace application form- provide the details and then wait for an approval email from Walmart with further information about your Account. This usually takes somewhere around 15-20 minutes.
If you don't want to get into the mess of doing everything yourself, it is crucial to start Walmart's Onboarding Process from this page. It is essential to start here to ensure that CedCommerce can be your Solution Provider.
Once you finish the form, click on Start Application to become a seller on Walmart.
STEP 2: Complete your Registration Form
Once you receive details regarding your account, start the process of filling your registration form. It is recommended to complete the whole application (on a laptop or tablet) in one go; the procedure hardly takes over 10-15 minutes.
"Google Chrome is recommended for completing the form. Do not close the browser tab in the middle of the process. You may lose the progress made."
The Registration process of Walmart consists of 5 sub-steps:
Account Creation
Walmart Retailer Agreement
Company Registration
Taxes (W-9)
Payment Info
Shipping Info
Let's explore each of these sub-steps.