Expand your sales with CedCommerce Walmart Connector- 60 Days free
Running short of time? Get PDF of the blog in your mail.

Play Now
We understand that change can be challenging, especially when it comes to your business's multichannel operations. CedCommerce offers a Shopify to Walmart Marketplace integration solution that enables an easy migration process and also simplifies the entire selling experience: CedCommerce Walmart Connector.
#EXCLUSIVE
Experience Excellence for Free: 60 Days of CedCommerce Walmart Connector Integration at No Cost!
To make the migration feasible for all new merchants, CedCommerce is offering 60 days of free service. You can explore all the features, experience seamless integration, upload unlimited products and orders, and witness the power of our platform without any financial commitment for the first two months.
CedCommerce Walmart Connector- The Only Integration Solution You'll Ever Need
CedCommerce Walmart Connector is your all-in-one solution for seamless Walmart-Shopify integration. As you transition from the old app, you'll find that CedCommerce offers everything you need to manage your Walmart selling experience.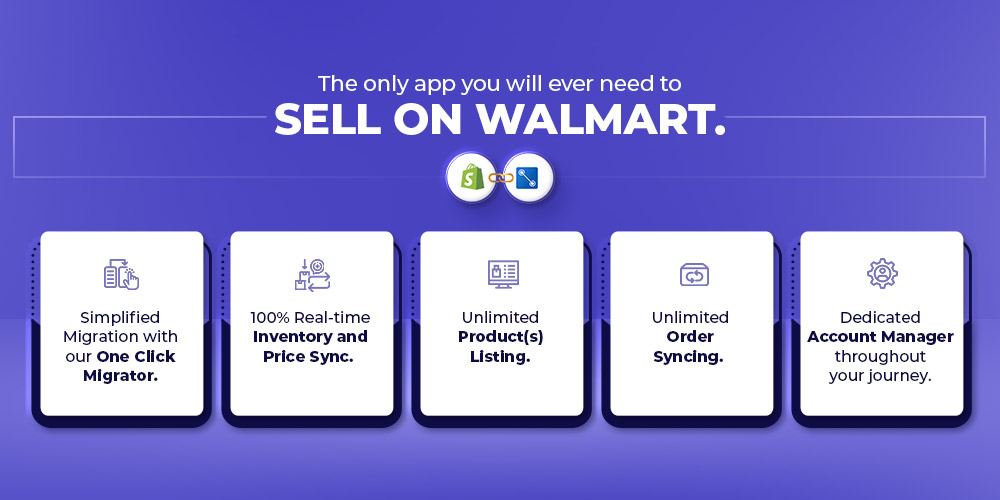 Features that set CedCommerce Walmart Connector apart
1-Click Migration: With CedCommerce Walmart Connector, you can effortlessly migrate all your data from the previous app to our platform with just a single click without losing any existing listings to sell on Walmart.
100% Real-Time Syncing: Keeping track of inventory, products, and orders in real-time across multiple platforms can be a tedious task. But with CedCommerce, you'll enjoy real-time syncing, ensuring that your data is always up-to-date and accurate, saving you valuable time and effort.
Unlimited Orders and Product Listings: The stress of hitting order and product limits ends with CedCommerce. Now, you can manage unlimited orders and showcase your entire product range with no restrictions. As a result, you are free to scale your business without limitations.
Dedicated Account Manager: Every business is unique, and we believe in providing personalized assistance tailored to your specific needs. With CedCommerce Walmart Connector, you'll have access to a dedicated account manager who will guide you throughout your migration and selling journey and address any concerns along the way.
24×7 Expert Support: We understand that issues can arise at any time, and you need reliable support to keep your business running smoothly. So, our expert support team is available round-the-clock to assist you, ensuring uninterrupted selling and peace of mind.
Smooth Walmart- Shopify Integration with Minimal Disruptions
Transitioning from one integration tool to another can be a major concern for merchants. However, with CedCommerce Walmart Connector, you can make the shift seamlessly, with minimal disruptions to your business. Our easy-to-use migration tool ensures that you don't lose any critical data during the process. Additionally, our team of experts is always ready to lend a helping hand to make the switch as smooth as possible.
Frequently Asked Questions
We understand that migrating your business to a new integration app can raise several questions. To help you gain a better understanding of CedCommerce Walmart Connector, here are some commonly asked questions that will shed light on the app's features and functionalities.
How can I get the 60-day free trial?
To access the 60-day free trial, follow these simple steps:
Step 1: Visit the Shopify App Store and click on the "Add App" button to install the application.
Step 2: After installation, click on the "Install App" button to initiate the app onboarding process.
Step 3: You will need to provide the Client ID and Client Secret (API Keys) for the app. Click the "Connect" button to start the migration process.
Step 4: Once the backend migration is initiated, you can choose a plan to begin your 60-day free trial. During this period, you will not incur any charges.
Is the 60-day free trial available for all plans?
Yes, the 60-day free trial is available for all plans. You can choose any plan to avail the trial period based on your requirements.
Can I cancel the free trial at any time?
Yes, you can cancel the free trial at any point during the 60-day period. If you decide to cancel, you will not be charged anything, and the app's functionality will be limited to the free trial features.
What happens after the 60-day free trial ends?
Once the 60-day free trial concludes, you will be automatically enrolled in the plan you chose during the trial period. At that point, you will start incurring charges based on the selected plan.
Can I upgrade or downgrade my plan during the trial?
Absolutely! You have the flexibility to upgrade or downgrade your plan at any time during the 60-day free trial. Simply navigate to the app's Pricing Page and make the necessary adjustments.
Are there any limitations during the free trial?
No, you will have access to all the features and functionalities offered by the app during the 60-day free trial. This allows you to explore and experience the app fully before making a decision.
Summing Up
With CedCommerce Walmart Connector, integration is effortless. Embrace the future of Walmart-Shopify integration with seamless migration, real-time syncing, unlimited opportunities, and 24×7 support. Unlock the full potential of your business and take advantage of the 60-day free offer to experience the difference.
Make the smart choice for your business's growth and success. Choose CedCommerce Walmart Connector today.