Create a fast shipping strategy for your Marketplace business with Walmart's Shipping Templates
Running short of time? Get PDF of the blog in your mail.

Play Now
Something we are repeatedly reminded of during these busy times is that shipping options play a huge part in making a sale and providing a good customer experience. This especially doubles for nationwide expedited shipping at low or even no cost. Of course, this concept makes a lot of sense because who really doesn't want something beneficial for free?
Sellers should be making use of every opportunity at their disposal to drive customer conversion and make a sale where it can matter most. Our statistics show that when sellers offer free expedited delivery options like Walmart TwoDay and ThreeDay conversion scales upward at a considerable rate—up to 50% above average for 2-day delivery, for example.
The benefits of fast shipping are obvious, but you may think that free expedited delivery is a costly service that small and medium businesses simply cannot afford… and you'll be absolutely right. However, you can get creative with your shipping settings configuration and multiple carrier options, creating a fast shipping strategy that works both for the customer and your business. Walmart's new Shipping Templates let you do just that!
With the introduction of this new shipping settings setup tool you can make the most out of your own shipping ecosystem while leveraging expedited delivery programs that Walmart has to offer. This new tool is a more simplified way of optimizing your shipping across the board and streamlining your catalog to its maximum effectiveness. Are you ready?
Using Templates to simplify your shipping configuration… and your life.
So what really are Shipping Templates and how do they help? Shipping Templates are essentially a series of settings and configurations you apply to parts or all of your catalog. You have a default template that basically gets applied to your entire catalog, and then you can have up to fifteen custom templates to use how you see fit.
While the default template consists of the standard settings across your catalog, the custom templates are really where the magic happens. You set up a variety of specific shipping settings like regions, transit times, shipping rates and so forth, then assign SKUs in your catalog to the appropriate template. Now these shipping specific settings are applied to all these SKUs you've specified.
Within each custom template you can configure up to three shipping methods: Value (6 or 7 transit days), Standard (3, 4 or 5 transit days), and Walmart TwoDay (2 transit days).
If you're unfamiliar with Walmart TwoDay , it essentially works by adding 2-day delivery tags to your listings. This increases item visibility, boosts Buy Box prominence, and gets these items listed higher in search rankings. The result is higher conversion and more orders for sellers, but you must meet certain requirements and high-performance standards to qualify for it.
ThreeDay is a little different. You can set it up in the Standard shipping method tab when you offer a delivery promise of three days but gives your items various expedited delivery benefits such as Buy Box boost and conversion lift. ThreeDay does not require enrollment like TwoDay and is available to all Marketplace sellers. This is a sure way to get more visibility for your products without breaking the bank.
The other Standard options and the Value rates are slower, more cost-effective methods of shipping if delivery time is less of a restraint.
Note:You cannot charge customers for Value shipping at all, but you do have the option of charging for Standard or Expedited methods, including TwoDay. Customers tend to gravitate towards free options—including for expedited delivery.
Let's go into some specifics on setting up your Shipping Templates. It can be pretty easy.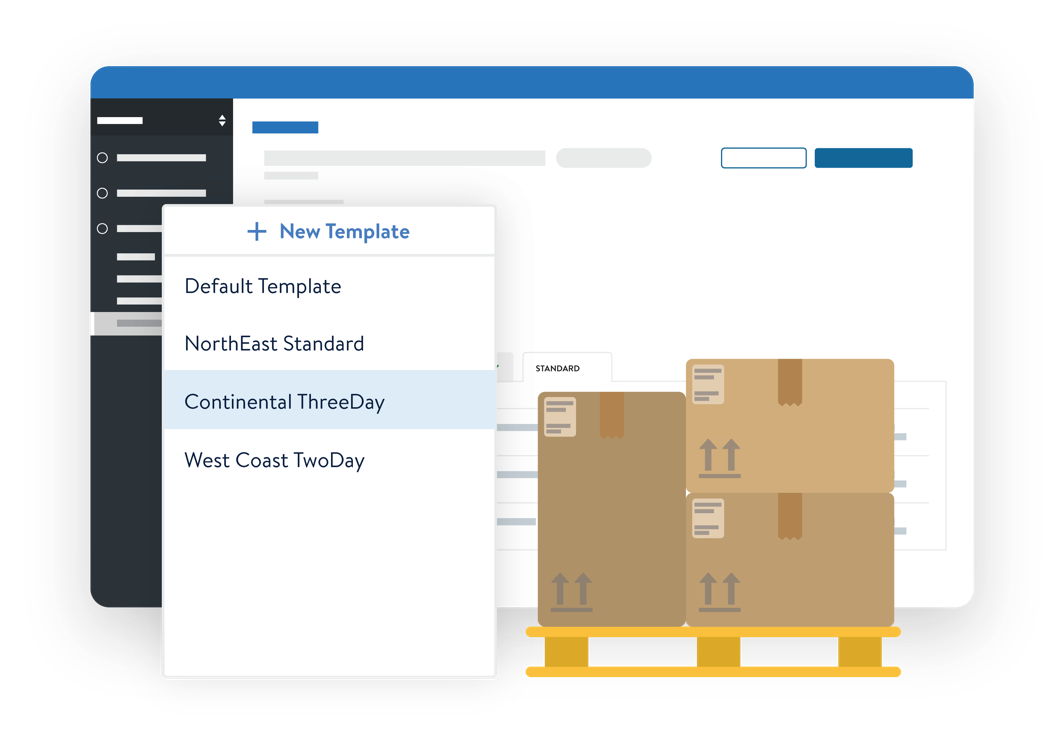 First, go into Seller Center, click on Settings, and select Shipping Templates under the Shipping Profile section. Now just want to add a New Template, define your delivery regions (which can be narrowed down by geographic areas within a state), transit time, dates, service, and more. You can also add multiple rules to customize transit time and shipping rate by region. Oh, and be sure to give it a rather obvious name so you're not guessing what it's for. When you have a bunch of templates going, you'll be thankful you can identify each one easily.
Speak to CedCommerce and migrate to Walmart's new Shipping Templates today!
Once you get a template set up, you can use the Bulk Template Setup function to assign a bunch of SKUs to that template with a simple spreadsheet upload.
Voila! In a quick stroke you've set up your catalog to adjust for the holidays and anticipated delivery times by region.
Here's a quick example of what you can do with Shipping Templates:
Assume your warehouse is located on the west coast and most of your expansive catalog can be offered with Walmart TwoDay program. But due to carrier delays, it's not looking like you can promise 2-day delivery beyond the west coast, but you may still offer 3-day delivery in Midwest and 5-day delivery on the east coast. So, you can use a custom shipping template to essentially split up what kind of delivery times you can promise depending on region very quickly. Within one template add multiple shipping rules for different regions and shipping methods and assign your entire catalog to it. It's that easy!
Everything about Walmart Shipping Services:
Great, what else can I do with Shipping Templates?
With Shipping Templates you can go one step beyond just organizing shipping regions based on delivery times and adding further definition by catalog and fulfillment needs as well as by carrier.
Here are a few scenarios:
Templates for different SKU types in your catalog
Your catalog is made up of smaller items and some fairly large bulk items. You can offer faster delivery methods for the smaller items by assigning them to one template while creating a second template using Standard or Value shipping for the bulkier items.
Templates for different carriers
You use one major carrier for all your shipping but you want to add more to shore up your shipping operations. It can be a little risky putting all your shipping onto one carrier, especially during the holiday season when really anything can happen. By diversifying your carrier lineup you reduce that risk, and you can easily set up a template for each carrier. Additionally, carriers may offer different rates for various items in your catalog, so you can assign groups of SKUs to particular carriers in separate templates as well.
Templates for warehouses/fulfillment centers
You use several warehouses around the country for your fulfillment but haven't really focused your shipping options based on those locations. If you fulfill orders from different warehouses in different regions, you can cut back on delivery times in those areas (and perhaps nationwide) by grouping SKUs by location (also called nodes) and then granularize your delivery options based on those locations. This way you can offer TwoDay or ThreeDay nationwide using ground shipping services and customized templates.
Getting acquainted with Shipping Templates
All these templates probably wouldn't be nearly as helpful if you didn't have good reporting to back it up. We have a wealth of configuration reports so you can quickly see where your SKUs are assigned. This way you can easily keep track of your setup and no need to reference various spec sheets to see where everything is.
Okay so where to start? First, you need to migrate from the previous system called Global Shipping Settings that Shipping Templates replaces. It's still around and for sellers that have been onboarded before September 30, 2020 that's still your default configuration. You'll need to migrate to the new system in order to use Shipping Templates but just be aware—once you change over, you can't go back. This also doubles for your partner companies and API usage as well.
Once you migrate, all your previous settings will be reflected in the Default template. You can edit and customize your default template, but you cannot delete it.
Note that if you were onboarded after September 30 you'll just have access to Shipping Templates, which is just fine. That's all you need!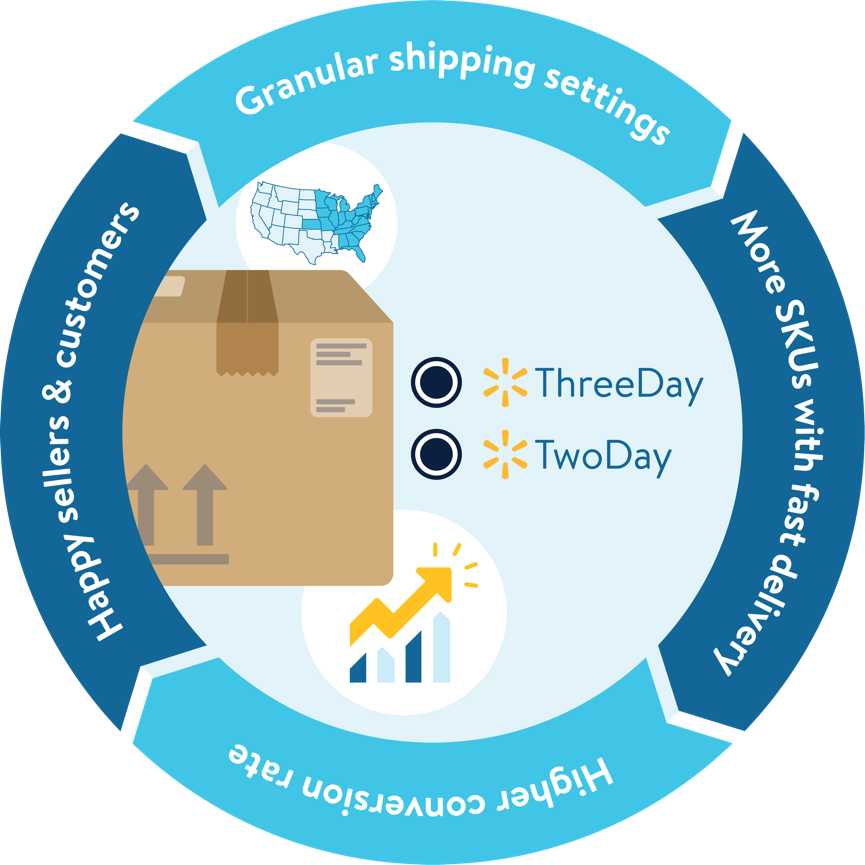 Migrate to Shipping Templates seamlessly with CedCommerce
Shipping Templates is undoubtedly the newest and one of the coolest features that the good folks at Walmart have brought for sellers. The templates have made it easier to create templates and ship faster, capturing business and improving sales! However, for sellers who've been using CedCommerce Integration, the entire process is a cake-walk.
While the app allows the creation of shipping templates and bulk SKU upload to these templates, just like the Walmart Seller Center, with the CedCommerce Integration, the entire process is simplified to a whole new level.
It allows you to pick product SKUs with simple clicks, reducing several steps in the "template creation" process.
Hence, you save on staff-hours, effort, and scope to make errors, which is expected when dealing with something as complicated as CSV files.
Want to know more about the CedCommerce Integration and how we can help you?
Contact: walmartsupport@cedcommerce.com
A handy list of resources
Want to learn more? We have a great list of resources that'll tell you everything you need to know about Shipping Templates: