How to sell on Walmart from your WooCommerce store?
Running short of time? Get PDF of the blog in your mail.

Play Now
Wondering to list your WooCommerce products where shoppers buy? Grow your products outreach to over 323.60M buyers on Walmart and experience a seamless selling experience on Walmart with diversified integration solution. Leverage the chance to transform your WooCommerce store into the next big thing.
The Woocommerce Walmart integration plugin here enables real-time automated synchronization of listings between Walmart to WooCommerce store. Stay tuned to learn more about the plugin's extravaganza functionalities.
Sell easily on Walmart from your WooCommerce store…!  
With advanced and optimized feeds helping you sell more. The WooCommerce Walmart plugin helps you integrate your WooCommerce store product inventories with Walmart's inventory.
You can: 
Automate and synchronize your listings.
Centralize all your order management.
Bulk upload all the products in a go.
Map your products category wise.
Get real-time stock updates.
Win Walmart's BuyBox.
Once setup: 
Bring your products amidst a larger customer base.
You can set the price of your products using the repricer feature of the plugin.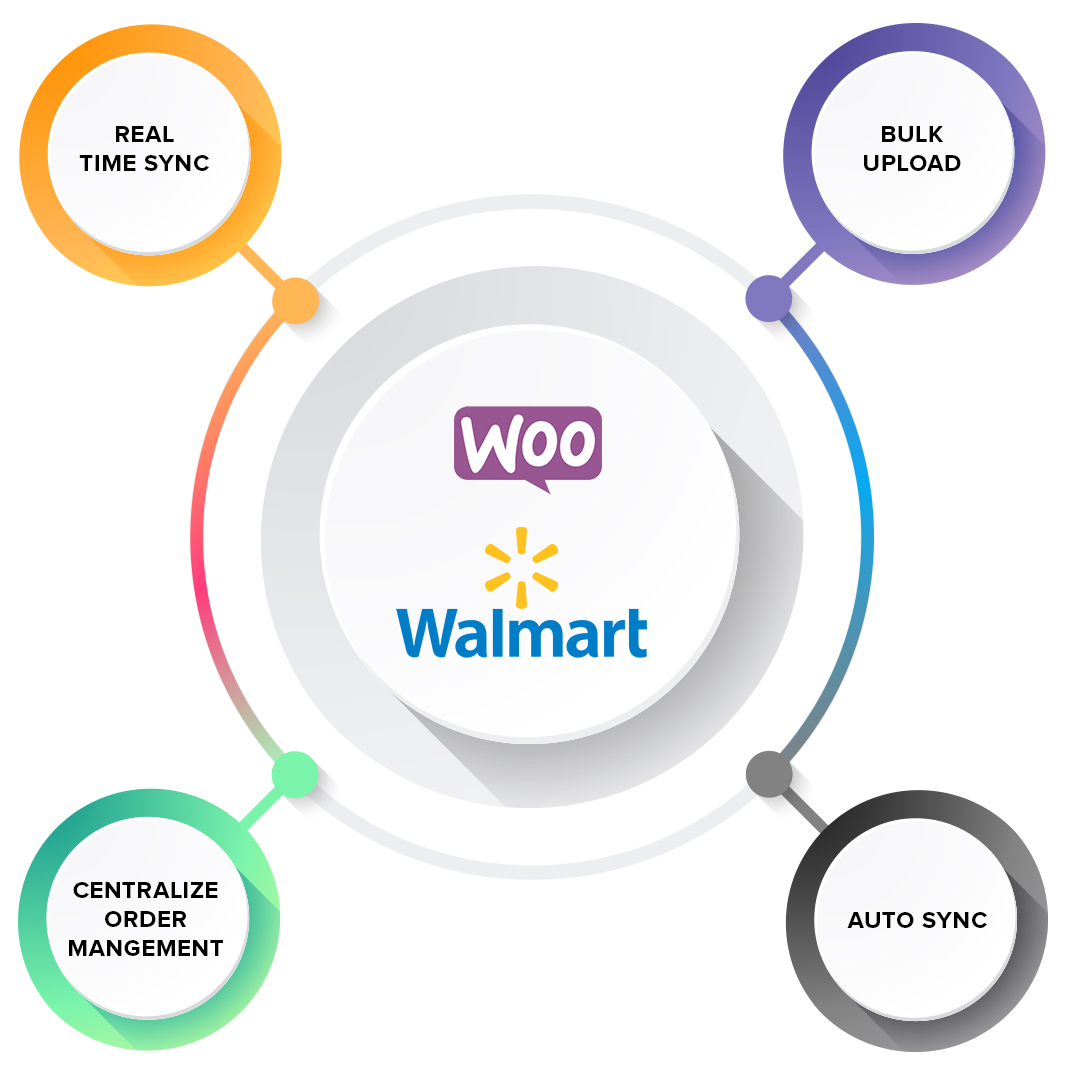 Let's get to know why should you sell your products on Walmart…
Why sell on Walmart from your WooCommerce store? 
In a report shared by Retail dive, Walmart grew its sales by 43% in the fourth quarter last year (Q4, 2018).
The data above concludes it to be the best time to get started with selling on Walmart.
Walmart enables you to list your products without any setup or monthly fees.
Leverage the access to necessary tools and optimize your conversions efficiently.
Win Walmart's Buy box with Walmart WooCommerce integration's repricer.
Get relevant visitors to your products every minute and grow your brand awareness.
Offering a hotline to sellers, Walmart enables merchants to call or interact through any means to improve their seller support.
With Walmart WooCommerce integration extension, you can bulk upload your WooCommerce products and grow your sales in no time.
How to get the seller approval from Walmart? 
Walmart seeks updated and true information about your business. Make sure, you carefully provide each and every required detail.
Fortunately, CedCommerce solves much of your hassle. Being the official channel integration partner of Walmart, they help you on-board Walmart seamlessly.
The seller approval form here approves you as a seller in no time.  All you require is to fill out-
The mandatory contact information along with the registered number and physical address of your business.
All the product assortment information including the categories you will be selling.
Selling experiences (if any) on eBay and Amazon marketplace.
Once approved, fill out Walmart's application form telling about your business and products.
Next, a Walmart representative will be assigned to sign the retailers' agreement.
Connect your payment account and complete your seller profile.
Add all your items and test orders after choosing an integration method.
All set? Walmart will now do a final review and get you selling.
Key challenges faced by retailers when uploading products online: 
Today, when every retailer is working hard to make the multi-channel retailing experience even easier. There are some key challenges faced by the majority of retailers when selling online.
On being asked a major of the population stated manual uploading of products as one of the most tedious tasks.
Another hurdle faced by them is the improper category mapping of products.
Below, we will discuss the common product listing errors faced by Walmart retailers.
What are the reasons for product listing errors on Walmart? 
Incorrect product title: Products on WooCommerce are enclosed within the title to gain a better response from visitors. However, Walmart forbids the use of any special characters on the product title. Thus, you must refrain from using any special characters in Walmart's product title.
Missing GTIN values: Just as with any other marketplace, Walmart demands you to send your products' GTIN. Thus, on listing products without the GTIN value, you will receive errors.
Missing category mapping: Walmart must know where to map your products.  Mapping your WooCommerce product category to that of Walmart is a must. Fortunately, Cedcommerce enables you to manage this part seamlessly.
Products missing SKU: Your orders are sent to you through SKU values.  Moreover, your product is defined by the SKU values you send to Walmart. You must not miss sending your WooCommerce product SKUs to Walmart.
Lack of product type information: Whether or not if you hold expertise in the online selling world, you must know a product type is the most crucial information for the formation of a successful listing on the Walmart marketplace.
Is WooCommerce the perfect fit for you?
WooCommerce today, is one of the top-selling online platforms. As per the report by BuiltWith, a total of 2,906,789 websites use WooCommerce across the globe.
Moreover, a good number of 93.7% of all WordPress eCommerce websites deploy WooCommerce today.
Along with many benefits, WooCommerce leverages retailers with analytics rich dashboard at the back-end. Hence, helping them visualize sales w.r.t. different parameters.

Giving a clear picture of the website's traffic, WooCommerce assists retailers in forming a concrete marketing strategy. These insights push retailers to enhance their conversion rate and site performance.
Do you already own a WooCommerce store? Or are you a newbie in the eCommerce industry?
Even if you are planning to form an eCommerce store on the most reliable platform-  WooCommerce can be your best pick!
Won't it? 
Being an SEO- friendly platform and customizable platform, WooCommerce offers you a number of features for FREE. Hence, helping you shape your dreams and increase your ROI.
To Sum Up…
Get instant approval as a seller on Walmart.
Leverage seamless feed management: easy setup and optimization.
Install the Walmart WooCommerce integration plugin.
Get 24*7 FREE support services by experts in the field.
Happy selling!
You will like to read: