How to sell on Walmart from your WooCommerce store?
Running short of time? Get PDF of the blog in your mail.

Play Now
Are you looking to list your WooCommerce products on a lucrative marketplace such as Walmart? Want your business to grow exponentially with as little hassle as possible? You've landed at the right place! With the powerful WooCommerce-Walmart plug-in you can grow your product outreach to over 100 million visitors. Experience seamless selling on Walmart.com with the diversified WooCommerce integration solution 'Walmart Integration for WooCommerce'. Leverage the chance to transform your WooCommerce store into the next big thing. Here's how!
The Woocommerce Walmart integration plugin enables real-time synchronization of data between your Walmart and  WooCommerce stores.  While the advanced optimized feed feature will help you sell more; the WooCommerce Walmart plugin also helps you integrate your WooCommerce store product inventories with Walmart's inventory.
Why use Walmart Integration for WooCommerce?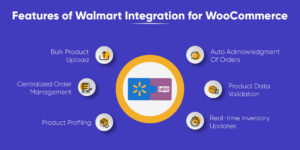 The Walmart Integration for WooCommerce by CedCommerce comes with power-packed benefits that will help you deliver an unmatched shopping experience to the potential shoppers on Walmart.
The powerful features help you simplify everyday store operations between Walmart and WooCommerce:
1. Product data validation
With the WooCommerce Walmart Integration app's Product Data Validation feature, you can easily upload and map your products. Meaning, the app updates all your WooCommerce product details as per the marketplace guidelines for quick acceptance on Walmart.
2. Bulk product uploads
The integration app also helps sellers quickly upload large inventories. With the Bulk Uploading feature, you can select the products you want to sell on Walmart and upload them in one go.
3. Centralized Order Management
The Centralized Order Management feature helps you easily manage your Walmart orders from a centralized platform. The app fetches Walmart orders, and auto accepts them; so that all orders acknowledged and canceled from a centralized platform seamlessly.
4. Product profiling
With the WooCommerce Walmart Integration, you can easily upload products by creating Product Profiles. With the feature, you can easily map your WooCommerce product categories and advanced attributes with Walmart-approved categories and attributes. In turn, providing scope for better visibility and product reach.
5. Auto acknowledgment of orders
With this feature, the app can auto acknowledge orders that are created on Walmart or your WooCommerce store. This allows you to maximize your sales and improve your Seller Scorecard.
6. Real-time inventory updates
The WooCommerce Walmart Integration updates inventory between Walmart and WooCommerce stores in real-time. Meaning, any changes made on the app- to the product's specifications- i.e. price, description, and inventory, will get updated on the Walmart storefront in real-time.
Why sell on Walmart from your WooCommerce store?
As per a Walmart report for the fiscal year 2021 that ended on January 29, the sales of products on walmart.com have increased by 79%. This indicates an increase in shopping trends and consumer interaction on the marketplace. Hence, it seems that if you had been thinking of selling on Walmart, now is a perfect time to do so!
That's not it, Walmart also offers a few more lucrative benefits:
Walmart enables you to list your products without any setup or monthly fees.
Leverage the access to necessary tools and optimize your conversions efficiently.
Get the  Walmart WooCommerce integration and easily win Walmart Buy Box.
Get relevant visitors to your products every minute and grow your brand awareness.
How to get approved to sell on Walmart?
Walmart seeks updated and accurate information about your business; hence it becomes essential to carefully provide all the required information.
Fortunately, CedCommerce solves a lot of these issues for you. As an official Walmart channel integration partner, CedCommerce can help you onboard Walmart seamlessly and avoid any unnecessary hassle.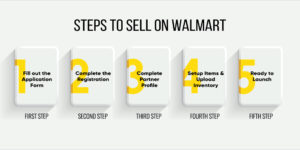 To start your selling process, fill out the seller application form with the following details:
The mandatory contact information, along with the registered number and physical address of your business.
All the product assortment information, including the categories you will be selling.
Selling experiences (if any) on eBay and Amazon marketplace.
Once approved, fill out Walmart's Registration form telling about your business and products.
Complete your Partner Profile.
Select an Item Set up method and Upload Inventory.
Launch your account as a Walmart Seller.
Critical challenges faced by retailers when uploading products online
Since most sellers work hard to establish their businesses, there are a few key hurdles that sellers can face.
On being asked, most sellers confirm manual uploading of products as one of the most tedious tasks; additionally, they also mention improper category mapping of products. However, these roadblocks are easily crossed because of the amazing integration app offered by CedCommerce. Besides making everyday tasks easier for sellers, the app also eases most aspects of multichannel selling for Woo sellers.
What are the reasons for product listing errors on Walmart?
Incorrect product title: Products on WooCommerce are enclosed within the title to gain a better response from visitors. Because Walmart forbids the use of any special characters on the product title, it would help if you refrained from using any special characters in the product title.
Missing GTIN values: Like any other marketplace, Walmart demands you to send your products' GTIN. Thus, on listing products without the GTIN value, you will receive errors.
Missing category mapping: Walmart must know where to map its products. Mapping your WooCommerce product category to that of Walmart is a must. Fortunately, Cedcommerce enables you to manage this part seamlessly.
Products missing SKU: Your orders are sent to you through SKU values. Moreover, your product is defined by the SKU values you send to Walmart. Therefore, you must not miss sending your WooCommerce product SKUs to Walmart.
Lack of product type information: Whether or not you hold expertise in the online selling world, you must know a product type is the most crucial information for forming a successful listing on the Walmart marketplace.
Is WooCommerce the perfect fit for you?
WooCommerce, today, is one of the top-selling online platforms. As per the report by BuiltWith, a total of 4,414,537 websites use WooCommerce across the globe.
Moreover, a good number of 93.7% of all WordPress eCommerce websites deploy WooCommerce today.
Along with many benefits, WooCommerce leverages retailers with an analytics-rich dashboard at the back-end. Hence, helping them visualize sales w.r.t. different parameters.
WooCommerce also assists retailers in forming a concrete marketing strategy. These insights push retailers to enhance their conversion rate and site performance.
Do you already own a WooCommerce store? Or are you a newbie in the eCommerce industry?
Even if you plan to form an eCommerce store on the most reliable platform- WooCommerce can be your best pick!
Being an SEO- friendly platform and customizable platform, WooCommerce offers you several features for FREE. Hence, helping you shape your dreams and increase your ROI.
To Sum Up
With Walmart WooCommerce Integration, you can solve the numerous aspects of multi-channel selling hassle-free. With the app, you can quickly bring your products to a more extensive customer base.
The installation of the app is quick and easy. Also, this Integration extension helps you manage the two stores from a centralized point. It reduces the efforts and time needed for individual management of platforms and everyday sales operations. All of these and other elements of the integration help you grow your Walmart sales without a hitch.
Also, with expert support from CedCommerce, you can solve any app-related query in almost no time.
Furthermore, CedCommerce also aligns a dedicated account manager with you to assist you and make app usage flawless.
To help you sell better on Walmart, the following are some more valuable resources for you: