Ship with Walmart and Sell Cross Border from US to Canada
Running short of time? Get PDF of the blog in your mail.

Play Now
Expanding to Walmart Canada is an obvious next step for sellers who have enjoyed tremendous success while selling on Walmart US. Selling on Walmart.ca is a lucrative idea that most US-based sellers entertain but cannot turn into a reality. This can be owed to high shipping costs, over-the-top customs, excise duties, or the hassle of migrating inventory. However, if you need answers to the questions such as How to sell on Walmart Canada? How to ship cheaper to Canada? What is the shipping price to Canada? How does Walmart US's ship to Canada program work? How can I ship faster to Canada? Does Walmart.com ship to Canada from the US? Does Walmart.com deliver to Canada? Ship With Walmart is just what you need!
If you want to expand to Walmart Canada, Ship with Walmart will make it easier and much less complicated for you. With this walmart.com's shipping to Canada program, you can witness a growth of around 10% in your sales! Not just that, with this new cross-border Walmart Ship to Canada shipping service, you can save big on customs, excise, and other costs incurred in international shipments.
This Walmart Ship to Canada service is also designed for US-based sellers who face difficulties while shipping to Canada. Ship with Walmart offers a better, faster, and easier way to ship cross-border to Canada in layman terms.
A quick look at the facts about Walmart.ca
Merchants selling on Walmart US can easily onboard Walmart Canada as the interface and policies are similar in both the marketplaces. Thus, ensuring a smooth and hassle-free transition for you.
So, if you are already selling on Walmart US, here's why selling on Walmart.ca sellers will be an excellent idea:
Walmart.ca has around 4 million monthly visitors, a sales growth of 100% YoY in 2 years, and approximately 8 million products are live on its platform.
As a young, rapidly growing platform, Walmart.ca offers healthy competition and an unhindered fair trade environment to all its sellers.
On Walmart.ca, only 45% of the orders are fulfilled by sellers themselves instead of the industry benchmark of 75%.
Walmart Canada's customer base includes around 54% of Affluent Shoppers from well-to-do families. The other overlapping composition is Millenials and Families with kids, which are fantastic target audiences for most sellers.
With this new Walmart's ship to Canada service, selling on Walmart.ca from the US is much easier now.
Owing to the Covid-19 pandemic- Home supplies/ home goods, Indoor goods, Toiletries, and Cleaning Supplies, are some of the most popular categories on the platform, giving (such) sellers a unique opportunity for growth.
An eMarketer survey says that a good chunk of Canadian consumers includes cross-border digital buyers who prefer to buy from the US almost 60% of the time.
As per the North American Free Trade Agreement (NAFTA 2.0), the duty and tax-free shipment value were raised to $40 CAD from $20 CAD, making the shipment process all the more profitable.
What do customers want on Walmart.ca?
Value for money: 66%. Customers are looking for low-cost products with great quality, and they prefer the everyday low prices offered by Walmart.
Excellent Experience: 59% of consumers look for an easy-going shopping experience as frictionless as possible. Hence, Walmart relies on sellers to provide a stress-free environment for the customers. No return is required, fast or on-time delivery and good customer service are key for delivering a superb experience.
The assortment of core values: A large group of people- a whopping 49%- wants a collection of these core features. They want excellent service, flawless experience, and the lowest possible prices.
Convenience: While shopping, 42% of consumers want a hassle-free experience, easy to understand, and transparent policies can help you a great deal.
Valued Brand: 35% of consumers prefer buying the brands they know of. Hence, high-quality products add tremendous value to the overall shopping experience.
What does a shipment from the US to Canada look like?
With the proximity of the two countries and significant political and economic relationships, the US and Canada have the highest potential for cross-border trading. Apart from China, the US has the second-largest economic partnership with Canada regarding export and import.
The Canada Border Services Agency (CBSA) requires shipments originating from the United States to include a Canada Customs Invoice (CCI), Bill of Lading, Commercial Invoice, and pertinent Import/Export Licenses. A CCI must have a rundown of crucial details regarding the shipment, such as date of the shipment, name, address, and phone number- of both the shipper and the consignee, a definite portrayal of the material being transported, and the complete evaluated monetary estimation of the shipment.
Possibly, keeping up a Canadian stock as a US provider can be excessive to your business' monetary concern. However, US shippers can apply the essential applications to turn into a Non-Resident Importer (NRI).
The moment a United States-based organization turns into an NRI, the export and import procedures become streamlined. The NRI accepts accountability for all charges, expenses, and obligations owed to Canada. Numerous Canadian organizations require their United States accomplices to be an NRI on the off chance that they don't (as of now) have a current residency in Canada.
Cost of Shipping to Canada
Taxes involved
The Goods and Services Tax (GST)
The Harmonized Tax (HST)
The Provincial Sales Tax (PST)
Tariffs Involved
For shipments entering Canada from the United States, tariff cost is determined based on the harmonized standards of the World Trade organization (HTS Codes). One additional benefit is that NAFTA disposed of taxes on all Canadian-bought products fabricated in the US.
Nonetheless, if an item incorporates parts made outside of the United States, the Canadian client must pay taxes on those segments.
What is the Ship with Walmart program?
For this Walmart.com's shipping to Canada service, Walmart has partnered up with two excellent shipping companies to handle the shipment between the US and Canada. This has been done so that sellers and customers can avoid the lengthy process involved in cross-border trading.
The two existing systems for fulfillment from Walmart.ca involve:
Self-fulfilled by the merchant
Ship with Walmart Solution
Ship with Walmart
Walmart allows sellers to set up their return and shipment policies. So even though sellers will be affiliated with SWW, they can still enjoy significant control. However, this is valid so long as the seller's policies do not violate Walmart.ca's guidelines. Sellers can also enable or disable Ground Shipping and Express shipping, although express shipping is optional.
The time set for the two methods are:
Ground Shipping: 2-8 Business days
Express Shipping: 2-5 Business Days
The SLAs for the two methods are:
Ground Shipping: US Hub to Door
Express Shipping: Door to Door
Sellers can make necessary changes in the transit time to modify their average ship times.
Also, sellers have the freedom to decide the shipping price. Sellers can charge more for faster service or use another service and ship for free. However, offering both of them to the customer as an option adds to the overall experience. Providing free shipping is also a great marketing and promotional strategy.
To begin Ship With Walmart onboarding, Register for the SWW program.
How does the shipment process work?
When a product arrives in Canada and is held at the customs, the seller is contacted for further proceedings. Walmart.ca essentially requires sellers only to use Delivery Duty Paid (DDP).
Thus, if you are handling the shipment on your own, adjust the product price to involve an upfront payment of customs duties and manage the payment on your end. Getting the product across the border safely without troubling the customer through delayed deliveries becomes your job.
Instead, if you chose to Ship with Walmart across the US border to Canada, you will have the advantage of less hassle.
For Walmart US ship to Canada service, Walmart has partnered with FedEx and Purolator to provide two kinds of shipment services- Express and Ground.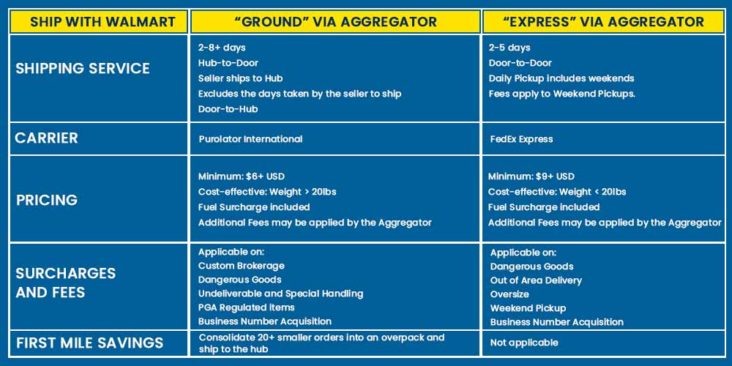 Ground Shipment
Best suited for the needs of shipping bulky and large-sized items or the items that must be shipped via land and not air. They are a hub-to-door shipment arrangement.
With Purolator, the Ground shipment or Land shipment makes selling cross-border far more straightforward than ever.
There are three hubs across the US for starters, and later, they will add more ends. These ends include- Newark, Chicago, and LA.
The Ground option offers the advantage of saving more in first mile delivery as compared to its counterparts. All you need to do is consolidate 20+ smaller orders in one overpack and ship it to the nearest hub.
Also, note that Direct returns are available with Ground Shipping.
Express Shipment
For Ship with Walmart Express via FedEx, Walmart has partnered with FedEx Express to deliver quickly from the US to Canada at reduced rates. This is a door-to-door service.
As a Walmart partner, FedEx will handle the shipment for you regarding documentation, custom duty, and taxes. Express shipment is better suited for single, lightweight products with no limitation on being shipped via a flight. With every one in three shoppers being an omnichannel partner in Canada, there is a high count of US sellers' purchases.
Thus, to aid the sellers from the US who are selling on Walmart.ca, Ship with Walmart is a marvel in dealing with cross-border trade. Direct returns are available with Express Shipping as well.
How does the Walmart USA ship to Canada service work?
The process of cross-border Ship with Walmart service works in a few simple steps.
Walmart.ca sends order notifications.
Seller packs for pick up or ships to a hub.
Carrier prepares the order for international shipping and clears customs.
Driver Delivers.
Walmart.ca bills seller.
How does Ship with Walmart benefit you as a retailer?
Through Ship with Walmart service, you as a retailer get:
Walmart negotiated rates.
Duty and Tax report.
Import documents preparation.
Customs brokerage.
Account experts to assist you.
How does Ship with Walmart benefit your customer?
Reliable shipping time estimates.
End-to-end tracking
Product delivery in 2-10 days
Initial Set-up Requirements for using Ship with Walmart services
To use the new feature, you need to have the following items on your list checked:
You must have a valid US address for your business entity. All products must be shipped from the US address. Nonetheless, the shipping and business entity address may differ. Sellers on Express can have multiple warehouses for pickup.
You must be a Seller on Walmart.ca to avail of these services.
Integrate with Walmart Shipping API by partnering with CedCommerce to avoid the technical implementation of the API directly.
How do you get started with the Ship with Walmart service?
To begin using the Ship with Walmart, follow through with these steps:
Request a shipping rate card for cost overview.
Check out the Terms of use for the Ship with Walmart program on Walmart Seller Center or contact CedCommerce to start the process.
Please read the contract, in case you need to, then consult an expert and sign it.
Complete onboarding steps.
Once you are done with that, start shipping.
Ship with Walmart (SWW) Service Onboarding Process for Ground and Express Shipment
The general onboarding of Express or Ground service of Ship with Walmart from Walmart International consists of the following steps:
Overview Meeting
Signing of Agreements
Catalog Preparation
Shipping API Integration from CedCommerce
Go live!
For explicit onboarding guidelines or other associated queries, you can either get in touch with CedCommerce or leave a comment below.
Go Live!
Once all the steps have been completed, confirm with the Walmart Account Manager that you are ready to start shipping right away.
For quick help, consult this checklist: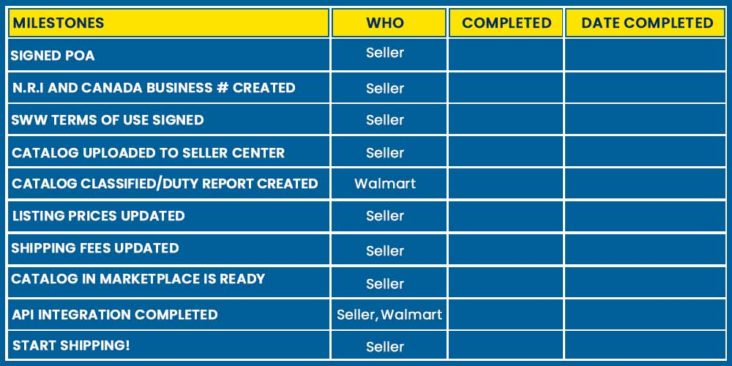 Read further about Valet Seller's 2% business growth and 25% hike in traffic with a bit of assistance from CedCommerce Walmart Canada integration's Ship With Walmart feature.
Challenges faced
Kevin Dunne is the CEO of Valet Seller. During the past 7 years of running a successful eCommerce business, the only major issue he faced was shipping cross-border from the US to Canada, and he felt it was a hard nut to crack.
Solution 
As a result of his online research, soon, Kevin discovered CedCommerce Walmart Canada integration. The Ship with Walmart feature of the integration assisted him in effortlessly shipping orders cross-border to Canada.
Outcome
With little assistance from the seamless integration, Valet Seller's traffic increased by 25%, with an overall business growth of 2%.
Valet Seller – Amplifying eCommerce Marketplace.
With the trust of numerous international SMBs, Valet Seller is an eCommerce service provider that enables you to expand on the marketplaces. With its robust solutions, you can sell on multiple marketplaces utilizing the available storefronts and increase your online visibility like never before.
The High-end Multichannel Selling Solution – Walmart Canada Integration by CedCommerce
CedCommerce is an all-in-one solution for those looking to soothe their multichannel selling. It provides customizable solutions Irrespective of the framework used by sellers to sell online. By serving marketplace sellers for years, CedCommerce helps in selling seamlessly on marketplaces like Walmart, Amazon, eBay, Fruugo, OnBuy, etc.
Valet Seller's expansion to Walmart
Kevin Dunne started his online journey 7 years ago with his Shopify store Valet Seller. To boost his online presence, he felt the need for an integration solution that could reduce the complexities of multi-channel selling, should be competitively priced, and could simplify shipping products cross-border to Canada. While looking for solutions, his online research convinced him to finalize CedCommerce Walmart Canada integration as his store's integration partner. He realized it was the best bet that could fulfill his needs.
Effortless Cross-border shipping
As per Kevin, the integration has simplified order management and cross-border shipments. Now, Kevin effortlessly creates shipping labels and ships products to Canada with the least effort involved, which was his major concern.
5 Star Rating to CedCommerce
Delighted with the outstanding services from CedCommerce, Kevin gave a 5-star rating to the services from CedCommerce. He also states that –
"The account managers are always helping us if we run into any issues. They respond quickly and even go above and beyond their promised support level. It feels like they are an extension of our team."