Diversify your WooCommerce products on the Walmart Mexico marketplace
Running short of time? Get PDF of the blog in your mail.

Play Now
Walmart opened its first retail store in Mexico in 1991. As of 2021, Walmart Mexico has completed three decades of operation and manages a diverse range of retail chains, including Walmart hypermarkets, Bodega Aurrera discount stores, Superama supermarkets, Walmart Express supermarkets, and Sam's Clubs.
Moreover, walmart.com.mx got a whopping 23.3 million online traffic in April 2023, making it one of the most dominant marketplaces in the region. This milestone is a testament to Walmart's commitment to providing customers with an unparalleled shopping experience. As a WooCommerce retailer, if you plan to harness this online marketplace's full potential, then this blog is just for you.
The step-by-step strategies discussed here will help you design that perfect long-term growth plan for your e-commerce success. So let's jump in.
Why sell on Walmart Mexico?
Walmart is one of the largest retailers in the world, and its Mexican operations are no exception. By selling on the Walmart Mexico marketplace, you can tap into the retailer's massive customer base and benefit from its brand recognition. This means that you will be able to reach more potential customers than if you were selling solely through your WooCommerce store.
Here are some of the reasons why you should include Walmart Mexico in your e-commerce journey-
A trusted marketplace that has recently completed 30 years of serving its customers.
Monthly traffic on the platform crossed the 23 million mark in April 2023.
Global net sales of the platform in the year 2022 are over US$1087 million.
In the Toys, Hobby & DIY market in Mexico, walmart.com.mx is ranked #2 with net sales of over US$300m in 2022.
Prerequisites to register on Walmart Mexico as a seller
The official website of the Walmart Mexico platform is walmart.com.mx. You can simply follow the steps to start the registration process as a seller-
Step 1-
Use the Chrome browser as it is officially recommended. On the homepage of the website- walmart.com.mx, if you scroll down to the footer section, you get the Sell With Us option, as highlighted in the image.

Step 2-
Click on the Sell with Us option, and you will be redirected to another page. Here, you will have two options to register as a seller.
Option 1- If you're a seller from Mexico.
Option 2- If you're an international seller.
Choose the right option and proceed to view the prerequisites required to register as a seller on Walmart Mexico.

Step 3-
Here is a list of essentials that you need to register on the platform-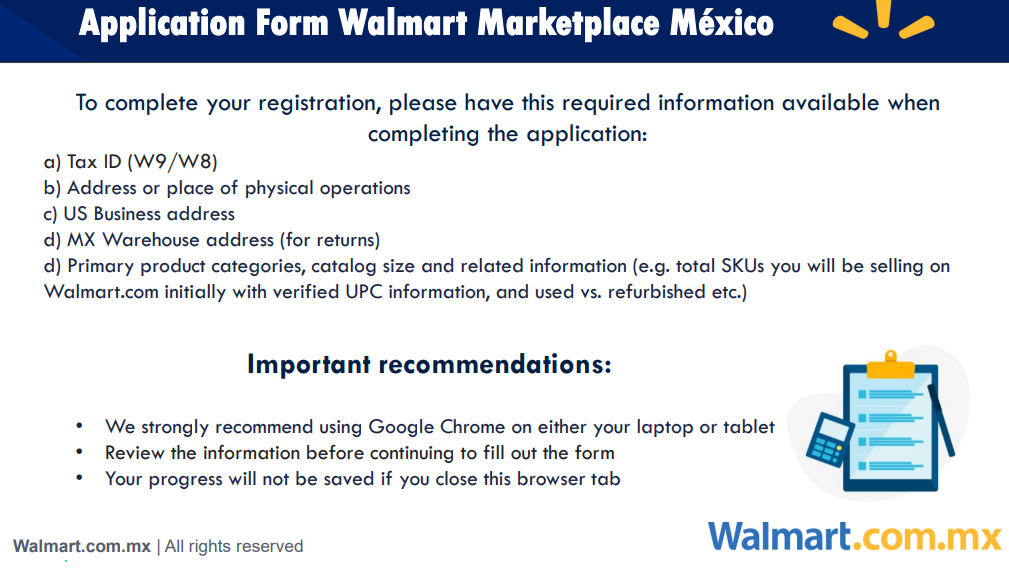 Important:
All documentation must be in the name of the same person or taxpayer.

If any of the documents are incomplete, you cannot continue with your registration. So it is essential to have the complete documentation before starting with it.
Once you get all your documents ready, you can start the registration process by clicking the link here.
How WooCommerce as a platform can help you grow
One of the key advantages of WooCommerce is its flexibility and scalability. It can be easily customized to meet the unique needs and requirements of different businesses, whether they are selling physical or digital products.
Additionally, it integrates seamlessly with marketplaces, making it easier for sellers to manage all operations on a simplified single WooCommerce dashboard.
Walmart Mexico Integration for WooCommerce by CedCommerce
As a WooCommerce seller, Walmart Mexico integration for WooCommerce is the ultimate tool to automate your marketplace selling. Above all, with an intuitive user interface for managing products, orders, and inventory, there is more, you can simplify using the integration tool.
Here are some of the key benefits of selling on Walmart Mexico via WooCommerce-
Upload all your WooCommerce products on the Walmart Mexico marketplace using the bulk upload feature.
The category mapping feature assists you in seamlessly categorizing your WooCommerce product categories with the Walmart Mexico marketplace categories.
Automatic acknowledgment of the marketplace orders and centralized management on the WooCommerce dashboard will help you speed up the fulfillment process.
Near real-time inventory syncing helps in providing accurate data to prevent overstocking and understocking of the inventory.
A centralized WooCommerce Product dashboard where you can easily manage, edit and perform specific actions. Additionally, all it takes is just a few clicks to perform an action on the dashboard.
Let our experts help you
Expanding your e-commerce business to the Walmart Mexico marketplace is a smart move for growth and success. With our team of platinum-certified WooCommerce experts, you can take advantage of smart features that will simplify, automate, and scale your online selling process.
Whether you are new to e-commerce or an experienced seller, our experts can guide you through the process and will ensure that your store is optimized for growth. Take advantage of this opportunity to reach millions of potential customers in Mexico.