Boost your online business with Walmart's Pro Seller Badge
Running short of time? Get PDF of the blog in your mail.

Play Now
Quick Review: Running a successful online business is tricky, especially when we talk about a platform as competitive as Walmart. Selling on Walmart successfully comes with its own set of challenges- you need to have exceptional service, a great track record, and now- the Pro Seller Badge. In this blog, you'll find about Walmart's Pro Seller Badge. How is the Pro Seller  Badge Awarded? How is the Pro Seller Badge beneficial for your Walmart store? And How can you get the Pro Seller Badge?
Read on to find out how you can increase your visibility on Walmart and establish yourself as a trustworthy brand.
What is Walmart's Pro Seller Badge?
Millions of buyers place their trust in Walmart's name and its promise of quality with affordability. Walmart prides itself on its great service, and the Pro Seller Badge is its newest initiative for the same. Simply put, Walmart's Pro Sellers Badge is a symbol of your quality. It is a badge of recognition for the top-performing sellers, a mark of excellence.
Since millions of sellers- big or small, sell successfully on Walmart, it leads to a rise in competition—making it troublesome for buyers to differentiate more trustworthy and reliable brands from those that aren't.
Walmart's Pro Seller Badge helps with that. The badge will appear next to the seller's name on Walmart's search results, additional sellers page, item page, in the cart, and add to cart confirmation pages. Walmart has designed this badge to help buyers gain customers' trust and increase conversions for the businesses that provide quality services.
The Pro Seller Badge will directly let the customer know that they're buying from a reliable brand
Think from a customer's POV. Wouldn't you prefer to buy from a Walmart verified and reliable brand? Of course, you would!
Who gets the Pro Sellers badge? How is it awarded?
Walmart's Pro-Sellers Badge is awarded to all sellers who qualify the following criteria:
The delivery defect rate should be less than or equal to 10%.
The 90-day cancellation defect rate should be less than or equal to 2%.
The listing quality score should be more than or equal to 60% for the 70% of the trending products.
You must have received at least 100 orders in 90 days.
The newly onboarded sellers must be active for 90 days.
You must abide by the Walmart marketplace policies and maintain seller performance standards.
Note– You don't need to fill out any applications. If you fulfill all the above-mentioned requirements, you can easily win Walmart's Pro Sellers Badge.
Also Read:
What is Walmart's "Listing Quality Score"?
The listing quality score is a combined measure of your product score, product's content and discoverability, ratings, reviews, and post-purchase quality—the better score, the best visibility, and thus the better sales. A better listing score will ultimately incite more trust in your listing and your store.
How can you improve your Listing quality Score?
The listing quality score is directly associated with product SEO and improving visibility. To improve your listing quality score, you need to choose the right product category and apply the best possible keywords. If you want to improve your listing quality score with the help of experts, reach out to our experts, who'll help improve your listing visibility. 
What is Walmart's "Delivery Defect Rate"?
The Delivery Defect Rate refers to the rate of orders a seller fails to deliver before the expected delivery date. Ideally, your delivery defect rate should be less than 10% to get the badge. To maintain a reasonable delivery defect rate, you need to choose a suitable carrier service that delivers the order before the expected delivery date.
Note– Another thing that can help you achieve the Pro-seller badge is maintaining a great Seller Scorecard.
How to maintain a great Seller Score Card?
On-time Shipments– To get a positive score, it's essential to complete the shipping before the delivery date. All sellers should comply to provide the shipping details (URL and tracking number) to Walmart to notify the buyer accordingly.
Valid Tracking Rate– Sellers need to provide orders with delivery scans, accurate tracking information so that customers can track their shipments.
Cancellation Defect Rate- The percentage of orders you cancel after receiving the order from Walmart. Avoid initiating cancellations once you accept orders from Walmart to reduce defect rates.
Note– The seller's performance data is refreshed on the 5th and 20th of every month. You can check your score on Seller Center on Walmart.com.
What are the benefits of Walmart's Pro Seller Badge?
Increase in conversion rate– Walmart's pro sellers badge is designed to be eye-catching, it invokes buyer trust and increases your visibility in the search results, resulting in higher conversion rates.
Gains Customers Trust– The pro seller Badge showcases you as a consistent, trustworthy brand. It ensures the customer that you'll provide a great shopping experience with easy returns and on-time delivery.
Boost exposure- Since you're almost getting Walmart's nod of approval with the Pro-Seller Badge, your sales are boosted, and the brand gets optimal exposure.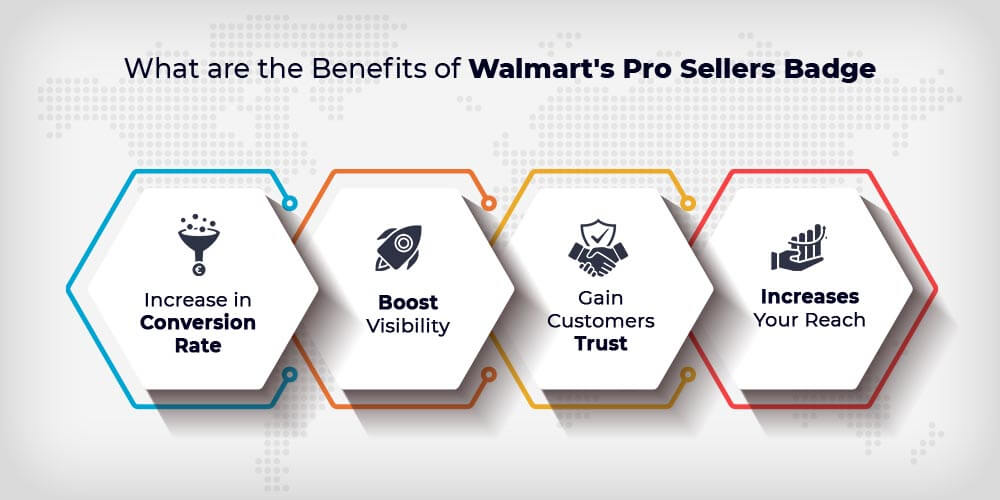 How can CedCommerce help you win Walmart Pro Seller Badge?
Being Walmart's official channel integration partner, CedCommerce helps you boost your listing game, lower the chances of defects, and understands the metrics that Walmart considers while alloting a Pro Seller Badge.

Using CedCommerce's integration solution, you get all your sales insights on Walmart. The app's inbuilt analytics panel shows your current sales metrics and is broken down into sub-sections that ease your tasks of managing your Walmart listings. With it, you can work on the areas that need input from your side.
Listing quality
The listing quality section of the app reflects your product's listing quality on the Walmart marketplace. You get a detailed analysis of the quality of your listings, including content discoverability, offer, ratings & reviews. If there is an issue with your Walmart listings, it shows you there itself. So, from here, you can quickly work on improving your listings in a way like never before.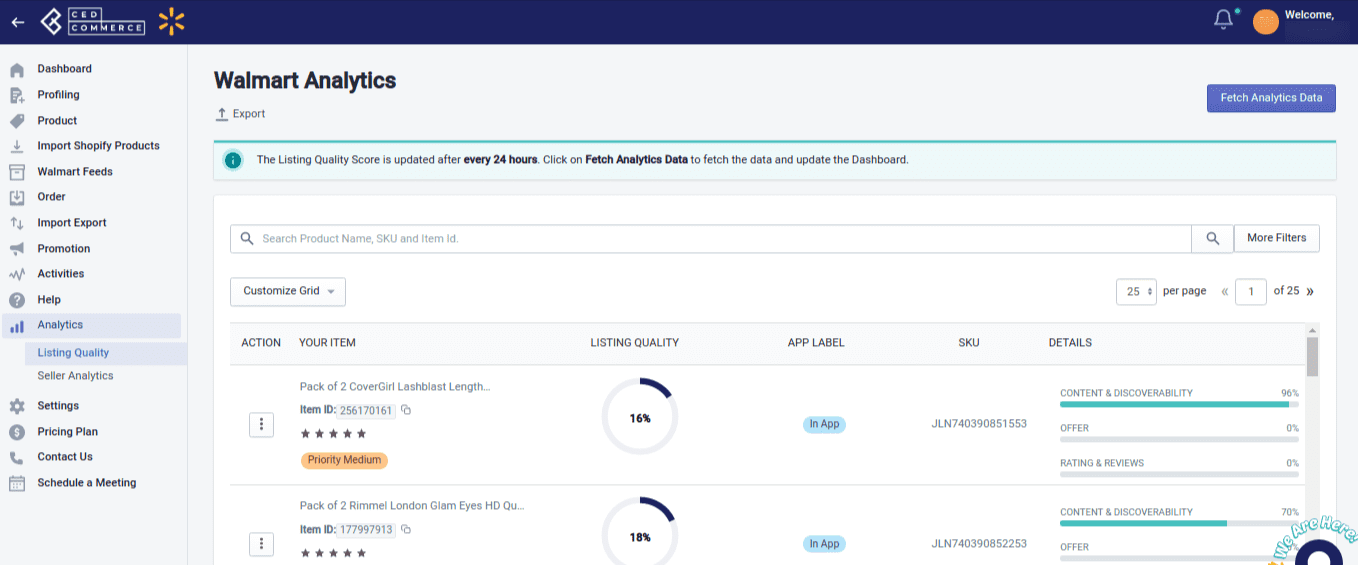 Seller analytics
The seller analytics section reveals what you need to accomplish to attain a pro seller badge. It displays info on your current sales metrics like delivery defect rate, percentage cancellations, your active days, number of orders received in 90 days, and the percentage of catalogs having a listing quality score higher than 60%. Walmart considers all of these parameters when it decides whether or not you deserve a Pro Seller Badge.
If any of these metrics fall below the required eligibility criteria for achieving the pro seller badge, you can quickly learn about it and work accordingly to improve that eligibility metric on Walmart.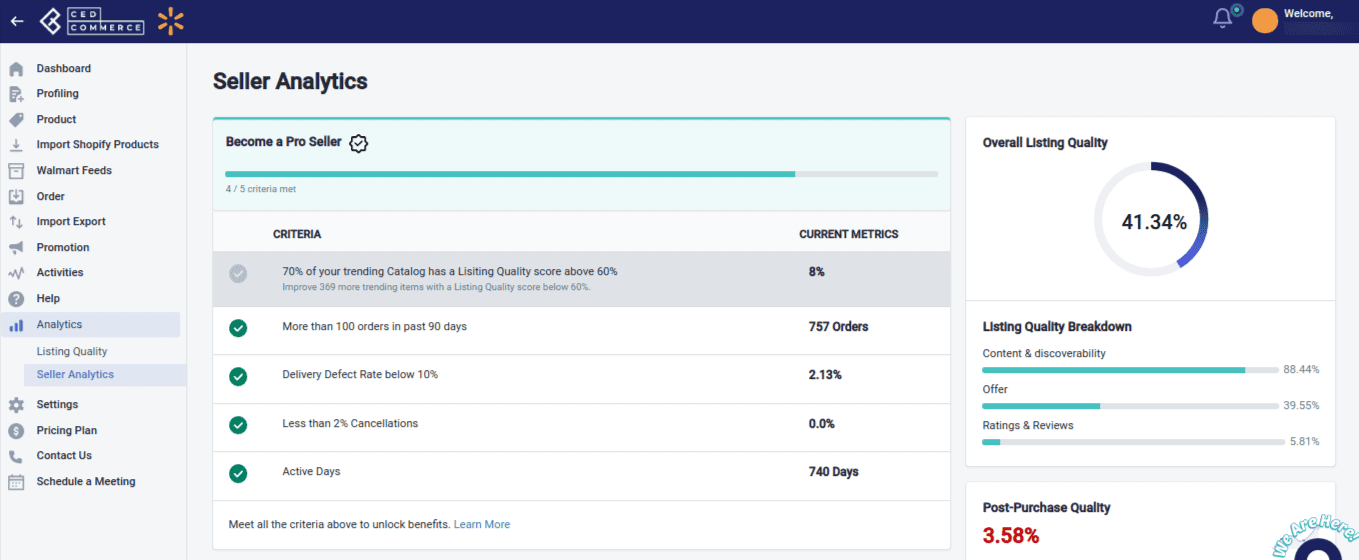 Additionally, the following salient features of the integration app allow you to maintain a healthy seller scoreboard and aid in the process of you qualifying for the pro seller badge.
Product Listing: This feature of the app allows you to import products from your store to Walmart and helps you list your products on the marketplace in a few clicks.
Inventory Synchronisation: The app syncs your store with Walmart Seller Center and updates all inventory and stock-related information.
Bulk Product Upload: This feature helps you upload your products in bulk without going through the arduous process of listing products individually or mapping their categories with that of Walmart.
Auto Acknowledgement: Another advantage of using our integration solution is that you never miss out on any orders as the app fetches and auto acknowledges all Walmart orders for you.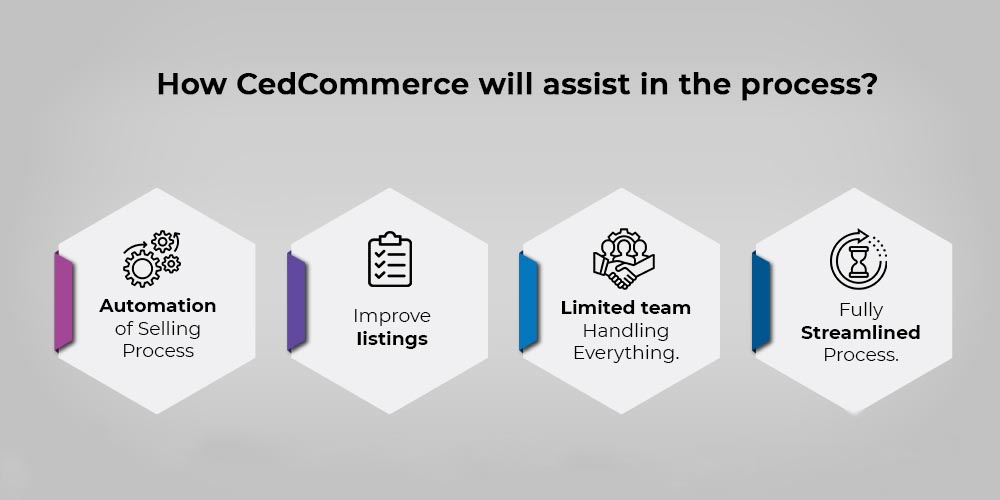 To Sum Up
Walmart's Pro Seller Badge is a sure-shot way to establish yourself as a standout seller in the marketplace. It lets you be more visible, more reliable, and of course, relevant. With Walmart's Pro Seller Badge, you can curate a better reach towards your customers and gain their trust. Being an established brand, you can get more customers visiting you, in turn bringing more conversions.