Omnichannel vs Multichannel eCommerce – Which is better for a Magento based seller ?
Running short of time? Get PDF of the blog in your mail.

Play Now
Omnichannel vs multichannel eCommerce – a never ending debate for the best way of selling. One portrays precisions, consistency, and dominance over a single channel, and the second aim towards increased brand visibility, brand development and magnify the range of selling. Well today, I'll try to put an end to this debate by portraying the key highlight of each and pointing out the major difference between omnichannel and multichannel retailing in terms of an online seller.
But to understand the comparison of omnichannel vs multichannel eCommerce, we must first let's learn about the actual definition of each.
What is Omnichannel Selling?
Omnichannel Selling is the customer oriented way of selling where retailers design their entire selling campaign based on the personalized experience of their regular shoppers. This way of retailing is usually performed by retailers who have a strong hold of their target audience and they consistently aim towards streamlining the shopper's experience.
What is Multi-Channel Selling?
Multichannel selling is a growth-oriented way of selling where retailers showcase their products on more than one channel to magnify their sales magnitude and customer reach. This way of retailing is usually performed by retailers who are aiming to expand their business by capturing the customer base spread across various regions and channels.
You must be having a question:
What are the most ideal channels that a multichannel seller must consider?
eCommerce marketplaces: 54% of shoppers chose eCommerce marketplaces as their ideal platform to shop, making it the must-have channel for a multichannel seller.
Social Channels: Social platforms such as Facebook and Instagram are now getting transformed into an ideal place for eCommerce.
Mobile Apps: This is also a considerable channel for selling as shopping via mobile apps has largely dominated the online shopping of today.
Enough of the chit chat
Now let's discuss our main topic which is the difference between omnichannel vs multichannel eCommerce.
Omnichannel vs Multichannel eCommerce- A side by side comparison
|   | OmniChannel eCommerce | Multichannel eCommerce |
| --- | --- | --- |
| Business Model | Customer oriented | Growth oriented |
| Key Point | Streamlining the shopper's experience | Expand business across different regions |
| Target Audience | Restricted to a limited number of user | Accessible to unlimited users |
| Cost of Set up | Less since the initial onboarding is on a single channel | More since there are multiple platforms to list products. |
| ROI | Comparatively lesser as compared to multichannel | More if performed in the right manner, may help you earn loads |
| Customer Base | Confined to limited customers | Global customers reach |
| Brand Development | Visible to a limited audience and takes time to build as a brand | Wider brand visibility along with a long term and lasting impression of the business |
| Customer Retention | Easier to manage & can perform personalized marketing | Complicated to manage the relationship with customers |
| Selling Pattern | More organized since selling to a target audience makes uniformity | Less organized since the target audience is not known |
| User Experience | More Personalised | Common for all channels |
| Best Way To Sell | Marketplace Integration Solution | Multichannel Integration Solution |
Still Not Clear?
Let's dive into the detail to get a much better picture.
I'll be discussing the differences between multichannel and omnichannel (for a Magento based seller) in terms of different factors such as:
The Target Audience
The Cost
The Sales Volume
The ROI
The Customer Base
Brand Development
Customer Loyalty & Retargeting
Organised Selling
Effort and Working Hours
The Target Audience:
The first and foremost difference between omnichannel vs multichannel eCommerce is the coverage of the target audience. In the case of the Omni channel retail, you are restricted to a limited target audience whereas in the case of multi channel your range of target audience has no such bounds.
Including a new channel (or a platform) gives you access to a whole new dimension of shopper base which makes multichannel selling an upper hand. The target audience in the case of multi channel eCommerce keeps on increasing and if done right will help you cover huge geographical areas in less time.
For example – if you have a Magento based store based in Malaysia and have 100 daily visitors to your store. If you keep up with the omnichannel approach you might push this number to 200 and that too will take months.
But luckily you decide to go multichannel. You searched for the most popular marketplaces in Malaysia and found Shopee and Lazada.
Now you listed your products on these two marketplaces using an eCommerce integration and boom. Suddenly your products are now getting accessed by thousands of customers daily.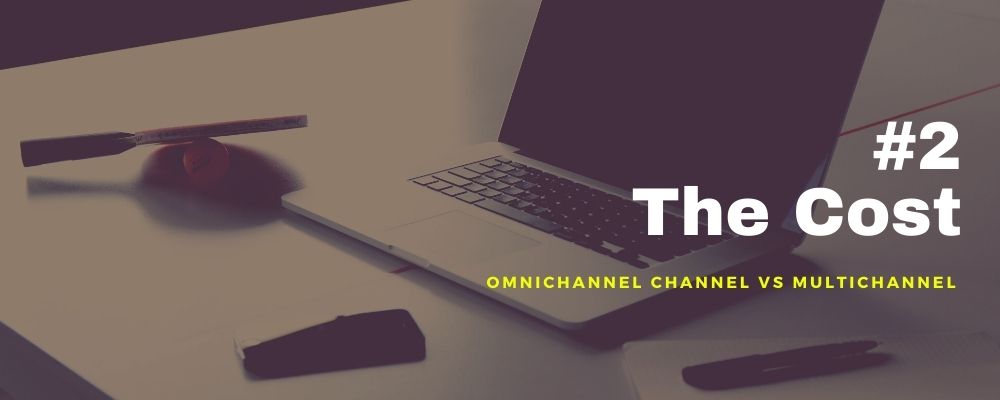 Cost of Setup & Management:
The second factor that differentiates the omnichannel selling model from the multichannel model is the cost. Cost is basically bifurcated into two parts:
The cost of the initial setup
The cost of Management
Let's first go through the cost of setup.
Well, it's simple mathematics.
The more channels you sell, the more is the initial setup cost. Since while setting up a seller account on a new channel entitles you to pay for seller fee, onboarding fee, etc.
But remember that this is a one-time payment and so here comes the second part of the cost which is the management cost.
The management cost of an omnichannel is comparatively more than the average management cost of multichannel selling.
The reason being that in the omnichannel selling model you need to invest more in order to stand firm against your competitors. In omni-channel there are multiple repetitive costs which adds up compared to selling on multiple channels where you have to worry less.
Now let's move ahead with our third point on our list of omnichannel vs multichannel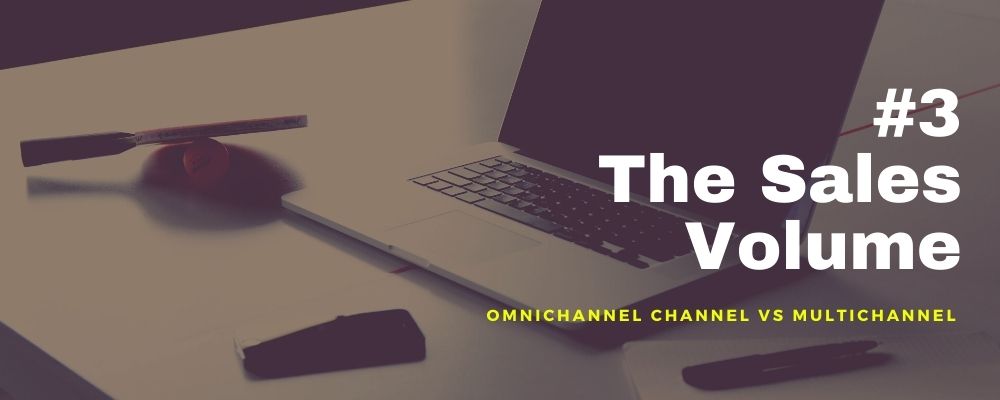 Sales Volume:
Well, this is an easy one.
More Channels = More product exposure = More Sales
The comparison of the factor of sales volume in multichannel is way higher than compared to omni channels. Once you have successfully listed, your products on multiple marketplaces your headache is sort of over. Now the marketplace (or channel) will ensure to make sales for you.
Let me give you an example to explain the pros of multichannel over omnichannel in this case.
Assume you have 1000 products and you are currently selling on a channel that has a demand of 200 products monthly. No matter how much you try you can't exceed that number. But in the case of multichannel selling, you don't have a cap that prevents you from selling more. In short, you may run out of products to sell but the demand won't end. This simply means that by considering multichannel selling you'll have more sales volume.
You must be thinking that we discussed the cost and sales volume but how about the return of investment.
Don't Worry
That's the next topic in our comparison of omnichannel vs multichannel.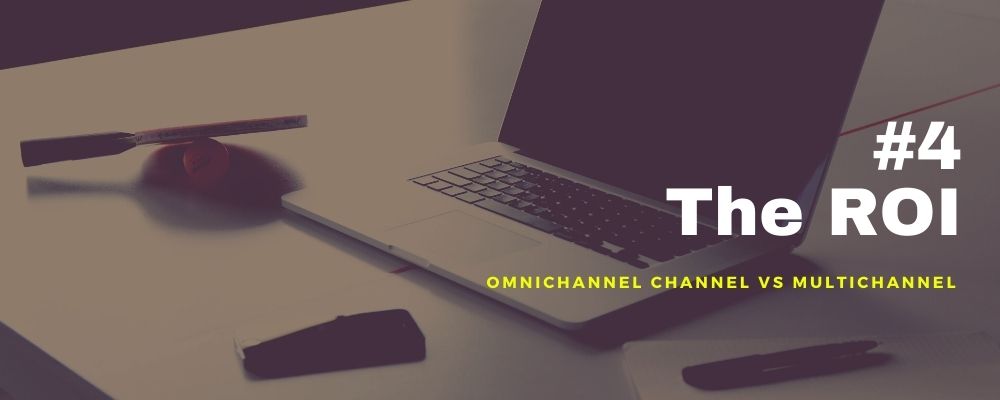 The ROI:
Well from the above points it's quite clear that the cost of selling on multiple marketplaces is more but that's not the case with the ROI.
The ROI of an omnichannel retailer is totally dependent on that platform. In case the platform starts facing some issues your ROI is the first thing that takes a toll.
For a multichannel eCommerce store, the ROI is decided (based on) multiple factors in multiple channels. If you notice some ups and downs in the channels where your products are listed, you can easily gear down on that channel and shift your attention towards the channel(s) that are currently performing good for your business. This move is very much successful in keeping your ROI unaffected and positive.
Since in Omnichannel you don't have that luxury of switching, you are left with no other option except to suffer.
All I mean is that even in the case of multichannel eCommerce you have to invest more but overall it'll yield better and stable returns.
Customer Base:
Any developing online merchant who wishes to be successful in today's competitive market needs to have a strong hold of the customer base. And therefore our next factor in omnichannel vs multichannel comparison is the customer base.
Since the shoppers of today are exploring more locations today, it is necessary to branch out your online store selling and get hold of a maximum customer base.
Selling on a single channel restricts the seller to a confined customer base which though increases with time but at a snails' pace.
But that's not the case in multichannel eCommerce as your customer base is always on a rise. The reason being selling on multiple channels will allow your products to reach vast buyers from different regions. This in turn will also have a positive impact on your overall conversion rate, market goodwill, brand loyalty, brand advocacy, and your customer base.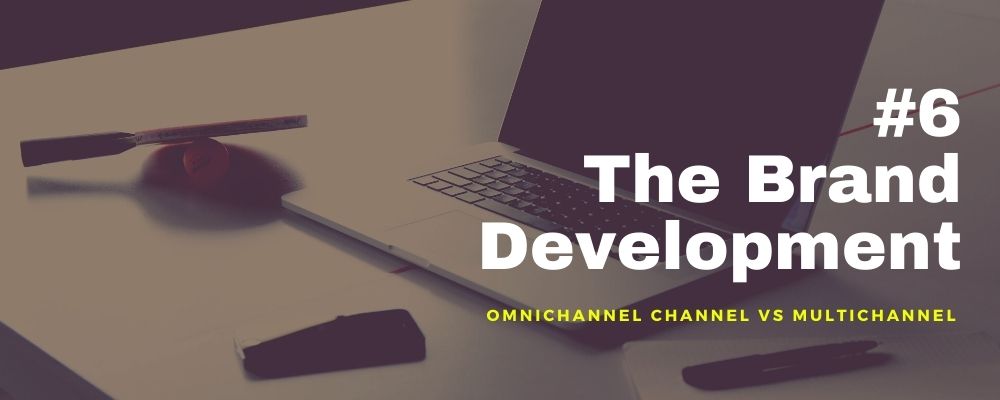 Brand Development:
For an online seller, the key to brand development is getting your products visible to maximum audiences. As per the current eCommerce trends, If you are not a brand you are nothing.
An omnichannel business model keeps your potential customer base quite confined with little chance to increase with time. The slow pace of reaching out to more audiences also halts the overall brand development process.
This is where the multi-channel retail model prevails, as it has the potential to impact the masses. Even if you are not making sales you are easily showcasing your brand and products to a wide variety of audiences. This makes the multi-channel selling model a progressive model in terms of brand building and development.
Now let's move to a very important factor in our comparison of omnichannel vs multichannel.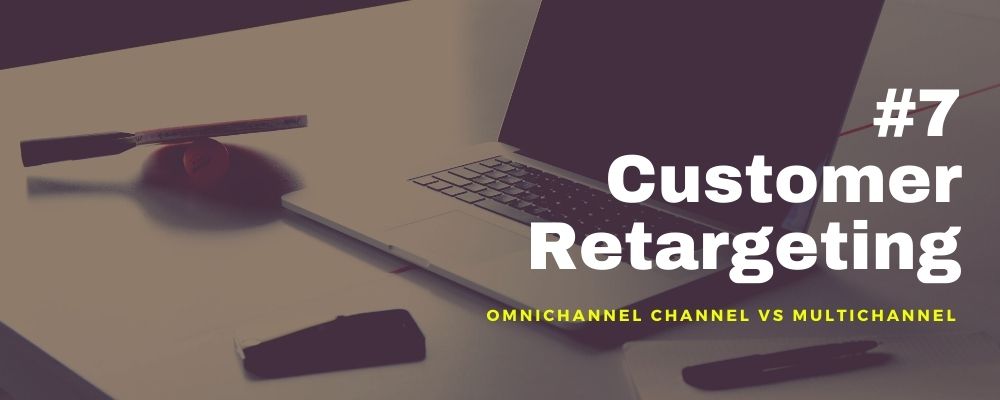 Customer Loyalty and Retargeting:
Making new customers is twice as hard as reselling products to existing customers.
Reselling products and Retargeting previous customers requires building loyalty in the hearts of your customers. Customer Retargeting for a seller selling on a single channel is comparatively much easier since they have a fixed target audience and can easily establish a one to one connection with them. Omnichannel selling allows you to go for personalized marketing such as email campaigns, special offers, coupons, live sessions, etc which serves as a big factor for building a strong customer relationship.
For a multi-channel seller, it becomes quite complicated to manage this level of relationship with customers. A multichannel seller has to keep the focus on generating new sales and managing customers in bulk which gives them less time to focus on building customer loyalty.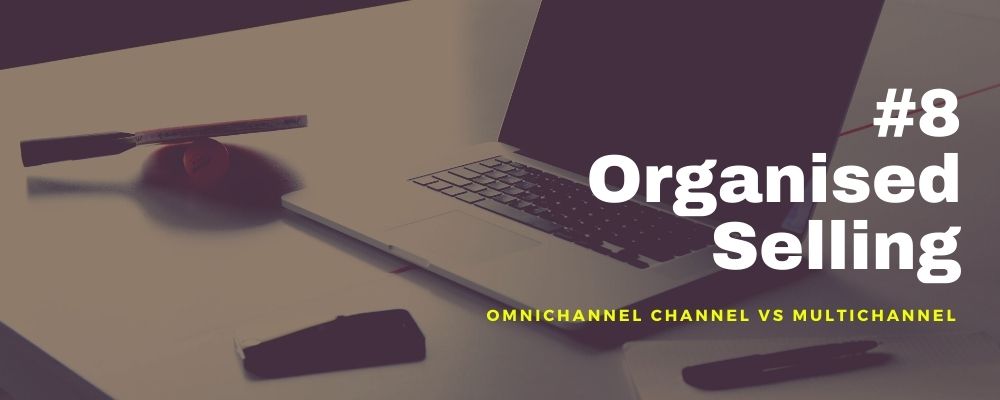 Uniformity and Organised Selling:
This is another factor where omnichannel selling dominates the multichannel eCommerce model. A seller selling omnichannel knows his target audience very well, which makes it easier for them to organize their selling campaign in the same fashion. Since they are targeting a similar audience, it becomes easier to establish uniformity in the selling pattern by focusing on the most demanded products, recreating the descriptions in a more personalized manner, and much more.
Such uniformity and organized selling are very difficult to achieve in the case of multichannel selling. Since there are multiple platforms and multiple customer groups, it becomes quite hard to come to a middle ground that is ideal for everyone.
This problem can although be solved by using a multichannel integration, through which sellers can customise and modify the products along with their details as per different platforms.
We are almost at the end. Here's the last point of comparison between omnichannel vs multichannel.
Effort and Working Hours :
You may be surprised to hear that the effort and time taken to manage both omnichannel and multichannel eCommerce is almost the same.
You must be thinking – How is it possible?
Multiple channels = Management of Multiple dashboards = More Time & Effort
This formula is totally wrong
If you play smartly and opt for a multichannel Magento integration, the formula would change as:
Multiple Challenge = Management from a single dashboard = No Extra Time & Effort
Well, that wraps up our last factor of comparison.
Side By Side Comparison of omnichannel vs multichannel eCommerce?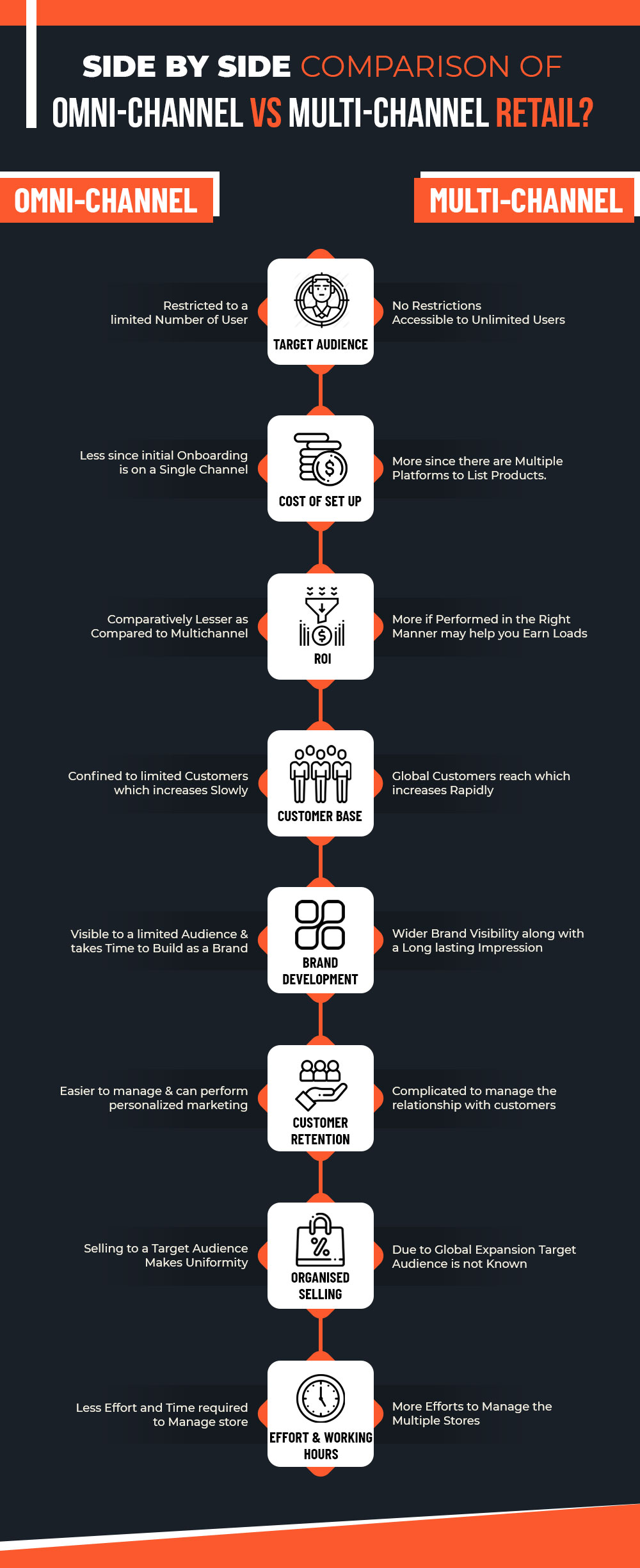 There is one more important question that is left…..
Are Magento retailers preferring omnichannel or multichannel?
Well, as per the current latest eCommerce trend multi channel business model is turning out to be a more favorable option for retailers. You can still find many retailers having the elements of omnichannel within their business but a majority of them have moved on.
Magento based retailers have started to look at the bigger picture now. They are accepting as well as implementing the multichannel retail model throughout their business more easily since now they have the tools and resources. And the best resource that is helping them achieve perfection in multichannel selling is marketplace integration.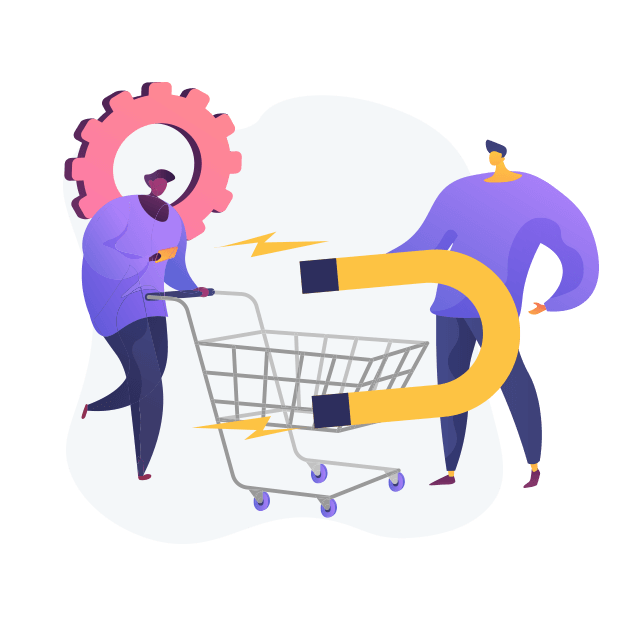 See How You Can Drive More Sales to Your Website via different platforms?
Join the Free session with eCommerce experts to learn how to transform your store into a multichannel platform.
The role of Multichannel Integration in Magento eCommerce:
Marketplace Integration is the #1 tool to connect your Magento based store with more than 90+ marketplaces in the world allowing global selling from a single platform.
This powerful tool is a one time cost extension that provides EVERYTHING a seller needs to sell on multiple channels. The common features include:
Bulk product upload and management
Automatic Order Acknowledgement and Fulfilment
All-round Real-Time Synchronisation
And much more
Let's wrap this up.
Conclusion
Well as per the above explanations, it's quite clear that both multichannel and omnichannel eCommerce selling has its own pros and cons.
The major difference that I can feel is that multichannel selling gives you better control. It puts you in the driver's seat where you have full control of gas and steering and you know how to control your entire selling campaign. In omnichannel you just have to rely on your driver (the platform) and plan your selling campaign accordingly.
Another major thing is that Multi-channel selling allows you to 'Be where your shoppers are'. And that's something that makes a major difference in multiple aspects.
Now it's for you to decide.
So which is better – Multichannel Or OmniChannel?
If you wish to add anything more regarding omnichannel vs multichannel or have any queries related to selling, please comment below.