Step by Step guide on how to sell on Amazon – With CedCommerce!
Running short of time? Get PDF of the blog in your mail.

Play Now
Are you a seller wishing to sell on one of the mightiest marketplaces of the world – Amazon! Or do you sell your products on your online website but don't get what you desire? If yes, one question must have come to your mind – How To Sell on Amazon? Don't worry, sit back and get ready to know everything to revive your selling experience.
Here's your Step by Step Guide on how to sell on Amazon – with CedCommerce – and we will take you to the tour today telling everything that you need to know about how to sell on Amazon. Let's start!
-An overview of Amazon.com before knowing how to sell on Amazon-
Founded in the year 1994, Amazon marketplace has its headquarter in Seattle, US of A.
Amazon is known around the world as a giant amongst the global online marketplaces.
It is the largest internet retailer in the world in terms of revenue and market capitalization.
It is second only to Alibaba group in term of total sales.
The net revenue of Amazon is estimated to be US$ 177.86 Billion, with the net income of US$ 3.033 Billion.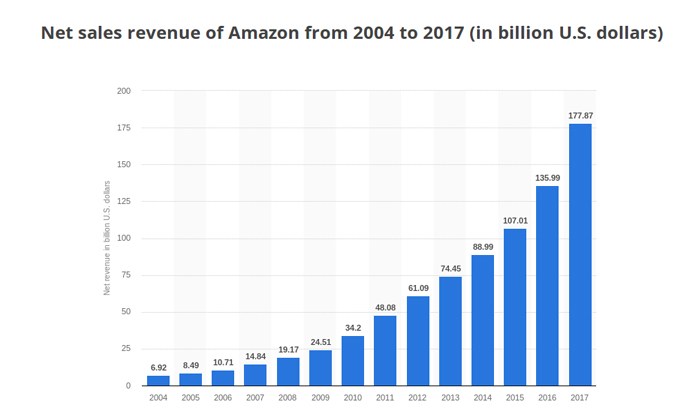 Amazon marketplace has exemplary traffic worldwide along with the engagement of same intensity. Its total visit is estimated to be about 2.60 Billion in the last 6 months itself.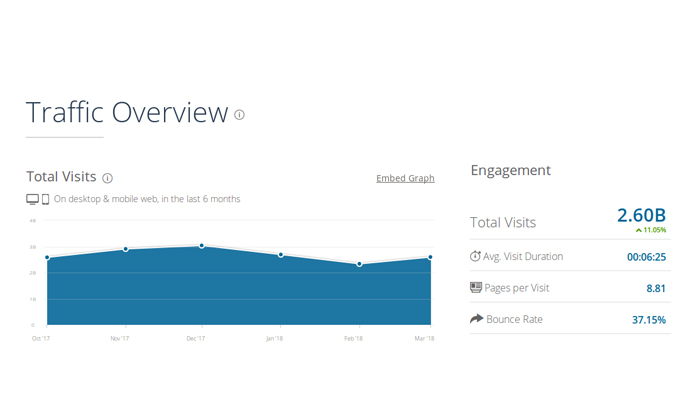 With such global ranking, revenue, and visitors from the corners of the world, Amazon makes its presence formidable on social media as well. The social traffic that Amazon gets has been shown in the image below: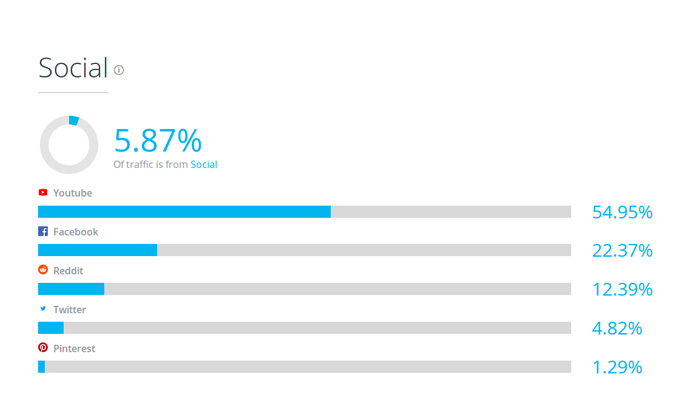 With 5,66,000 employees, Amazon is the eighth largest employer in the United States of America.
It is the largest internet company by revenue and the fourth most valuable public company of the world.
Increasing its presence as a brick and mortar retailer, Amazon acquired the Whole Foods Market for US$ 13.4 Billion in the year 2017.
-Before Registering, Go Through These Points-
To start selling on Amazon, you definitely need to get yourself registered with Amazon Seller Center. But before that, you need to keep in mind the below details.
1. What can you sell on Amazon?
Apart from the question how to sell on Amazon, see WHAT CAN YOU SELL ON AMAZON!
Product Under Open Categories – There are 20 open categories on Amazon under which a seller can sell without a specific permission.
Categories Requiring Approval – There are certain categories for which the seller needs the approval from Amazon. This is to assure that a seller has quality products, enough inventory, and on-time shipment. It also checks if a seller has an exceptional after-sales service.
If your product is from the categories listed in the image below, you are ready to sell on Amazon. You can also see in the image which category needs the approval and which does not.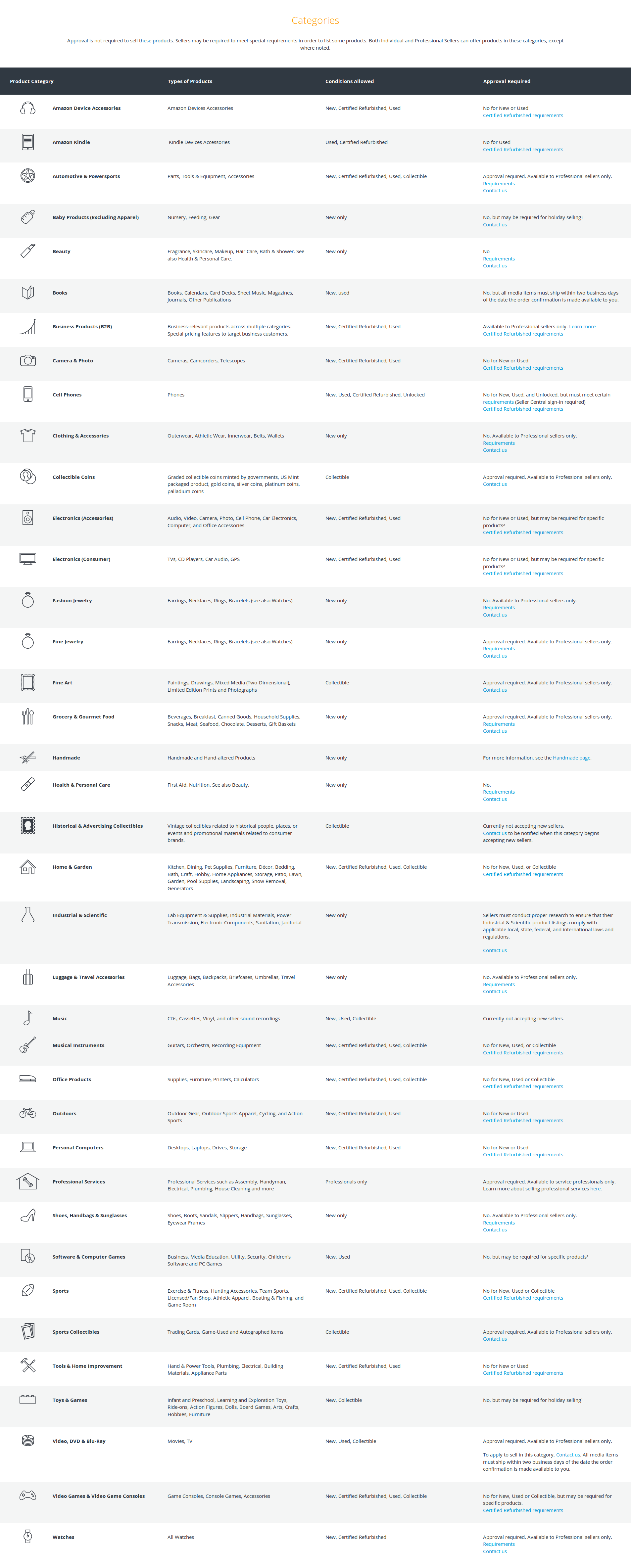 Boost your sales by adding the Amazon Top Selling Products in your Inventory.
2. Choose a Selling Plan
Out of the two categories mentioned below, a seller may choose under which plan it wants its products to be sold.
Professional Plan
Individual Plan
3. Register and Start Selling
Create your account on Amazon Seller Center from where you can manage your products and selling in an easy way.
How to sell on Amazon?
Step 1 – Register yourself with Amazon and get the Amazon Seller Account
The first thing that you need to do for selling on Amazon is to register yourself with the Amazon Seller Account. Once you've registered yourself, you will get the vital details from the Amazon Seller Account that you can use later.
Step 2 – UPC and Brand Registry
If you're selling a unique or new product, you need to provide the UPC (Universal Product Code) for it. If it is unavailable for your product, you can apply for UPC exemption.
In case the sellers are having their own brand, they can register for the products under the Brand Registry. It is to negate the chances of the violation of brand.
Step 3 – Listing of the Product(s)
How to list products on Amazon? If this question bothers you then think again as it's an extremely accessible step in the process.
A seller has 4 ways to list a product:
A. Scanning of the products to list: If a seller is using the Amazon Seller App, it has the liberty to scan the barcodes of the product(s) to list them. If the barcode is already there on Amazon, the seller can match the product to that existing product which has that same barcode. Once done, the seller can just list the product by adding the details. To use this method to list products, the sellers may download the Amazon Seller App from Google Play Store or iOS App Store.
B. Match your products to the existing list: Amazon is a vast marketplace with numerous products already listed. So, if a seller is listing a product which is already listed on Amazon.com, Amazon gives the sellers liberty to map their products to the existing ones. It is to avoid the product from being appeared multiple times. While listing the products this way, the seller just needs to add the details such as price, quantity, or shipping method. On the contrary, if the same product is not listed previously, the seller can make a new product detail page.
C. List Multiple Products using the 'Prepare Your Listing' Feature: Sellers may list multiple products on Amazon at once using the 'Prepare Your Listing' feature. For this, a seller can use a tool for it by clicking on Prepare Your Listing and then Add a Product from the Amazon Seller Central. After this, the sellers can take the following four steps to list the products on Amazon.
Upload Product File
Category Confirmation
Match the information of Products
Create the Listing
D. Custom Inventory Template: With the minimum set of attributes in an excel sheet, a seller may upload a multiple number of products using this template. It's extremely useful especially if the number of products that a seller wants to upload is huge. A seller can accumulate each detail of each product in a single template.
So it's easy for sellers to upload products either in bulk or individually, from either desktop or an App.
In case if any help is needed by sellers, they may reach Amazon Service Provider Network and they can get help in the listing.
Know How To Create Great Product Listing On Amazon
Know How to write Good Title and Description for Amazon
Discover the Tips To Sell More On Amazon
Step 4 – Configuration of Shipping Options
The sellers may select the desired type of shipping as per their needs. The shipping options that Amazon offers are:
Self Ship: By choosing this method, the seller can handle the entire shipment process. It means – from storage to packing, and then the delivery of the placed order to the customer.
Easy ship: If this method is selected, then the seller just needs to get the product packed and ready to be delivered. Then, Amazon will pick the package up and deliver it to the buyer.
Fulfilled By Amazon or FBA: In this case, the product will be stocked by Amazon. When ordered, Amazon only will pack the ordered product and deliver it to the buyer. We will be discussing this particular shipment method in this blog later.
Amazon Seller Flex: This method can be helpful if a seller has a large number of inventory and needs Amazon's help to manage their warehouse. Amazon executives hence help the sellers in the same way that they use in FBA method. They stock products, and when an order is placed, they pack it and deliver it.
Step 5: Account Setup and Requirement of Bank Details
The next and a crucial step is to update the bank details for the sellers. Seller needs to set up account details such as invoice address, customer service contact etc.
Once you're done with this step, Amazon makes sure that you that the payment is credited to your account in a timely manner.
Amazon Seller Fees
Now sellers who want to sell on Amazon must have a question in mind – How much does it cost to sell on Amazon or what is Amazon Seller Fees?. Don't worry we're here to answer all the queries you have for Amazon Seller Fee.
Before knowing that how much does it cost to sell on Amazon, you must know that Amazon allows the merchants to sell in two ways.
Selling as a Professional
Selling as an Individual
Selling as a Professional: When you plan to sell more than 40 items a month, the fees that is levied on you is US $ 39.99/Month + Other Selling Fees.
Selling as an Individual: When you plan to sell an item which is less than 40 in numbers, the fees you need to pay is US $ 0.99$ Per Sale + Other Selling Fee.

For more info, you can see What Can You Sell As A Professional, and What Can You Sell As An Individual.
Amazon Shipping Fee:
The Amazon Shipping Fee is dependent on the category and shipping method selected by the buyers and are passed on to the buyers.
You may see the Shipping Credits for Professional Sellers and also the Shipping Credits for Individual Sellers here.
Referral Fee:
The sellers who sell on Amazon pay a referral fee for every item that has been sold. Products in different categories have a particular per-item minimum referral fee.
You may see the Amazon Seller Fees for a referral here.
Variable Closing Fee:
The Professional and Individual sellers pay a particular Variable Closing Fee for each media product that has been sold.
What's Amazon Buy Box? How Can You Win Amazon Buy Box?
Being a seller on Amazon gets you competition as well! Since Amazon is a huge marketplace, there are multiple sellers who sell the same product as you do. So how can you make buyers inclined to buy products from you? To know the answer, you need to know about the Amazon Buy Box.
The Amazon Buy Box helps you get listed on top amongst your competitors to sell the product(s) that both you and they offer.
Now you must be thinking that how can you win the Amazon Buy Box.
So here's the answer! Keeping the below-mentioned points in mind, you may get a step ahead from your peers to win the Amazon Buy Box easily.
1. Amazon Buy Box Eligibility:
To win the Amazon Buy Box, you must be eligible in the following manner:
You must be a Professional Seller: You must be having a Professional Seller Account to be eligible to win the Amazon Seller Account. Not only this, you need to have a record of trading for 2-6 months. If you haven't been trading for the mentioned time, you may win the Amazon Buy Box using the Fulfilled by Amazon service.
Successful History of Selling: To win Amazon Buy Box, the seller must have a good record or receiving a huge number of orders. Also, a seller needs to successfully deliver orders with the positive user experience.
Good Customer Metrics: Good Customer Metric results in the overall good rating of the seller. It shows Amazon that you are a reliable seller and it helps you win the Buy Box easily.
To know your Buy Box eligibility, take these steps:
Go to your Inventory tab (in Amazon Seller Central) and select 'Manage Inventory'.
Go to the 'preferences' tab;
In the 'Column Display' section, select the 'Buy Box eligible' tab
Choose 'Show When Available' from the drop-down menu;
Now have a look at the Buy Box eligible column at a particular SKU and you can see a "yes" if you are eligible.
2. Competitive Price:
If you think that only lowering down the price of the product will win you a Buy Box, you are mistaken. You should always keep it in the mind that the price includes the shipment charges as well. So you can't decrease the product price and increase the shipping price. Also, you need to watch closely what your competitors are doing.
There are multiple apps that let you compare your product price with those of your competitors. They let you land on the price that's most beneficial to you.
Some Popular Repricers are as below:
3. Have a New Product:
Amazon Buy Box is for new products only! So if you are willing to win Buy Box, you must be having new products so that Amazon can be confident of the product quality that it's giving Buy Box for.
4. Have Enough Stock:
Amazon keeps its customers above everyone else! It doesn't want its customers to add to their cart the product that's out of stock. So in case you win a Buy Box, you may have huge orders for your product(s). In that case, it's very important for sellers to be ready with enough stock.
5. You Should Opt For FULFILLMENT BY AMAZON:
The biggest catalyst that can win you the Amazon Buy Box is FBA. Although it doesn't guarantee you the Amazon Buy Box, if you use FBA, the shipping is handled by Amazon and hence, is of exceptional quality. In that case, the service that buyers get is great and that increases your image as a seller, resulting in the increased chance for you to win the Buy Box.
If you're not using the FBA, you must have a great shipping quality and ship the orders at the earliest. At least to the users who want any product on the urgent basis.
Everything About FULFILLMENT BY AMAZON:
Typically, when a seller lists an item on Amazon, the item gets ready to be purchased by buyers. Then, a process starts for a seller to pack the item, put the invoice and shipping label on the box, and ship the item to the buyer.
Here is the point were FBA can prove to be a savior to you!
FBA or Fulfilled By Amazon is a service by Amazon that handles all these steps for you and gives you the time to do what you like – Selling! FBA removes the demanding step of packing and delivering to the buyer for you.
How Does FBA Work?
When you opt for the FBA method, the shipment is fulfilled by Amazon for you. For that, you need to stick the barcodes to your products so that they can be differentiated from other products at the fulfillment center.
Next, you ship all your products in bulk to the nearest Amazon Fulfillment Center. There, Amazon unpacks your product and keeps it in the fulfillment center. Now at this stage, your product gets ready to be purchased by the buyers.
But remember that the control over the price and inventory is still in your hands for your products.
Amazon FBA Fees:
If you're wondering what is the amount you need to pay for FBA, you must know that it is differentiated for different categories.
Know more about the Amazon Revenue Calculator
The FBA is divided into two parts namely:
Fulfillment Fee
Storage Fee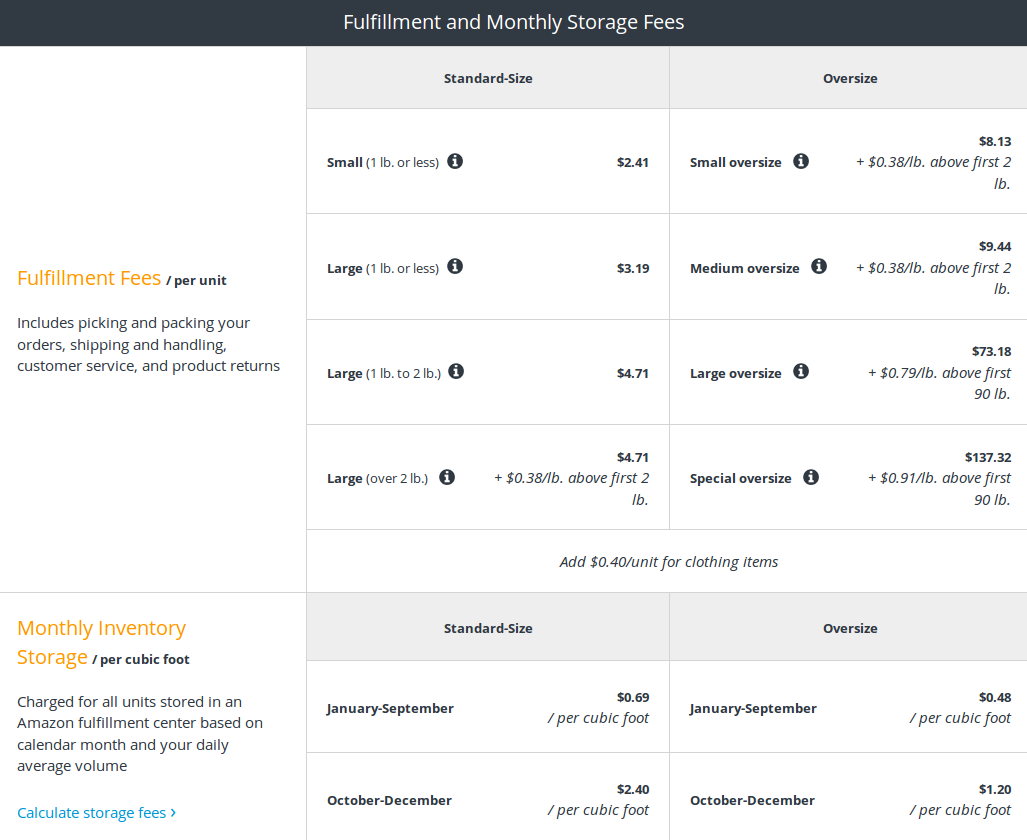 Fulfillment Fee: The fulfillment fee includes the picking of order, its packing, shipping and handling. It also includes customer service, and lastly, product return. This fee is charged on per unit of product.
Storage Fee: The storage fee is calculated by the cubic feet. The short-term storage fee of Amazon is quitelow and free for the first 30 days.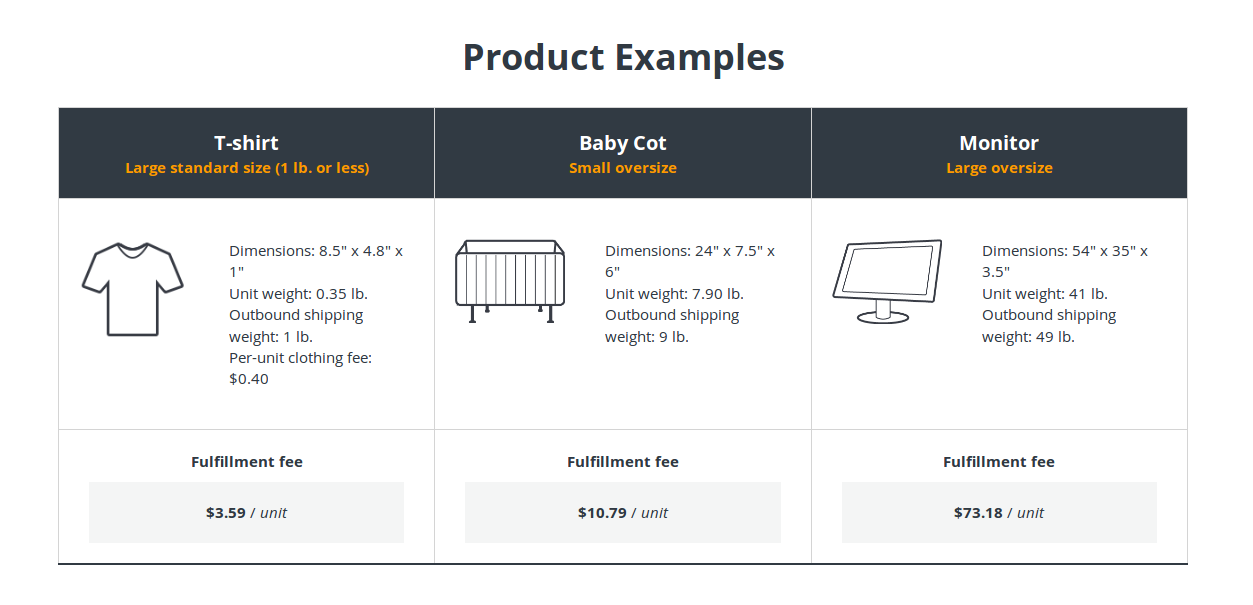 How to determine the Price of product for FBA and Profit Making?
On the basis of some analysis, we can roughly say that Amazon takes about 1/3rd of the total sale price for your product. In case you are under the impression that this fee is much and you're scared, you are wrong, as you can fix the price of the product in an apt manner – without increasing it too much for buyers – with the 3X rule.
What's the 3X Rule?
Suppose you're selling a product which costs less than US$ 25.00, let's say US$ 10.00 on Amazon, then you should make its price US$ 30.00 for best ROI.
How?
US$ 10.00 as product price + US$ 10.00 for Amazon fee + US$ 10.00 as a profit.
Important Note: Don't think that you may lose the chance to attract the buyers this way as your product price is higher! Why? Because FBA products are costlier than the Merchant Fulfilled products but still are desired and that's what we are ready to talk about.
-Benefits of FBA-
The prime members of Amazon are increasing day by day! As a result, most of them are accustomed to receive products they have ordered in 1 or 2-day shipping.
In an interview recently, Jeff Bezos, the founder of Amazon revealed that it has more than 100 Million Prime users Worldwide.
With such huge prime members who get products in their hands within 2 days of ordering or overnight prefer the products which they can get as soon as they place an order. For that, they may pay even double for the products under FBA even if the product is available at 50% lesser price by Merchant. This can prove to be a game changer and make your sales higher than ever before.
FBA sellers have a greater chance of winning the Amazon Buy Box.
Sellers can become the prime choice of the prime members.
Trust gets build in buyers as the product gets fulfilled by Amazon.
Saves your time to pack and ship the product.
According to many surveys, most of the products sold on Amazon are FBA.
Get to know about the Amazon FBA Policies and Requirements!
Why you should sell on Amazon?
If you have ever thought WHY AMAZON TO SELL YOUR PRODUCTS? Read the FIVE FABULOUS REASONS amongst many many others on why you should be selling on Amazon:
1. Almost Nil Investment: To sell on Amazon, not only a seller doesn't need a brick and mortar store, but other things such as staff recruitment and marketing become needless.
Amazon being such a big marketplace gives your products an exposure that's unmatched.
So what's a seller needs to do is to just:
Create Account
List Product
Sell Them
Get The Payment
Isn't it too easy?
2. Payments are Easy, Fast, and On-Time: You don't need to wait longer than expected, if you're selling on Amazon! Amazon's payment is the fastest in the industry and seller may get the payment in the 7 working days only!
3. Amazon's Reach is Extraordinary: Amazon has an extremely massive reach and it takes products to every nook and cranny of the globe. For taking the products in any part or corner of the world, Amazon is the marketplace that can help the sellers immensely. It's huge visitors and buyers can make a product a huge success.
4. 24*7 Buying, Selling, and Support: Amazon is a marketplace that keeps itself available for buyers and sellers alike to solve any issue that they may come across. So whenever a person wishes to sell or buy, no waiting is required as its just a click away to either sell or buy a product.
5. See Feedback/Report/Complaint: Get to know what your customers say about your product, their shipment, their state etc and get issues fixed to work in a manner to improve your service or product.
CedCommerce can help you sell on Amazon
An ace web development agency, CedCommerce is an Official Channel Integration Partner of Walmart, Newegg, Sears, Fruugo, and other vast marketplaces. We have helped more than 500 retailers in integrating their stores to different marketplaces and still moving ahead with increasing clientèle every day.
In our endeavor to help sellers sell on Amazon, we present the Amazon Integration Extension for Magento 2, an extension that not only enables the sellers to sell easily on Amazon but also authorizes them to manage the comprehensive selling process the easiest way.
To know more about it, Get in Touch with us and we'll be there to help you round the clock. You may also reach us via Skype or Live Chat!
So now when you know how to sell on Amazon, don't just wait and read, sell on Amazon, sell smart, with CedCommerce, TODAY!