Greenwize LTD upturned 2X sales in 2 weeks with Amazon by CedCommerce
Running short of time? Get PDF of the blog in your mail.

Play Now
A study in the case of multi-channel sellers optimizing Inventory and Order Management with Amazon by CedCommerce. Discover how Greenwize LTD upturned 2x Sales with Amazon by CedCommerce. Furthermore, find insights into how it led to a 50% increase in the traffic of their online Shopify store within two weeks of working with CedCommerce.
Challenge:
Greenwize, a Baby Products & Cosmetics retailer based in the UK, found it difficult to expand their business from their Shopify store to other marketplaces. When it came to selling their products on Amazon, due to improper product linking with existing Products on Amazon, the team faced difficulty in Stock & order management.
Solution:
Amazon By CedCommerce, a Shopify Sales channel solution for sellers with multichannel business on Amazon and Shopify proved to be of assistance. Within two weeks, they effortlessly utilized the services and started automated linking of existing products on Amazon with Amazon by CedCommerce.
Outcome:
Greenwize LTD upturned 2x sales with Amazon by CedCommerce just in 2 weeks. Additionally, with the extra time and support from team CedCommerce, the Greenwize Shopify store now attracts more than a 50% increase in traffic as opposed to the situation before they partnered with CedCommerce.
About Greenwize- We Think Green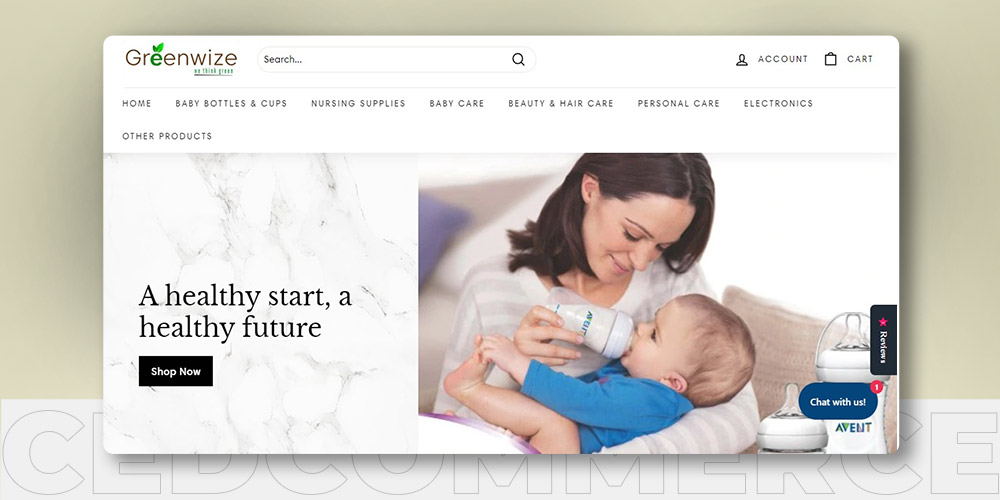 An online store, dedicated to bringing options that are eco-friendly and pro-sustainable development in the Health and Beauty Products category with a prime focus on Baby Products, Cosmetics, and other personal care products covering health, beauty, and wellness.
How do they serve customers?
Greenwize-Retail.co.uk offer products from the most prominent brands at one spot to ensure that every customer who lands on their site, finds what they are looking for. Chicco, R for Rabbit, Matrix Biolage, and Philips, among others are easily available brands in the Greenwize Product catalog for customers to choose from.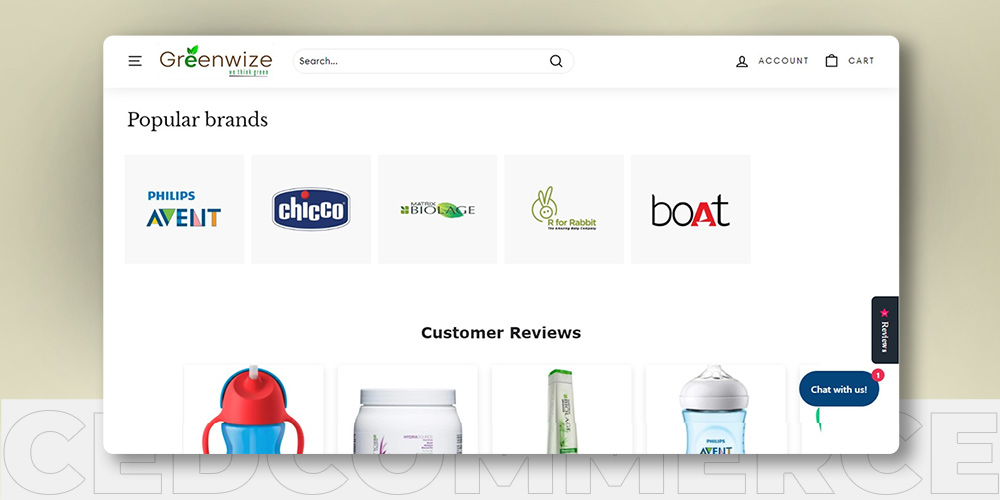 The retail site offers 1-3 days of shipping through some of the most prominent courier partners including Hermes and Royal Mail.
Greenwize is not only environmentally conscious but also, extremely customer-oriented. They ensure products are available at the actual product price or less.
They utilize the algorithm of powerful internet observatory of prices as well as actual price watch in urban or rural chemist's shops along with health and beauty stores. Their promise is to immediately improve the cost once they discover lower prices anywhere else.
"Thus, you can trust us, we work to better serve the common interests in order for you to benefit daily essential quality products at more and more attractive prices."/i>

-Mukesh, Greenwize LTD
What made them look for support?
Mukesh, the owner of Greenwize LTD, shares his initial troubles with multichannel selling and stock management stating, "Our products were not linked on Amazon correctly and so there were some serious errors in stock management."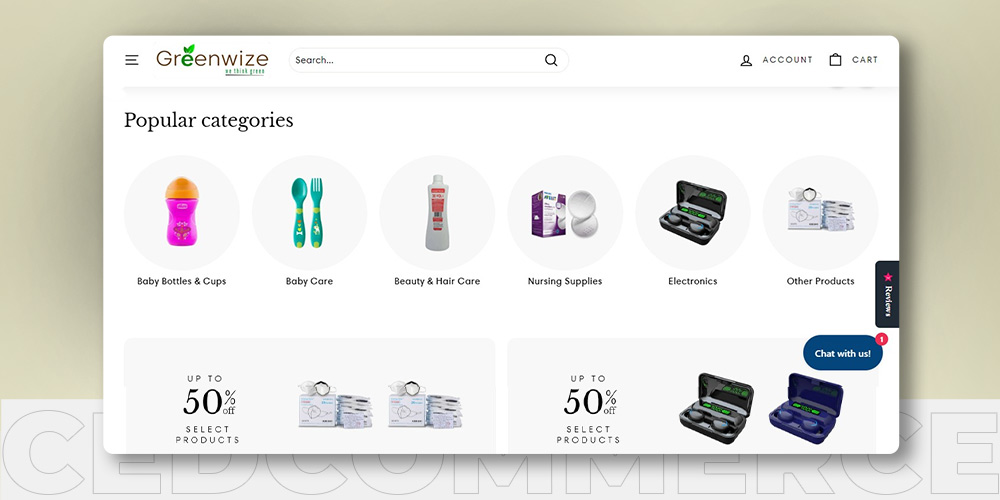 While selling on Amazon sellers are required to match their inventories with the existing listings on Amazon. In case of a product, that is solely sold by a seller or they are the manufacturers of that product, or the matching listing does not exist on Amazon, only then that seller can create a new listing on Amazon.
Additionally Mukesh, at Greenwize, has a team of only ten members, thus making too many bulky and repetitive manual tasks overbearing. Whereas, the business demanded uploading a considerably big catalog on Amazon and matching them with existing listings while adding new ones one at a time.
With this problem in hand, only one thing was left for them to do.
Find a solution that best matched their needs!
About CedCommerce
For over a decade, CedCommerce is an eCommerce solution and support provider in the industry. The team of experts has been assisting sellers to expand and automate their business on multiple platforms. The team dedicatedly offers support in elevating efficiency, reducing friction, and saving time.
Being a Shopify expert and official partner with 100+ eCommerce platforms and marketplaces, CedCommerce uniquely understands the seller's needs and market standards. Additionally, CedCommerce has helped 30,000 sellers achieve success online.
Inventory and Order Management with Amazon by CedCommerce
When it comes to selling on Amazon from the Shopify store, a sales channel app is the ultimate solution. Moreover, it enables you to directly list new or link existing inventories on Amazon without having to deal with a third platform.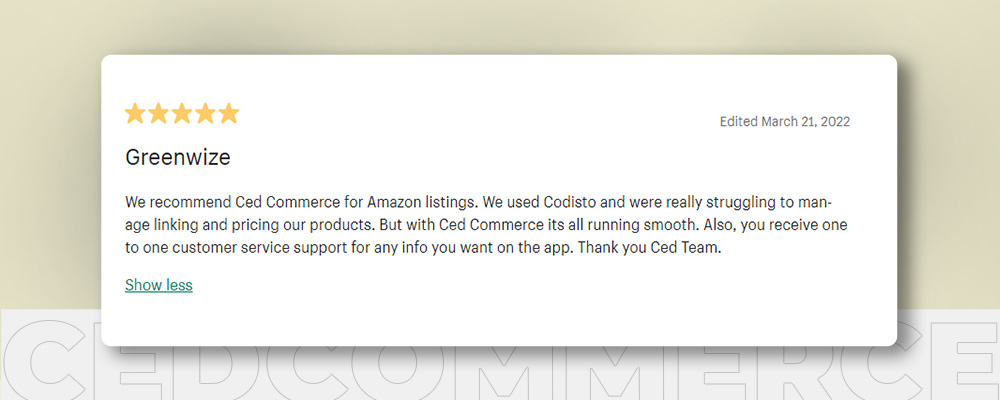 When Greenwize decided to partner with CedCommerce together, the two teams identified the issues faced by the retail store, and Amazon by CedCommerce app came out to be the best solution.
What makes Amazon by CedCommerce the best solution?
The Amazon Shopify Sales Channel app offers easy integration between Amazon and Shopify through the following features:
List new ones or Link Existing Amazon Inventory with Shopify
Greenwize team was now able to solve their biggest issue; i.e., linking inventories with existing listings on Amazon for improved Inventory management and Stock keeping.
Simplified Order flow from Amazon to Shopify
Processing orders become easier than ever with the App. Since it allows sellers to perform order-related operations from one single platform, the app elevates efficiency. Irrespective of the small team size, the app has been helping companies like Greenwize, tremendously.
Real-time Product Data Synching
Greenwize now easily manages significant product data. This includes Shopify products, Prices, Stock, and other relevant information between Amazon and Shopify. That too in near real-time.
Intelligent Bulk Editing with predefined Templates
Another way, Mukesh and his team were able to save time was by easily listing Shopify products on Amazon. Predefined Product Templates saved them from performing repetitive category mapping; hence eliminating redundant steps every time.
Steady Multi-Account Connectivity
Another feature offered by the app is the multiple Amazon Accounts support. Multiple Amazon accounts within the same country can be connected to one Shopify Store. This way it becomes easy to individually tackle all Inventories and Orders from different accounts at one spot; i.e., the Shopify store.
What do Mukesh and his team at Greenwize think of Amazon by CedCommerce?
Mukesh finds Amazon by CedCommerce an easy-to-use app. It was the 4.8 Rating and over 200+ positive reviews on the Shopify Store that spoke volumes.
They discovered several reviews where customers claim how easy it is to Amazon by CedCommerce. Additionally, the screenshots showing the app's efficiency in great detail, made the decision easy for team Greenwize.
In addition to the excellent performance, Mukesh and his team are also impressed with the support they received throughout.
"We did receive assistance with regards to uploading products on Amazon, linking them with our Shopify products, and also a direct contact should we require any further assistance in the future."

-Mukesh, Greenwize LTD
Results
Team Greenwize started enjoying not only selling on Amazon without any stock management issues but also the profits.
Within two weeks of receiving support from CedCommerce, Greenwize LTD upturned 2x sales.
The traffic on the Greenwize Shopify store increased by 50%.
All products in their Shopify catalog are now correctly linked to Amazon listings and are well synchronized.
Greenwize LTD prefers CedCommerce over the prime competitors in the market. They also recommend fellow sellers benefit from Amazon by CedCommerce and escalate their business effortlessly.
Find out more about Amazon by CedCommerce: