Guide to Shopify's Amazon Sales Channel app by CedCommerce
Running short of time? Get PDF of the blog in your mail.

Play Now
Shopify Amazon integration app by CedCommerce!
Amazon by CedCommerce app ensures seamless connectivity between the Shopify store and Amazon marketplace. The app supports selling operations on Amazon for merchants ensuring overall, defined business growth. 
This app offers a simplified ecosystem of multichannel online selling through one platform without hassle. Like multi Amazon accounts connectivity, predefined templates, management of orders and shipment with listings, and more. 

Selling on Amazon, from Shopify, is tedious. Without an easy-to-understand solution, sellers might deviate from their ultimate goal of better profits, sales, and audience engagement. They'd have to first deal with the aforementioned challenges and then move on to online selling. However, an uncomplicated integration solution might work in a positive direction to help ventures adapt, to a more goal-oriented and fulfillment operational approach. 
An uncomplicated solution, like Amazon by CedCommerce app! 
Eligibility
Before selling on Amazon and further integrating it with Shopify, a seller must have:
Active APS Account
An Amazon Professional Seller account (APS) is identified as a legitimate merchant or brand that can freely scale products on Amazon. The account must be active and unsuspended. 
APS account suspension might come from a breach of Amazon rules, regulations, and related policies.
Active Bank Account
It's also mandatory to have an active bank account (domestic) that'll receive all payments sent in by Amazon. A seller, with an international target audience, can also add another bank account, along with the former.
Monetary Unit and Marketplace
A seller should keep wary of the kind of Amazon marketplace they'll be selling on. In other words, the products listed should be in the same currency as the marketplace. 
For instance, a US seller should make sure to sell on Amazon US to avoid adverse consequential seller errors and also it (product payments) should be the same on both platforms (Shopify and Amazon).
Returns and Exceptions
A return policy that follows Amazon guidelines, including product and shipment exceptions, is mandatory to choose before store integration. Amazon lets sellers choose their type of return and delivery strategies that can help develop their businesses. 
Benefits 
Why Sell on Amazon from Shopify?
Extensive Outreach 
Amazon as a marketplace has proven traffic of 2.7 million visitors from all eligible countries in the world. Hence, sellers expect better engagements and conversions for their brand and products.
Flexible to Buyer Trends
A company that strives to be the most customer-centric, clearly, pays close attention to its consumers and their behaviors. Amazon also gives out badges to merchants based on product quality and performance. As a result, it easily keeps up with traffic trends and directionalize (likewise) brand displays.
Major Brand Loyalty 
Amazon acts as a search hub for all desired products. With exact matches or related keywords, it's easier for customers to find their choice of products. Moreover, a simple 'returns' mechanism might also be responsible for such brand loyalty. 
Amazon by CedCommerce app
Towards An Effortless Selling Experience
This Shopify Amazon integration app was developed to cater all basic and advanced seller limitations, while being on Amazon. With clean segments and effective content, the app induces simplicity in business operations. Amazon by CedCommerce app has four types of functional heads which are further divided into subheads. 
Under sales channel on Shopify dashboard, a seller can select the app name 'Amazon by CedCommerce' and view these four sections namely:
Overview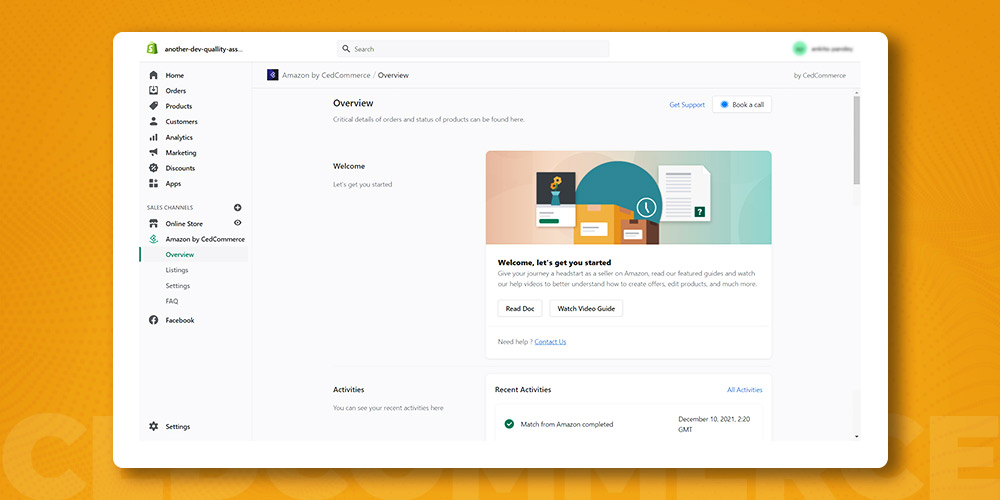 As the name suggests, this section provides an 'overview' of orders and all critical product status updates. 
The first fold holds guides (video and text) to help sellers understand the app better. Later on the page, there are more help videos and documentations that serve a similar purpose.
Then, under Activities, storeowners can directly view all product-related actions taken by them, in an operative sequence.
(Other activities include Match, search and product import status from Amazon)
Following activities, the subsection Plan would display the app's current pricing plan registered for by the seller. 
The Amazon by CedCommerce app offers a variety of pricing plans, catering to the unique demands of merchants of all sizes selling on Amazon via their Shopify stores. With a FREE Plan also on offer, merchants can try out various features of the app by installing it now. 

Our Industry-leading pricing plan allows you to select the plans as per the services required by your business. For more details on the various features and prices of the plans in the Amazon by CedCommerce app, click here.
Later comes Product status, which reflects updated (near-real-time) items statuses. Every displayed status is similar on all platforms i.e. seller's shopify store and Amazon seller central. 
This uniformity enables easy access and concentrated control, at one place. The statuses can be of few types like Active, Inactive, Listed, Unlisted, Uploaded, Available for offer and more.
Failed orders, as a subsection, lets sellers view all failed orders. It also supports manual importing of such orders from Amazon. (In case, automation is interrupted by Amazon's individual actions)
Note: It is mandatory for all Shopify sellers to connect their online stores with Amazon Seller Central via an Amazon payment account. 
Listings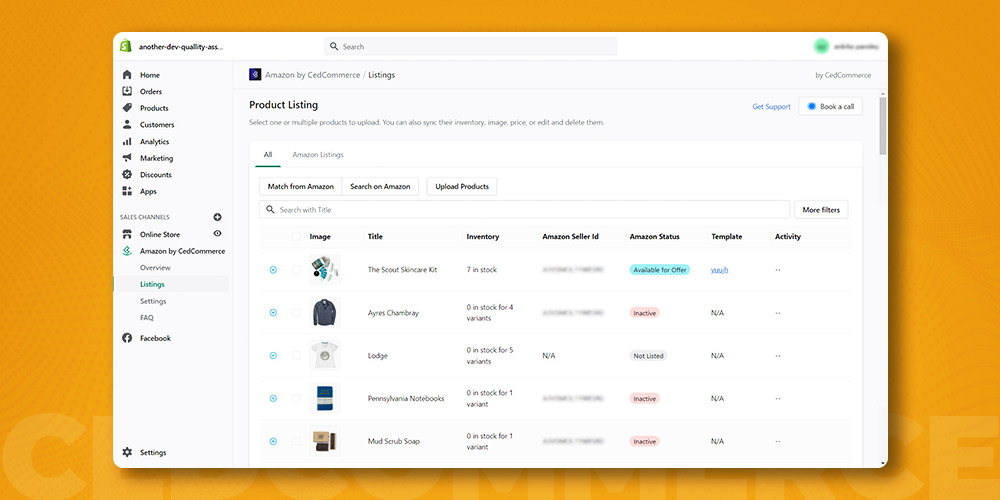 The listings section plays an important role while selling on Amazon, from Shopify. Sellers can upload new products and even link the old ones within it. 
The section comprises of three major Amazon action keys:
Match From Amazon
For existing sellers, this action key enables simple linking of products to Shopify, from Amazon, if they have similar SKUs. In case of different SKUs, sellers can manually link them! 
For instance, in order to link active SKUs lists on both Amazon and Shopify, a seller can directly select this action key to link those lists.
Moreover, the products already listed on Amazon must have a similar SKU as that on Shopify.
Note: An active SKU list on Shopify stores indicates a similar active list (live listing) on Amazon seller central.
Search From Amazon
It helps sellers to list products under offers. As barcodes do the groundwork for this action key, Search from Amazon lets the merchants list their inventory to Amazon and provide consequential offers on the existing list of products. 
Upload Products
For new merchants, uploading products for listing can be troublesome! But with Amazon by CedCommerce app and its predefined templates, sellers can easily customize templates and upload products accordingly. 
Moreover, there's a separate option of filters (inventory, SKUs, tags) that'll allow merchants to look for their desired item, quickly and easily! CSV files enable Bulk order editing via imports and exports, too.
Note: Under Amazon listings, existing sellers with a different SKU on Amazon (from Shopify), can use the manual listing to link that same product to their Shopify SKU. Such uniformity aims to reduce confusion and double entries.
Therefore, a seller who manages orders and listings from Amazon will only experience order sync (to Shopify) after they have linked the products. 
 A reasonable app with timeless features to improve Shopify business on Amazon. Read now!
Settings
As for settings; Amazon by CedCommerce app has put together a precise distribution of numerous variables, just under four heads:
Amazon Accounts
Sellers get a visual of regional Amazon accounts that are connected to their online store. They can also connect more than two REGIONAL accounts for simpler selling.
Order Settings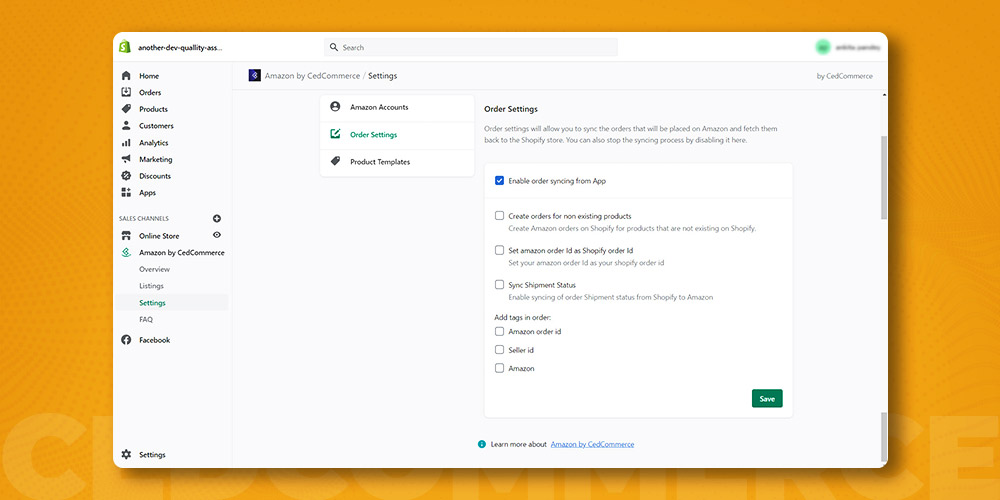 Under order setup, sellers can easily track order details from their Shopify store. They are required to sync with Amazon, for a standard display and control. Such sellers can also view those details and fulfill the orders in the Shopify order processing system.
For instance, a seller can distinguish orders generated from Amazon and Shopify through standard and unique ID names and tags.
Product Templates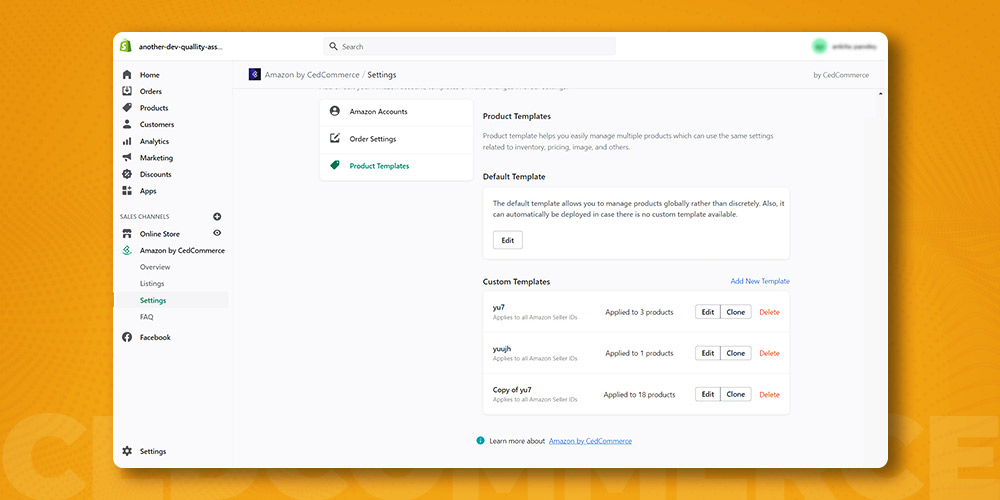 For all Shopify sellers, product templates come in two defined heads, Default template, and Custom template. The former lets the app choose a structured template for a merchant, whereas, the latter gives control to the merchant, for all desired changes and more.
Upon editing the default template, a seller can easily modify different setting options like inventory, price, and product details. Whereas with custom templates, retailers can name and edit templates, as per convenience. Under custom templates, once a seller decides to edit them, there's an exclusive field called 'Barcode exemption' that can ONLY be accessed by three types of sellers (manufacturers, publishers, and brand owners).
Note: Orders cannot be uploaded to Amazon without optional attributes, as per Amazon guidelines.
Global Price Adjustment (GPA)
Acting as a currency converter, GPA lets sellers reflect similar product prices, on both platforms (Amazon and Shopify), irrespective of their regional differences. 
For instance, a seller can list products in Euros (€) on their Shopify store. With GPA, the same is converted into Dollars ($) on Amazon US.
FAQs
This segment addresses numerous (inevitable) seller queries, while using the app. Such questions have been divided into five categories, namely; General, product selection, shipment, order sections and errors. 
For instance, how can a merchant link their existing listing to Amazon via the app? 
As answered by expert account managers, existing listings can be linked through Match from Amazon, right from the seller's Shopify dashboard.
Shopify Amazon integration app by CedCommerce!
Check out more such questions here.
Conclusion
Amazon by CedCommerce is an efficient integration app for all Shopify sellers. With great responses, the app has been successfully helping to create a smooth selling process, backed up by major business automation and synchronization.
The integration app is also responsible for various venture successes. 
Read some of those success stories here:
Discover how an Arts business fostered better Amazon retail strategies from Shopify, via CedCommerce
Helping businesses like Artiphany, win online: Amazon by CedCommerce app
Check out these app resources too:
How to sell on Amazon from Shopify for free?
CedCommerce Extends Free Subscription to "Amazon by CedCommerce" Shopify App till April 30th, 2022
Amazon by CedCommerce app documentation
Kickstart this retail journey with Amazon by CedCommerce app now!