Discover how an Arts business fostered better Amazon retail strategies from Shopify, via CedCommerce
Running short of time? Get PDF of the blog in your mail.

Play Now
The Business
Selling art on Amazon! This industry is thriving, as ever! Art is seen in all forms of creation. As for an eCommerce ecosystem, it has proven to be profitable for many. A new Shopify business owner, Sheldon Lev is a multimedia professional, who creates motion graphics, photo, and video content. He started to sell art online, in 2022 via Shopify.
As of February 25, 2023, the New and Improved version of Amazon by CedCommerce is now known as "CedCommerce Amazon Channel".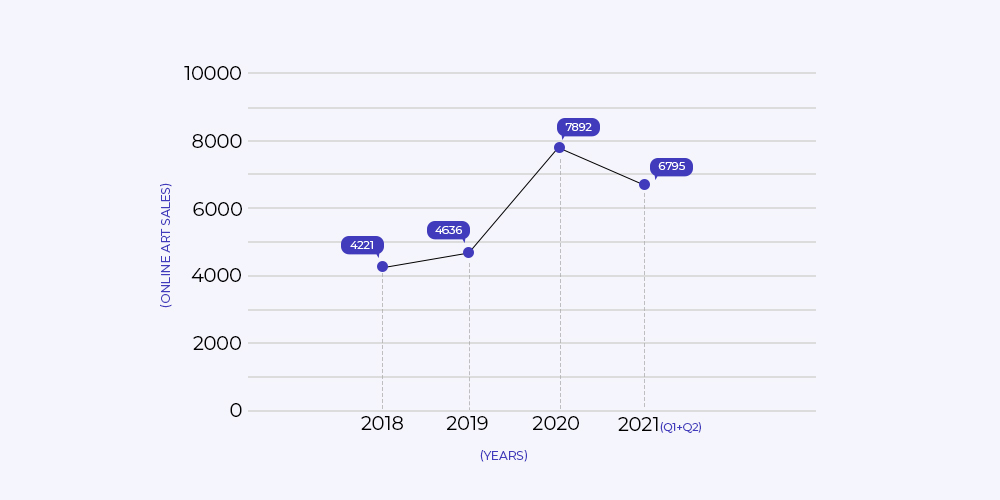 (Yearly online Art sales; in million US dollars $)
To quote Sheldon, "My aim is to express, not impress", he sets on a creative journey to educate people about Jamaica and sell themed products. This Shopify store has Jamaican-themed products like puzzles, calendars, photo posters, posters with Hanger, and canvas prints. The store's theme goes well with its listed items, which are in a spectacular visual art form. Hence, this brand has an international reach attracting potential visitors via news outlets like The Jamaica Gleaner.
The Limitations
Sheldon runs a dynamic business that requires frequent changes to product types and related promotions. As he started out, access to Amazon was complicated. For instance, store redirection error and manual inventory data entries consumed more of his time and bore unnecessary expenses.
As a result, the store was kept from potential customers and numerous marketplace perks (like better traffic and brand awareness). Delayed inventory updates slowed down the store's daily operations too. As an active seller and photographer, Sheldon couldn't afford to miss the market trends and related variables. Selling art on Amazon sure brings in such issues.
The Solution
Deciding over CedCommerce, among multiple Shopify integration plugins, Sheldonlev took its first step towards joint business success!
The team's support and client interaction dominated the shopowner's service decision. Therefore, to achieve the goal of effortless selling, CedCommerce sent its 'best troops' for the job! Industry experts and accounts managers analyzed and agreed on a definite solution. A solution that fits best with this Shopify store and imparts detailed knowledge on the marketplace and related selling techniques.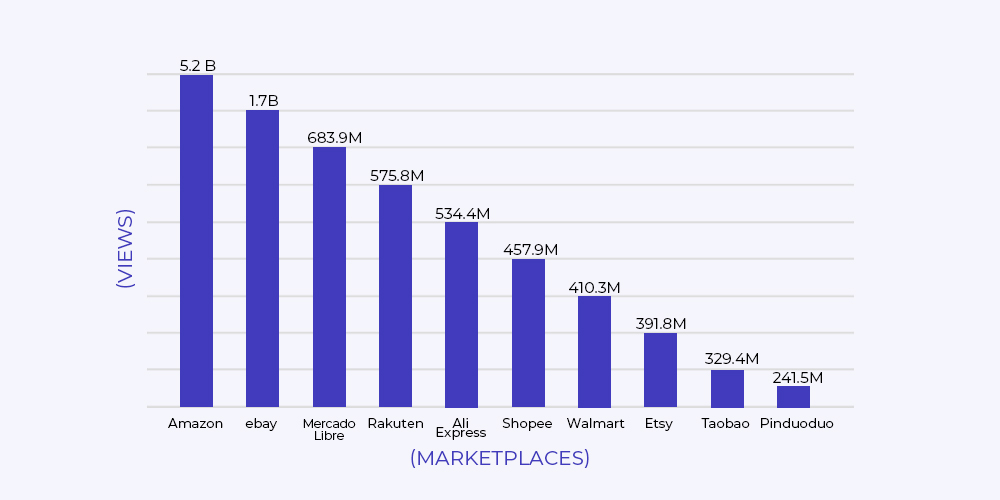 (Total number of visitors; top 10 marketplaces; Global performance)
Amazon by CedCommerce app created a business trend of automation (at this store), especially on the lines of integration! Sheldon could now successfully perform in-store inventory sync, without errors and speed lags. Moreover, the orders with each purchase get synced likewise and are visible on the Shopify dashboard. One of the perks of this integration app also includes the ability to prepare! This means sellers will be able to take preemptive stock measures once a flow of orders is maintained. Selling art on Amazon might be a refreshing choice for many!
Check out this seller, who experienced major business development assisted by Amazon by CedCommerce app.
One For All: Amazon by CedCommerce
With over 2.45 billion monthly visitors, Amazon sure has a huge retail potential! From easy access and relaxed seller eligibility criteria, it's open to all kinds of industries and businesses. But, this also indicates an increase in market competition. Therefore, to stay ahead of such competition, sellers might have to think out of the box!

Disregarding the business type and item listings, a unique selling approach might induce better interaction and spread brand awareness. Furthermore, upon reaching the bottom of the funnel i.e. purchase phase; the quicker a buyer checks out from the store, the sooner they might return for another purchase (or a simple checkout).
To achieve all such goals and seller objectives, here's how Amazon by CedCommerce app might help other Shopify businesses like Shledonlev:
Domestic Amazon Accounts
The integration app supports smooth connectivity among multiple local Amazon accounts. Once connected, sellers can easily link, list, and maintain collective control over all related accounts. Therefore, it will restrict any data distribution (of orders and listings) and related store faults.
Type of Business
Amazon by CedCommerce accepts and works indefinitely, with all types of businesses and related industries. Therefore, a supportive sales channel lets all categories of product items scale efficiently.
Why did Amazon by CedCommerce app become a 'savior' of Shopify sellers in 2021? Discover now.
Populate Orders
Sellers can populate their online store with orders and consecutive fresh purchases. Existing templates and formats help avoid multiple redundant tasks and double entries. Also, samples are available for price, inventory, listing, and more.
Support Promotions
With this integration, it's also easier to put up discounts, offers, or other deals on segmented product categories (segmentation up to sellers' discretion). A single platform i.e Shopify dashboard enables successful allocation of offers, right from the aforementioned app.
Inventory Organization
Shopify product feed syncs with an Amazon seller account through integration apps. As a result, it leads to quicker uploads and centralized control. Near-real time inventory sync with tracking service facilitates better business operations.
For instance, if a buyer on Sheldonlev reports a description or price error, the shop owner can directly make changes from the dashboard, instead of switching to the Amazon platform. Moreover, Sellers can also track orders to avoid underselling (from slow order updates) and overselling (order listing errors).
Churn Rates and Shipment
Timely alerts (for generated or failed orders) lead to quicker issue resolutions. any constant ignorance towards such notifications or late attention to them, would increase the store's churn rate and gradually, reduce its consumer base. Moreover, Amazon by CedCommerce app supports immediate order–related notifications and post-purchase updates.
A reasonable and market-preferred Shopify-Amazon integration: Amazon by CedCommerce app.
Seller Assistance
Amazon by CedCommerce app brings the company's best industry experts and accounts managers to assist app users. They aim for total business, technical, and operative store assistance to increase sales and profits. App exploration inevitably invites doubts. With regular and clear communication, CedCommerce guides sellers accordingly!
Modern Retail Strategies (ft. Sheldonlev)
Themed Store
An online store works great when it is optimized and has defined navigation clarity. Seller's retail intentions can be reflected off a store theme or an individual cause. Sheldonlev feels strongly about Jamaica as a country. He wants the products to have a global presence and educate buyers about the country through, for instance, scenic product types.
Personalized Pitch
Buyers prefer personalization. From products to services, if done right, might facilitate major engagement and conversion. Like this seller, who has talked about his journey and all related aspects, under the 'About us' store section. Moreover, he is confident and vocal about the greater good of humanity through his work (selling and photography). Such an approach might change consumer behavior too. Selling art on Amazon is a nice product choice too, for such personalization!
He believes "Building a brand is extremely valuable to me. Building a legacy for future generations while earning a sustainable income is also important to continue investing in sheldonlev." Hence, targeting segmentation with a moral approach resonates better with the customers.
Affiliate Retail With Social Media
To increase brand awareness and store traffic, selected promotion for targeted audiences might be necessary for sellers, especially new ones like Sheldonlev. The store's social media presence is strong and is on various social media platforms like Youtube, Instagram, and Facebook. Therefore, regular updates offers and other store promotional techniques should be actively dealt with.
Interviews and Features
Another marketing strategy; getting featured on media channels or anchors linked to different types of online content, also increases consumer engagement. Similarly, Sheldon got featured in Jamaican Observer which partially aided his store's promotion.
The Amazon by CedCommerce app offers a multiple pricing plans, catering the unique demands of merchants of all sizes selling on Amazon via their Shopify stores. With a FREE Plan also on offer, merchants can try out various features of the app and step up their selling game on Amazon.

Our Industry-leading pricing plan lets you select the plan as per your business requirements. For more details on the various features and prices of the plans in the Amazon by CedCommerce app, click here. Get other details about the app here.
Conclusion
Sheldonlev experienced better operations and simple access to Amazon, shortly after onboarding the Amazon by CedCommerce integration app. Moreover, with business efficiency, the seller could now focus more on scaling new orders and managing inventory, all from his Shopify dashboard!
Effortless selling gives more room to creativity and innovation, just what the store demands!
Check out this automotive Shopify seller who experienced a 5x increase in sales with Amazon integration solutions.
Moreover, after using CedCommerce integration apps, there was a solid 10% increase in other store traffic. Read his story here!
Find out more about this integration app here.
Start selling on Amazon now!