Find out how this auto parts venture on Shopify grew their sales with integrations for Amazon, Walmart and eBay.
Running short of time? Get PDF of the blog in your mail.

Play Now
Short summary
Challenge
Recently, Max from Shoxtec Suspension , came head-to-head with an inventory problem. He was unable to find an automated tool to sync (their) Shopify store inventory with other respective marketplaces' inventories i.e. Amazon, Walmart and eBay.
As of February 25, 2023, the New and Improved version of Amazon by CedCommerce is now known as "CedCommerce Amazon Channel".
Having their operations on these many platforms in itself is cumbersome. They had to manage operations on four different platforms across several states. Such hurdles might've compromised the venture's operational activities and slowed them down.

Apart from the inventory sync obstacle, Shoxtec was also exposed to several other underlying obstacles. For instance, lack of 'upload-automation' for product data (on four different platforms), order management from multiple platforms, track of operations and lack of single platform synchronization among four ends of this same business, Shoxtec's.
Complete Solution
CedComerce's integration solution app, 'Walmart integration'  resolved all such inventory-related issues for Shoxtec! The same resolution was given by CedCommerce's 'Amazon by CedCommerce' app and 'Integration for eBay' app.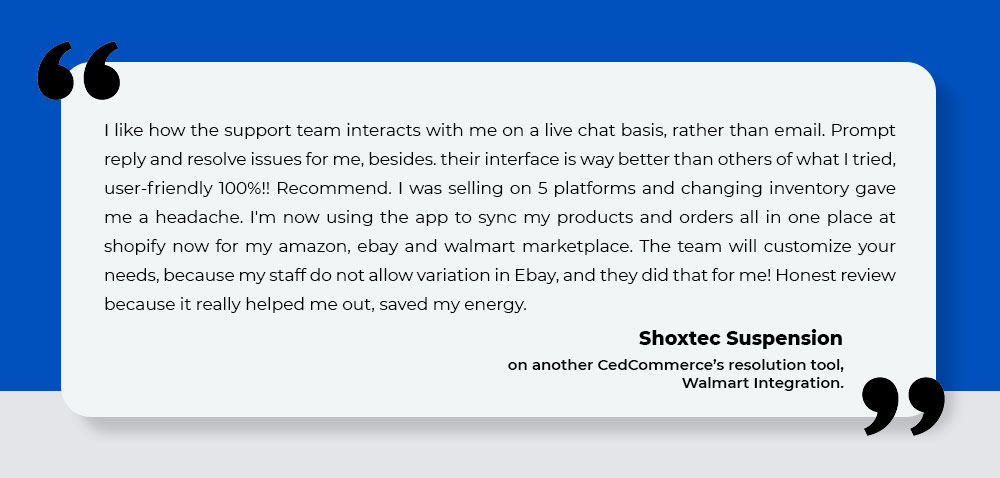 Output
Within 3-4 months of using these integration apps, Shoxtec witnessed a 5x increase in their sales! Also, with Shopify's recent (Amazon integration) service ceasement, sellers were left 'high and dry' for an Amazon integration tool. 
Once Shoxtec started using this Amazon integration app and both Walmart's and eBay's, their major problem of inventory sync was solved right away. 
There are numerous seller issues but during the holiday season, when orders peak, these issues might cost a lot to the sellers. Hence, they should be prepared with practical contingencies.
About Shoxtec Suspension
Shoxtec Suspension has more than 20 years of experience in manufacturing high-quality automotive suspension parts. They build suspension products for cars, trucks, off-road vehicles as well as tuning purposes.
Shoxtec's production line consists of items namely Strut Assemblies, Strut Mounts, Air Suspension Conversion Kits, Coil springs, Customized Suspension systems and many more.
Watch Max as he talks about his retailing experience with CedCommerce and the further assistance from its integration solutions.
Shoxtec Suspension: CedCommerce's Integration solutions for Amazon, eBay and Walmart.
The hiccup
When Shoxtec first approached CedCommerce through Max, they were doubtful about the operational assistance. A multi-sync of inventories from their Shopify store to other marketplaces (Amazon, for instance) seemed difficult to them.
Max from Shoxtec explains,' Before I was using this CedCommerce integration, I was changing my inventories, manually. So if I sell on Walmart, I have to manually do that on eBay and Amazon platform"
Such issues that are dealt with manually take both time and resources.
Another underlying problem with manual inventory update, on all three of the marketplaces i.e. Amazon, eBay and Walmart, was of editing them at the same time. The unavailability of bulk editing also leads to manual product data entry. All such issues hinder a venture like Shoxtec suspension, to focus on escalating their overall operations.
The resolution
'Amazon by CedCommerce' app has helped Shoxtec suspension in quite a few ways. Their main issue of 'multi-marketplace inventory sync' was not only solved. But a boom in sales orders was also witnessed. Shoxtec says, 'Now I have the CedCommerce (Amazon) integration, so all these applications (marketplaces) integrate with my Shopify store."
An Amazon integration solution like 'Amazon by CedCommerce' gives sellers a near-real-time product data sync. It will increase their order attendance and quicker follow-ups. The app fits with challenging marketplaces such as Amazon.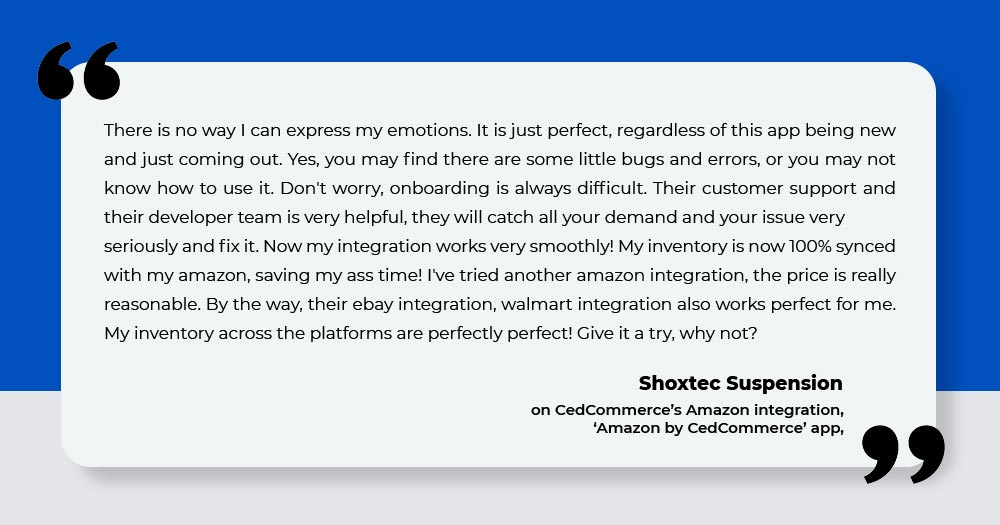 About 'Amazon by CedCommerce' app
Amazon integration uncomplicates the selling procedure on Amazon. For Shopify sellers, such an integration was much needed after the aforementioned abandonment. 'Amazon by CedCommerce' app fulfils almost every requirement of such a marketplace.
Learn more about 'Amazon by CedCommerce' app here.
Shoxtec carefully analysed and came down to CedCommerce's reasonable Amazon integration which eliminates all their related selling issues.
'Amazon by CedCommerce' app simplifies the selling process by connecting multiple Amazon Accounts to a single Shopify Account. This happens to the extent that merchants can sell Shopify Products from one single account on multiple accounts, given that the accounts are from the same country.
Core benefits of this 'Amazon-integration' app
Below are the main seller benefits of using CedCommerce's Amazon integration app:
List/link existing Amazon inventory with Shopify

For all existing Inventories on Amazon, it is possible to connect them to the corresponding Shopify Inventories in just a few clicks.. Also, this app allows easy listing of new inventories with Shopify too.
Simplified order flow from Amazon to Shopify

Without switching platforms, one can manage their Amazon Orders from the Shopify store and perform all essential operations required from here itself.
Real-time product data synching

Sellers can synchronize Shopify Product Description, Price, Stock, and other relevant information in near real-time to achieve effortless listing.
Intelligent bulk editing with predefined templates

Through predefined Product Templates, one can list Shopify products on Amazon. This might save sellers from performing repetitive category mapping and other redundant steps every time.
Steady multi-account connectivity

If a merchant has multiple Amazon Accounts within the same country, then effortlessly they can sell through all of them from their Shopify Store itself. Hence, they can individually tackle all inventories and Orders from different accounts at one spot, i.e., their Shopify store.
Merchants have the opportunity to use such priceless services from CedCommerce at zero cost. While only paying the usual seller fees they pay to Amazon, sellers can now enjoy the benefits of the 'Amazon by CedCommerce app', by choosing from a wide variety of pricing plans, tailored to meet the unique demands of merchants of all sizes. With an available FREE Plan, merchants can try out various features of the app and step up their selling game on Amazon.
Our Industry-leading pricing plan allows you to select the plans as per the services required by your business. For more details on the various features and prices of the plans in the Amazon by CedCommerce app, click here.
To conclude…
Shoxtec Suspension successfully onboarded this new Amazon integration, by CedCommerce, and continued to make profits. A dire need of such an app during holiday 'distress' was essential. Speaking of holiday conflicts, the 'Walmart integration app' and 'Integration for eBay' were no less in extending the same kind of support. Hence, CedCommerce delivered with efficiency and operative executability!
Check out multiple CedCommerce's (Shopify) integration solutions here.
Made it to the end? Here's a bonus for you; some interesting cases on CedCommerce's integration tools, Walmart and eBay integration!
Contact CedCommerce for any seller-related issues and get almost instant resolutions!