How Amtify opted for CedCommerce's Walmart Integration and made record sales of $54711.53
Running short of time? Get PDF of the blog in your mail.

Play Now
Short Summary
Challenges Faced
Richard Cheung, the owner of Amtify eCommerce store, was struggling with the manual uploading of products on Walmart from his Shopify store Amtify. Since the inventory that needs to be made visible on Walmart was huge, it became a befuddling task for the Amtify team.
Solution
Amtify came across the Walmart Shopify integration solution on Shopify App Store. On installing the best in-line third-party eCommerce integration solution for Walmart, Richard and his team also gained access to an expert team from CedCommerce. With the integration, they could seamlessly upload inventory from Shopify to Walmart. The Walmart Integration app from CedCommerce simplified the Amtify team's manual tasks as it's packed with features that aid you in most of the aspects of online selling.

Outcome
Team Amtify could finally perform day-to-day business operations without any hassle. All because of the automated frictionless feasibility provided by the integration app. They could now upload all of their inventory in a few clicks saving manual effort and time. Additionally, the Dedicated Account Manager and the team responsible made sure that Richard and his team never encountered a tight spot. All of this yielded a revenue as high as $54711.53 within a short span.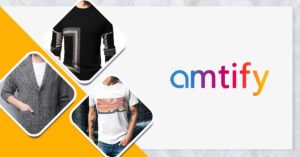 Amtify
Amtify was founded in the year 2013. In the initial days of its launch, Amtify specialized in the fashion category. With the increasing scope of online shopping, Amtify felt the need to transform to other product categories.
Over time, Amtify transformed itself from a fashion-only online store to a social eCommerce site that deals in various product categories. At present, Amtify sells 8587 products from a range of product categories. From Men's clothing, Beauty, Kitchen utilities, and Bathroom curtains to Women's clothing, Home decor, Gaming gadgets, and Arts, customers can find almost everything on one-stop-shop Amtify.
About CedCommerce
CedCommerce is an eminent eCommerce company that provides e-commerce solutions. It helps the merchants in expanding their business from almost every platform, like Magento, BigCommerce, WooCommerce, Shopify, etc., to name a few. The solutions facilitate frictionless selling on the marketplaces.
CedCommerce and Amtify

With the online search for eCommerce solutions, Richard came to know about CedCommerce. Richard contacted CedCommerce and discussed the things he needed. His major concern was to ease the inventory upload process on the Walmart marketplace from his Shopify store Amtify. As such, CedCommerce provided an eCommerce solution for Amtify by its Walmart Shopify Integration app. With this top 3P integration solution, CedCommerce also aligned a dedicated account manager and 24/7 Customer support to Richard to streamline Amtify's Walmart selling.
Key Features of the app that simplified Richard's selling experience on Walmart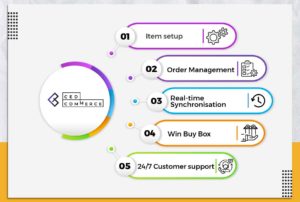 Walmart Shopify integration app helps sellers in automating various tasks associated with selling on Walmart. The key features of this app are as follows:
Item Set-up: The app helps in setting up items on Walmart. With the app, you can upload the items in bulk on Walmart. Just select a given number of items you want and upload them in one go with the app.
Order Management: With the app, efficiently manage orders received on Walmart. The app fetches orders from Walmart and shows them in the integration app.
Real-time Synchronisation: The app synchronizes your Shopify store and Walmart. Any changes made in the Product's Name, Description, Prices, etc., on the Shopify store get synched with Walmart in real-time. Hence, you don't need to make updates at two places. The app is enough to manage two stores from a common platform.
Win Buy Box: With the app, you can set the minimum and maximum prices for your Walmart products. If your competitor revises the price at Walmart, the app's repricing feature helps you win the Walmart Buy Box by automatically changing the product price, keeping it between the price range set by you.
24/7 Customer Support: An important benefit you get with the app is the 24/7 Customer service from CedCommerce.  CedCommerce aligns a dedicated account manager instantly with the app users who assist them in onboarding and its use.
"CedCommerce provided an easy solution to upload products on Walmart Marketplace and allows us to manage all orders within the Shopify portal" – Richard Cheung
To Sum up
CedCommerce's Walmart Shopify Integration helped Amtify in overcoming manual efforts in which they were initially engaged. Not only Item setup and Inventory synchronization, but several aspects of selling online were also made seamless with the app.
All the hard work from Richard and his team's end resulted in massive success, with just a little help and support from CedCommerce.
If you are an online seller like Richard and dealing with any issue related to online selling, contact CedCommerce, and you will find a perfect solution as per your requirements.