B2B Marketplace Success Story: Feudus
Running short of time? Get PDF of the blog in your mail.

Play Now
As Europe's B2B grocery e-commerce sector grows rapidly with tech and supply chain optimization, Italy's focus on local and sustainable sourcing fuels demand for specialized B2B distributors.
Pandemic boosted online shopping, sustainability, and personalized service, transforming them into a way of life for many. Established B2B grocery distributors in Italy, such as Metro Italia, Gruppo Gabrielli, and Unes, have paved the way for emerging entrepreneurs to carve out their own niche.
Feudus – B2B grocery platform for the agri-food industry in Europe recognized this opportunity and established itself as a firm to fill the gap. The platform connects businesses and streamlines transactions online. It's transforming the way the agri-food sector operates, becoming a key player in Europe.
Let's take a closer look at the success of Feudus, a rising digital B2B multi-vendor marketplace for agriculture and food products, in order to understand the key factors behind their achievements.
What is Feudus ?
Feudus is a B2B Grocery Marketplace that operates across Europe. It provides a digital platform for agricultural producers and companies to connect and conduct commercial agreements for agri-food products. Feudus offers a quick and efficient way to buy and sell wholesale food products in bulk quantities.
Read More: Top 10 marketing strategies for your online grocery marketplace
This online marketplace may be useful for expanding the customer base for agricultural producers and providing access to a wider range of products and suppliers for companies looking for agri-food products. Aspiring B2B marketplaces in Europe can benefit at large by selling on such venues.
With Feudus, businesses in the agri-food sector have an opportunity to streamline their sourcing and distribution process, saving time and potentially reducing costs.
What does Feudus deal with?
The primary focus of Feudus is on food categories, such as:
Pasta and Flour
Oil, vinegar and condiments
Dried fruit, seeds and legumes
Chocolate, creams and sweets
Sauces, soups and pestos
Wines and drinks
Fresh fruit and vegetables
Fish
Meat and animal derivatives
Coffee, Honey and Jams
Oil
Feudus is a digital B2B marketplace in Europe. It serves as a meeting point for agricultural producers and companies looking to buy agri-food products.
The platform simplifies the task of discovering and finalizing business deals. It connects businesses on a single platform, reducing time and costs associated with researching raw materials and middlemen.
Feudus offers a safe and efficient way for producers and companies to interact. It makes it easier to find the right partners and expand business operations.
Feudus is a valuable platform for those in the agri-food sector as it incorporates agtech trends to optimize the supply chain and increase the customer base.
Do check: How our B2B marketplace solution helped Kogland to transform into top healthcare marketplace
Where It All Began
Feudus began its B2B marketplace journey with CedCommerce in August 2022, when Morgan Barbagallo, a representative for Feudus expressed his interest in our platform. We quickly reached out to him and began supporting him with our range of services, including:
Assisting to his Queries
Showcasing him Demos
Introducing him to Guides
Consulting his ideas for the project
Morgan was impressed with the guidance and support he received from CedCommerce and ultimately decided to use our marketplace solution in the last week of August 2022.
Upgrade your Magento 2 store to a powerful multi-vendor e-commerce marketplace with advanced features, efficient product handling, and seamless management capabilities for vendors.

To Know more: Do check our solution on Adobe/Magento Marketplace
Since he was already familiar with the Magento 2 e-commerce framework, he quickly noticed & appreciated how our solution worked within that framework. This was also a key factor in his decision to choose Magento for his B2B marketplace platform setup.
CedCommerce felt immense delight when Feudus selected them to provide support for their journey. As a guiding force CedCommerce looks forward to helping them achieve their business goals in future as well.
Why Magento 2 for your B2B Multi-Vendor Marketplace?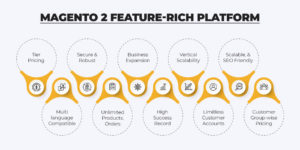 Magento 2 is a powerful and popular e-commerce platform that provides a wide range of features to help businesses build and manage their online stores. One of the key benefits of Magento 2 is its ability to handle complex e-commerce operations with ease.
It offers a robust set of tools for managing products, inventory, payments, and shipping, as well as advanced features like personalization, customization,etc. Listed below are a few facts and features that highlight why the Magento 2 eCommerce framework is exceptional:
Revolutionary Pricing Strategies
Revamp your pricing strategy by implementing tiered pricing based on the quantity of items purchased, offering discounts for larger purchases. Additionally, tailor your prices to specific customer groups such as wholesalers or retailers for even more targeted pricing.
Cutting-Edge Technologies for Intuitive Website Design and Navigation
Stay ahead of the competition by utilizing the latest and greatest technologies for your ecommerce website. With features like Magento's Page Builder and improved Elasticsearch, your website will be user-friendly and optimized for search engine visibility. No wonder it's the preferred choice for over 250,000 active sites.
Unmatched Scalability, Robustness, and SEO-Friendliness
As an open-source platform, Magento can be fully customized to meet unique business needs. It's capable of handling up to 300,000 products with proper server configurations, making it a highly scalable option. Advanced SEO features also make it a robust choice for ecommerce businesses looking to maximize their online visibility.
The Unparalleled Choice for Maximum Security and Widespread Usage
With a staggering 202 users on the coveted Internet Retailer Top 1000 list, Magento 2 stands out as the most secure platform for ecommerce. Adobe's top-notch team develops built-in security patches for the platform, which ensure that your website is always fully protected.
Unmatched Flexibility and Endless Opportunities for Expansion
The sky's the limit with Magento 2, as you can create multiple websites across different domains to cater to various niches. For instance, you can have xyz.com for B2B, retail.xyz.com for retail, and grocery.xyz.com for groceries – all managed from one central admin panel.
Next-Generation Reporting and Cutting-Edge Business Intelligence
Businesses that use Magento are three times more likely to experience growth than those that don't, thanks to the platform's advanced reporting and business intelligence capabilities. Leverage the most up-to-date information to make strategic decisions and stay ahead of the competition.
Global E-commerce with Magento's Multi-Language, Multi-Store, and Multi-Currency Compatibility
Magento's ability to support multi-language, multi-currency, and multi-store features can lead to higher growth rates in transaction value and customer reach for businesses, according to statistics.
Magento's Out-of-the-Box Features for E-commerce Growth
Magento comes equipped with various eCommerce features such as Google Analytics, Sitemap, Gift Message, Cache Management, and Index Management that can aid eCommerce growth, reduce database space consumption and improve page load speeds.
B2B eCommerce Expansion with Various Customer Groups Configuration
Magento allows the creation of multiple customer groups, such as Wholesalers, Retailers, and General, to segment the customer base and plan for B2B eCommerce expansion.
Proven Success with Trusted Leaders using Magento 2 EE
For four consecutive years, Magento has maintained its position as the top-ranked platform on the Internet Retailer 1000 list. Leading brands such as Nykaa, Lenskart, Btech, Asus, and HP trust Magento for its scalability.
Unlimited Products, Orders, and Customer Accounts with the Right Hosting Partner
With Magento, there is no limit to the number of orders and data, provided the business has a reliable hosting partner like AWS, Cloudways, or Nexcess.
With its advanced functionality, flexibility, and scalability, Magento 2 has become a go-to choice for businesses of all sizes, from small startups to large enterprises.
To know more: Check out our B2B marketplace Solution!
What Makes CedCommerce B2B Multi-Vendor Marketplace a Suitable Solution for Feudus?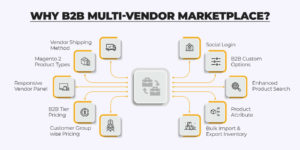 At CedCommerce we offer a B2B Marketplace solution that provides a lifetime license and free upgrades with a one-time cost. This solution has been curated by our Adobe certified developers & our personalized support sets us apart from other solutions at similar pricing levels. Here are some key features that make our B2B Marketplace solution stand out from our competitors:
We provide a free vendor shipping method addon worth $99 so vendors can ship orders from their panel and complete the order life cycle without admin interference.
Magento 2 Product Types:
Our solution allows vendors to create all types of Magento 2 products, including Simple, Configurable, Virtual, Downloadable, B2B Grouped, and B2B Bundled Products, if allowed by the admin.
Responsive Vendor Panel:
Our certified UI/UX designers have created a flawless B2B Vendor panel that can be easily accessed on mobile browsers. We have not used the Magento admin panel design and icons.
B2B Tier Pricing:
Vendors can set B2B tier pricing for their products based on the quantity ordered. For example, if a customer purchases 5 quantities, the cost will be $10. If a customer purchases 10 quantities, the cost will be $8 or a 10% discount will be applied.
Vendors can also set customer group-wise pricing for their products. For example, wholesalers can be charged $10 for a product while retailers are charged $15.
Our solution provides social login options for both customers and vendors. Google, Facebook, Twitter, and Linkedin are available.
B2B Custom Options:
Vendors can create custom options for their products to offer a variety of selection and input types.
Enhanced Product Search:
Our customers can search for a vendor's products inside that particular vendor's shop on your marketplace.
Vendors can create attributes and attribute sets for their own products from the vendor panel.
Buyers can request quotations on multiple products at a desirable price and quantity.
B2B Submit Buying Request:
Customers can generate requests for products category-wise through a dedicated Submit buying request form.
Vendors can quickly upload their products and images via CSV files instead of adding them one by one.
Read More: How to Create a Successful B2B Marketplace Website?
Our B2B Marketplace solution provides all the necessary tools to help businesses succeed in their B2B operations.
CedCommerce's online marketplace extension stands out as one of the best due to its easy customization to fit any unique B2B business idea. With diligent support from experts, concerns or doubts about the Magento 2 B2B marketplace extension can be resolved, ensuring Morgan has a seamless experience.
Moreover, the open-source code provided by CedCommerce enabled Morgan to explore the limitless possibilities of his Magento B2B marketplace ideas. This allowed him to innovate and experiment with different features and functionalities that would make his online store stand out from the competition.
Morgan's decision to use Magento and CedCommerce for his online store proved to be a wise choice, given the ease of setup and customization, access to exclusive e-commerce tools and features, and the support provided by experts. The open-source code also allowed him to innovate and push the boundaries of what was possible with his B2B marketplace ideas.
Read More: Top 12 Features That Make Adobe Commerce The Best B2B eCommerce Platform
How Did It Turn Out For Feudus?
Our team worked diligently to install and test the project thoroughly and were able to deliver it within a month. Our client was pleased with our work and expressed satisfaction with the project's accelerated setup.
However, our client also had some specific requests for customizations to the platform in October 2022. The requested changes were related to front-end improvements that would enhance the user experience:
We made several changes to the platform.
Changes include showing certifications on the Product detail page.
Certifications are displayed as an image on the product view page.
We added a feature for customers to view and download all certificates for a vendor by clicking "view vendor profile."
We also added a vendor details section to the product page.
Vendor details section includes vendor's image, badges, name, country, and link to the vendor shop page.
Vendor badges are shown on the product category page, below the product name, to make vendor information more visible.
These customizations were well received by the client and improved the user experience significantly.
We were fortunate to have a great client in Morgan, who was exceptional throughout the entire process. They displayed a deep understanding of our solutions and suggestions, and we valued their input. We are thrilled to have worked with them and look forward to assisting them with their future needs.
Build your own unique marketplace with CedCommerce's customizable extensions and add-ons for a tailored eCommerce experience.

Hire our skilled Magento Developers to bring your vision to life.
Challenges Faced Along the Way and How CedCommerce Aided Feudus to Overcome Them0
During our time assisting Morgan in their marketplace development journey, we encountered several queries and concerns from him. His major queries involved:
Morgan's main worry was related to the payment system and whether it functioned as an actual marketplace. We provided him with reassurance by explaining how the payment amount first goes to the admin's account and then to the vendor's account. Hence, creating an efficient and organized process that gives the admin more control over decision-making. Another concern expressed by Morgan was whether Stripe could be used as a payment option. To which we informed him about our add-on that facilitates the use of Stripe.
Another query that Morgan had was about the ability of vendors to specify a price range for their products. We confirmed that this feature is available through advanced pricing, allowing vendors to set a range for their products. Additionally, vendors have the option to upload attachments such as .pdf or .jpeg files to their profile. But this option is only possible during registration using the vendor attribute add-on.
Morgan also had some questions about the badge system and whether it would be possible to sort search results according to a user's badge. However, we explained that a specific search query was required to accomplish this. Additionally, Morgan asked about appropriate templates, and we offered a list of recommended themes for them to select from.
Lastly, Morgan eventually inquired about the multilingual system, and we clarified that our solution already supports multiple languages. Additionally, we advised them that he could establish store views in various languages by installing specific language packs.
Despite encountering some bumps along the way, we were able to address each of Morgan's queries. Our customer success team ensured that he was fully satisfied with the marketplace development journey.
Read more: 10 Biggest Challenges of eCommerce in 2022 and Their Solutions
CedCommerce add-ons opted by Feudus
Morgan took further steps to enrich the quality of their e-commerce website and improve its performance by adding different add-ons. Among the various add-ons available, Morgan opted for two add-ons from CedCommerce to enhance their website's functionality:
The Stripe Payment Addon has a couple of features that make it very useful. Firstly, vendors can register themselves using Stripe Connect on Magento 2 Marketplace. Secondly, it includes a split payment functionality between the admin and vendors, which ensures seamless payment processing. Additionally, customers can save their card details for future purchases, which makes the checkout process much more convenient.
Vendor Attribute Addon:
With the Vendor Attribute Addon developed by CedCommerce for Magento 2, administrators can incorporate vendor attributes to gather additional vendor details. This add-on provides various essential features, including unique attribute codes, several input types such as text fields, drop-down menus, and date pickers, input validation, and customization of the input field's order. All these features make vendor information collection and management much more efficient and streamlined.
By incorporating these CedCommerce addons, Morgan was able to enhance the functionality and performance of their e-commerce website. These addons helped them create a pathway to streamline their payment processing and vendor information collection, ultimately leading to a better user experience for their customers.
Conclusion
The B2B marketplace in Europe is experiencing rapid growth as businesses increasingly utilize digital platforms for buying and selling goods and services. Feudus, a B2B marketplace platform, recognizes the importance of digital technologies and personalization in the current business landscape. By providing customized experiences to its customers, Feudus sets itself apart from competitors and gains a competitive advantage. Hence, companies like Feudus, who embrace personalization and digital transformations, are well-positioned to succeed as the e-commerce industry evolves.
According to a report by Statista, the B2B e-commerce market in Europe is projected to grow to over $1 trillion by 2024. This growth is fueled by the adoption of digital technology, increasing e-commerce demand, and the need for streamlined supply chains.
Do check out: How Thaimee-d reformed into a successful marketplace!
Are you Planning To Set up your store on Magento 2?
If you're looking to set up your Adobe commerce or Magento 2 store, partnering with CedCommerce could be a wise choice.
Cedcommerce is a leading brand for e-commerce solutions, including extensions and integrations for Magento 2. We offer a range of services to help businesses plan, build, and launch their online stores. We offer our aid from design and development to customization, and optimization.
Cedcommerce guarantees optimization of performance, security, and scalability for your B2B Magento 2 store, ensuring a seamless experience for your customers. To commence, it is crucial to carefully plan your project, identifying your goals, requirements, and timelines in collaboration with Cedcommerce to ensure your store aligns with your business vision.