B2B Marketplace Success Story: KOGLAND
Running short of time? Get PDF of the blog in your mail.

Play Now
Today, we bring you the B2B marketplace case study of KOGLAND, a leading online healthcare marketplace. It helps hospitals and medical care facilities to overcome challenges they face in meeting procurement, price volatility, product selection, and logistics. Recently, KOGLAND earned over Rs. 3 crores (Approx. 375K USD) in revenue for the financial year 2021-2022, doubling its revenue ten times in a year. Let's dive into the B2B marketplace success story of KOGLAND and find out how Magento 2 got KOGLAND where it stands today.
"Although medical technology has grown leaps and bounds in providing medical treatments, supply chain and procurement is still in the nascent stage, very chaotic and time-consuming with numerous parties in between. Also, spurious, and counterfeit products abound in the market. KOGLAND seeks to eliminate this problem by doing away with middlemen, old traditional processes, and unwanted meetings, pioneering a new way of buying for the B2B healthcare market." – Varghese Samuel, CEO and Managing Director of KOGLAND Commerce Pvt Ltd
About KOGLAND
KOGLAND has become India's fastest growing B2B online marketplace, exclusively for healthcare providers. It was launched in 2015 in Kochi Infopark as a sister concern of Fingent Technologies, a leading New York-based IT company. The KOGLAND team understands the healthcare industry and its potential and challenges, enabling them to align technology with specific challenges while identifying and resolving critical gaps.
"The KOGLAND team has built an exceptional business strategy that is at the forefront of B2B healthcare marketplaces and is poised for continued & rapid expansion with the tremendous shift in the purchase patterns of the healthcare sector," says Mr. Abraham Isaac, Vice President- Sales and Marketing, KOGLAND.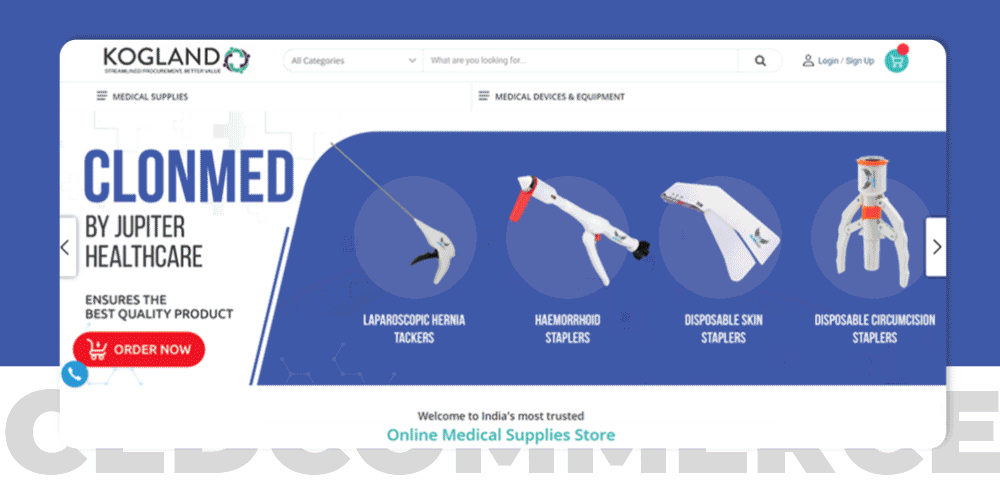 KOGLAND is a one-stop online store for all medical and hospital consumables requirements. With more than 5000 plus products listed on its website, you can find all medical supplies on the B2B healthcare marketplace. Furthermore, KOGLAND delivers a great online buying experience with an assured supply of high-quality products delivered quickly across India. In addition to providing high-quality medical accessories and advanced medical equipment, the online healthcare marketplace promotes alliances with top medical technology companies.
Which functionalities build KOGLAND's B2B marketplace success story?
Before we dive into KOGLAND's B2B online marketplace case study, let's rewind a few steps and see how CedCommerce paved the way for KOGLAND's success.
Vendor Request For Quotation allows customers to negotiate the price and quantity of the vendors' products. Furthermore, it also enables customers to submit quote requests for multiple products' quantities and prices. Customers can generate product-wise quotes from the front-end and manage the complete quotation process on the multi-vendor marketplace, and convert it to order. Lastly, the plugin facilitates easy negotiation, proposal management, and place quick requests for new quotes.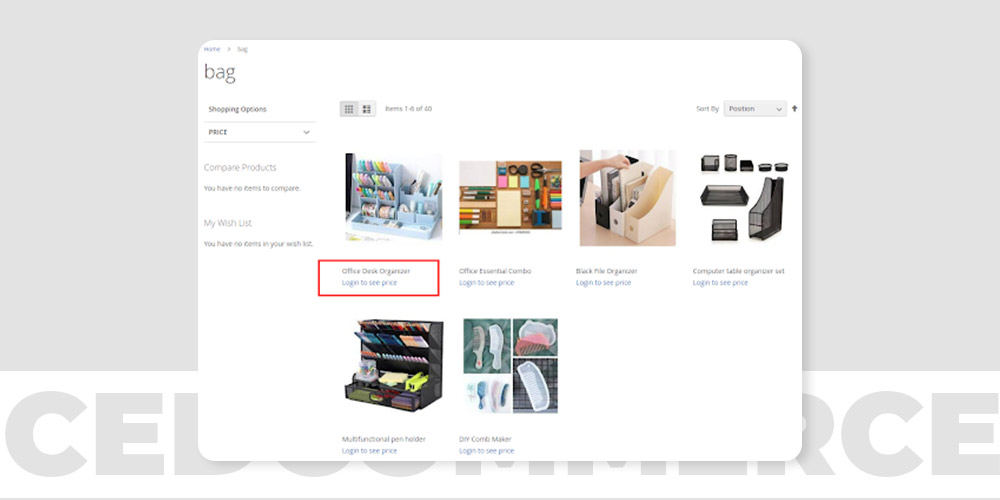 Quick Bulk Order for Magento 2 enables B2B buyers to quickly purchase products in bulk without surfing the entire page. Furthermore, it also enables the buyer to search and add a product using its SKU or product name.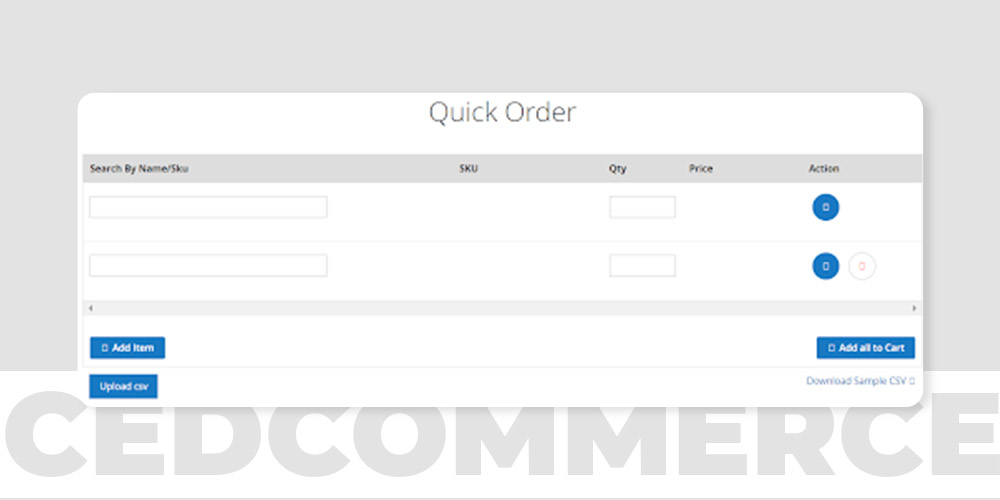 Bundle & Grouped Product Support
In Magento, Bundles are customizable products that you can build yourself. There are two types of products that can be included in a bundle: simple products and virtual products.
As the name implies, a grouped product is a set of simple standalone products presented together. Furthermore, customers may be more likely to purchase additional items when presented with a grouped product.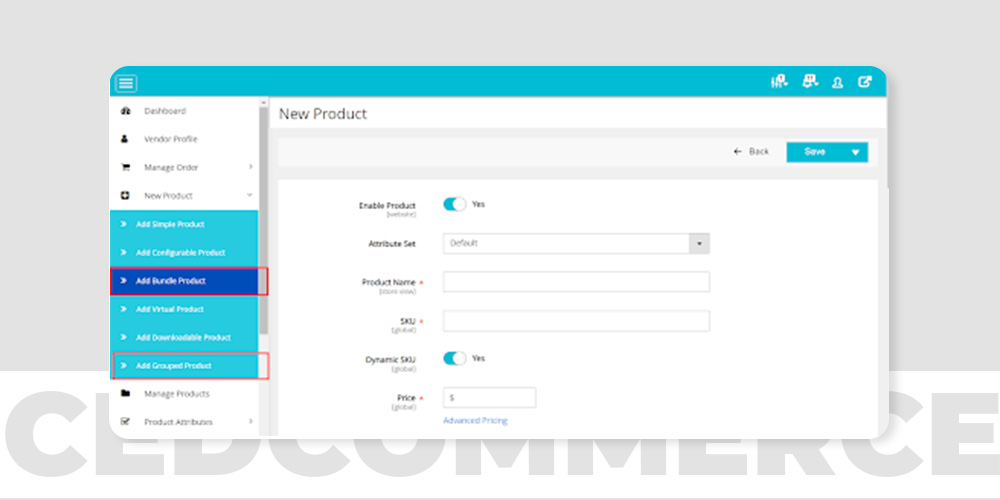 Product Attribute and Attribute Set Management
With the add-on, vendors can add custom attributes to their products to incorporate other relevant information directly from their vendor panel. Furthermore, they can display all the product attributes they have created in a single place. Lastly, vendors can also edit or delete the product attributes they have already created.
Bulk Product Import & Export From The Vendor Panel
Vendor Mass Import & Export Addon for Magento 2 helps vendors to upload products in bulk. Adding products manually is a time-consuming task, particularly when the numbers are high. Vendors can easily upload all types of products, including Simple, Virtual, Configurable, Bundle, Grouped, and Downloadable with the add-on.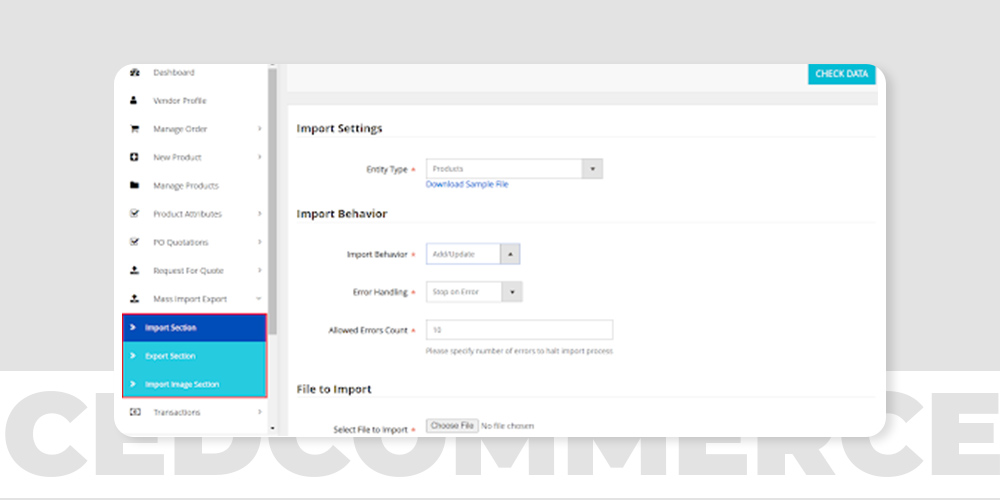 Customer Group Wise & Tier Pricing Setup for Products
Tier pricing lets vendors offer a quantity discount from a product page in the multi-vendor marketplace. Furthermore, vendors can also set prices for discounted items based on customer groups on your B2B healthcare marketplace. It is a component of tiered pricing and is referred to as group pricing.
Mobile Browser Compatible Vendor Panel
The vendor panel we design is mobile-compatible and responsive. Thus, vendors can easily access and operate panels from the mobile browser. We have not used Magento 2 admin panel design and icons for the vendor panel. Rather, certified UI/UX Designers have professionally created them to facilitate the use of vendor panels on the mobile browser.
Indian Marketplace Vendor GST Addon enables vendors to configure appropriate Indian GST rates for products in different tax slabs. Furthermore, it calculates the tax according to the vendor's shipping origin and the buyer's shipping address.
Our Magento-certified experts can pave the way for your B2B healthcare marketplace success story. You are just one call away from your B2B marketplace case study getting all the attention it needs.
B2B marketplace case study: How is KOGLAND currently faring?
What sets their B2B marketplace success story apart is that KOGLAND was all about enriching online shopping experiences. Furthermore, KOGLAND has partnered with authorized medical brands. It ensures that you get quality products from trusted vendors every time and just in time.
In a single year, KOGLAND, an e-marketplace startup that connects healthcare providers and suppliers for bulk medical supplies, has increased its revenue more than ten times. The revenue has crossed ₹3 crores in the financial year 2021-22.
"When the country was reeling under the covid-19 pandemic, the KOGLAND marketplace went digital in a massive way to ensure safe and timely procurement of medical supplies through contactless deliveries. The team bestowed round-the-clock service with prompt shipments to help hospitals and clinics avoid stockout and fight the crisis. This helped the B 2 B startup to generate revenue above ten times in a short span of time," said Mr. Samuel.
Over 50 vendors have collaborated with the start-up procurement company to facilitate a diverse range of medical products. Furthermore, KOGLAND plans to carry out its operations across a number of verticals, including technology, sales, marketing, and strategy to keep its B2B marketplace success story going.
More importantly, the key to attracting and retaining more customers is maintaining quality and building trust. In addition to modernizing the healthcare sector, KOGLAND's vision is to make healthcare democratized.
How to set up a B2B healthcare marketplace like KOGLAND?
Listed below are the steps you can take to set up an e-marketplace like KOGLAND and write your B2B marketplace success story.
Before we dive into the steps that walk you through the process of creating a B2B marketplace case study, take a little detour and explore the B2B guide. The B2B guide takes a deep dive into the planning, execution, and growth of a modern B2B solution.
A domain name represents your brand identity. Thus, selecting an appropriate domain name is the first crucial step in the process of setting up your B2B marketplace.
Hosting partner for a B2B eCommerce website
Next, you must select the hosting provider to host your B2B eCommerce website. Furthermore, you can choose Cloudways, AWS, Digital Ocean, or Nexcess as a hosting partner.
Install Magento 2 eCommerce framework
Once you have completed the above steps, you must install the Magento 2 eCommerce framework. Moreover, Magento 2 CE is free of cost and available on its official website. Installing it on your domain will provide you access to the front end (Customer View) and a back end (Admin panel) with a default Luma theme. For more details on Magento 2, click here.
Why Choose Magento 2 CE eCommerce framework for a B2B eCommerce marketplace?
Scalable, robust, and future-ready eCommerce platform for enterprise-level marketplaces
Supports tier pricing. For example, customers can purchase 5 quantities for $10, the cost for 10 quantities will be $9, or a 10% discount will be offered, etc.
You can create B2B customer groups, such as wholesalers, retailers
You can also enable customer group-wise product pricing.
Security patches are directly provided by Adobe Developers
It supports up to 3 lakh products.
Multiple languages supported
Multi-store compatibility.
Grouped and bundled products
Support for B2B custom options for products
Advanced reports and business intelligence features, enabling you to make strategic business decisions
Page builder support and the latest Elasticsearch technology for better search results on the B2B marketplace
Multiple websites can be set up even on different domains and different niches. For example, website A for a general marketplace, website B for a niche-oriented marketplace, etc., from the same admin panel and customer accounts. It ensures vertical scaling of your marketplace.
Select a third-party front-end theme
Magento's default Luma theme has a mediocre user interface and experience and a not-so-attractive look. Thus, you will need a third-party front-end theme, such as the Amasty Jet theme or any Magento 2 theme from Envato Market. However, you must first check the compatibility of the front-end theme you would be using with our Magento Marketplace Solution.
CedCommerce B2B Marketplace Extension for Magento 2
Our B2B Marketplace Solution comes with all the standard marketplace features and functionalities. Vendors can create all types of products and can manage orders from the vendor panel. Furthermore, it also supports separate B2B app development for vendors and customers. Other features supported include the following:
Social login for customers and vendors
Product attribute management by vendors
Request for quotation and submit a buying request
Vendors can use CSV files to upload all products in bulk
Customer group wise and tier pricing setup by vendors
Click on the link below to start your journey of a B2B marketplace success story.
Check our B2B Marketplace Solution
---
Disclaimer: The content and images used in this B2B marketplace success story belong to their respective copyright owners. If you have any concerns related to this B2B healthcare marketplace success story, please send us an email at support@cedcommerce.com.