Importance Of Request For Quotation Extension In B2B Marketplace
Running short of time? Get PDF of the blog in your mail.

Do you want to bring in the bargaining system in your B2B marketplace? If yes then Magento 2 Request For Quotation extension all you need.
In today's scenario continuing with a simple multivendor marketplace is just not enough, you need to take your business one step forward by starting a B2B marketplace.
There are many extensions and addons that play a major role in the success of a B2B Marketplace and Magento 2 Request For Quotation Extension is one of them.
Essence Of Magento 2 Request For Quotation Extension

Bargaining system has always been prevalent in our society. Consider a simple example: Let a product's original price be rupees 10. Now if a retailer wants to buy 100 quantity for the same product, he can negotiate with the manufacturer to give them away at a lower price, say 100 quantity for 900.
In this way, both the retailer and manufacturer earns a profit.
Magento Quote Extension on the same principle.
You must be wondering as if how does this extension works? Let me give a brief description of how exactly the extension works.
The Brief Description Of Functionalities
Basically, there are two entities involved namely the admin of the website and the customer. A customer can negotiate product prices with quantity and submit his quote request.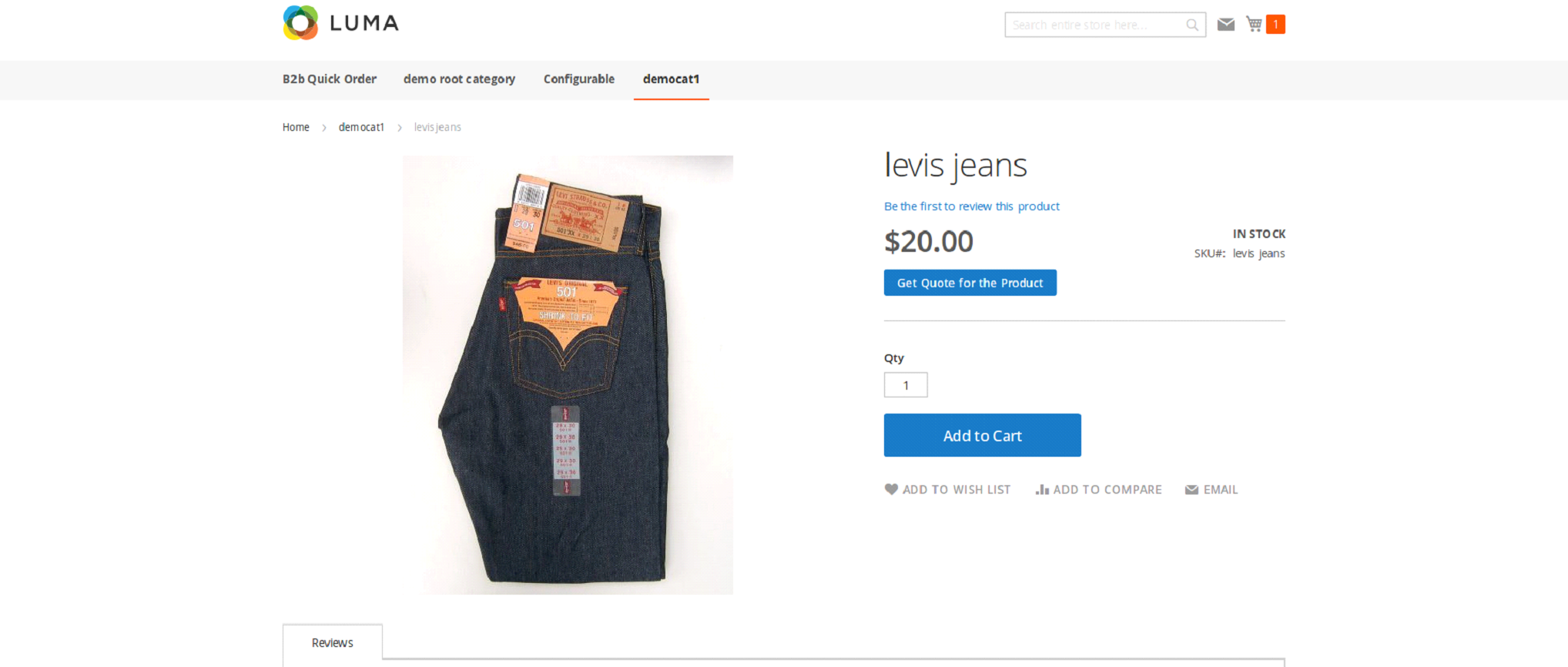 This can be done simply by filling up a form to enter the desired quantity and price for the products.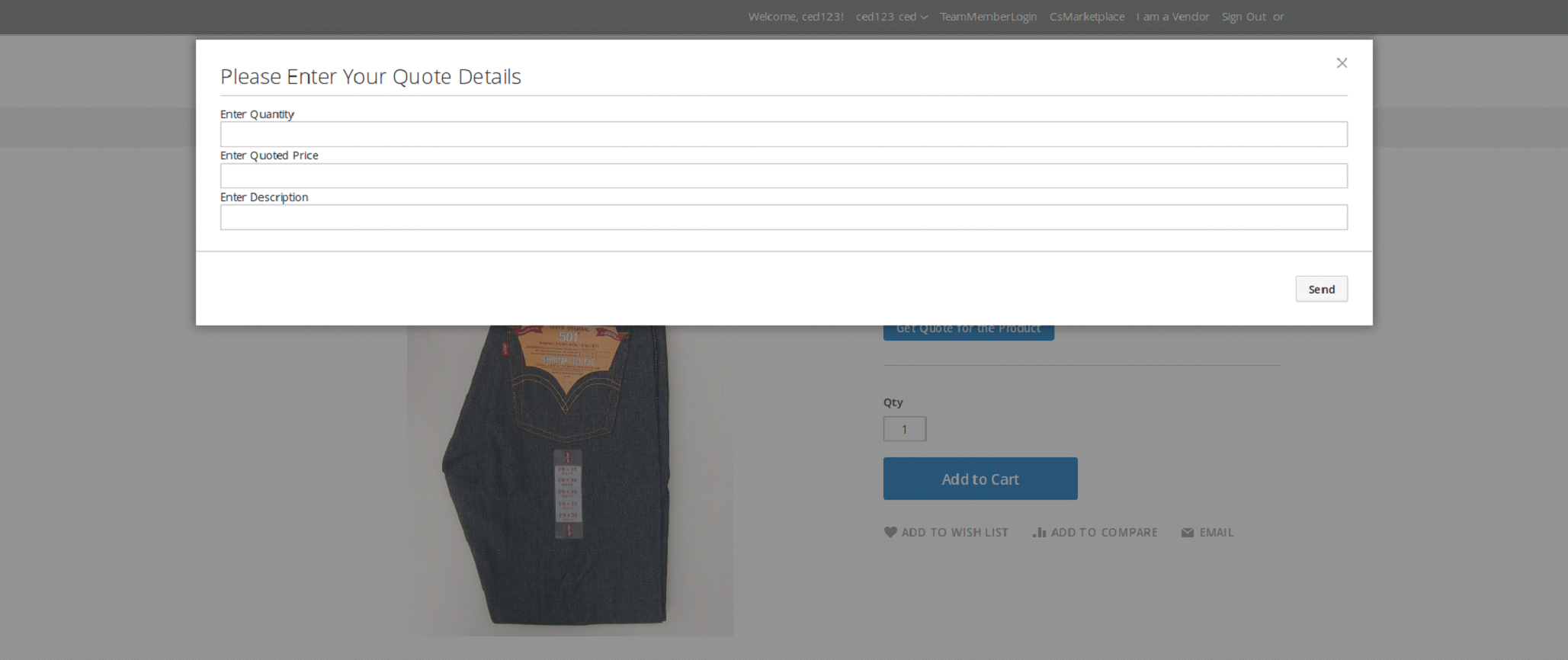 On completing the process of creating a quote the customer can submit the quote.
Now a question arises that what if the customer suddenly realizes that he has provided wrong quantity or price.
Well in this situation customer is provided with a facility to edit his quote until the quote gets approved by admin. Not only this you can drop a message for the admin while editing a quote.
Customer Can View Quote in My Quote Section: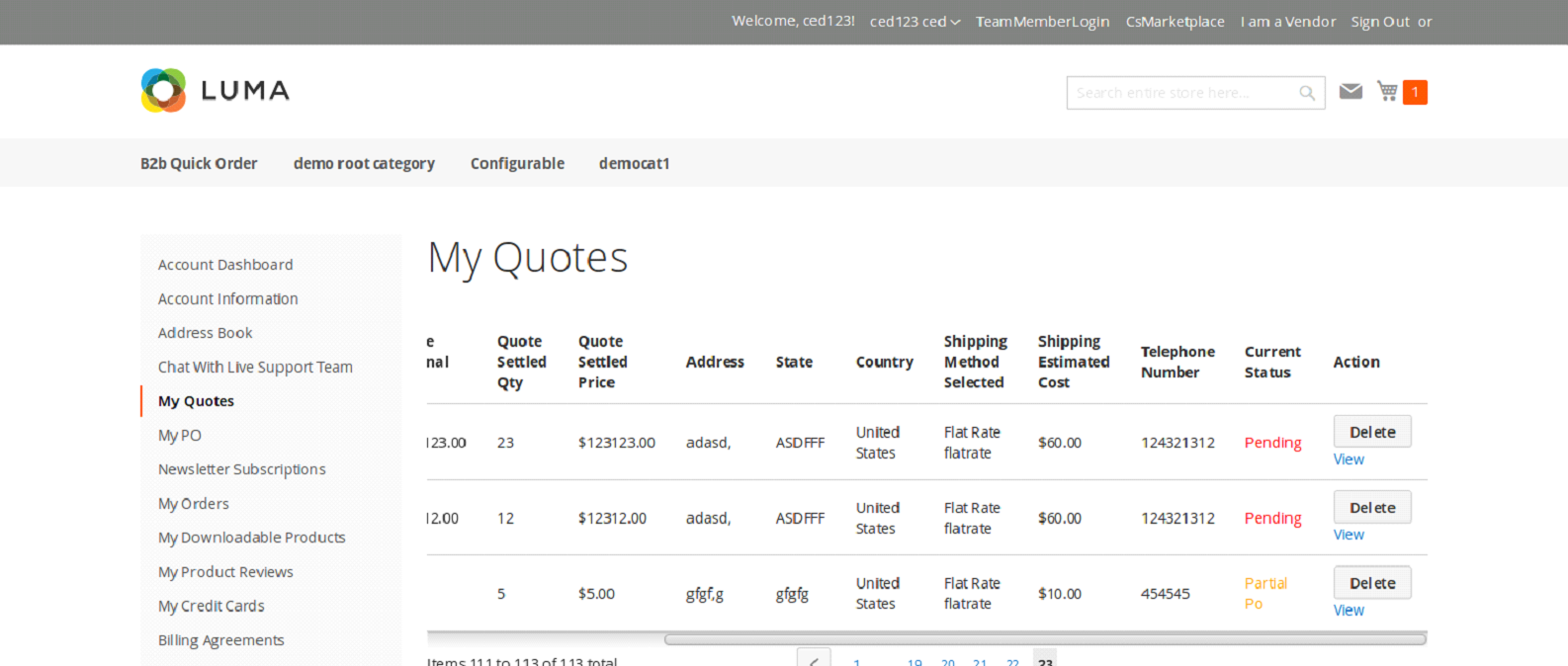 Once the quote was submitted by a customer the role of admin starts. If the admin gets agreed upon he can approve the quote on one go. If he wants to put forward his own offer he can always do so.Not only this customer is also provided with the facility to send offline messages along with quote request.
Manage Quote Requests Grid: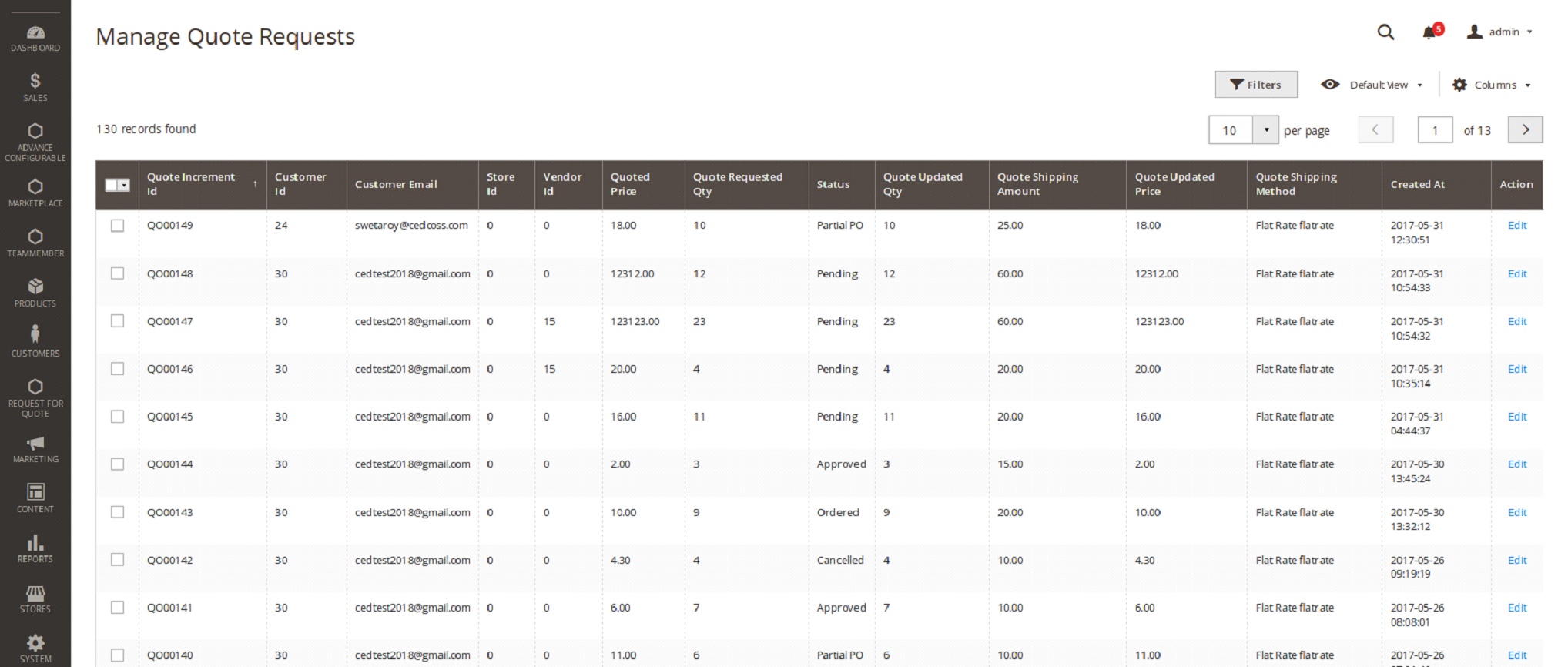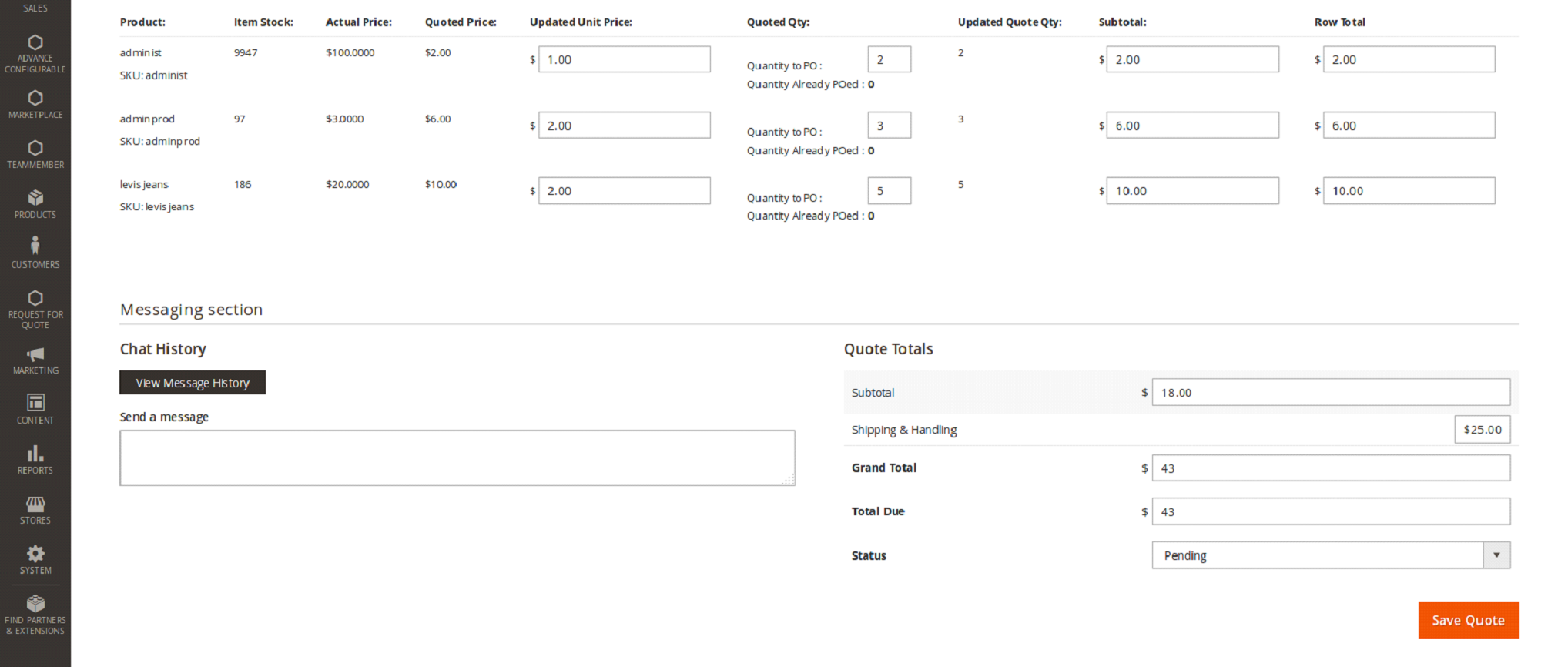 When the admin reaches to an agreement point he can approve the quote. On approval an option to create a purchase order for the same appear. It from here that the admin can create a purchase order for the respective purchase order.
Consider a situation, what if that the admin is not in a position to give away all the product quantity at once. Well in this situation he can create a partial purchase order for the quote.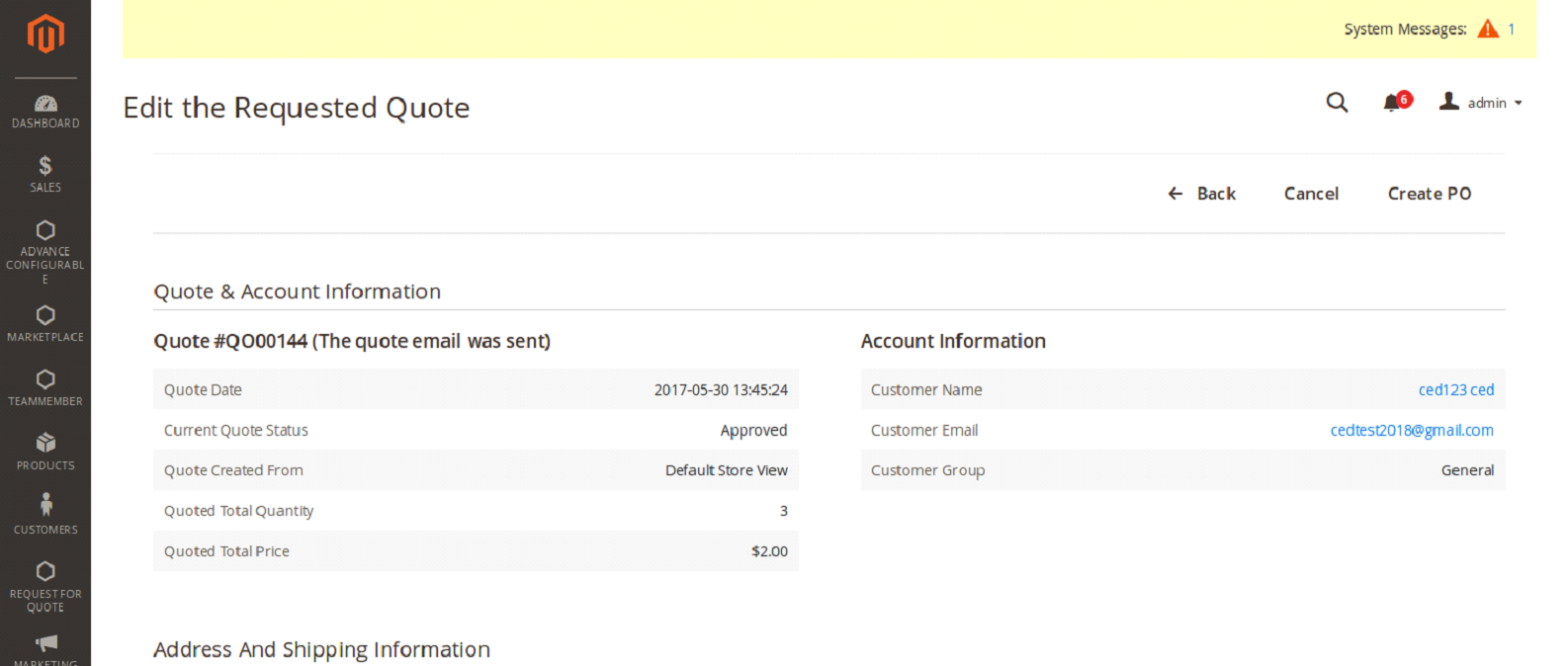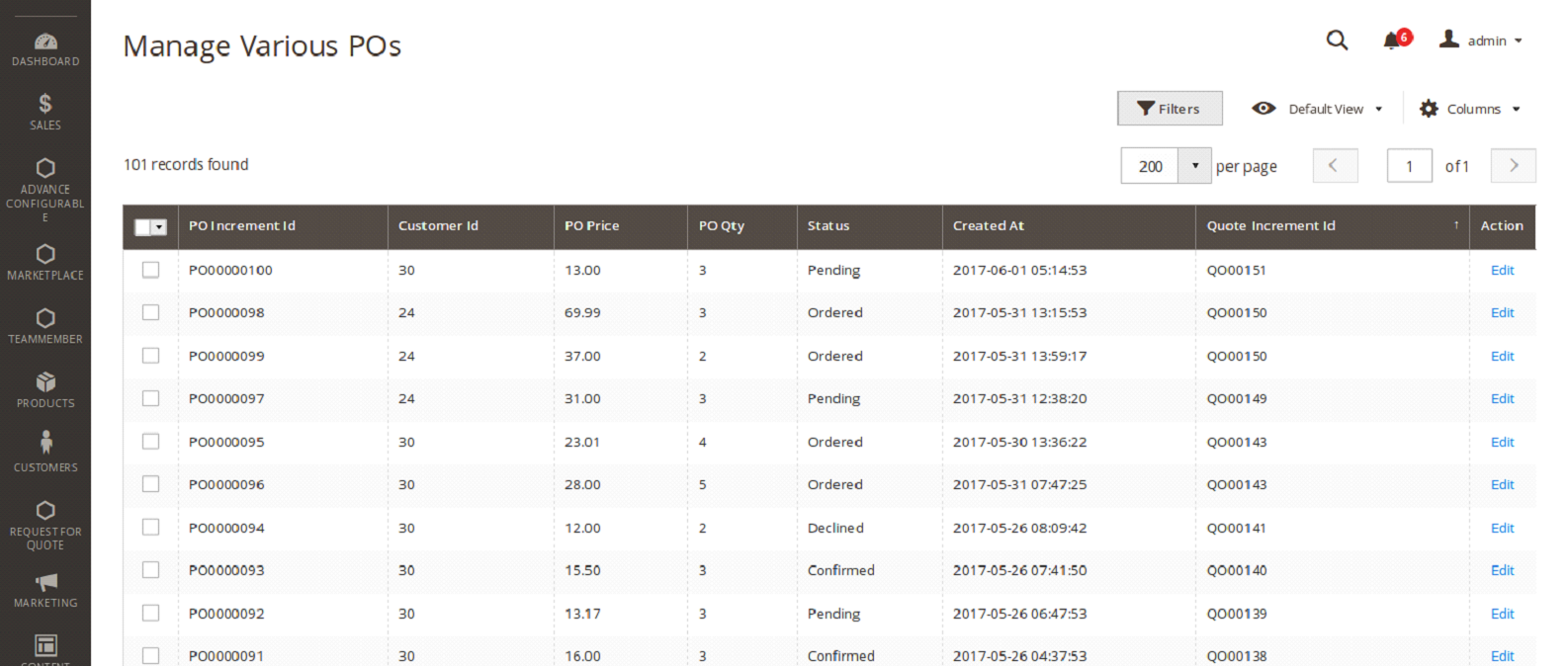 On creating a purchase order an email is received by the customer on this registered email id. The customer always has the option to either cancel the purchase order offer or to accept the offer and place his order.
Key Features:
Customer can create a quote for not only single but also multiple products.
Customer can estimate shipping rates for the corresponding quote from different shipping method at admin side.
Customer is provided with the facility to edit his quote until it's approved by admin.
Send offline messages along with quote request.
Proper information regarding the status of the quote is also received by the customer.
Admin can edit/approve and cancel quote.
Admin can also set Allowed Customer Groups to access RFQ, Hide Add to Cart Button for Customers and Hide Price of Product Customers.
Admin is also provided with a feature to create partial purchase order for any quote id.
Customer receives email regarding the purchase order from where he can cancel or directly check out with approved price and quantity.
An invoice related to purchase order is also received.
On the ending note Request For Quotation Extension by CedCommerce serves as an important extension for promoting any b2b marketplace.
For User Guide Of Magento 2 Request For Quotation Extension:  Magento 2 Request For Quotation Extension – Admin Guide
You can also read more blogs from CedCommerce: 
Thank You For Your Interest!