Top 12 Features That Make Adobe Commerce The Best B2B eCommerce Platform
Running short of time? Get PDF of the blog in your mail.

Play Now
E-commerce is constantly expanding, with an accelerating pace of development in recent years, paving the way for offline retailers to plant roots on the best B2B eCommerce platforms.
The shopping experience has evolved over time, and shoppers now crave tailored, user-friendly, frictionless commerce more than ever.
Modern B2B trade is projected to be around $7.7 trillion, and by 2028, it will presumably be valued at $25.65 trillion.
Adobe Commerce  is a popular pick among prominent B2B industry leaders since it empowers them to prioritize customization and scalability above other factors. B2B Adobe Commerce firms with at least $500 million in annual sales generate more than half of their revenues off their e-commerce sites, reflecting the rapid growth of B2B e-commerce.

Key Factors To Explore Before Picking B2B E-commerce Platforms
The B2B business model undoubtedly has a massive amount of potential when it comes to e-commerce. This potential could be maximized when broad explorations are planned strategically.
Here are 12 key aspects to consider before deciding on the best B2B eCommerce platform for your business to acquire a more in-depth understanding:
1. High-Reliability
When making a purchase, don't we all weigh reliability? We certainly do. Similarly, while hunting for the best B2B eCommerce platform, reliability ought to be high on your priority list. When settling on a platform for your business, make sure to evaluate the platform's trustworthiness. Use tools to verify the traffic, ranking, domain, etc. to evaluate the validity of a platform and get an in-depth grasp of the reliability factor.
2. Scalable Framework
Most people are unaware of the significance of scalability for an e-commerce business. With emerging technologies such as AI, Metaverse, Xtended Reality, etc., e-commerce has evolved over the last few years. Scalability is therefore an effective tool for any e-commerce business to keep up with these evolving technological trends. Hence, if you want to keep ahead of the curve, always look for scalability as a feature when picking a platform for your e-commerce endeavors.
3. Easy Navigation
Nobody enjoys finding their way around a website and scrolling ceaselessly. It is tedious and frustrating, which leads to high bounce rates and abandoned shopping carts. But you don't want that for your website, do you? To combat flaws like this, choose seamless navigation to maximize your clients' convenience. The takeaway that follows is to always seek a platform with intuitive and engaging navigation when choosing a Magento Commerce platform for your e-commerce business.
4. Nominal Programming
Being a developer has its privileges, but what about people who don't understand the basic tenets? Programming is the worst nightmare for someone with no technological expertise, so in order to start, they either hire assistance or outsource services. But what if we revealed to you an alternative? Yep, you heard correctly. There are plenty of platforms accessible that would need no or limited coding to set up an e-commerce platform. Thus, explore basic programming platforms before buying one.
5. Customizable UX
Personalization is the hottest flavor in the realm of e-commerce, as we all witnessed at MM23IN how significant it is for buyers. UX, on the other hand, is enticing as heck and adds value to your brand by boosting consumer satisfaction. Leveraging UI and theme installs to tweak and add aesthetic value to your website that improves UX is perhaps the most powerful strategy in business. Who doesn't enjoy being the center of attention? Customization quenches that desire by presenting user-specific merchandise, services, landing pages, etc. to captivate customers and maximize user retention, thereby reinforcing user loyalty. Don't commit the costly error of overlooking customizable UX for your brand while shopping for a B2B eCommerce platform.
6. Comparative Pricing
Aren't you thrilled when you enter a store, see sale banners, and receive big discounts on your popular brands? Everyone likes to feel special and score a great deal. Who doesn't crave special deals, rewards points, coupons for discounts, etc.? This marketing technique enables you to receive comparative pricing on goods depending on client recommendations, loyalty programs, product categories, volume, and certain other factors. Reputable platforms offer these features to enhance the user experience and deliver a hefty return on investment. Seeking such an element while picking a B2B eCommerce platform might be extremely valuable in terms of revenue.
7. Product Management
When listing products in your shop, managing all of the categories and subcategories with all of the associated information may be tiresome and time consuming. Configuring shipping, product information, filters, categories, etc. could sap your entrepreneurial energy. But what if we told you that systems like Adobe Magento Commerce platform allow for frictionless product uploading in bulk with CSV files, saving you a good chunk of time, as well as additional product setup options to make your business stand out? So, consider superior product management features to lighten your workload when choosing a B2B eCommerce platform.
8. Customer Experience
Without a doubt, the essence of every business is the client experience. Therefore companies that prioritize client experiences don't lose resources soaring high in the sky with a massive revenue bump in no time. Creating an unrivaled customer experience ought to be your main driving force for success if you want to launch an online store. Nowadays, a significant number of platforms have a sole focus on the user experience and prioritize the needs of the user. Brands like Adobe Commerce satisfy their clients' demands in an extremely intuitive way, with no tolerance for any voids in their services. Consider this characteristic as a paramount when picking an e-commerce platform for your business.
9. Multi-Payment Gateways
Payment restrictions could really ruin an online purchasing experience. Have you come across any recently? If so, you would understand what we are pointing towards. 70% of shoppers abandon their carts due to transaction restraints, while 40% of customers ditch their carts before reaching the checkout page, raising the site's bounce rate. But, by offering multiple payment choices, you may easily reduce the increasing bounce rates. Currently, most of the leading platforms provide multiple payment choices to improve the user experience and increase the transaction rate. Hence, before settling on a platform, you should investigate the payment channels.
10. Built-in Marketing Strategies
When you picture marketing, what concepts spring to mind? Most likely, persuading someone to purchase your product. Present-day marketing goes well beyond simply showcasing your product to get prospects to make a purchase. It has also modified its approach with creative prospects; whether it is attracting clients with discounts or captivating them with out-of-the-box product specifications, a solid marketing strategy almost never fails to accomplish the job.
Several platforms available today provide built-in marketing capabilities to facilitate business operations and provide it with the kickstart required to get rolling. Built-in functionality like SEO, advertisements, analytics, etc. are also included in many platforms. Moreover, these systems enable integrations to improve the user and administrative experience. You could effortlessly just use marketing integrations for email marketing, social channels, etc. to automate branding on your platform. So, executing your research on the marketing aspect for your platform of choice might aid you in launching your firm at its inception.
11. Multi-Shipping Methods
When shipping is seamless clients are bound to do business repeatedly. Platforms that provide multi-shipping often dodge any shortcomings related to order placement such as abandoned carts. With multi-shipping options you could provide your users choice which screams out loud that you value your customers. Adobe Commerce allows shipping to more than one address using different carriers. Users can put out large orders for different geographical locations with ease.
12. Security & Privacy
Don't we typically steer clear of doing business with shady websites and bypass them? No one intends on falling for a swindle, losing revenue, or letting a scammer steal their personal and sensitive information. The majority of people see privacy and security as two interrelated concepts. Generations, most likely elderly folks, were always too reluctant to do internet commerce owing to security concerns and anxieties about their privacy. Since technology has advanced, this group of people has embraced online business, where consumer safety and confidentiality are priority areas. Currently, platforms could provide a wealth of security features such as two-factor authentication, PSI compliance, multi-layer security, and much more to tighten the entrances to their enterprise and block any unwelcome intruder from crawling their platform. Hence, while choosing your e-commerce platform, give it a priority to verify the security aspects well.
Transforming your basic Magento store into a powerful B2B marketplace is now easy with our specially designed B2B packages.

12 Motivators to Use Adobe Commerce for Your Online B2B Business
Since we have highlighted the key points that you should always look for when deciding on an e-commerce platform to sell on, we are now delving further into the article to help you discover Adobe Commerce's feature packed platform. So, we have handpicked the top 12 arguments for you to consider Adobe Magento Commerce as your platform.
PS: You won't be let down!
In-built B2B Functionality
Built-in features frequently include a good amount of useful features, and Adobe Commerce is no exception when it comes to its built-in B2B capability. You won't believe how much it can contribute to your platform merely via its inherent features.
Adobe Commerce offers built-in B2B functionality to its users that is highly customizable hence giving users opportunity to construct their business platform as per their choices. The platform offers out-of-the-box features with its built-in functionality.
These features include track quotes, multichannel sales, upload CSV files in bulk, place orders with SKUs, configure approval rules, customer-specific catalogs and pricing, easy management, shopping list creation (that is reusable), product recommendations, invoice management, invoice generator, customer-specific product catalogs and pricing, order history, etc.
The most striking feature that will captivate buyers' attention is that merchants may submit orders on behalf of their clients, ensuring error-free order placement. This would undoubtedly assist in keeping customers on board and preventing cart abandonment concerns, improving customer satisfaction and brand loyalty.
Hybrid Business Model
Switching from one business model to another is something we hear frequently. It conjures up images of a lot of rework just by the sheer concept of it, but what if you found a quick way to accomplish it? Adobe Commerce can be a hybrid business model that might enable you to sell your items in a variety of business model setups.
The platform offers businesses to expand their reach by integrating the customer reach through B2B, B2C & D2C business models.
Adobe Magento Commerce platform allows you to manage stores from one single venue, unified user experience across multiple clientele, keep track of the orders from a single venue, etc.
HP Inc, A Little Lovely Company, Steelcase are notable brands that leveraged the hybrid model and witnessed revenue growth firsthand.
Blend your business like never before with highly scalable multiple business models and customize user experience for your brand. The hybrid business model could lead your business to retain high revenues with a diverse and huge client base.
Streamlined Integration services
Integration services play a vital role when it comes to running your business online, as every now and then the e-commerce sector is evolving. With this evolution, whether you are a beginner or an already established firm, you would definitely require integration services to offer trendy and essential services to your clients.
You could easily integrate solutions and services for your business with your Adobe Magento Commerce platform and enhance the richness of your business.
The platform's highly scalable framework allows you to easily integrate your platform with ERP integration which allows you to automatically sync your inventory, orders, customer data and delivering details.
You could also use multichannel integration for your business with Amazon, Etsy, eBay, Wish, Newegg, Fruugo, Lazada, Facebook shop, Shopee, etc. So Adobe won't disappoint you when it comes to integration employment.
Seamless Mobile Experience
Mobiles are no longer a leisure item but a necessity. M-commerce has shown massive growth in sales over the years, solidifying its relevance in the online business.
Adobe Magento Commerce is a mobile friendly platform that works smoothly when accessed via mobile devices.
Its aesthetically appealing framework provides unified user experience across all devices.
With the emergence of PWAs user experience has been enhanced even more. Features like push notifications, SEO optimization, scanning a barcode, offline functionality, less data consumption, highly reliable framework, quick response, etc. make it the obvious choice for users who prefer M-commerce.
With the growing rate of m-commerce seamless mobile experience can very well accelerate sales, reduce bounce rates and minimize abandoned carts.
Multiple Extension Support
Adobe Magento Commerce offers support for multiple extensions on its platform to enhance the platform's richness. Adobe offers tons of built-in features which minimizes the need for
third-party extensions, but when needed you could easily employ multiple extensions as per your need.
The platform offers various free and premium extensions for users to opt from.
You could choose extensions from various categories such as customer support, order fulfillment, payment, delivery, site optimization, security, finance, marketing, etc. to add feature richness to your business and enhance user experience with functionality ease at fingertips.
The employment of these extensions could increase user engagement and therefore help in increasing sales revenues for your business.
Highly Scalable Framework
Highly scalable B2B eCommerce platform is a dream of every creative mind and Adobe Commerce looks after that creative urge to customize and create an unparalleled user experience.
The platform is known for its scalability which always embraces new trends and technologies to create an up-to-date experience for brands.
Extend the capacity of your brand with scalable features such as themes, integrations, extensions, etc. to add value to your business.
Scale your business with AI driven tools to give your brand a competitive edge over your competitors with high tech features.
Adobe's highly scalable framework thus keeps up with the trends and supports creative urge to be quenched.
High Return on Investment
When planning to invest in a business, the ultimate goal is to attain good ROI, isn't it? Adobe Commerce offers out of the box features and enhanced user experience which therefore catalyzes the process resulting in high profits.
Enhanced user experience is one of the top reasons for attaining huge revenues, customer loyalty, and minimal bounce rates.
The platform is also SEO friendly and comes with built-in marketing features which could help businesses rank on the top of online search if SEO optimized carefully.
With the help of API third party integrations, theme installations can very well enhance the user experience and add aesthetic value to the platform.
As a result of which site traffic is increased, bounce rate is dropped, mobile commerce is hiked, conversion rates are spiked, all resulting in achieving high return on investment for your business.
Advance Product-Client Management
When selling online product-client management is an essential part of online commerce, which should be hassle free. Adobe Magento Commerce platform offers millions of products to be listed under thousands of categories manageable through a single dashboard without any hassle.
With its advanced dashboards Adobe Commerce allows you to have a report on all the orders, shipments, invoices, sales, etc.
The dashboard data allows you to upgrade your business strategy to fulfill any gaps and maximize business goals.
You could create client specific catalogs to enhance shopping experience for your clients which could result in high conversion rates.
Also with the help of PIM integrations you could very well use third party integrations to enhance the user experience with seamless product management and order fulfillment for your clients.
Streamline Channel Fulfillments
Marketing strategies are a must when it comes to engaging in online business. Selling your products across different social channels not only showcases your products but also proves to be an effective marketing technique. Since the advent of omnichannel, it has become the desired approach in an online commerce environment.
Adobe Commerce allows you to place orders depending on your impulse, and catering experience is so rich that it offers a wide range of combination possibilities for placing an order.
You could place an order from the device of your choice through the channel of your choice and can choose to receive the order as per your choice.
Let's say you were scrolling late at night on your mobile and you placed an order from your mobile device on an online website and chose buy-online-pickup-in-store to collect your order; this signifies as a classic streamline channel fulfillment.
Cross-Border Client Reach
When selling online, forming a diverse client base is always a possibility. You could easily form a diverse client base overseas with advanced marketing strategies and promotion of your brand. But can't we say that it doesn't come without shortcomings like payment, linguistic, etc constraints. Overseas clients are typically dropped due to payment constraints.
Adobe Commerce can put an end to these major constraints. With Adobe Magento Commerce fulfill orders seamlessly with global inventory management from a single venue.
Offer your goods to every nearby and distant customer right away. Lead your business with unrivaled customer reach with advanced business strategies and maximize your revenue from these new alliances formed across borders.
Amazon Business-Ready
Amazon is the giant of the e-commerce industry with 310 million active users and we all love to be there someday but as for now we don't wanna miss on the opportunity to sell on Amazon itself.
Adobe Magento Commerce platform enables you to sell your offerings on Amazon as it comes with a Amazon Business-Ready approach.
Amazon Sales Channel on Adobe Commerce helps you to sell on Amazon providing you a huge customer base, competitive pricing, easy listing, product recommendations, graphic product reviews, synchronization between your catalog and Amazon listings, and much more.
Selling on Amazon has its perks, it allows seamless integration, high security, flexible framework, etc. to give the kick your business needs when just getting started.
Watch the video below to know why Adobe Magento Commerce platform is the leading enterprise solution for B2B manufacturers.
Want to know what Adobe Commerce can do for your business?
Major Industry Brands Choose Adobe Commerce
Online transactions are expected to account for 24% of retail sales by 2026. Adobe Magento Commerce is one of the leading platforms for B2B eCommerce businesses. Leading exclusive brands are already using Adobe Commerce as their preferred choice.
The top brands that are flourishing on Adobe Magento Commerce are:
HP
Marc Fisher
Killer Ink
Food Service Direct.com
Alshaya Group
SCUF Gaming
Sportsman's Market Inc
Lafayette148
Shoebacca
Wyze Labs
SIG SAUER
Rossignol
Lovesac
Helly Hansen
Shinola
If you are looking to turn your marketplace ideas into reality, we have an interesting success story of a B2B2C marketplace to keep you motivated. 
Figures Reveal Adobe Magento Commerce Is The Best B2B eCommerce Platform
Still couldn't decide? Let's make things a bit more clear for you with these B2B eCommerce figures:
Social media now plays a vital role in e-commerce, also has earned a name for itself as social commerce. According to Gartner 46% of buyers search for solutions while browsing social channels hence creating a pool for e-commerce businesses to entice clients with their offerings. Adobe Commerce allows you to integrate your social channels with the platform to market your offerings at large giving you the opportunity to showcase your products on social channels as well.
M-Commerce seems to be another trendy practice among buyers. People nowadays are always glued to their phones and you could leverage that to make revenue for your business. According to McKinsey & Company, B2B m-commerce has increased 250% since the last two years. Adobe Commerce happens to be mobile friendly hence creating opportunities for huge sales.
Since buyers prefer commerce on their phones, according to McKinsey & Company, a 30% rise in buyers was witnessed when making purchases through mobile phones. Adobe Commerce is a mobile optimized platform giving a hike to sales with its mobile compatibility.
Buyers when chose to put their money out for a service they expect nothing ordinary. According to an Avionos report 87% customers are prepared to pay a premium for trustworthy, high-quality services. Adobe Commerce with its premium services and out of the box features cater to buyers' every need hence making itself as the top choice.
When planning to stay for a long run sustainability is a must. The American Marketing Association-New York's Future of Marketing study revealed 24% buyers are looking for businesses devoted to sustainability. Adobe Commerce fulfills on the sustainability part as well with its highly scalable and robust framework.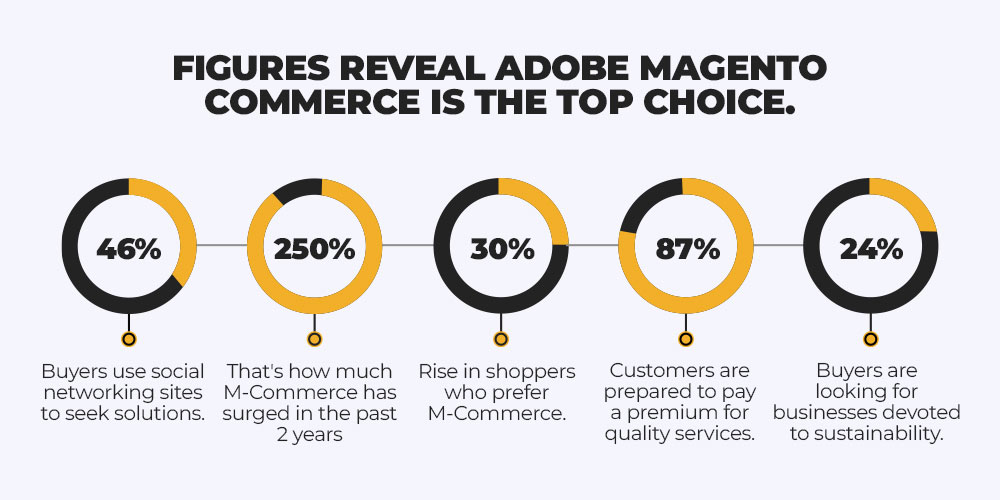 One of our favorite success stories is that of a leading online healthcare marketplace. Want to know how it stands today?

Wrapping Up
B2B is a giant industry with lots of potential, and when curated strategically, the results could indeed be wondrous. We have walked you through all the strategic planning when choosing a B2B eCommerce platform to get a detailed overview and curate a pros and cons list. We also walked you through the 12 impressive features along with B2B stats to help you make up your mind.
Here's a quick rundown of the important keynotes to keep in mind when deciding on a perfect e-commerce platform:
To choose the best B2B eCommerce platform for your business, go through a thorough 360 degree detailed overview of the platform. Do look out for factors such as reliability, minimal programming, comparative pricing, customer satisfaction and experience, and international payment gateways. You can also check built-in marketing strategies, customizable UX, security and privacy, product management, easy navigation, shipping methods, scalability, etc.
Also look out for market trends, statistics, etc. and create a plan on what to expect and what not to. Many times expectations are not realistic so this research will allow you to have realistic expectations.
Also look out for your competitors and brands that are already flourishing on the platform of your choice, compare and contrast their numbers with your expectations and market trends.
Adobe Commerce seems to be a top choice and its feature richness makes it even more desirable. Apart from these 12 features Adobe Magento Commerce is packed with tons of additional features that can help lift your business in no time.
So, keep these tips and tricks on your to-do list when picking on a B2B eCommerce platform. Now you are all set to launch your online business!
Start your B2B marketplace journey with CedCommerce. Discover our Multi-Vendor marketplace solution or choose from specially curated B2B marketplace packages!