Top 15 features exclusive to Adobe Commerce
Running short of time? Get PDF of the blog in your mail.

Play Now
Magento Enterprises' functionalities significantly changed after Adobe acquired Magento on 19th July 2018. Eventually, Adobe rebranded Magento 2 Commerce Edition as Adobe Commerce with the launch of its Enterprise Edition, Commerce Cloud, built on the company's $1.68 billion acquisition of Magento. Furthermore, Adobe consolidated Magento Commerce and Adobe Commerce Cloud Edition into a single brand, Adobe Commerce.
Adobe Commerce Cloud is a cloud-based version of Magento, a new addition to its line of eCommerce business products. Moreover, it comes fully integrated with Adobe tools, including Analytics Cloud, Marketing Cloud, and Advertising Cloud. The flexible and scalable features of the platform would enable Magento users to take a break from getting involved in operational aspects of their eCommerce business.
Moreover, the launch of Adobe Commerce Cloud Edition included the Amazon integration functionality. It allowed users to select a part of their inventory to appear on Amazon and set prices. Furthermore, popular Magento features and most extensions would continue to work with Adobe Commerce Cloud.
Also read: The hunt for enterprise solutions for your enterprise eCommerce business
Powered by Magento, Adobe Commerce has become a feature-rich omnichannel experience for B2C and B2B businesses looking for an enterprise edition. Furthermore, your site would benefit from advanced security features if you operate on Adobe Commerce Cloud Edition.
Let's take a glimpse into what you will find in this article.
Table of contents
Adobe Commerce leverages Magento's open-source flexibility and Adobe's functionalities such as SenSei, Page Builder, Cloud Editions Azure, or Amazon Web Services hosting capabilities.
We are now officially consolidating the branding of the licensed commerce product from Magento Commerce and Adobe Commerce Cloud Edition to the single brand of Adobe Commerce. Magento Open Source branding and support remain unchanged. Adobe supports the Magento Association and its charter of empowering the global Magento community to come together, learn, share, and collaborate on commerce challenges.
In its official Magento blog, Adobe announced the offering of a new service under Adobe Experience Cloud. Thus, Magento Commerce and Commerce Cloud shall not be considered two separate services. Adobe Experience Cloud comprises a list of business products that helps run, manage, and level up your online business.
Adobe Commerce offers an installed and ready-to-use Magento website on its optimized hosting environment. Furthermore, Adobe Commerce provides firm support with a single product. Magento open-source remains available for experienced developers.
Also read: Innovating the future of enterprise eCommerce businesses with Magento
Magento 2 Commerce Edition: Features of Adobe Commerce
Adobe Commerce comes with all Magento open-source features and the following additional features:
B2B features
Business intelligence dashboards
Marketing tools
Content management
Customer loyalty tools
WYSIWYG page builder
Upsell, cross-sell, and related products
Customer segmentation
Visual Merchandising
Both Magento and Adobe Commerce have committed to offering affordable services to eCommerce businesses regardless of their size. Furthermore, Adobe Commerce also offers an Admin Console with an around-the-clock helpdesk, regardless of your plan.
Adobe offers three different services under the Magento Commerce platform:
Firstly, Magento 2 Open Source
Secondly, Magento 2 Commerce
Magento 2 Commerce Cloud
Let's look at what each product has to offer before diving into the exclusive features of Adobe Commerce.
Adobe 2 Open Source Edition
Magento Open Source, a free tool for developing a customizable online store, is the core of the Magento website builder. Also known as Magento Community Edition, it offers unlimited customization options and plenty of extensions on the Magento Marketplace. Therefore, small- and medium-sized businesses can build and launch a website without worrying about expensive licensing fees or development fees. However, you will have to pay for hosting and maintaining the website.
Magento Open Source comes with basic functionalities required to power a small business. Moreover, several extensions and integrations are also available for additional functionalities.
Features of Magento Open Source Edition
In-built features of Magento Open Source edition includes the following:
Mobile-optimized shopping experience
Integrated payment, checkout, and shipping functionalities
Global selling
SEO and marketing
Catalog management
Instant purchase, and more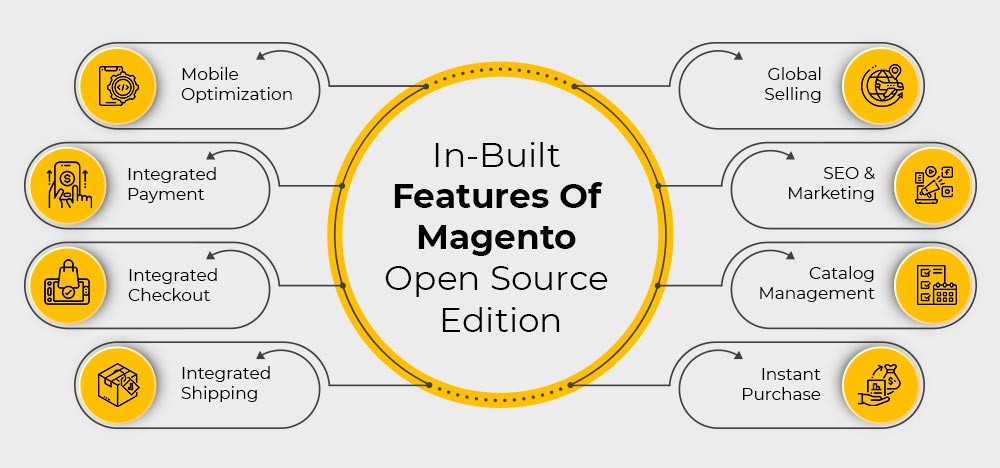 The most significant benefit of Magento Open Source is that it allows you to become a part of the active community of developers.
Examples of larger Magento customers on Magento Open Source include the following:
Brand Alley
Bucherer
PMT Music
PrettyLittleThing
The V&A
Erdem
Christian Louboutin
Tog24
Adobe 2 Commerce Edition
Adobe offers Magento Commerce, or Magento Enterprise Edition, to facilitate a Magento website's installation and creation process. Magento Enterprise Edition was aimed at larger organizations, requiring advanced level support and a broader set of functionalities. Furthermore, it is offered either as an on-premise solution or as a platform-as-a-service hosted solution in Magento Commerce Cloud.
While you can download and install the Magento Open Source for free, but not the Magento Commerce Edition. Moreover, Magento 2 Commerce Edition offers a hosting space for your website, unlike Magento Open Source. Thus, you don't have to purchase a hosting space. The pricing for Magento Commerce is tiered, depending on your eCommerce business' revenue.
Also read: The fight for the best eCommerce selling platform
Magento Commerce vs Magento Community Edition
Furthermore, Magento Commerce Edition offers support services, unlike Magento Open Source. Enterprise Edition offers a variety of business intelligence tools, including customer segmentation, third-party integrations, and hosting services. Furthermore, you get unwavering support from the Magento team to facilitate easy deployment, expand your business operations globally, and technical maintenance.
Examples of large Magento Commerce customers include the following:
Helly Hansen
Paul Smith
End Clothing
Made.com
BrewDog
Paperchase
Bulk Powders
Holiday Season Sale 2022- Now get flat 20% OFF on Adobe Commerce (Magento enterprise) solutions till the end of December, 2022. Click below to view our offer:
Adobe 2 Commerce Cloud Edition
Large businesses are looking for solutions, providing all services in one place. And, some eCommerce platforms are doing just that. Even Magento realized that in time. Eventually, 2016 marked the launch of Magento 2 Commerce Cloud Edition.
Moreover, Magento 2 Commerce Cloud Edition is a platform-as-a-service (PaaS) solution. Adobe Commerce Cloud Edition runs on Amazon web servers. Furthermore, Magento 2 Commerce Cloud comes with an automated hosting platform, accommodating merchants even with high sales volume.
Also read: Why choose Magento for eCommerce? 10 convincing reasons
Benefits of Magento 2 Commerce Cloud Edition
Adobe Commerce Cloud Edition offers the following benefits:
Page speed enhancements
Easy customization
High scalability
Enhanced security
Magento team support

This version includes Magento 2 Commerce on-premise features. Furthermore, it adds enhanced cloud infrastructure hosting, including Git integration and critical environments for Magento 2 Commerce Cloud development, staging, and live production. Furthermore, it has also developed innovative technologies, including Fastly, Blackfire, and New Relic, to make the deployment process much more manageable.
Top 15 features exclusive to Adobe Commerce
Now that you have understood different products from Adobe let's dive into the exclusive Adobe Commerce features no platform offers.
1) Category Permissions
With Adobe Commerce, merchants can restrict customers' access to browse product categories, check prices, or add a product to a cart within a product category.
2) Advanced Catalog Search
Searching is the first and most prominent user interaction with your eCommerce website. Thus, Magento 2.4.2, the latest Magento 2 Commerce Edition, now supports Elasticsearch. It's a scalable and powerful search engine. Furthermore, it's used by popular and high-volume websites, including Wikipedia, eBay, and GitHub.
3) Content Staging
This Adobe Commerce feature allows merchants to create new content and preview it. Furthermore, they can schedule content changes in products, categories, promotions, CMS Pages, CMS Blocks, and Widgets. The feature comes in handy when you have to schedule on-site marketing for a new promotion, requiring publishing at a specific time.
Lastly, Magento 2 Commerce Edition also offers an easy-to-use dashboard for scheduled content. The Staging Dashboard displays active and upcoming campaigns in a timeline view.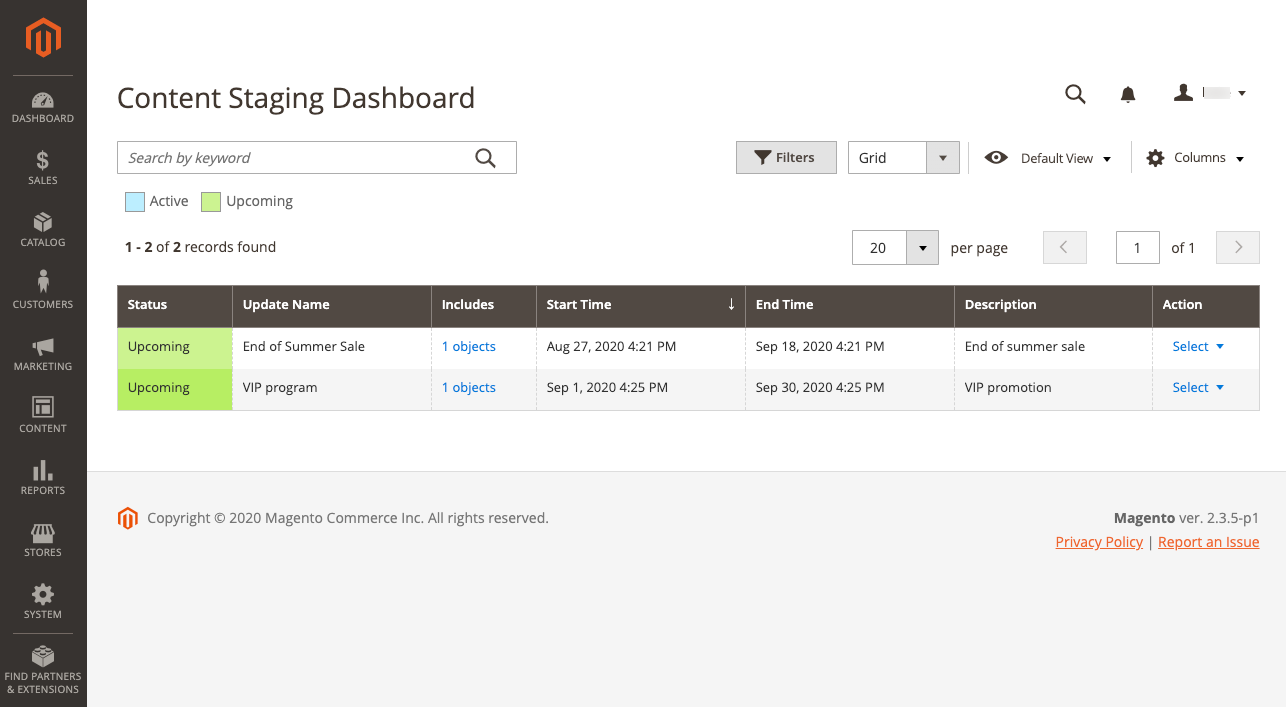 4) Customer Segments
Customer segmentation is vital for targeting a suitable audience base. So, Magento 2 Commerce Edition makes generating, developing, and implementing a segmented list extremely easy. Furthermore, the customer segment report allows merchants to measure the number of customers in each segment. Merchants can also export data for external use.
The feature allows merchants to display dynamic and personalized content to customers based on their order history and shopping cart items. Furthermore, the Customer Segments feature enables the creation of highly-targeted campaigns based on customer activity. Thus, customer segments are regularly updated based on their shopping activity.

5) Email Reminders
As the name suggests, email reminders prove beneficial for reminding customers about abandoned products in their cart, availability of once-out-of-stock products, and expiring promotional offers. Customers receive an automated email based on their shopping and wishlist activity with the email reminder functionality. Furthermore, email reminders can encourage customers to revisit the site and complete the purchase if timed accurately.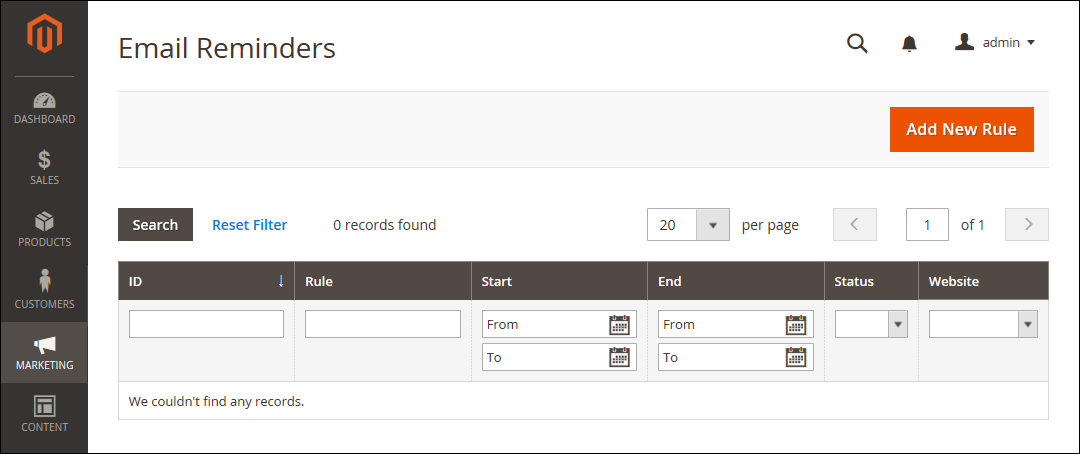 6) Exclusive Sales Events
Magento merchants can create exclusive sales events only accessible to logged-in customers using this functionality. Furthermore, it allows customers to send invitations to other customers. However, sales events are usually time-bound. The Event Ticker displays a countdown to when the event shall end. With the Private Sales Report, you can get information about the number of invitations sent, accepted, rejected, and conversion rate.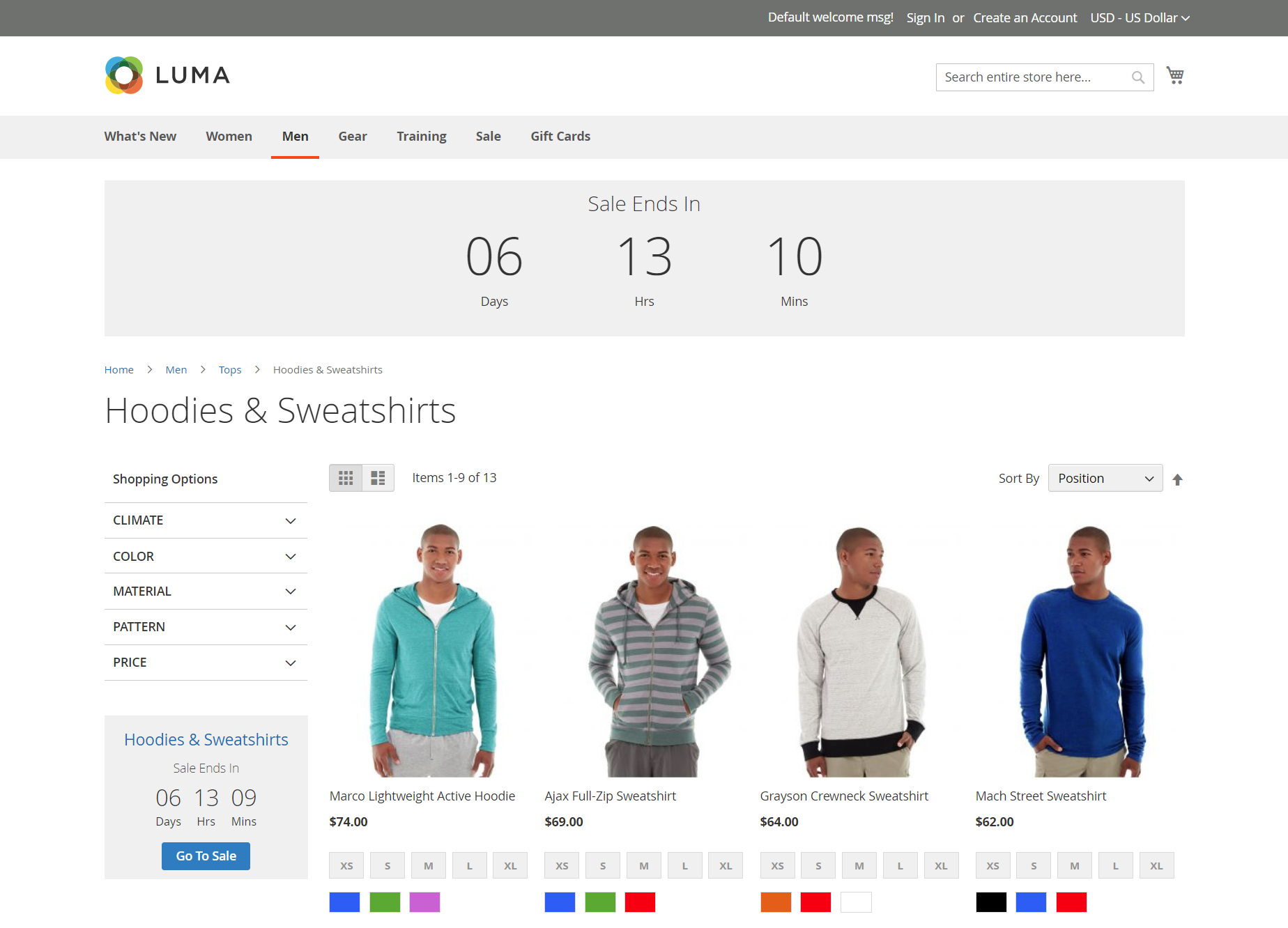 7) Related Product Rules
Merchants can set different rules with the Related Product Rule in Magento 2 Commerce Edition. These rules specify which related products up-sells or cross-sells. Furthermore, the rules also display related products conditionally instead of manually. Merchants can associate these rules with a customer segment for dynamic targeting.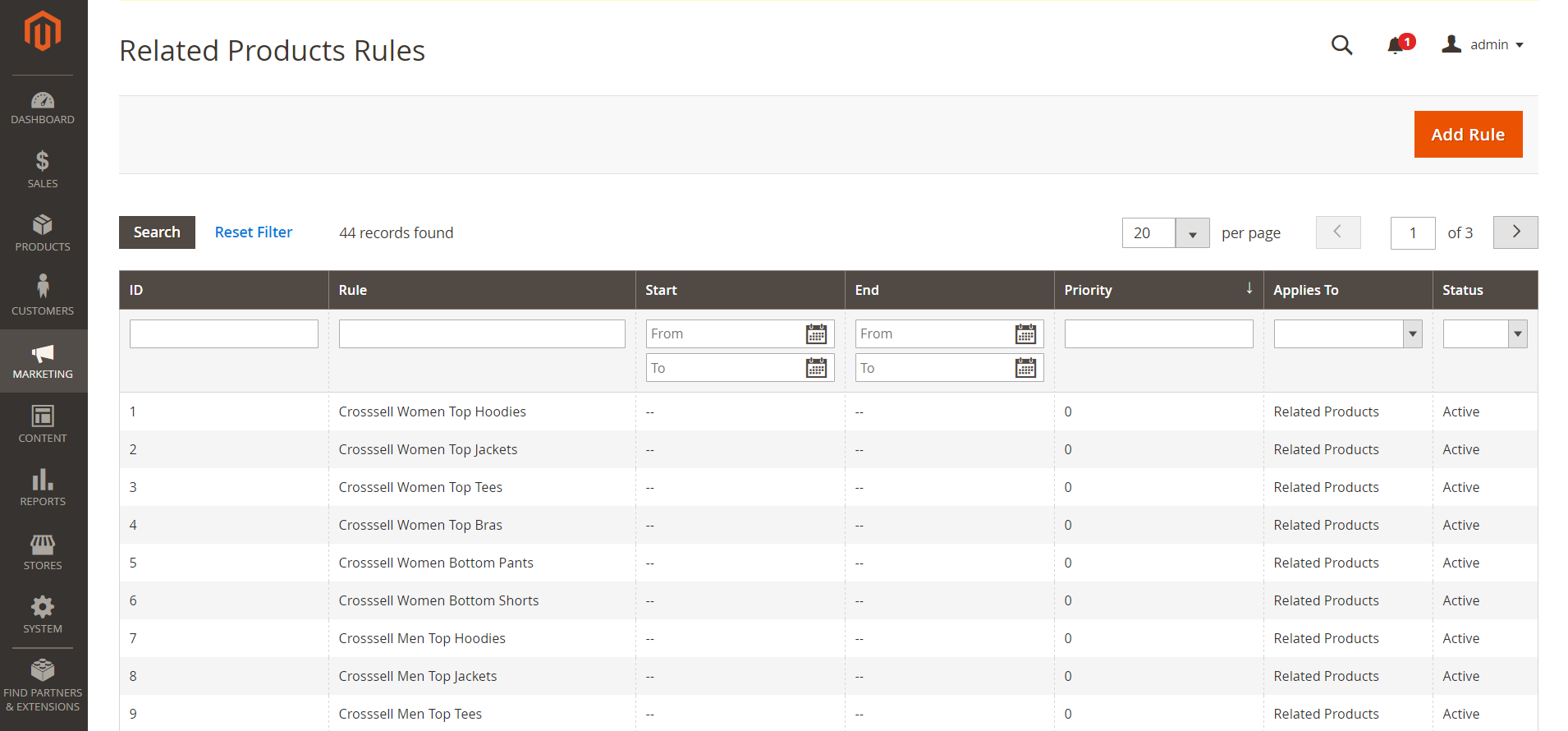 8) Visual Merchandiser
The feature allows merchants to define products to appear in a particular order under a category. Merchants can do so by the drag and drop interface. Or 'Smart Attributes' allow merchants to enable rule-based conditions.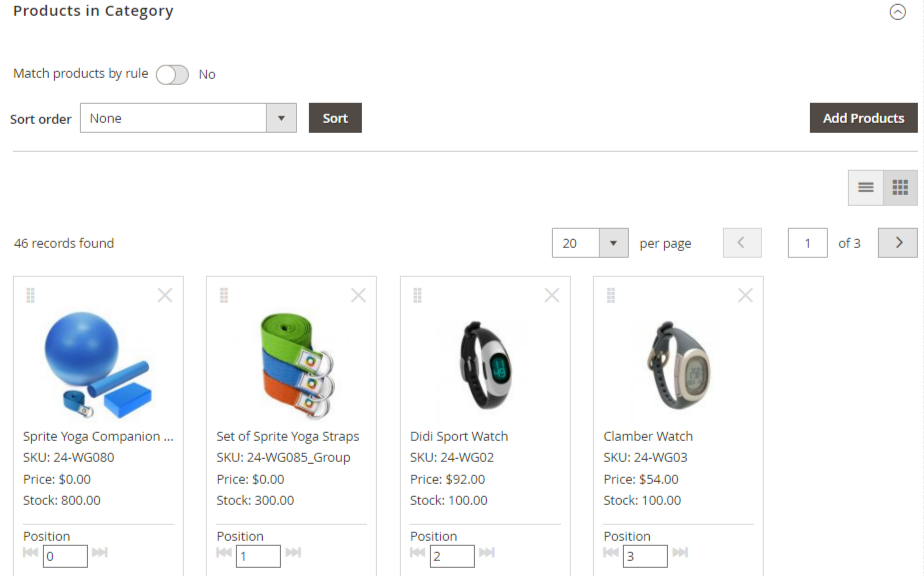 9) Returns
The feature offers Magento merchants the ability to make returns for a refund or replacement in your online store. The customer can request a return of a product by entering their order information within an 'Orders and Returns' interface. If the product is eligible for a return, then a Return Merchandise Authorization (RMA) number will be assigned for identifying the returned product.
Merchants can either enable RMA for all products or specific products. However, RMAs are not available for virtual products and gift cards.
10) Customer Attributes Manager
You can use Customer Attributes Manager on Adobe Commerce if you want to include additional attributes apart from the default ones. Eventually, the feature will help merchants support order fulfillment and customer management processes. Moreover, merchants can add custom attributes to address book, account information, and billing information sections.
11) Action Logs Report
The Action Logs Report feature on Magento 2 Commerce Edition keeps a record of all admin actions. It also records admin user data and related changes made during the actions. Moreover, each record has a timestamp, name, and IP address of the user.
12) B2B Shared Catalogs
The functionality allows merchants to create 'shared' catalogs with custom pricing, products, and permission for different companies. However, these shared catalogs are only available to a particular customer group. Furthermore, merchants can create catalogs only visible to members of specific company accounts.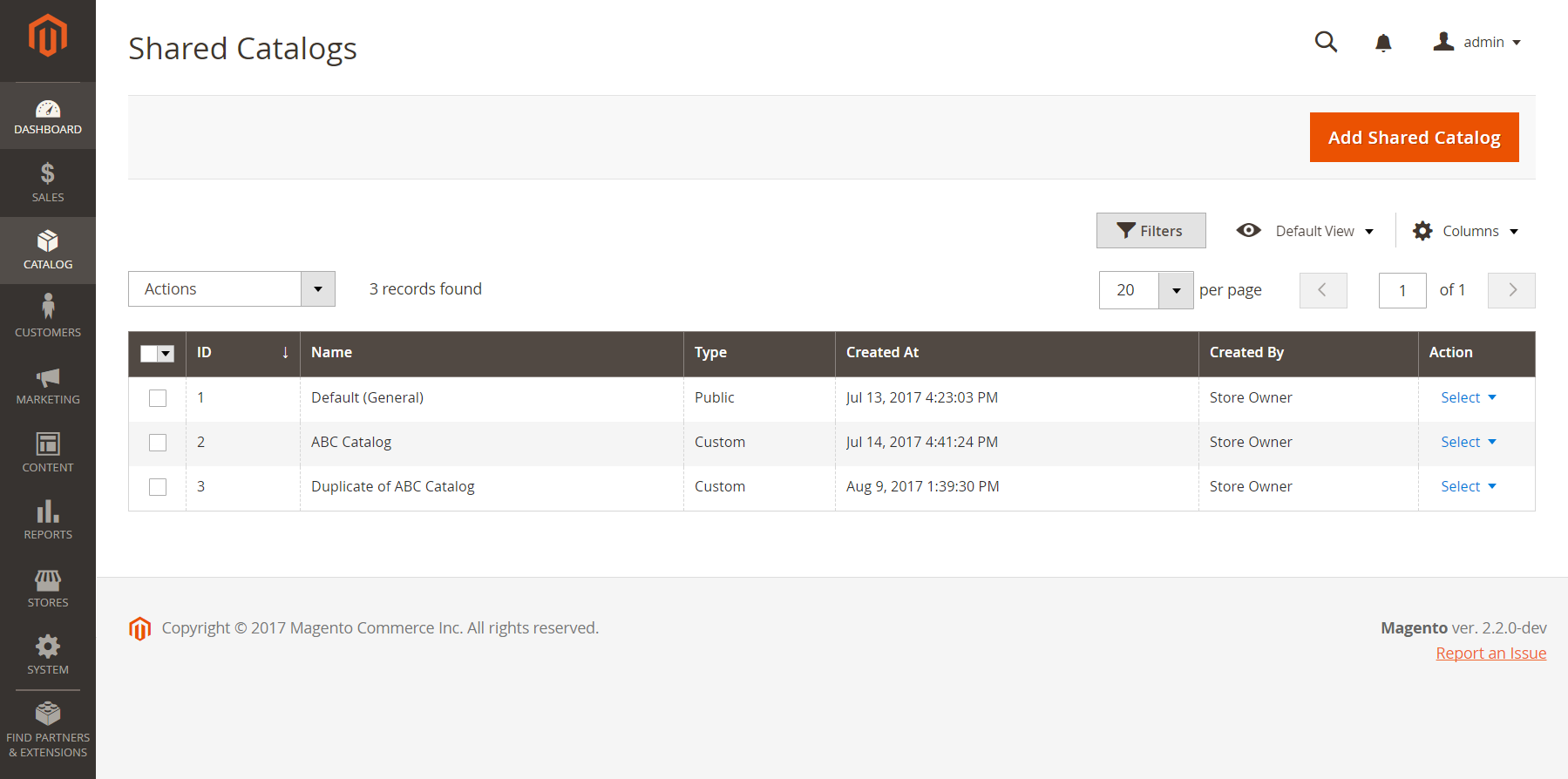 13) B2B Company Accounts
When enabled, the functionality allows visitors to the store to request the creation of company accounts. Moreover, admins can also create company accounts. Upon approval, the company administrator can set up the company structure, add users and teams, assign roles and permissions, and manage the company profile from the storefront.
14) B2B Quick Order
The Magento 2 Commerce Edition feature allows customers to add products to their cart by entering SKU and quantity into the quick order interface. Or they can do so by uploading a CSV.

15) B2B Company Credit
With this feature in Adobe Commerce, merchants can extend a line of credit to their B2B customers. B2B customers can then make purchases up to their allowed credit limit. Furthermore, the Credit Activity dashboard allows merchants to monitor the issued and used credit amount.
Among other benefits and offerings, the features mentioned above make Magento 2 Commerce Edition stand out and a worthy investment.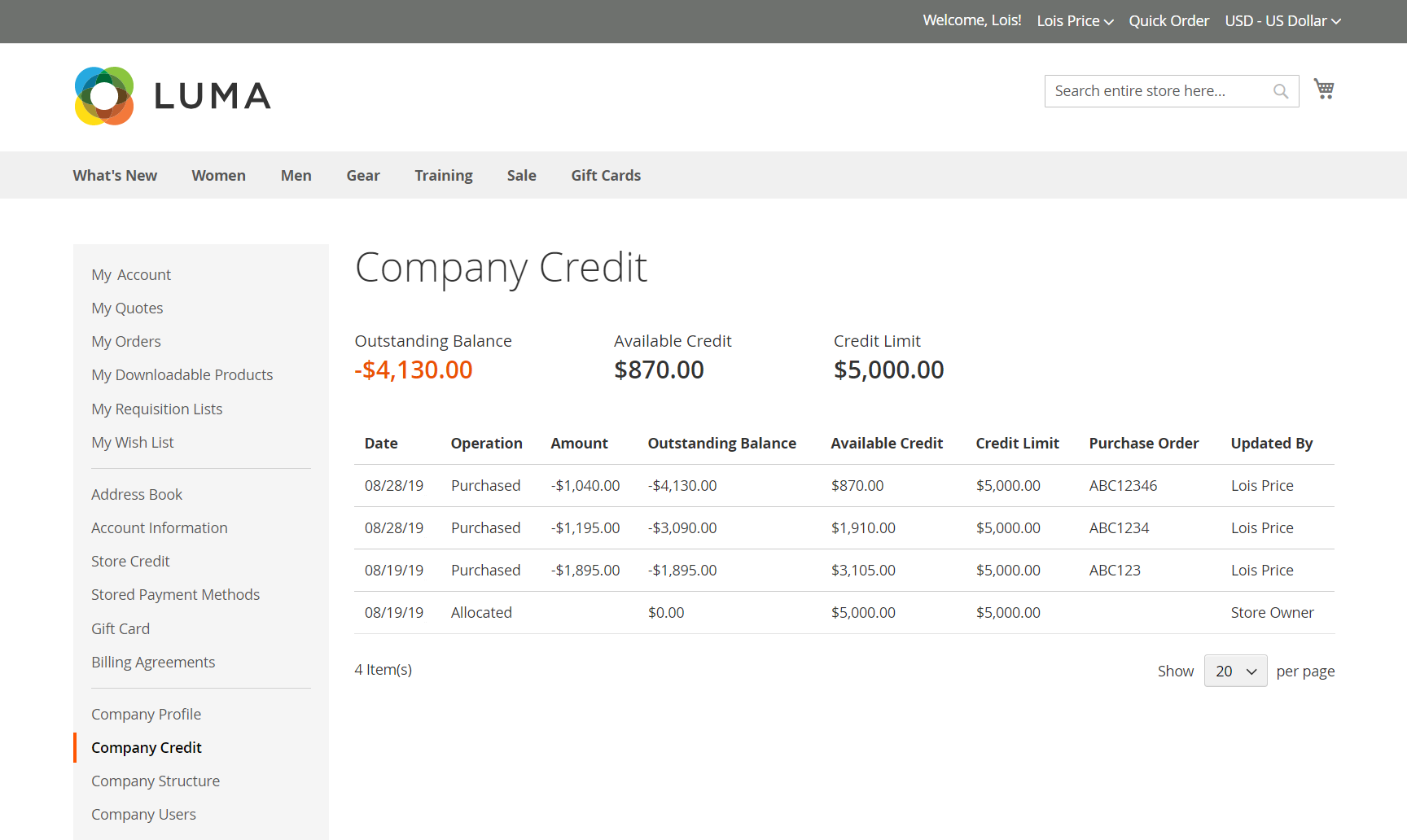 Bonus features: Magento 2 Commerce Edition
In recent years, Adobe has made several changes to its release pattern process. The new updates always come with a promise of delivering a more seamless user experience and simplifying the development process. Thus, keeping your eCommerce platform updated is the key to maintaining a reliable, performance-optimized, and secure solution with the latest features. Online sellers can harness the following features to their advantage.

1) Multi-source Inventory (MSI)
The feature allows retailers to manage inventory across multiple physical stores within the Magento admin panel, improving operational efficiency. Furthermore, you can integrate with third-party inventory systems and track order fulfillment in real-time. Lastly, you can check when customers add items to their checkout cart.
2) PWA Studio
Magento PWA Studio offers a set of tools for developing web apps. You can develop PWAs with a complete native-app-like experience, helping merchants increase mobile conversion rates. Moreover, PWA Studio helps developers come to terms with the complexity of creating different channels. Lastly, the tool helps developers maintain and optimize user experience across different channels.

Also read: Magento PWA Studio and other PWA development tools
3) Page Builder
The feature allows non-technical individuals to create dynamic and responsive web pages with a drop and drag functionality. Moreover, you can easily build new eCommerce content pages even without any technical skills or expertise. With this extremely flexible feature, you can quickly add photos videos, interactive elements, slideshows, columns and rows of products, texts, and more.
4) Mobile experience
Smartphones have become a prime factor in driving the rise in the digital commerce industry. However, mobile views to conversions still lag in comparison to desktops. Thus, Adobe Commerce offers a host of features for optimizing the experience of mobile users. These features include indexing, security, data transfer, checkout, graphics elements, and more.
Similar to the features unique to Adobe Commerce, there are features exclusive to an enterprise marketplace. Those features are a must-have for every enterprise marketplace. To get a 360-degree understanding of the features unique to enterprise marketplaces, click on the link below.
Conclusion: Why are we the best Magento development company?
At CedCommerce, we have helped hundreds of merchants set up and migrate to a Magento store, focusing on the long-term growth of your eCommerce business. We are a team of highly skilled and professional developers, working with a belief in delivering captivating and interactive eCommerce stores. Our team of certified Magento experts can help you understand and execute all your business requirements at every stage of development.