Nurture Brand Relations with Adobe Commerce Platform
Running short of time? Get PDF of the blog in your mail.

Play Now
Brand management is a key factor to define the level of success of any business. To build stronger brands, eCommerce companies implement different branding strategies to achieve the desired results. Adobe (Magento) Commerce is an all-in-one platform to build and maintain the brand necessities for any eCommerce business. It offers dynamic features that can ideally make your brand more powerful than ever. This article encompasses the features of Adobe commerce that can nurture your brand identity.
Table of Contents
What is Branding?
Branding is the process of building the identity of your company. In other words, branding is the journey of making your target buyers aware of the presence of your brand. It is a factor that imbibes trust in the audience and stays for a lifetime.
Yes, brand management does not end with making logos and taglines – it extends further to constant monitoring. The Brand Management team has to work closely to update its branding strategies based on the changing needs of the industry. Adobe commerce here enables marketers to stay updated on all fronts and stay ahead of their competitors.
Even though it is one of the most important factors of the business, many businesses are still not focussing on brand offerings. So, we will first begin with the importance of branding for eCommerce and understand how the Adobe Commerce platform can help in its betterment.
Enterprise marketplaces have become the prime option for nurturing business-customer relations. With the enterprise marketplace guide, we not only bring you the prerequisites for a power-packed start but also the latest trends, must-have features, and more that can help you attract new customers and retain the old ones. 
Why is Branding An Important Aspect of eCommerce?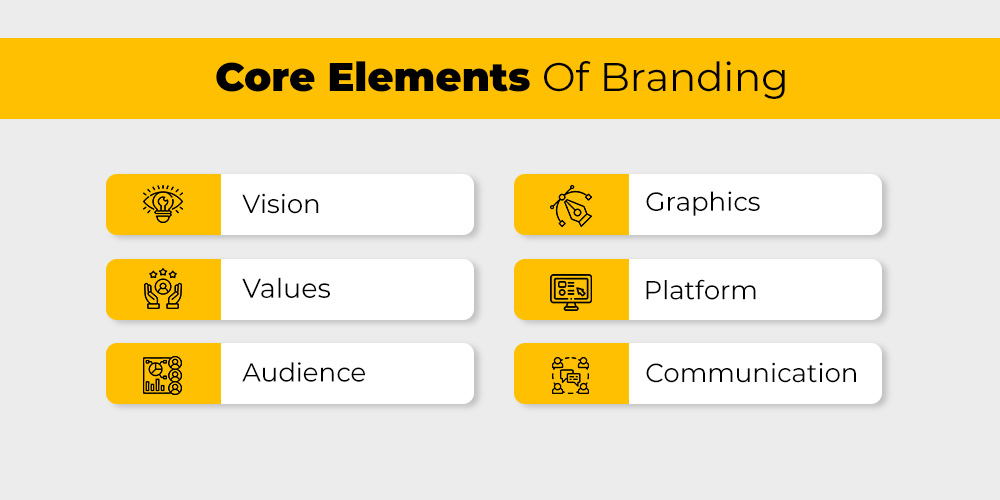 Some reasons that strengthen the importance of branding in eCommerce are
Gain more recognition
Stay ahead in the competition
Get Buyers' trust
Loyalty amongst customers
Get more recommendations
Now, proper branding strategies can bring higher conversion to your eCommerce store. But, that's not all, branding offers better outcomes for your teams. With branding, it becomes easier to make the customers understand your business.
Enough of words, let's straightaway move on to numbers for a more realistic approach to branding.
Did You Know That…
The spending of B2B companies on branding is 13% of their gross revenue.
For building an eCommerce brand, 25% of companies try mobile-optimized views
64% of buyers, on the other side, want the brands to raise their voices against social issues.
Therefore, to establish your brand presence, it is essential to improve customer experience as well as maintain a promising social presence. Adobe Commerce ensures both attracts customers and retains them for the long run.
Holiday Season Sale 2022- Now get flat 20% OFF on Adobe Commerce (Magento enterprise) solutions till the end of December, 2022. Click below to view our offer:

How Does Magento 2 Adobe Commerce Help in Achieving Your Branding Goals?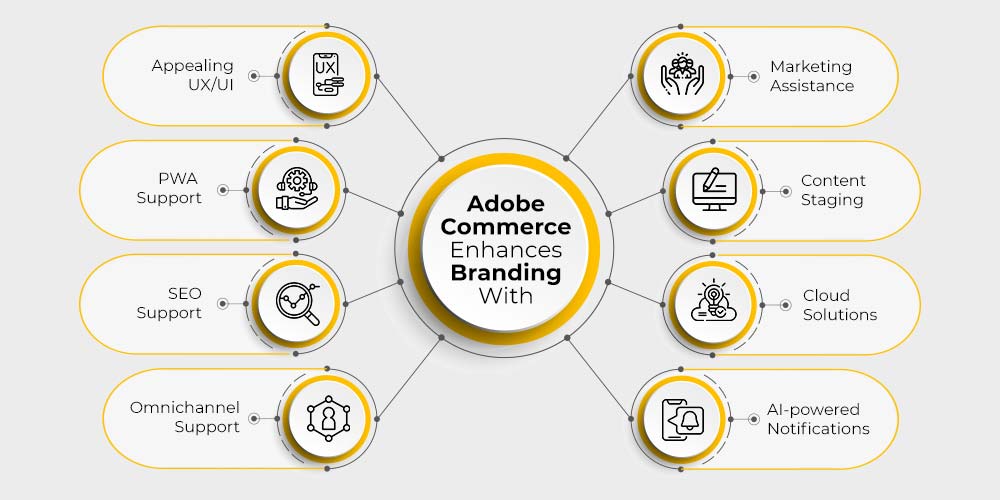 The features of Adobe Commerce can easily be aligned with the company's branding strategies for better conversions. Check out how:
1. Connect Over Your Core Values
The best way to communicate with customers in a digital store is to build relationships with transparency. Adobe Commerce helps merchants to define rules and logic based on exactly what the business needs to convey to its customers. Thus, it is a great tool to improve the brand-building process.
Adobe Commerce helps to reiterate the company's message to customers through the design of web and mobile stores. The flexibility in defining the UI/UX is a great way to meet the custom needs and set up themes and colors in line with the brand communication. It helps to establish a recall value with customers and they can instantly connect to your brand the moment they come across your brand colors and design.
Amazing fact: 80% of online and offline buyers will purchase from a brand that has a good choice of color and design for their store.
Along with aesthetic designs, Magento 2 Adobe commerce solutions for eCommerce plug-in easy navigation. Not just that, the Adobe commerce eCommerce platform comes with PWA support for optimizing performance across devices. With this, you get a web store that performs like a mobile app on smartphones. A standard design and communication across different device types build a stronger connection with customers by enforcing reliability.
Did You know that mobile searches have the potential to increase brand awareness by 46%. So, invest in the technology that ensures mobile-optimized performance.
And the deal-maker amongst all of the varied offerings is the visualization that keeps merchants informed about the real-time performance. The reports indicate how well customers are responding to your core offerings.
Read Everything You Need to Know about PWA Development Cost
2. Expand Your Reach Across the Platforms
Reaching and presenting an indifferent experience to the buyers on different platforms – is one dominant problem in eCommerce. But, it is not an issue anymore with the multichannel support of Adobe commerce.
This is of great convenience to merchants who aim to sell on multiple channels while offering and maintaining unanimous communication. With the increasing consumer demands, it has become almost crucial for business companies to be active and updated on all the channels where their customers are. However, there comes greater responsibility with more channels. Magento 2 Adobe Commerce actively partners with business owners to take charge of all of these channels and give them these controls on a single platform.
Thus businesses can be active on as many channels as their strategy needs, with a single brand reputation and engagement. Be it marketing or order management, the enterprise edition lets you control all of these on its platform.
Read: 8 Reasons Why Online Sellers Must Sell With Magento Commerce (Magento Enterprise) Edition?
3. Communicate with Potential Customers
Communication is another essential part of building an eCommerce brand because it helps the customers to know about your product and brand. However, eCommerce stores often find it challenging to communicate with customers. Magento 2 Adobe commerce correctly identifies the problem and resolves it with interactions such as – an advanced search bar, QnA, SEO friendly Blogs amongst other touchpoints. All these assist the customers in being informed about the available product based on their shopping needs and making the final choice. Did you know that helpful content from the brand steals the deal for 79% of consumers? Probably that's why 70% of brands are actively using content marketing and 24% of brands are planning to invest in it.
When it comes to interactiveness, PWAs (progressive web applications) enable a better connection because these are websites. As a result, these are more discoverable on search engines and bring traffic to your page that may convert you into a potential customer. Altogether, Adobe commerce helps your brand to be more visible, engaging and appealing to your buyers.
You may be interested in Scalable features of enterprise ecommerce platforms
4. Enhance Customer Engagement
Merely informing customers about product releases is not sufficient enough to connect at a deeper level. Frequent engagement with potential customers helps to build stronger relationships with consumers and bring them down the sales funnel. In other words, influential activities help in driving purchase decisions.
Adobe commerce is packed with capabilities such as AI-powered notifications, email automation, and attractive video content to take customer engagement to a different level. Personalized recommendations often end in a successful purchase that is powered by emails and Ad Campaigns. With Adobe commerce, store owners can also create attractive contests, deals of the day, limited-time sales, and free sample distributions. All these can enhance your engagement with your customers. Not only that, but you can also get referrals from your existing customers.
Did you know that 73% of the buyers find good customer service makes the brand stand out?
Adobe commerce understands the importance of customer support for branding and comes with live chat support. It also allows merchants to communicate via personalized messages with consumers, that further generates a sense of belongingness and trust.
Also, read: Innovating the future of enterprise eCommerce businesses with Magento
5. Secure Browsing
Both buyers and sellers often have a common concern during online shopping – security. No matter how attractive your store and how unique your products are, if it lacks security, Customers may not feel safe enough to complete their transactions or share any confidential information.
Adobe commerce resolves all security concerns with its advanced security solutions. It also offers cloud support to protect confidential data from buyers or merchants. Multilayer security, safe payments, and simple checkout are two essential factors for brands to gain customers' trust. Adobe Commerce offers both, as a result, buyers exit the website with a pleasant experience and anticipation of their purchase.
81% of the buyer's purchase is based on their trust in the company. Also, they are more likely to recommend the brand within their network once they start trusting you. To sum up, Adobe Commerce makes your brand more reliable by offering a secure environment throughout the buyer's journey.
Read: Success story of e-Mwakete marketplace
Make your eCommerce Store ultra-secure with Magento 2 enterprise solutions. Check out our services:

Building An eCommerce Brand – How is that Worth?
To start an eCommerce business, budget is the deciding factor. On the other hand, to expand that business, brand building is the most essential exercise.
In short, you have to convey your brand story to the buyers to make your bond stronger. Indeed, building an eCommerce brand is a complicated task and you need to invest in it.
You can totally rely on these words – every investment you make in building your brand value will be worth it with Adobe Commerce. It is a trustworthy and multi-purpose investment that helps businesses to get more traffic and conversions. It is built on advanced algorithms that translate into more organized processes and communication.
So, even if building an eCommerce brand seems to be a luxury, do invest in it considering the future. Without branding, you will limit yourself, but branding opens newer dimensions for you to explore and conquer. In a nutshell, eCommerce branding must not be sidelined at any stage of your business and must form a separate head in your budget, and Adobe Commerce can help you here.
Check: How To Find The Perfect Enterprise Solution for Your eCommerce Business?
Adobe Commerce – the Ultimate Solution for Better Brand Presence
Adobe commerce is an advanced eCommerce platform that makes your brand more powerful on multiple channels. With the Adobe Commerce platform, you can manage all your eCommerce branding strategies like:
Create appealing visuals and bring your customers to your store
Multiply your reach to bring more traffic to your store
Communicate by addressing their queries to gain their trust
Engage with your customers frequently to ensure conversion, retention, and loyalty
Secure the shopping experience of the buyers.
Adobe commerce has much more to offer, so, do explore these and make sure you are not missing out on any of its benefits.
CedCommerce – Fulfilling All Your Branding Needs
CedCommerce has always been a supporting hand to fulfill all your eCommerce needs. For your brand building, our Adobe-certified experts will be there to assist you at every stage with Magento enterprise solutions. So, share your branding requirements to understand whether Magento 2 Adobe commerce solutions are aligned with your business needs. Besides, we host a wide array of extensions and add-ons to improve the performance of your eCommerce business. You can try these for even better performance on the Adobe Commerce eCommerce platform.
Let us know your specific requirements and get your solution