How to boost your ecommerce sales: Best Magento 2 Extensions
Running short of time? Get PDF of the blog in your mail.

Play Now
Magento is undoubtedly the most powerful platform for online businesses. Simply because it consists of multi-faceted functionalities. It also comes with the flexibility of adding Magento 2 extensions for adding to its capabilities. There are more than 5000 options available in the market. Continue reading to learn how to boost ecommerce sales using the best Magento 2 extensions. As a matter of fact, CedComerce enables growth for merchants. Because growth can be leveraged by marketplace extensions and Magento extension development.
What are the benefits of adding Magento modules?
By adding Magento 2 extensions to your store, businesses can achieve successful outcomes for specific requirements. These act as catalysts for growth to improve the overall functionalities of your online store. Best Magento extensions offer higher conversions and also improve the average order value.
Here are some of the other key promissory objectives are listed below. These help in answering how to boost your ecommerce sales. :
How to choose the right Magento 2 extension?
The Magento marketplace comes with limitless offerings to perfectly fit in the use case for your business. This can be encouraging for first-time users. But, at the same time become daunting to choose even from amongst the best Magento extensions. Therefore, it is always recommended to be careful while making the decision to pick the right one.
Simply going the ratings and reviews may not always work well. Magento extension development considers other aspects as well. Additionally, marketplace extensions will allow you to stay advanced with your offerings.
Here are some tips to assist you in the decision-making process:
Magento keeps rolling out updates continuously to improve its offerings. In this ever-evolving environment, extensions also need to be compatible with the latest version update. Failing which, your store may face disturbances in the form of bugs or errors.
Look for extensions that work with the latest updates or offer regular updates. Similarly, partner with solution providers that are consistent with upgrades.
Magento extension development and marketplace extensions come with documents to make the installation process easier. Always check for user guides and other technical documents for a swift onboarding and onward journey. This will help you in the long run. At the same time, it will also simplify the adaptability of your in-house developer.
While choosing from solution providers, you may also want to test-run the responsiveness of the support team. This will help you in setting the right expectations for any future resolutions. The right support will also help you figure out how to boost your ecommerce sales.
Magento extensions development is either free or paid. This depends variably on what the add-on is required for. Free extensions may come with limited values and applicability. On the other hand, paid ones may help you to accommodate over-the-top requirements as well.
Before evaluating the cost side of things, first, study the requirement in detail. For instance, if you need the Magento module to drive scalability for your business. Then, an investment in such a case won't do any harm.
Taking demos before buying any product is always helpful. It gives you a clear understanding of how well your expectations are being fulfilled. Additionally, demo for Magento 2 extensions are available and are highly beneficial. To understand the functionalities and features of the modules better.
We would always recommend going for a demo with the service provider. Even if you have well-read and understood all the details, a demo brings in more clarity. It will give you details about how to boost your ecommerce sales.
How to boost eCommerce sales with these Magento 2 extensions
CedCommerce has been constantly working upon its Magento services to make the experience of its merchants better. Here's a curated list of the 8 best Magento extensions that drive sales for your business:
1. Cenia theme for PWA
Cenia theme is one of our best Magento extension development so far. It is most favored because of its headless technology for Magento. The Cenia theme is a reliable, cost-efficient, and easy-to-install PWA theme. This is a value-for-money solution for businesses. Because it drives the majority of sales from mobile users. It is also good for businesses that need to make their web store compatible with mobile devices.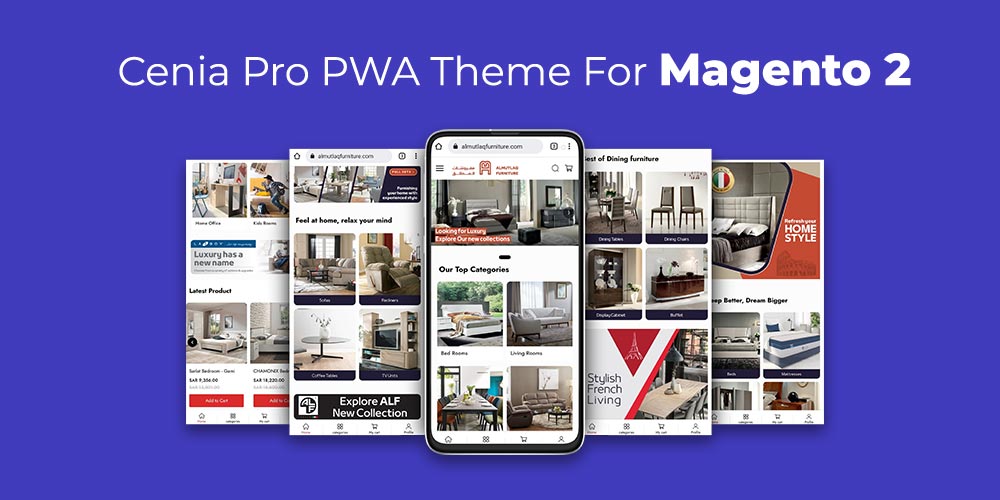 The theme comes in two versions – one is a basic version and the other is a Pro version. While the basic version comes with limitations, the Pro version includes a wide range of offerings. It is best suited for businesses belonging to the electronics, grocery, fashion, furniture, sports, and other retail industries. The reason here is the value-added features of the theme. These solve multiple business objectives and hence are attractive for customers.
Find out more about the Cenia theme here.
Pricing: Basic version for free, Pro version for $299
Check out the above video explaining more about the PWA theme.
Featured highlights:
A progressive web app solution that provides an app-like experience for all devices – web, mobile, and others
Operates in low or no internet. Even otherwise, this makes Magento stores easier and faster to load
Offers higher customer engagement owing to greater appeal value and response time
Lower maintenance and development cost as compared to a native mobile app
SEO friendly built provides for a higher conversion rate

2. Gift Cards
Gift cards are a great medium to make the shopping experience more valuable. This Magento module also helps in increasing awareness amongst the network of your customers. And who doesn't like being gifted at any point in time?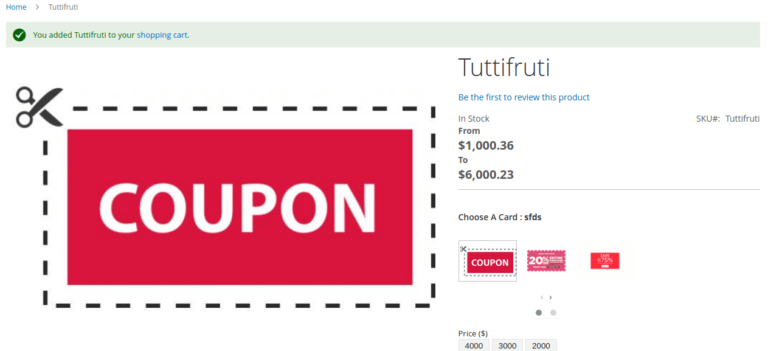 To redeem these gifts, people would land up on your website to make a purchase. This Magento 2 extension comes with the flexibility of adding custom messages. Merchants can also add images here to offer a personalized touch. This can also be used as a marketplace extension. This is a great answer on how to boost your ecommerce sales. It will also help in retaining loyal customers.
Pricing: $ 79
Featured highlights:
Easy to configure the extension and can be shared and processed with ease
Discounts can be redeemed while making a purchase
Highly flexible in taking personalization requests like greetings, photographs, etc.
Admin can control settings for defining the price limit of gift cards
The amount can vary depending on the profile of the customer
Get more details about Gift Cards here.
3. One Step Checkout for Magento 2
One Step Checkout is a Magento 2 additional feature to simplify the checkout process. It combines 3 checkout steps on only one page. Your customers can get a smooth and seamless checkout page to finish their orders. Instead of depending upon the dev team to update the codes entirely, get faster results with this pre-built magento extension development.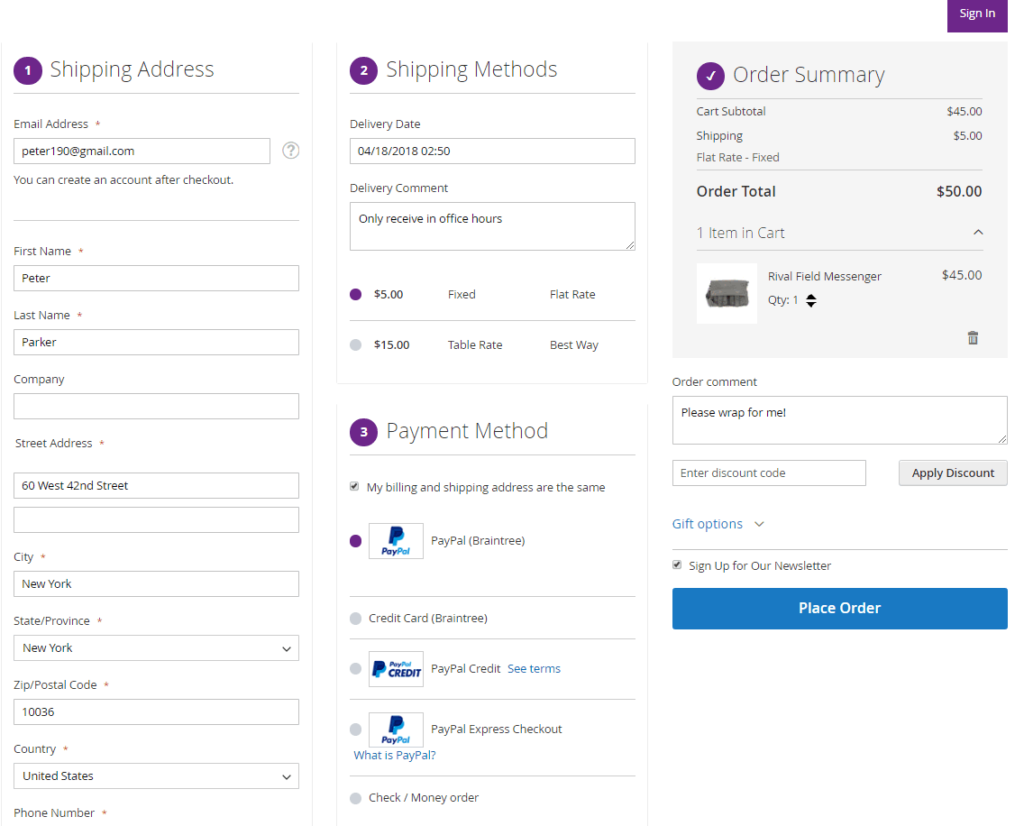 Pricing: $99
Highlighted Features :
Intuitive and friendly interface to maximize conversions by optimizing user experience.
Lightning-fast setup with limitless customizability
Multiple addresses and automated GeoIP detection
Supportive RESTful API and GraphQL API are complete
Compatible with Plug-n'-Play
Excellent compatibility with GEOIP, Order Delivery, Checkout Custom Fields, and Guest to Customer extensions.
Support on highlight themes (MageSolutions themes, Fastest and Infinit theme of Codazon, Alothemes themes) and compatible with popular payment methods
Sticky messaging and the header at the top of the page for easier checkout.
Support the site that does not accept Klarna as a payment method
Compatible with Hyva theme – one of the future theme
4. Affiliate Extension
The Affiliate extension is an efficient Magento 2 extension for marketing through networking. It is also a perfect choice for a marketplace extension. It promotes sharing codes within the audience network of affiliates on other marketing channels.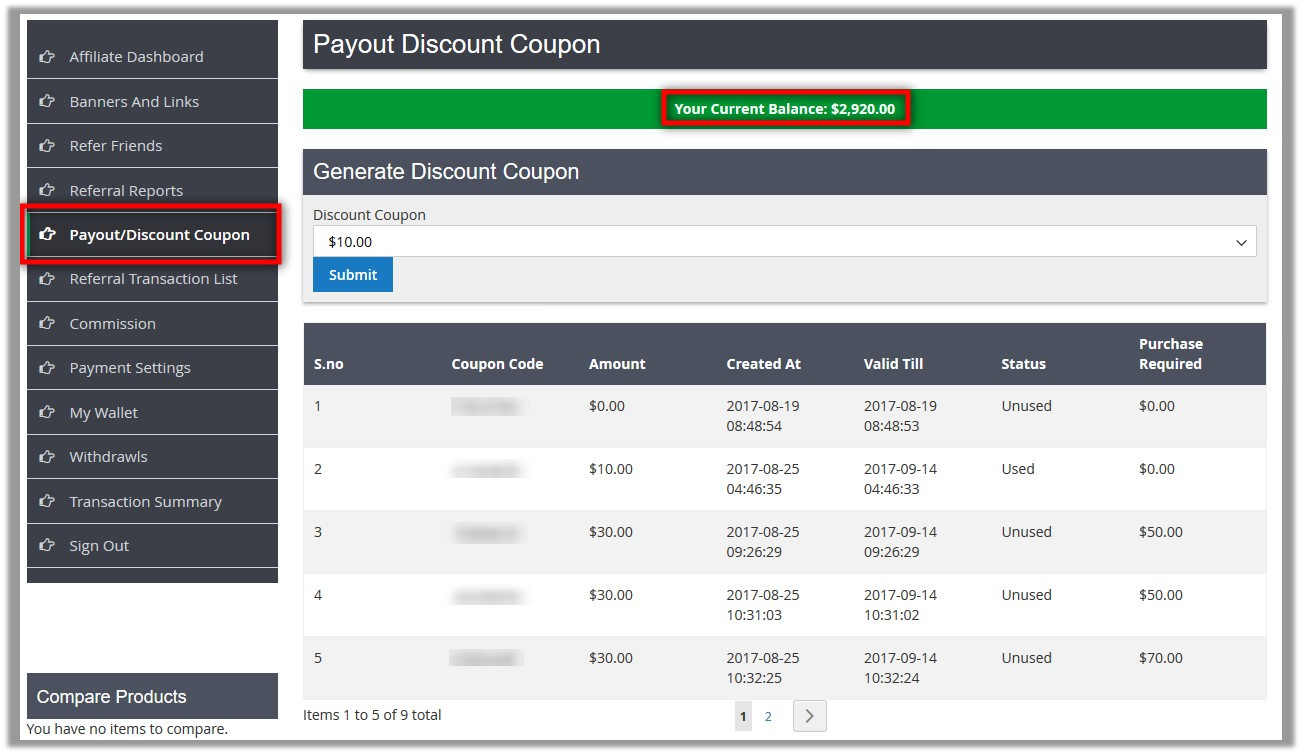 The extension benefits the affiliates by means of commission. For each sale through the affiliate's audience, the affiliate earns a commission. This commission gets credited into his account. Thus, the earnings encourage the affiliate customer to ramp up promotions. This Magento 2 plugin addresses the marketing needs of businesses while quantifying sales.
Pricing: $99
Featured Highlights:
Flexible withdrawal limits managed by the admin
Real-time dashboards to track orders and performance
Transactions and commissions for all affiliates can be managed by the admin
Affiliates can make earnings based on per sale and per sign ups
Referrals and their requests can be tracked and rewarded accordingly
Payouts can be made via multiple methods
Get complete details on the Affiliate Extension
5. Credit Limit
Customer Credit Limit extension allows customers to make a purchase on credit. Instead of opting for a bank's credit, businesses can offer their own credit to drive more sales. For this, a "pay by credit" method gets added to the available payment options. This is a sort of an advanced facility that motivates customers to make a purchase.

The credit help owners in decoding -how to boost their eCommerce sales. It is also one of the best Magento extensions to:
Build stronger relationships with customers
Encourage sales by assigning higher credit limits
Reduce time spent by multiple order processing
Besides, the admin account here can control all the limits and repayments for customers.
Pricing: $99
Highlighted features:
Customers get to track their credit spent, balance, etc.
Admin gets to control the usage and spending for each of its customers
Selected customers can get payments by credit payment option in their accounts'
Helps to build up customer loyalty by retaining customers for longer
Check out the Credit Limit Extension
6. Marketplace Platinum Package
Marketplace platinum Is a marketplace extension that helps business owners to start their own marketplace. As a marketplace is a common platform for vendors and buyers. So the package includes automation for both categories. With this, business owners can also transform their individual Magento stores. Besides, convert into a wholesome Marketplace to host multiple vendors.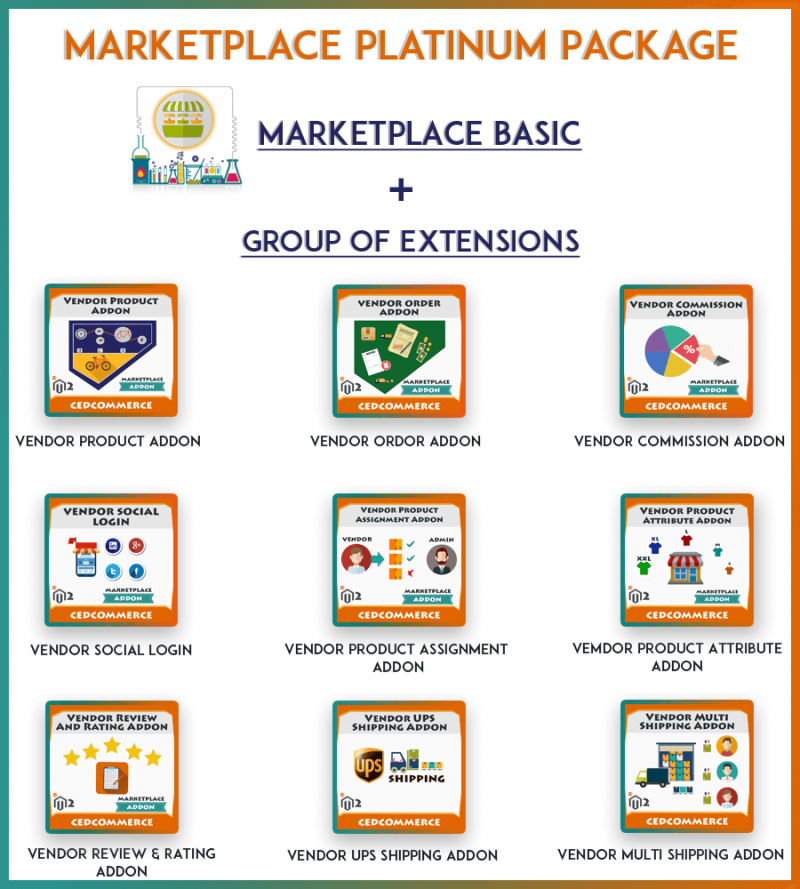 This plugin by CedCommerce helps you in creating a power-packed marketplace, just like Amazon and Flipkart. Furthermore, the platinum package does not only includes the basic Marketplace extension. It also comes with 9 other feature-rich add-ons to add more value. Thus, to simplify tasks this is a complete package.
Pricing: $299
Highlighted features:
Complete order management capabilities extended to sellers
Shopping for customers available in multiple languages and currencies
Admin can review seller offerings and make specific vendor profile attributes
Processing multiple sellers through bulk upload
A rating and review system for vendors to maintain accountability
Vendor product addon to facilitate the processing of multiple products
Flexible commission rates on vendor products
Integration with top-notch marketplaces like Amazon, eBay, Walmart, Aliexpress, etc.
CRM integration with tools like Hubspot or ERP integration with Odoo, Quickbooks
Choice of shipping method amongst Advance Rate Shipping, Advance Flat Rate, Aramex, UPS, USPS, FedEx, Delhivery, DHL, and many more
Login with social sites for customers and vendors
Choose between multiple payment methods such as EBS Payment Method, Axis Payment Method, Vendor Braintree Payment Method, and many more
An assorted range of extensions, including customer rewards management, wallet system, gift card extension, and others to choose from
Magento POS Integration for bidirectional data exchange between physical and online stores
Conversion of the marketplace into a native mobile app
Furthermore, watch the video below to learn more about setting up marketplaces:
We can continue adding on to the above list since there are innumerable Magento 2 extensions. These can help in shooting up sales. In addition to the ones above, other Magento 2 extensions to boost sales include:
7. Magento 2 Google Tag Manager
The Magento 2 Google Tag Manager extension enables data measurement quickly, easily, and conveniently.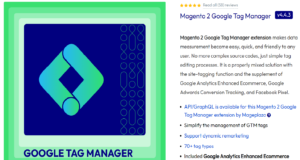 Now there are only simple tag modification processes—the complicated source codes are gone. A properly integrated system includes the site-tagging capability, Google Analytics Enhanced Ecommerce, Google Adwords Conversion Tracking, and Facebook Pixel.
Pricing: $99
Featured Highlights:
Improve website performance
GTM Support Dynamic Remarketing
Google Tag Manager Enhanced eCommerce
Facebook Pixel is integrated in Google Tag Manager
Google Analytics opt out (New)
Custom dimensions & metrics (New)
Get more details about Google tag manager here
8. Product Bundled Discount Extension for Magento 2
Product Bundled Discount Extension for Magento 2 allows you to offer a discount on a set of products. The extension also facilitates your customers to buy a group of products which is popularly known as 'Package deals'.
Set flat/percentage discount for product bundled set
Dedicated bundled promotion listing page
Import/Export product bundled promotions
Allow specific promotions to customer groups
Show related bundled promotions on the cart page
Supports multi-store website
Working with CedCommerce
When it comes to Magento extension development or marketplace extensions, CedCommerce remains at the forefront. For over 15 years now, we have enabled e-Commerce businesses with agile solutions. In doing so, our focus has been on adding features that are scalable. At the same time, these also help businesses in the longer run.
Our team is also fueled by enthusiasts working in line with specific business needs and timely delivery. While there may be numerous options to choose from, the hack here on prioritizing your business needs. If you are confused about choosing the right Magento 2 extension, seek assistance from our technical experts to gain more clarity.