Most Powerful HubSpot CRM Features For E-commerce That You Need
Running short of time? Get PDF of the blog in your mail.

Play Now
Over the past few years, there has been a significant surge in the number of online stores and e-commerce websites. This sharp growth in the e-commerce sector has resulted in more significant competitions. But what matters the most in the e-commerce world is the ability of a business to retain customers and interact with them. Customers are the foundation for the success of a business, and it is the reason why businesses invest great amounts just for the sake of reaching out to their clients and know more about their preferences.
The thing is data is a highly essential and important asset to make the right use of e-commerce for your business. In order to uplift the customer's experience on your online platform, it's extremely important to shift your focus to buyer behaviour so that you can successfully engage buyers. Not to forget that an enhanced and satisfactory customer experience can result in 5.7 times more revenue, and that's one of the reasons why you can't afford to overlook the importance of CRM software.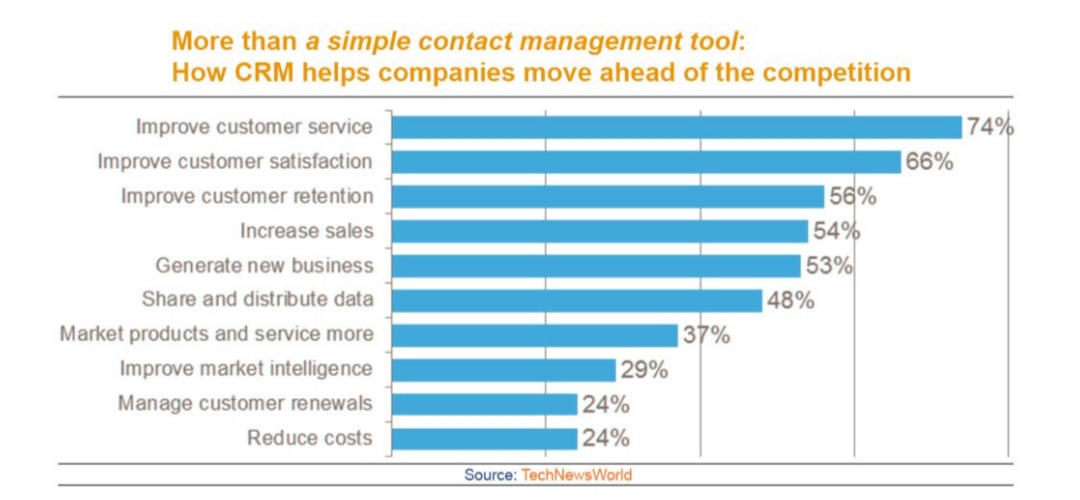 Online retailers make use of various platforms to stay in touch with their customers. Now, think of a centralized database containing essential customer and order details.Well, certainly by comprehending this data with your business strategie, you can easily improve your business relationships. So, the main role of a CRM system is to enable businesses to evolve and grow in an efficient manner by organizing and automating different aspects of a business. A CRM system automates, simplifies and streamlines the sales process, marketing campaigns, customer data, business analytics of a business so that they can attain success without any hurdle.
Also Read: Why reporting is important for sales and marketing
Why Do Your Business Need A CRM System?
If we jump back on this research, published by Tech News World back in 2012, we can get a clear idea of how a CRM system helps a business in acquiring more sales. The reports say that more than 54% of businesses expect to boost their sales with a CRM system.
Well as per now, a study by Innopl technologies shows that around 65% of sales rep who have made use of CRM have attained their sales goals. Now, you know why a CRM system is important for your business.
In this blog, we will talk about all those reasons why HubSpot for e-commerce is the best CRM system for your business. We will be throwing light on some of the powerful yet simplified HubSpot CRM features for e-commerce that can power-up your business strategies. So, let's begin with first understanding the concept behind the incredible built of features of HubSpot CRM:
Also Read: Benefits of marketing automation for e-commerce business
What Is A HubSpot CRM System?
CRM can be defined as a central system where a business can keep information and details about the customers and companies you're interacting with and track customer interactions. When we talk about the most popular and effective customer relationship management system, the HubSpot CRM system tops the chart. HubSpot CRM, which is used by innumerable online retailers and business owners, is a CRM system that helps the user in maintaining sales and marketing workflow even without changing the existing configurations. Integrating the HubSpot CRM system into your current sales and customer relationship management processes can elevate the success rate of your business to a great extent.
Also Read: 4 ways to shorten your sales cycle arketing automation
HubSpot for e-commerce enables your online business to manage and keep a track on customer relationships. The sole purpose of HubSpot CRM system is to enable your business to grow a strong customer base by helping business people optimise their schedules and prioritize tasks likewise to ensure that the key prospects and customers aren't being avoided.
Also Read: Are you fed up of cart abandonment? We have an easy solution for you!
Top Reasons Why Features of HubSpot CRM Are Important For Your Business
Before jumping into understanding the powerful HubSpot CRM features for e-commerce, let's first have a quick look at the reason why features of HubSpot CRM helps in assessing and solving the key problems in a business: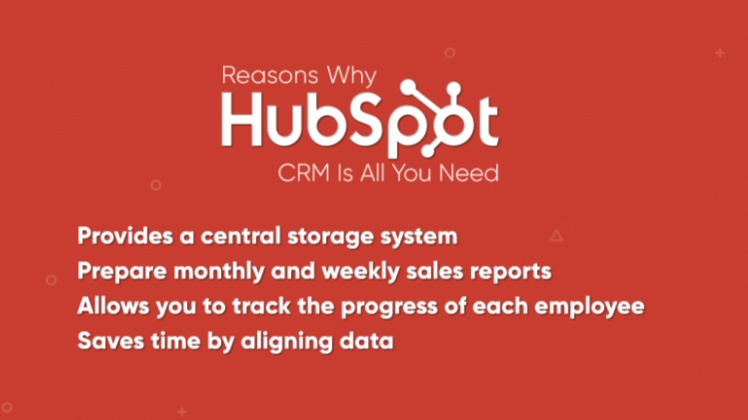 Who won't mind a safe and central storage system to keep and align all the important information about their business? With HubSpot CRM, you get to have secure and uninterrupted access to the database having data from multiple sources.
Just a few clicks, and you are all set with a summary of the sales in progress! HubSpot for e-commerce allows the employees of your business to easily prepare their weekly and monthly reports for management backed up with an automated and transparent process. This way, you can easily keep a track on the progress of each employee.
With HubSpot CRM features, your employees can easily align data and can recognize the important opportunities on the basis of criteria based choices. As a result, your time that is usually spent on managing the disorganized lists will be saved. And of course, time is money!
Features of HubSpot CRM include calendars, document templates and email integration that helps in keeping each team member up to date and well informed about the different ongoing projects and activities.
Streamline your sales cycle with the help of HubSpot CRM features. This way you can close deals in your sales pipeline that will result in faster completion of targets. In a CRM system, there is an automated technique of order processing and preparation of quotes.
Also Read: How to recover abandoned cart with HubSpot e-commerce integration module?
Features of HubSpot CRM
I'm sure, by the time you will be reaching this section of our post, you must have decided to get a CRM software for your business. At this point, we know what your main concern is, that must be: Which CRM software should I go for? Well, let us make the task of choosing a CRM software easy for you. In the below section, we have jotted down the topmost powerful and effective feature of HubSpot CRM for e-commerce.
If you're adopting a CRM system for the very first time for your business, use this blog as a guide for navigating the CRM landscape. So, now let's go through the features of HubSpot CRM:
Also Read: What is HubSpot e-commerce bridge and how can it benefit store owners?
#1 Powerful Feature Of HubSpot CRM: Contact Management
HubSpot CRM system allows sales reps to add and create contact records as well as acts as a central storage system for storing prospect and customer information. But, what makes HubSpot CRM features the best in the market is it's capability of reducing and facilitating contact data entry up to a great extent. To your surprise, we must add that HubSpot CRM system can manage up to 1,000,000 contacts. The powerful features of the HubSpot CRM aren't just limited to this but HubSpot CRM also provides you with vast storage where you can save up to 1 million contacts and company data records using mailing addresses or form submissions.
#2 Powerful Feature Of HubSpot CRM: Dashboard
In a business, it's essential to keep a track on each team member's task status, their progress status and how many deals they have in their pipelines. With the HubSpot dashboard, keeping a track on each of your employee's progress is just a matter of a few clicks. The managers can easily overview these categories for different teams and likewise evaluate their performance.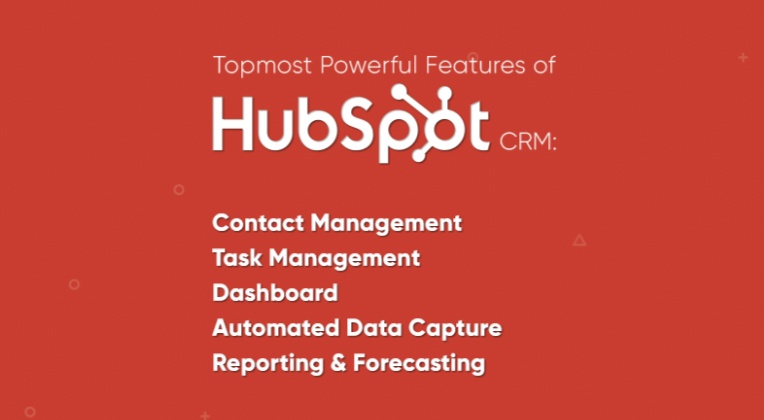 #3 Powerful Feature Of HubSpot CRM: Task Management
Going through different systems to view, track, and complete daily tasks is a time consuming and confusing process. But HubSpot CRM features for e-commerce includes powerful and well oriented task management capabilities that are mjanky designed to simplify and streamline your team members day to day workflow.
Also Read: How to boost e-commerce sales with digital coupon codes?
#4 Powerful Feature Of HubSpot CRM: Automated Data Capture
The best part about adopting the HubSpot CRM system is that it helps you to keep a track of customer and prospect data. HubSpot CRM system reduces the extra steps involved in making 100 to 200 calls every day and sending hundreds of emails. HubSpot CRM features for e-commerce automatically log calls made and the emails that have been sent from the system. It simply keeps them posted in a timeline view on the page of a contact record. This way you can get an exact idea about how a recipient interacts with your email and on the other hand, the HubSpot CRM is working to enhance your efforts. HubSpot CRM system offers you with the feature of email tracking for both automated and customised email campaigns. It comes with an extensive range of email templates.
Also, HubSpot allows you to segment your records by filters as per your choice. It gives you a quick overview of your entire sales pipeline CRM on a dashboard so that you can sort all the deals by name, owner, amount, or stage with different customizable filters.
#5 Powerful Feature Of HubSpot CRM: Reporting & Forecasting
One of the best parts about using HubSpot CRM is it's a feature of sales reporting that gives a brief overview of metrics like emails sent, calls made, meetings scheduled, and deals closed. It keeps tracking these metrics so that as a manager you can know where your team stands and what it needs for improvement.
HubSpot CRM features makes it a good and efficient CRM system that produces an exact and accurate sales funnel for you so that it becomes easier and flexible to forecast sales and manage the team's pipeline. It is also enriched with an integrated lead management system with features of call and meeting schedule.
Also Read: What is email marketing?
Conclusion
Running an e-commerce business in the current scenario requires you to be smarter than ever since there is a thriving competition in the e-commerce industry. A CRM system like HubSpot CRM plays the role of a bridge between you and your targeted sales in your e-commerce journey. We won't brag because the features of HubSpot CRM speaks it all. So, don't waste time any more and jump to HubSpot CRM to elevate your marketing game.
We are now Hubspot Certified App Partners committed to delivering top-notch solutions that help you connect, expand and scale at lightning speed.
If you've any more queries regarding the HubSpot CRM features, you can also get in touch with us. We, at CedCommerce, are the leading e-commerce solutions providers. Our extensions and solutions are being used by numerous businesses and that is the reason why we completely understand what your business needs. Reach out to us if you have any query or want to know more about HubSpot CRM. We will be happy to help!