Are You Fed Up of Cart Abandonment ? We Have An Easy Solution For You
Running short of time? Get PDF of the blog in your mail.

Play Now
Despite your countless efforts and hard work to bring customers to your e-commerce website, the user visits your site, spends time on it but at last leaves the website without making any purchase? Well, this is what we call cart abandonment. Let us first understand about shopping cart abandonment.
What is Shopping Cart Abandonment? 
Abandonment in e-commerce terminology is used to describe a visitor on a web page who leaves that page before completing the final purchase.
In the world of e-commerce, shopping cart abandonment is one of the most pressing problems for online businesses. In offline marketing, this term is not used but in online marketing, this is a very common problem.
But, let us tell you, that it's not impossible to improve your e-commerce experience by reducing the shopping cart abandonment rate. In this post, we will be providing you Shopping Cart Abandonment Solutions, so that you can reduce shopping cart abandonment on your e-commerce website.
According to Listrack, the average rate at which a user abandons their cart is as high as 81%. Ultimately, this data implies that four out of five shoppers leave their shopping cart without shopping.
It is noted that in 2006, the cart abandonment rate was  59.8%. And by 2018 the shopping cart abandonment rose to 75.60%, which is a 15.80% increase.
Mobile shopping has the highest cart abandonment rate, with 85.65% of all transactions ending without a sale.

Source: Barilliance.com
The cart abandonment rate is the ratio of the number of abandoned shopping carts to the number of initiated transactions or to the number of completed transactions.
The typical shopping cart abandonment rate for online retailers varies between 60% and 80%, with an average of 67.91%.

Source: Barilliance.com
As a marketer, you invest a huge amount of budget in the advertisement, social media, and blogging but what if consumers practice frequent cart abandonment? But before going through the shopping cart abandonment solutions we must first understand the reason for cart abandonment. 
Why do buyers leave their cart without shopping?
Cart abandonment occurs when any customer spends their time looking for the best deals over different online shopping websites, adds products but does not purchase it. Every shopping website is different, hence the reasons for cart abandonment are also different. A few issues that lead to cart abandonment are:
High Shipping Cost
High shipping & delivery charges turn out to be a major reason for cart abandonment from the customer's point of view. If the customers find the shipping charges high, they'll immediately opt-out.
High Product Price
Before buying a product, customers always check for prices on other platforms & will only proceed with payments until your website offers the best price. Around 25% of shopping cart abandonment is because of high pricing.
Wish To Buy Later
'Unavailability of money' or 'lack of urgent need' also leads your customers to leave the product in the 'Buy Later' list. As a result, abandoning the cart.
Also Read: Buy Now Pay Later Customer Credit Limit Extension
Complex Checkout Process
The customers often get irritated if they have trouble completing the checkout process in a few steps.
Website Complexity / Crashed
Now, this is just a disappointment if a website complexity occurs while the customer is just about to purchase the product. About 20% of cart abandonment is due to such website complexity.
Estimated Shipping & Delivery Time is Too Long
It is very common for customers to run out of patience while waiting for the order to arrive. So, if the shipping & Delivery process prolongs, the chances for your customers to leave the cart unattended increases.
Also Read: How Fast Shipping Programs Help Ecommerce Sellers Compete With Great Customer Service?
Forced To Create An Account Before Purchase
For an internet user, it becomes impossible to keep track of multiple logins and passwords for various sites. When it comes to creating yet another login credential, the customers feel reluctant to carry forward, hence abandoning the cart.
Unavailability of the Preferred Payment Option
When it comes to payment, some customers will strictly prefer one payment method over another. 8% of the customers abandon the cart if they are unable to find their preferred payment option.
Also Read: Boost Sales With Multiple Ecommerce Payment Methods On Your Online Marketplace
Got Distracted
It's very easy for a customer (especially someone who is using a mobile phone) to get distracted by some social media notification or a call or even some incident in real life. This also leads to cart abandonment.
How to reduce cart abandonment rates in e-commerce?
As a marketer, reducing Cart Abandonment has to be your priority. To achieve this you will have to:
Build more trust
Low shipping costs
Provide multiple payment options
Resolve all the technical problems
Better assistance while shopping
Reduce Price Shock
According to the Baymard Institute report, the average online shopping cart has an abandonment rate of 68.63% which means that out of 100 customers 68 leave without buying.
Reasons For Shopping Cart Abandonment?
According to research, it shows 60% of cart abandonment is because of the additional extra cost on shipping and taxes.
The next big reason, about  37% of customers don't want to create an account on your site.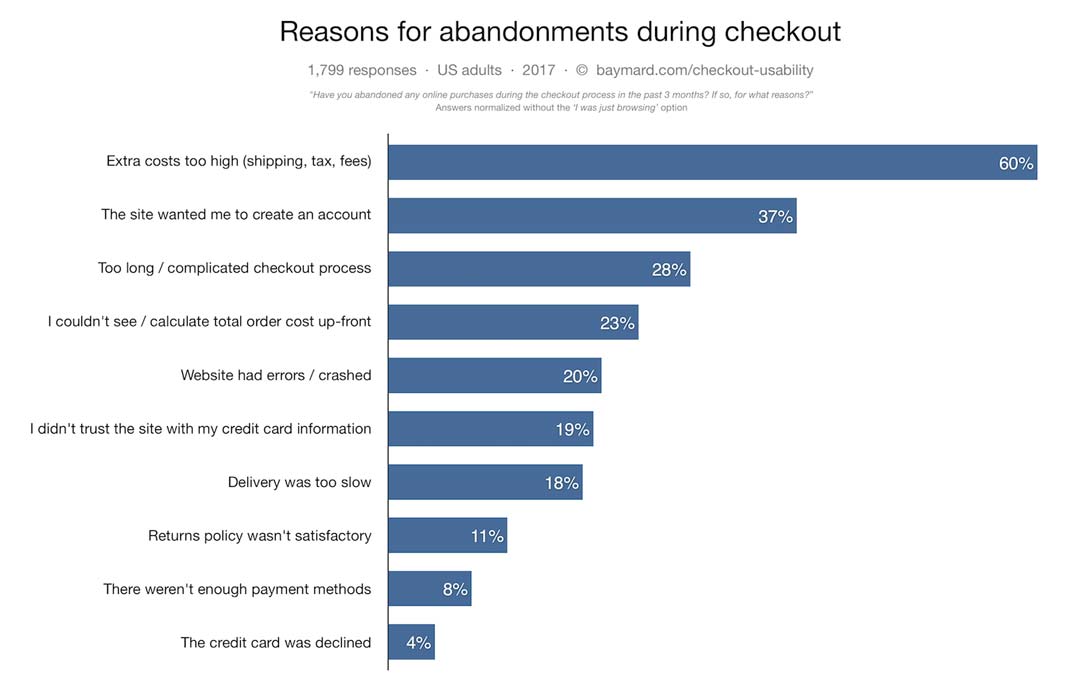 Source: Barilliance.com
Let's check the abandonment rate in different sectors:

Shopping cart abandonment rate by industry 2020 -Statista
Source: Statista.com
By the end of March 2020, almost 88.05 % of shopping carts were abandoned. Across all the industries, the automotive sector tops the cart abandonment rate by 96.88%.
Travel industry sector: The e-commerce websites based on the travel industry are witnessing 76.98% of cart abandonment rate.
Fashion e-commerce site: These sites have a high cart abandonment rate of 90.68%  because customers tend to compare the designs and add it in the cart but they may or may not purchase the products. 
Electronic products: While the customers visit different sites to compare the prices and search for the best deals, the cart abandonment rate is increased by 84.21%.
If there is any type of offer going on in any e-commerce site the cart abandonment rate increases.
Also Check: What is the Abandoned Cart? How to recover it with CedCommerce's HubSpot E-Commerce Integration module?
Shopping cart abandonment solutions 
Optimize Your Checkout Process 
Allowing customers to check out as a guest
Making the checkout process fit in one place
Offering various payment and shipping methods. A study by comScore showed that more than 50% of online shoppers prefer seeing multiple payment options.
Making sure your website is mobile friendly and bug-free.
Segment Your Abandoned Cart Visitors
In order to understand who is visiting your website without checking out and how to convert different types of visitors into buyers, you must have the answers to the following questions
Who is visiting our site?
What products are in the cart they abandoned?
How much is the total cost of the cart?
Send An Abandoned Cart Email
As you have the segment of the visitors and the product they are interested in you can form the series emails informing about the product. Send the email in the following orders:
Reminder email
Discount email
Deadline email
Offer Free Shipping
Free shipping is a topmost strategy that helps an eCommerce website to reduce cart abandonment. For making this strategy successful, you can add the shipping value in the final price. You can also offer free shipping if the customer makes a purchase above a certain amount. It also raises your average order value. Have a look at the below statistics by KISSmetrics, in which 44% of cart abandonment occurs due to high shipping costs.

Enable Guest Checkout
Enabling guest checkout can be more beneficial than you think. In fact, once you enable guest check out you will see the reduced rate of cart abandonment. Because some customers avoid doing the lengthy membership process, guest checkout helps them to quickly place their orders. 
Streamline Your Checkout Process
The best way to reduce cart abandonment is by lessening the number of screens involved in the checkout process. The less information you ask during the checkout, the higher the chances of the customer completing the ordering process. 
Get an SSL Certificate 
Payment Security is a major concern that plays an important role in earning a customer's trust. Losing customers due to the lack of an SSL certificate can create a negative impact on your e-commerce store. Google blacklisted more than 10000 websites every week for malware.
When the customer visits the payment page and they notice the lack of an SSL certificate, they often leave the cart abandoned. By getting an SSL certificate, you can reduce the chance of cart abandonment to a great extent. According to a survey by Baymard Institute, the badges that customers trust the most are: 

Conclusion 
To survive in today's competitive world you should have the Market Automation features which will help in increasing sales and revenue.
Free shopping cart abandonment solution:
There are multiple software solutions present in the market which provides the features of an abandoned cart. It is very difficult to maintain the data of the visitors and cart abandonment. So, there is a requirement of some software which does marketing, targets dedicated customers, and send emails at the right time.
Here, at Cedcommerce we always hustle to make your e-commerce journey smooth and secure. As we always say, we are there to help you out with every problem that is hindering the growth of your e-commerce store. So, here we are with your shopping cart abandonment solution. 
To help you out with cart abandonment, we have created a one-stop solution for you:  HubSpot Magento Integration 
Developed by Cedcommerce, Hubspot Magento Integration provides the features of customer syncs, product syncs, abandonment cart recovery and it also segments the customer's data according to the category, it also provides RFM segmentation.
Whenever any customer adds the item to the cart and leaves it for a certain time then our Integration solution treats it as an abandoned item and sends this information to HubSpot.
HubSpot already has a workflow related to abandoned cart recovery. And that workflow will engage the customer further and increase the chance of conversion for that abandoned cart. The Integration sends the data from your Magento store to HubSpot after every 15 minutes.
If you are looking for the solution to cart abandonment, then the HubSpot Magento Integration will help you out. For more details, connect with us today!
We are now Hubspot Certified App Partners committed to delivering top-notch solutions that help you connect, expand and scale at lightning speed.