Boost sales with multiple eCommerce payment methods on your online marketplace
Running short of time? Get PDF of the blog in your mail.

Play Now
Out of all the features that are necessary to have in an online marketplace, effective eCommerce payment methods are the most important. Right from the customers to the vendors on your marketplace every stakeholder in the purchase process seeks smooth payment options.
You could have an edge over your competitors in the eCommerce marketplace industry by providing for payment through multiple ways.
Why should you offer multiple

eCommerce

 payment methods on your marketplace?
All you need for an optimum marketplace is a single payment method that's easy to figure, smooth and efficient. Then why do we always see marketplaces with a bevy of payment options.
All because of the fact that despite the usual options customers these days keep looking for better, quicker ways to make transactions.
Basis the age, country, security concerns there are particular preferences that people might have.
The introduction of e-wallets and options like 'buy now pay later' have reduced the customer journey by several steps. Now the customer need not go through the process of entering the same details repeatedly, rather they could simply logon to the payment modes they mostly prefer and pay through that.
The feature of 'buy now pay later' is also gaining tremendous popularity due to the fact that it enables to lay hands on desired products without having to pay then and there. It also works really well for the ones who prefer settling bills once a month and try to avoid repeat transaction hassles.
Cart abandonment could also be reduced by a huge margin if the customers are given access to their preferred payment methods to make purchases. Options like these could help overcome the problems with conventional marketplaces. Customers more often than not shy away from providing card details online, this barrier could be overcome with pay later feature. Up to 13% conversion rate could be improved using these methods of payment.
Let's take a look at the payment methods that if added to your marketplace can help improve returns.
Credit cards:
This is easily the most common mode of payment. It offers a global payment solution to online shoppers the world across. The customers are simply required to enter their card details and proceed with the transaction. Added security measures are taken so that customer critical information is not compromised at any stage. It is one of the most popular option among people who wish to pay at a later time.
Debit cards:
Unlike credit cards a customer paying through debit card needs to make the payment instantly from the available balance. This mode of payment is majorly preferred by people who wish to shop within their financial limitations. Here again like credit cards the customer is required to provide their details online.
E wallets:
E wallets are also being popularly used for transactions on eCommerce sites these days. The reason being the absence of the need to provide details every time. Customers simply need to register once and thereafter complete their transactions with a simple click. E wallets are gaining popularity as more and more people are opting for it. Mobile wallet use is steadily growing. Mobile payments are expected to top $500 billion by 2020.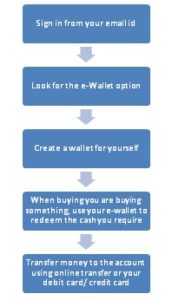 Net Banking:
This mode of payment involves the customer to login using their net banking credentials and complete their purchase in simple steps. Unlike credit and debit card payment methods net banking does not require any card for completing the transaction. Access to net banking is the only primary requirement to utilize this method.
Cash on Delivery:
This one has been a huge favorite among online shoppers. The major reason behind it is the simple fact that customers don't have to pay anything till the desired product gets delivered to them. This instills confidence in new buyers especially in regions where eCommerce is still in its nascent stages.

Buy Now Pay Later:
Buy Now Pay Later feature is the latest addition to the eCommerce payment methods.It derives from the concept of micro credits allowing customers to shop on credit. Setting customer credit limit allows for better conversions as well as the buyer is relieved from the pressure of making payments from his pocket at the very instant.
The Buy Now Pay Later method is in a way similar to credit card payments given the fact that here as well the seller of the product does not receive the payment immediately. The outstanding bills are settled later.
Once the customer opts for this payment option his details (email and other contact information) minus the credit card details are requested and the outstanding amount is billed in the upcoming month.

With a competitive solution like customer credit limit extension that brings to the table same features as available with Flipkart's 'Pay Later' your marketplace will be fully equipped to handle varied requirements.
Regardless of the payment options of you might prefer and want to have on your online marketplace its a must to have several options for your customer to choose from. You never know the kind of requirements your customer may have when it comes to payment modes. Its best to be equipped with the best ones beforehand. Your strategy could differ a little when you start selling internationally and be required to cater to the local customers in those regions. Understanding their payment preferences would be an obvious step to take in the right direction.
About CedCommerce:
CedCommerce offers the necessary technical solutions specifically made for building one such platform. These extensions come with a multitude of features to aid in the development of a rich multi vendor ecommerce marketplace. CedCommerce's Magento 2 Marketplace extensions and add-ons are ready made and reasonably priced solutions for building a website like Amazon. A marketplace armed with these features is undoubtedly going to possess the best in class features.
For building your own multi-vendor marketplace platform  and to see what our satisfied customers have to say about us do visit: CedCommerce
Other extensions to enhance your online store:
Customer Reward Management [M2]
Contact us for more: https://cedcommerce.com/contacts