How to use Gift Cards in e-commerce business to grow your sales?
Running short of time? Get PDF of the blog in your mail.

Play Now
 An online business constantly calls for the entrepreneur to keep tracking the market nerve. What the customers need, what marketing campaigns could immediately click, what trends are attracting people and what exactly do they expect from you. Unless you've been living under the rock you must be aware of how gift cards in e-commerce business are becoming a rage. Customers are loving ecommerce gift cards and so are the business owners. They're almost acting like a marketing tool for e-commerce businesses, one that has not been tapped enough but has the potential to rake in lots of traffic. And traffic that converts, not just leads. Let's address the pressing question of why gift cards are good for business?
Get an effective gift card for your e-commerce business

What are the benefits of gift cards in e-commerce business/website?
Visibility is of the utmost importance when you're trying to build or expand an online business. Then comes customer loyalty. You must have heard that it takes 4x the effort to acquire a new customer as compared to sustaining a loyal one. Gift cards can help you have both, customer loyalty along with better visibility. A gift card recipient is almost 100% likely to visit your store at least once. This is your golden chance to make an impression. Till the person has availed the benefits he/she is bound to return for checking out your products. This way you may get not just one but repeated attempts at making an impactful impression that lasts.
By allowing your loyal customers some special benefits over these gift cards you could earn their trust and they'd be encouraged to gift more, which in turn would again help you attain better visibility.

What are the benefits of having gift cards in e-commerce business?
The benefits of ecommerce gift cards are endless. Let's take them up one by one.
1-Providing added benefits in terms of good value gift cards helps you stand out from a pool of online business marketplaces, hence gives you an edge over your competitors.
2-Helps you identify your customers that provide the maximum profits which would approximately be only 15-20% of all your customer base.
3-Improves traffic, revisit rate and repeat sales when marketed well to your target audience. You can gain more customers by offering gift cards on your online store.
Source: cpscards.com
Enough has been said and written about the relevance of gift cards in e-commerce stores. The 'why you must have gift cards on your website' has been answered well enough. In that case, without beating around the bush lets get straight into knowing how exactly are gift cards for e-commerce so very instrumental in boosting sales.
How to use eCommerce gift cards to grow sales?
1- Helps increase the revenue of online businesses.
Gift cards generate sales twice. One when they're bought and second when the receiver of the gift card makes a purchase. If your website manages to create the right first impression, people with gift cards actually end up buying more than the value that card offers.
A study by First Data states that overspending the amount of a gift card is very common these days.  In the year 2016, over 75 % of gift card recipients spent around $28 more than the value of the card, this was 6% more than the statistics last year.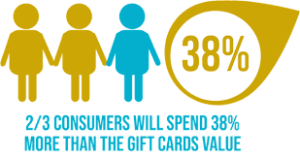 2-Helps drive more traffic to your website
Gift cards when used in combination with the right marketing strategy can help pull in a lot more traffic than any other source. With gift cards becoming increasingly popular you simply need to put in a few efforts to send across the message that you're providing one. And within no time you'll see the surge in traffic. Both the buyer and receiver of the gift card are bound to pay visits to your online marketplace.
Also make sure to utilize the potential of social media channels like facebook, twitter, Instagram, etc., email marketing and targetted advertising to spread the word about gift cards on your e-commerce store. Above all make sure to strike the right chords through your website and customer experience.
3-They ensure bringing in new customers
Gift cards can expose your business to people who may not have otherwise shopped in your store. Customers who already know and love your business will purchase gift cards for friends, helping to grow your customer base.
You can also give gift cards when you're asked to make a donation to a local fundraising event. By providing a gift card in lieu of a product or service, you open the door for the recipient to use their prize and perhaps spend extra money in the process. Providing gift cards to fundraisers also boosts your brand recognition as well as creates a reputation for being a business owner who supports their community.
How to promote gift cards in e-commerce business?
1-Leverage e-mail marketing list:
Begin building an e-mail list from the starting days of your business. This list can prove to be instrumental in marketing your gift cards. A holiday-themed mail sent out to the entire list, announcing/ promoting your gift cards will ensure improved traffic ahead and during holiday sale season.
2-Deploy social media channels for promotions:
Utilize social media channels for effectively promoting your gift cards both prior to and during sale season. It's crucial to find out the channels where your target customers are most active on and make efforts to attract them there.
3-Announce on your website:
Make it a point to inform your customers of the availability of gift cards on your website as well. The announcement needs to done in a way to attract the maximum attention of website visitors. A well-placed banner and a carefully timed pop-up can convey the message in a moment.
Gift Card Magento 2 Extension
Gift Card Magento 2 Extension by CedCommerce enables customers on your e-commerce website to purchase gift cards and send them to their friends over their email ids. Admin can create multiple gift cards with varying pricing models. The price limit for each can also be set by the admin itself.
Key features of the Gift Card Magento 2 Extension
1-Allows creating multiple gift card templates associated with different gift card products
2-Separate categories are made available for all gift card products
3-Provides for attaching messages/notes from the customer along with the gift card
4-Allows previewing the gift card template
This extension allows the recipients to apply a gift card coupon when they're placing the order. All the information related to a gift card is available on the customer account dashboard.
About CedCommerce:
CedCommerce offers the necessary technical solutions specifically made for tapping into the endless e-commerce potential. These extensions come with a multitude of features to aid in the development of a rich multi-vendor e-commerce marketplace. CedCommerce's Magento 2 Marketplace extensions and add-ons are ready-made and reasonably priced solutions for building a website like Amazon. A marketplace armed with these features is undoubtedly going to possess the best in class features.
You may also like:
Boost sales with multiple eCommerce payment methods on your online marketplace Customer Reviews Play Vital in Your E-Commerce Business