The Simple Guide Simplifying Payment Gateway for Online Merchants
Running short of time? Get PDF of the blog in your mail.

Play Now
The popularity and need for online payment have increased owing to the growth of e-commerce, and there's no turning back. Therefore, it is required to pay heed to understand and leveraging it to improve customer fading trust in the payment gateway. Interestingly, tones of choices make it hard to segregate the ordinary ones from the right ones.
Moreover, payment gateways also quicken the shopping process. And customers love to shop more if shopping is made easy and fast.
After all, it will be pretty disheartening to learn that despite high-quality products and affordable prices, the store has low sales. The reason is that the payment gateway failed to win customer's trust.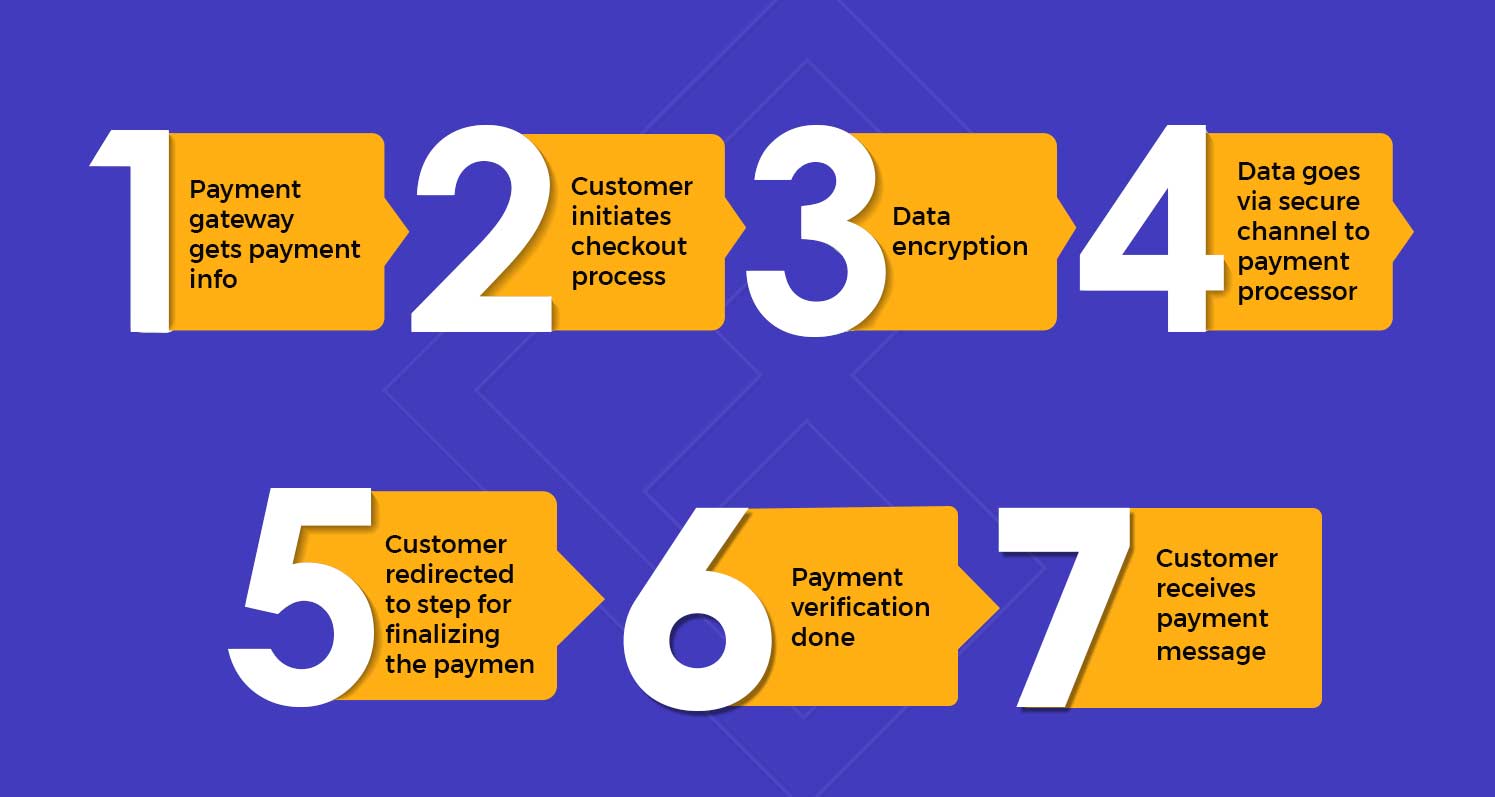 Therefore, you must consider payment gateway on a serious note.
What is Payment Gateway and Why So Important
Payment gateway is the bridge connecting payment processors and merchant accounts with credit/debit card companies. Therefore, enabling merchants to seamlessly and securely process different payment methods.
It is also responsible for providing a solid encryption level that aims to avoid a data breach. The best part is customers need not visit a third-party website to complete the payment. Moreover, the payment gateway gives merchants the option to tweak the checkout process to deliver a customized checkout experience.
Types of Payment gateways
Hosted Payment Gateways
Customers gets redirects to input details on the service provider platform. The setup and security issues are looked after by the payment service provider. But a thing to take notice of is the complex interface that might put off some users due to more time.
Integrated Payment Gateways
Customers will be able to make the payment without visiting a third-party site. As a result, customers will get a smooth user experience. Moreover, fast transactions (resulting from quick handling of requests and responses) means will lure more customers into this format.
The merchant also has to take care of security in terms of PCI DSS Compliance and SSL Certification. Another vital thing to ensure is the store architecture support for the payment gateway.
As far as user experience is concerned integrated payment gateways are more likely to spark trust, or the other way around, customers will not feel convenient upon multiple redirects to make payment on hosted payment gateways.
Payment Gateway Fee is Important
As far as cost factor is concerned, it is imperative to be aware of hidden costs and limitations associated with plans.
Hence, understanding every aspect of fee structure is important. It will help you find out the hidden charges that might pop out when you least expect them. We know you don't appreciate them.
Multiple cost scenarios associated with the payment gateway make it a bit tricky. Always watch out for below
Any per transaction fee (fixed or variable). It is mainly associated with free gateways.
Is there a setup and initial sign up fee
Early termination fee
Customer support fee
Fee on funds processing
Any undisclosed cancel fee
The Pro Tip: Look for (*) asterisk present on payment gateway provider website. They might reveal details about different types of fees that come into the picture under certain scenarios.
What to Look After Before Opting Payment Gateway for My Online Store
Payment gateway plays a vital role in smooth payment processing by providing a safe ecosystem that is very much sought after by customers. As a result, a strong trust is sparked that will prove to be an asset in the long run and convert customers into loyal customers.
Let See the Ideal Traits of Payment Gateway
It has a global customer base and is perceived as a trusted brand.
You will be informed in depth before account freezing.
Free trial to be familiar with the ins and outs of the solution.
Available for global market without any restriction of your business need to be registered in a specific geolocation.
Well suited for all business sizes, big, medium, or small.
Mobile App for on-the-go access.
Returning customers can make payments without re-entering data.
Multi-currency payment processing and support.
Compatible with all popular digital wallets and cards.
Hassle-free and quick setup.
Customers are not redirected to another site for checkout. Try to provide one page instant checkout.
Recurring payment feature.
Easy learning curve (no or minimal coding is required).
Robust fraud detection and advanced risk management.
Seamless integration with a wide array of shopping carts.
Can I Accept Cryptocurrency with Payment Gateway?
image credit: blockpit.io
Cryptocurrency is a new exciting dimension of digital currency that will soon become an acceptable mode of payment for online shopping. A seller with a far-sighted vision will leverage this opportunity.
The unique feature of this is there is no middleman like a bank. Therefore, no one will be able to withdraw money without your consent.
Just think, the earlier you ensure to accept crypto as a medium of exchange means customers with cryptocurrency will prefer your store. As a result, you will acquire a new tech-savvy customer base who prefer to pay with cryptocurrency due to the following perks.
All records are maintained on a blockchain ledger and highly secure (hard to be tampered with by hackers)
The transaction completes immediately. Hence, funds are quickly available for business activities.
Comparatively less costly than other modes of payment (credit cards)
The retailer's consent is a must for reversing the transaction. Thus, making it immune to ecommerce fraud.
Moreover, the early adopters of payment gateway will likely gain a competitive edge.
Crypto compatible payment gateway means another option of accepting payment. Customers have always considered multiple payments with the site of trust.
Security – The Most Sought after Criterion in Payment Gateway
Did you know lack of safety over transactions in your store means customer trust will depreciate? You will face severe problems luring them into believe your store payment gateway is safe and engineered for the best experience. Sadly, it leads to a sharp rise in cart abandonment.
The primary cause for cart abandonment is a doubtful payment gateway. As a result, merchants must offer high-level security that renews customer confidence in your ability to provide a secure payment gateway.
Ability to detect and defenestrate the fraud at the earliest before it's too big to hamper.
What Makes Payment Gateway Secure Like A Fortress
Security plays the most vital role and is the primary factor considered by customers for making a transaction or abandoning it at the last moment. Hence, things that require introspection are
Level 1 compliance of PCI DSS compliant (most rigorous security certification)
SSL certificate (ensures client confidential info like credit card details, the e-mail address is fully encrypted and safe from intruders.)
CVV2 certificate

Tokenization (encrypted characters replace sensitive card data)

Encryption standards
3-Domain Secure Protocol (a protocol to authenticate merchants and customers)
Fraud detection
Above all, Customer Data is as valuable as Gold To You. You Cannot Lose It.
What is PCI DSS in Payment Gateway
PCI DSS is a bunch of requirements that enable a secure ecosystem for storing, processing, and transmitting confidential information (credit card data). Inability to implement it leads to hefty fines.
Opting for it gives your customer a strong impression that you put security first. Therefore, customer data is secured with multiple layers of security that meet global standards. As a result, they get complete peace of mind and need not worry before payment.
Is Payment Gateway Good for Good Customer Experience
The final step of online purchase happens on the payment gateway page. At this point, ensuring customer details are fully secured is of utmost importance.
The SSL certification logo on the URL will help them feel secure. In case customers will be redirected to another site for payment completion, it is highly recommended to keep them informed about the same.
Else, this abrupt change will leave them doubtful and eventually abandon the cart. As a merchant, you have to leverage trust, and it will erase that should I buy it or not?
Multiple redirects for payment leaves customers frustrated. More importantly, it kills the joy of shopping. After all, unnecessary redirects lead to questioning the legitimacy of the site. Therefore, try to minimize it.
Payment Types Accepted is Another Important Criterion After Security.
The payment gateway chosen should support a wide array of payment methods. A group of customers might not consider a particular payment method to be highly secure and efficient.
Preferred Payment Mode Differs
Therefore, closely study the methods popular in the geo-location of your audience. It will help you better decide the best ones and incorporate those instead of enabling the not preferred channels.
Some security freak customers ( and they are in good amount) will only buy from preferred payment methods.
It Supports Business Expansion
Accepting international payments is mandatory nowadays for online stores keen on business expansion on the global horizon. Moreover, it comes with benefits like,
Able to serve a bigger customer base
Increase in the rate of conversion
Decrease in cart abandonment rate
Efficiently manage the multiple currencies
Multiple Payment Gateways Survive Peak Hours Seamlessly
In case one gateway breaks down, another will save your sales during peak sessions. There are both high and low-cost products. It will be wise to use a payment gateway with low charges for customers interested in affordable products and other payment gateways for the rest of the products.
Peak hours during the festive season will overwhelm your online store with hundreds of orders. Now that can be a breaking point for a single payment gateway. After all, processing transactions beyond capacity results in angry customers.
But, multiple payment gateways will rescue your efforts and ambition to expand the business to the next level. It will balance the load and save you from the wrath of delayed transactions.
Do the A/B Testing
A/B testing is another added advantage that can be availed with multiple payment gateways. You get to decide the best choice based on failure rate and customer preference.
What are the Possible Causes of Payment Failure

How to Know If I Have Chosen Correct Payment Gateway
Are there fewer steps that make payment processing a hassle-free affair?
It must be easier and quicker to integrate with your store. Hence, you will save time and resources.
It must support multiple support channels and have a fast response time. As a result, you will reach them without delay and get issues resolved.
It must be properly integrated with the billing system, accounting system, and the shopping cart
Does it support all prominent payment methods preferred by your customers
The payment gateway must support business scalability. Therefore, you need not opt for a new one for business expansion.
Time taken for fund settlement into a merchant account must be very little else; you have to wait to use the funds.
Is there an option of accepting bitcoin (cryptocurrency). Keeping up with the latest industry trend indeed keeps you ahead of the rest.
Among The Leading Payment Gateway Which Is The Best?
Few important parameters need to be considered before choosing between Stripe, PayPal, WePay, Authorise.net, and Braintree.
Set Up Fee
No fee for PayPal, Stripe, WePay, Braintree but Authorize.net charges $49.
Monthly Fee
No fee for PayPal, Stripe, WePay, Braintree but Authorize.net charge $25
Transaction Fee
Currency Supported
15 currencies by Authorize.net
25 currencies by Paypal
100+ currencies by Stripe
Only USD by WePay
142 currencies by Braintree
Payment Type Supported
Stripe and Braintree support Bitcoin.

Paypal and WePay, respectively, support maximum and minimum gateways.

All payment gateways support mobile payments.
Payment Gateway With Analytics
Payment gateway with analytics feature is one of the fantastic features to enable rapid business growth with the power of data-driven decisions. You get a bird's overview of payment data from multiple sources, making it easy to track which method works best and what needs a re-evaluation.
Offering a payment gateway to make mobile shopping a cakewalk is a good strategy for luring Millennials and Generation Z. 
4 in 10 customers are highly likely to buy (and have trust) in stores with more than one payment method. Multiple payment gateways segregate a store from a list of could be a spam store or incapable of securing the data.
Recurring Payment Feature in Payment Gateway
A payment gateway that offers recurring billing features will take care of weekly, monthly and annual subscriptions. After all, customers won't appreciate the idea of manually renewing subscriptions.
A recurring billing feature that allows making a change to payment due dates and amounts due will save your time.
What are the Limitations to a Payment Gateway
The monthly volume limit of a payment gateway can cause concern considering it might rob you of the opportunity to take orders beyond a specific limit. During the festive season, it will impact your sales.
For international payments, sellers must ensure it has a big monthly limit. After all, you will expand the business and reach customers from all corners of the world. Hence, guaranteeing a huge limit is important to cater to the maximum audience and eventually boost business profit.
Customer Data is an Asset Don't Lose It.
A fundamental question that has to be discussed in length with payment gateway providers is access to customer details. Imagine you want to switch payment gateway, then will you still be the owner of the date? If not, please consider another option.
Another important thing is to ensure that payment gateway provider will allow data import from existing to the new payment gateway without impacting business flow.
Support is Important
Customer support will help you ensure seamless payment processing by sellers. Outstanding customer support must be available 24/7, and live tech support is not limited to standard hours. The average response time must be very speedy.
All Things Considered!!
This post will help you be confident about choosing the right payment gateway. Above all, customers will not switch your site with another site. Hence, a prominent cause for fewer sales will be no more cause of concern.
A pro merchant will find this post worth enough to plan and deliver a smooth, secure, and fast shopping experience upon for opting the right payment gateway.