CedCommerce and Instant Checkout Partners Up to Deliver Superfast Checkout Experience
Running short of time? Get PDF of the blog in your mail.

Play Now
A lack of instant checkout has led to high cart abandonment rate, which in turns amounts to an astonishingly high opportunity cost for e-commerce merchants. This unforgiving trend is on an unprecedented rise. On average 70% of online shoppers (85% mobile users) prefer to leave the website without ever making a purchase, abandoning their cart due to a slow, long, or complex checkout process.
Nevertheless your efforts, and ambitions won't go in vain because CedCommerce partnership with Instant means we have your back covered. Hence, online merchants can deliver a seamless checkout experience instantly and securely.
Instant Checkout – Checkout Becomes Super Fast and Frustration-Free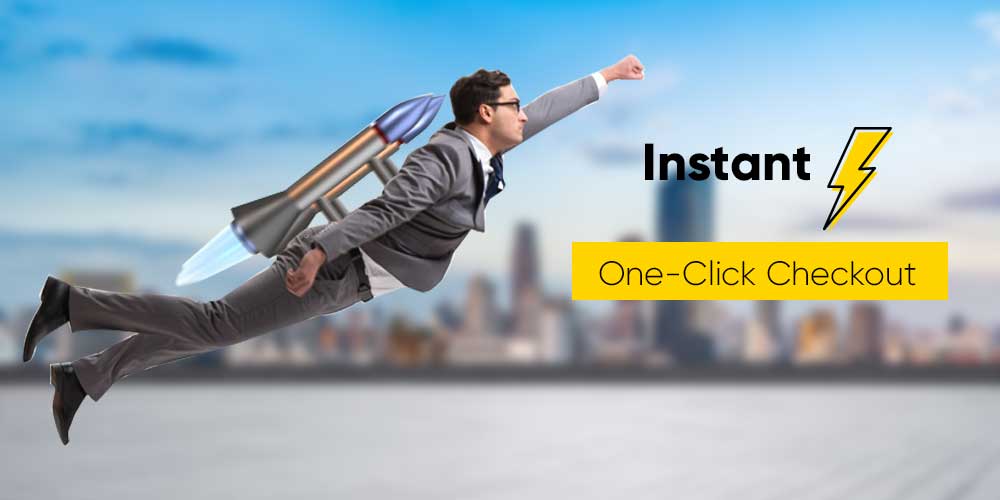 Instant checkout developed by gaze.ai (powered by Stripe) is the world's most instantaneous 1-click checkout solution in the e-commerce space. Hence, a perfect solution for a cumbersome and complex checkout experience with the below features.
No more filling long form every time during checkout
No need for passwords
Quick to set up
Easy to manage
High-level security (every transaction is cryptographically signed by user's trusted device)
The lightning-fast checkout experience
Enables buying a single product directly from the product page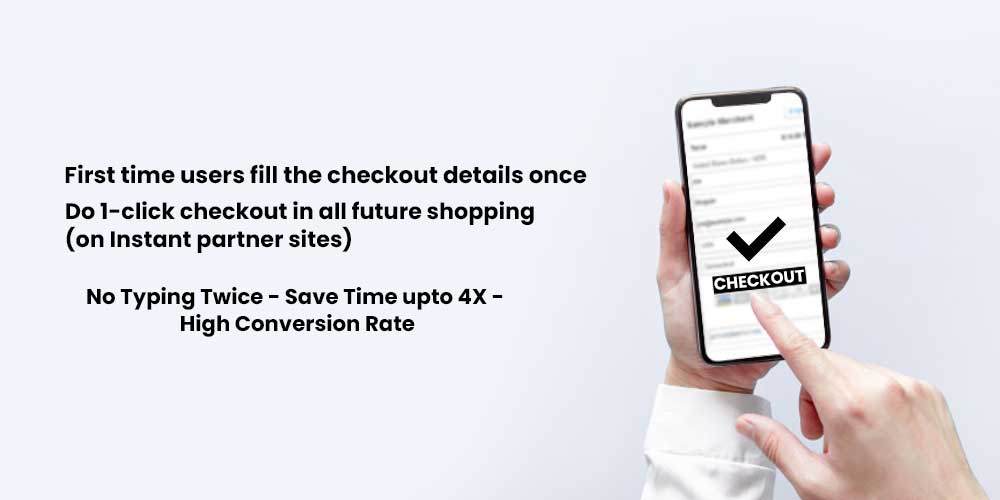 Instant Checkout – Your Customers Definitely Prefers Single Click Over Fewer Clicks .
How does it work?
While using instant checkout, customers only once need to fill a short form for a first-time purchase. It requires minimal details like email, name, payment & address.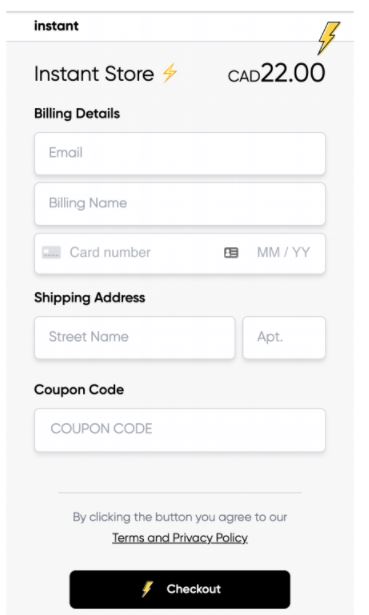 image credit: instant
For all future checkouts you no longer have to fill out any information (on the instant enabled store), it saves customers from the hassle of needing to input the same details again.
The pre-filled form with checkout details will show up the data is fetched from the first checkout as it is securely stored. Another additional feature Instant offers is 1-click single product checkout.  You can now purchase a product with one click right off the product page instead of having it to go through a shopping cart page.

Image credit: producthunt
The 1-click checkout will be enough for a quick, simple, and successful purchase.

Image credit: product hunt
Such a smooth checkout experience lays the foundation for a significant hike in sales without investingin marketing campaigns. After all, instant checkout is resolving the biggest hurdle that customers face during online shopping. Therefore, customers won't have a reason to leave their favorite product in the cart.
Another additional feature is that instant has a prebuilt detection function. If you have used instant before and  are now transacting on another device, as you fill your information, Instant can detect your history and will automatically send you a secure OTP directly to your email for verification. This function allows any user to go into other devices to make purchases with 1-click in a highly secure fashion without filling tedious forms.
The Current Scenario and How Instant Checkout will Be a Game Changer
The lengthy checkout process is tiring and kills the joy of shopping right before the sale is about to take place. It becomes a serious issue during the festive seasons and any other high volume times. As customers want to make their purchases quickly and seamlessly, an additional layer of filling long forms can be a major turnoff for your customers to complete their flow. They just want to buy things quickly and leave!
But that's no reason to hold back your ambitions or pause your plans. The ease of shopping introduced by instant checkout solution is a much-needed factor in simplifying the checkout experience by reducing the time without compromising security.
More importantly, there are additional benefits that come as perks of the lightning-fast checkout plugin.
Never worry about losing customers (sometimes, permanently).
This approach saves precious time for customers ( upto 4X more than regular checkout).
Customers mark your store as the favorite for future shopping.
Resolving a tedious checkout experience by using Instant can encourage  your customers to purchase more and faster.  Therefore, leading to increased customer satisfaction and loyalty.
Fast and secure checkout on the store is an edge that makes you stand out from the crowd.
Loads of positive reviews. After all, the frictionless checkout process is admired among customers.
Do You Know – Instant Checkout is the #1 Product of the Week at Product Hunt
Instant—the frictionless one-click checkout for e-commerce stores—became 🥇 #1 Product of the Week on @ProductHunt among hundreds of incredible products. 🎉 Great validation from the PH community, we're grateful for the support 🙏https://t.co/k9Ef4zHi8P pic.twitter.com/bPN8d0yaWp

— Gaze (@gazehq) May 3, 2021
Why WooCommerce Seller Must Incorporate This Solution
Currently, instant checkout is completely compatible with WooCommerce (will also cover more e-commerce platforms & payment gateways in the future). This makes incorporating it with the WooCommerce store a cakewalk.
It also means that WooCommerce store owners can implement it right now. Therefore, they can be among the first few online merchants to enhance the shopping experience by removing the primary hurdle for customers!
As a result, there is possibility that more customers will prefer shopping at your store. Also, the existing customers will have a big reason to revisit the store without worrying about the tedious checkout process.
Hence, WooCommerce sellers have an opportunity to supercharge their checkout process and  leverage the power of instant checkout today!
To Conclude – Instant Checkout Solution is a Not to Miss Opportunity
Don't let the traditional approach for checkout experience take a toll on your sales graph. Use instant checkout today and  have the customer end their shopping with a smile.
Instant checkout's results in a hassle-free shopping experience and a dramatic rise in conversion rates. Moreover, you will eliminate missed sales opportunities because you aren't giving the customer reason to abandon their carts!