How CedCommerce Helps Seismic Audio Speakers Achieve 2X Sales With Wish And Newegg Integration
Running short of time? Get PDF of the blog in your mail.

Play Now
Short Summary
An aspiring businessman Steve Acree founded Seismic Audio Speakers in Memphis, US in the year 2000. The business offers a wide range of products like speakers, musical instruments, audio racks, cables, and more. With the persistent focus to grow business and develop a highly curated B2C business model, the team started expanding business on several marketplaces. The team was looking for the Wish and Newegg Integration that could facilitate their selling through Shopify. Donald Parr, the marketing manager, says, "We strive for an unmatched commitment to timely deliveries, and good customer service. Furthermore, by making sure customers get only the high-quality products."
The Problem
In the journey of reaching more customers worldwide, Seismic Audio made its presence on multiple marketplaces like eBay, Amazon, Sears, Newegg, Rakuten, BestBuy, Walmart, and Wish. The team soon received an overwhelming response from these marketplaces but at the same time had to struggle with order management and rigorous manual work.
The Solution
The holistic approach of CedCommerce to catalog and inventory management helped Steve and his team streamline operations. Moreover, the team was able to track orders from the different marketplaces and handle them through a centralized Shopify store. In addition to Wish integration, the team also took advantage of Newegg integration and managed marketplace operations smoothly.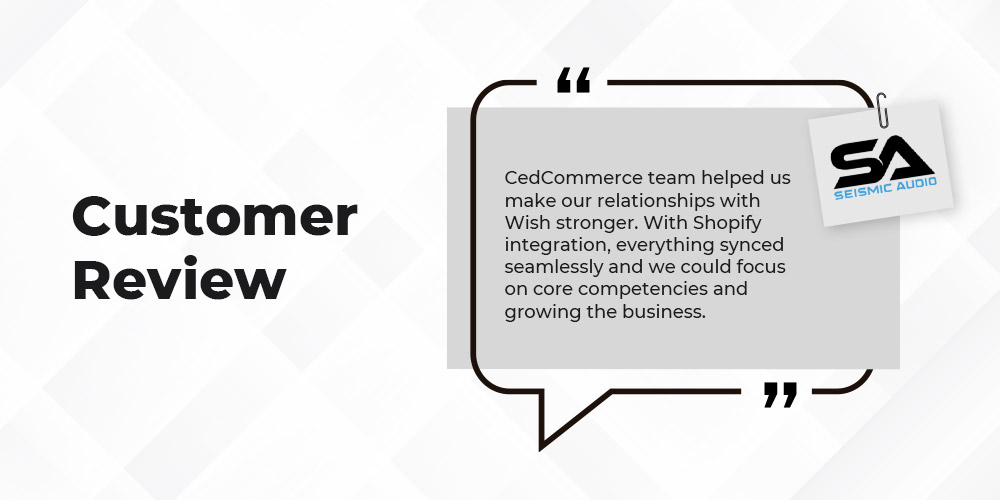 The Result
With CedCommerce's Wish and Newegg integration, the brand has enjoyed:
2X sales increase and
25% traffic increase
In just 3 months of using Wish and Newegg integration, Seismic audio experienced a 25% increase in site traffic, resulting in a 200% increase in sales giving new height and exposure to Seismic Audio.
Seismic Audio: Revolutionizing The Audio Experience
Starting in the year 2000 with just audio parts and a few friends, to fast forward in the year 2022, the team grew to 50+ efficacious members and 1000+ SKUs. As any musician knows, having the right equipment is the key. This is why more than a million artists turn to Seismic Audio's award-winning speakers and accessories. Moreover, recognized for its quality and excellent customer service, Seismic Audio is the name people count on for outstanding experience.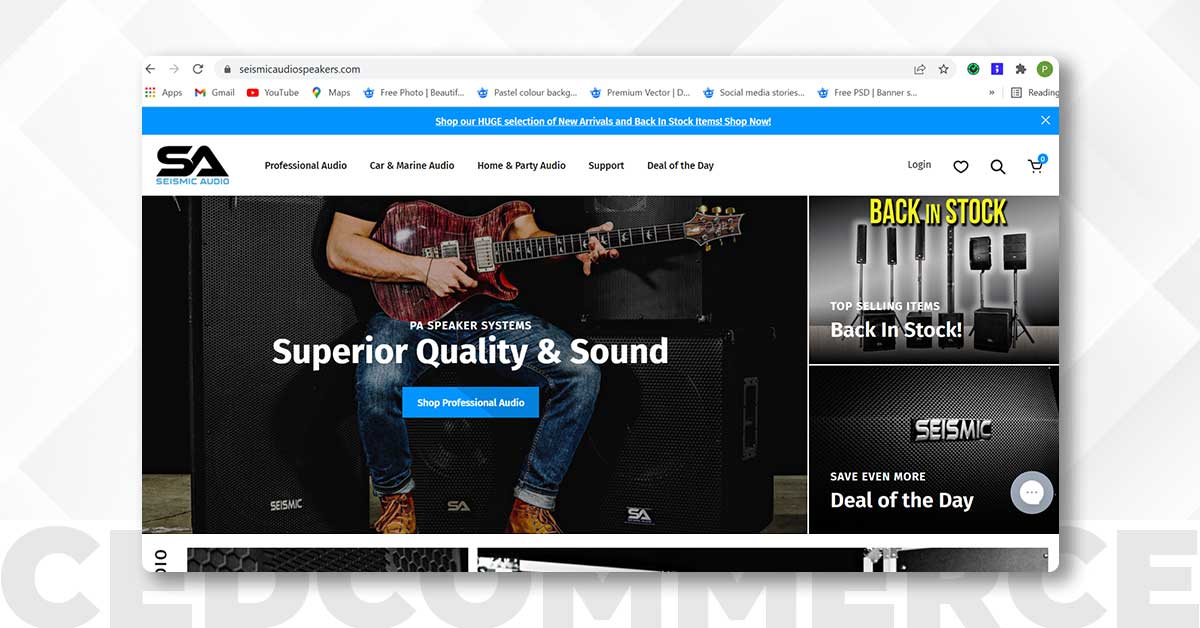 The Hurdle In Seismic Audio Case Study
Consumers were increasingly turning to e-commerce to suit their buying demands at a time. That's when Seismic Audio Speaker responded by listing to top marketplaces such as Wish, Amazon, Walmart, Newegg, etc. Soon after launching their store on these new channels, the team informed CedCommerce that it knew how difficult it would be to maintain a strong presence in the marketplace. There were catalogs and inventory listings, orders to manage, and many such problems. According to Donald, the process became very rigorous, and it became difficult to keep up with orders and tracking.
"We were selling on 8 marketplaces. Moreover with hundreds of orders coming in everyday, entering orders and tracking manually became too much work to keep up with"- Donald Parr.
The CedCommerce's Wish and Newegg Integration Solution
It didn't take long for Donald to decide which solution would best fit the brand's need. After keen research and reviews, the team decided to opt for CedCommerce's Wish and Newegg Integration. The company wanted the ability to scale and have centralized management for the brand. Repetitive data and going back and forth on different marketplaces became a headache after a while. Through CedCommerce's solution, the team can now manage all these marketplaces through their Shopify store and scale up quickly.
"Now, Catalog and products sync with marketplaces, moreover all of our orders come into our Shopify dashboard. In short, no more going back and forth to enter order info and tracking. We can now shift our focus on growing the business- Donald Parr."
About "Wish Marketplace Integration" App
Wish Marketplace Integration simplifies and streamlines the selling process on Wish. Along with that, the app has distinct features and functionality, but what sets it apart is its ability to integrate with your Shopify store. Moreover, for Shopify sellers, it often becomes very time-consuming to maintain Shopify and Wish stores separately. Sellers can integrate their Wish account with the Shopify store, thus eliminating any confusion and facilitating easy listing and inventory management.
The Features That Helped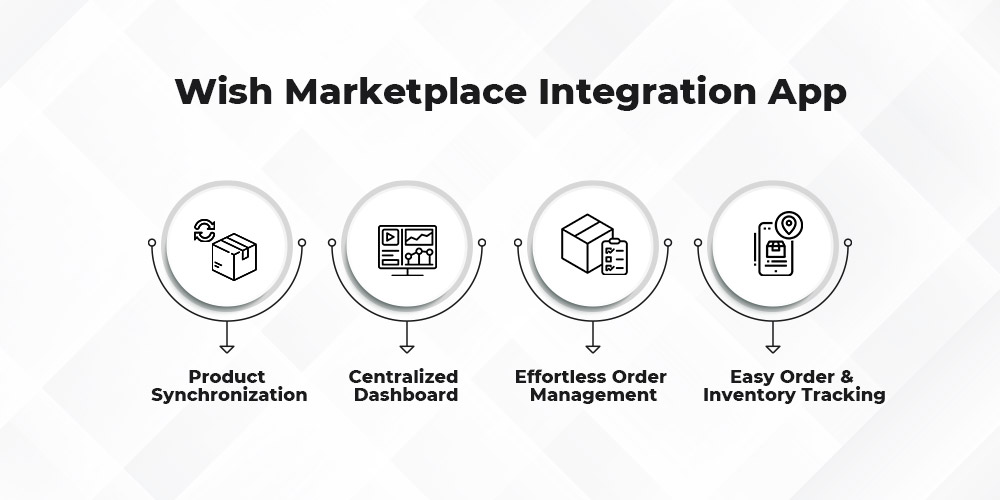 Product Synchronization
Particularly, you can sync price, inventory, and product with your Shopify store through the app. Additionally, any edit or update in the Shopify store will automatically be reflected in your Wish store.
Centralized Dashboard
The app gives you access to all Wish activity through a centralized seller pannel. Where not only do you manage your Wish activities, but you can manage your Shopify store too.
Effortless Order Management
Orders received on Wish are fetched on your Shopify store. And you can easily fulfill these orders through your desired shipping carrier through Shopify. Besides, you don't need to go to the Wish seller account and do all the formalities for any new order.
Easy Order and Inventory Tracking
The app is designed to integrate seamlessly with your existing operations. Just connect your Wish store with Shopify and manage all orders through Shopify. You can also track your inventory level through the app and order additional inventory when needed.
Major Takeaway
Seismic Audio successfully integrated their Shopify store with Wish and continued their selling journey. The need for such an integration app arises when you desire a hassle-free operation and store management. The Wish and Newegg integration helped Steve and his team with all kinds of support and assistance. Moreover, any concern or query was addressed immediately by CedCommerce. Its advanced feature like bulk upload, order sync, product management made multichannel selling a trouble-free experience for Seismic Audio.