Ease Your Business With Wish Marketplace Integration app Update 2021
Running short of time? Get PDF of the blog in your mail.

Play Now
Roll up your sleeves and get ready to ace New Year with the Wish Marketplace Integration app update. Whether selling on Wish or any other marketplace, an integration solution is a super useful tool. CedCommerce's Wish integration already offers multiple benefits to sellers, especially when it comes to bulk upload and listing of products. Order management, threshold inventory, and the near real-time synchronization between Shopify and Wish are some additional benefits of the app. But with the latest update, you do not only sell on Wish, but rather you sell more and effortlessly on Wish.
To let you score your dream goal, Wish Shopify integration eases your selling process. You don't need to muddle between your Shopify and Wish shopping app. All you need is a centralized solution that lets you effortlessly perform multiple tasks in just a few clicks.
What is the Wish Marketplace Integration app?
The "Wish Marketplace integration" is a complete e-commerce solution, starting from setting up your Wish store to selling products to millions of buyers. The app lets you bulk upload products, list them, track and respond to orders and perform many more functions. The integration streamlines Shopify store and Wish shopping app requirements. The app also ensures that you always have accurate stock levels and that the app fetches the order automatically.
Without multi-channel ecommerce solutions like "Wish Marketplace Integration," sellers had to manually update product listings on each marketplace. This makes listing management tedious and can lead to overselling. Through integration with Wish's API, CedCommerce enables sellers to replicate product listing data from your Shopify store directly to Wish, saving countless hours and keeping Product data in-sync across all platforms.
Wish Marketplace Integration App Update Features
"By selling on the Wish shopping app, Shopify sellers benefit from gaining access to Wish's global audience in more than 100 countries."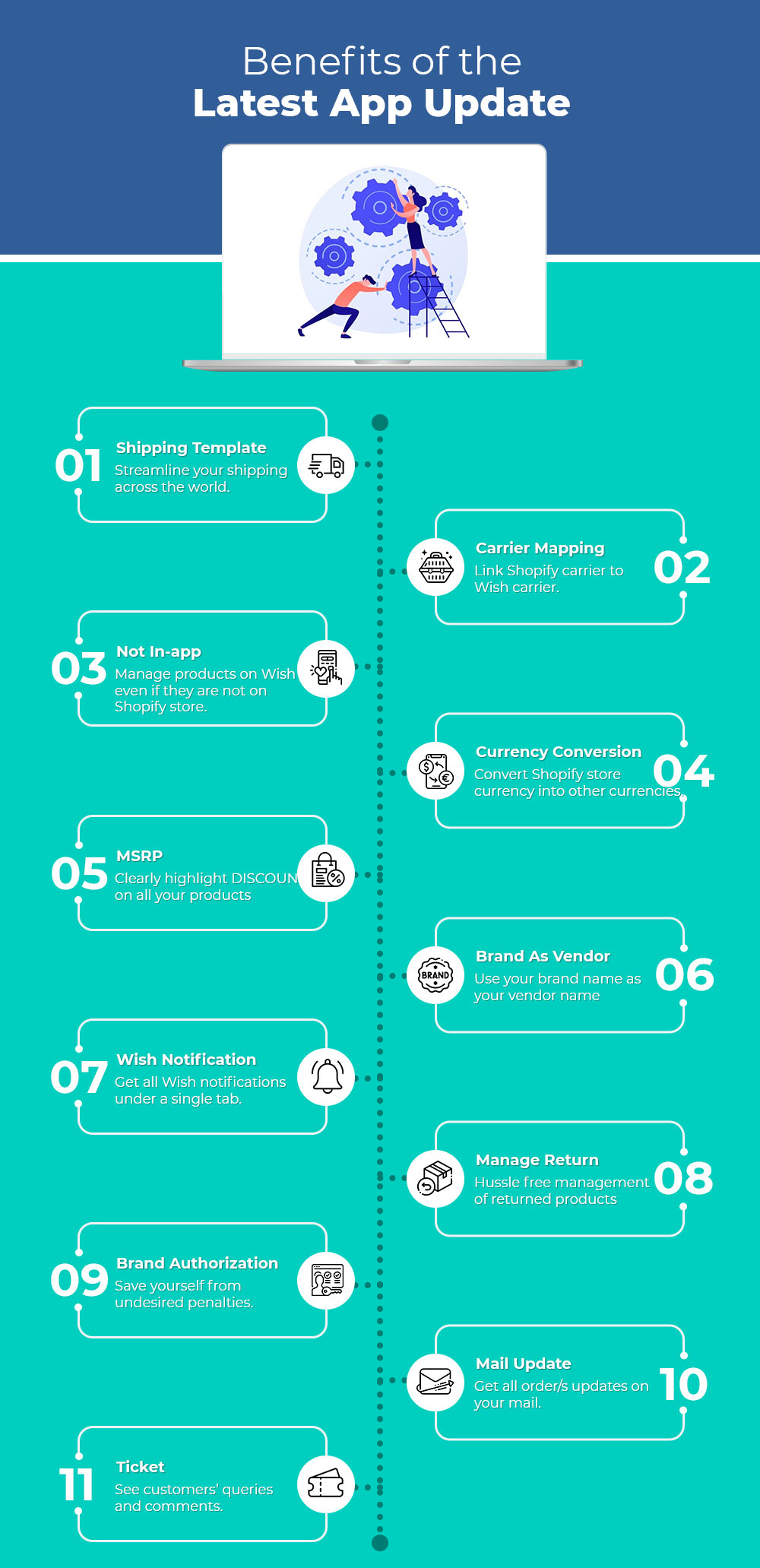 Shipping template
With a shipping template, set a robust shipping strategy on your own terms. Depending on your preferences, you can assign different Products to different templates.
"Fast delivery option on the product improves your conversion rate."
You can now bridge the gap between estimated and actual delivery dates and provide precise shipping information for all your purchases with additional flexibility over your transit time setting.
Shipping templates are preset of all the shipping information that you can attach to a product while uploading the collection of products from one platform to another. The Shipping templates include the information related to the time period to process the order, the shipping cost, etc.
The Wish Marketplace Integration app update lets you create any number of Shipping templates for profiles.
Carrier mapping
Wish supports only around 150 shipping carriers, and Shopify supports more than 1000 depending upon the delivery location. Carrier mapping is a feature that lets you link your Shopify carrier with Wish-supported shipping carriers.
You must set up Carrier Mapping if Shopify carrier name differs from Wish listed carrier.
This feature lets you map/ link different names of the same shipping carrier on both platforms.
Not in-app products
This is one of the essential features, especially helpful in this festive season. You can now manage, edit, enable or disable all those products not listed on your Shopify store but have their presence on the Wish shopping app.
With the help of the "Not in-app section," you can enable or disable product listing at any point in time with the dashboard.
Moreover, the app lets you map/link any wish product with your Shopify product. When you map one Wish product with a Shopify product, any update in the Shopify store would automatically reflect on Wish.
Brand authorization
Brand authorization helps sellers prove that they are authorized to sell the product under a brand name without infringing on intellectual property.
A merchant can use a "Brand Authorization" to confirm that they can sell a product without infringing on intellectual property.
CedCommerce's Wish integration app confirms whether or not the brand authorization document is submitted on Wish before you start selling under that brand name.
Manage Return
Now it's very common to get your product back. But managing and handling returned products becomes a pain point for sellers. Through CedCommerce's wish integration solution, you can enroll for the "Wish Return Program" and manage returns smoothly, even in bulk. All information about the product is clearly mentioned, you can also find the reason for return and try to resolve the issue to better assist your shoppers.
Mail Update
If you want to stay updated on every activity, you can also enable the mail update setting. It makes sure that you don't miss out on any notification or message. And fulfill your order without any delay. Shoppers love fast delivery, especially during the festive season when every single day is crucial.
Ticket
The page lists all the tickets that are generated for issues on the Wish marketplace. Once a customer places an order on Wish, they can contact the sellers about their order by opening a ticket. This feature fosters consumer-merchant trust, gives customers confidence while making purchases, and enhances the customer experience.
Infraction
Whenever you list your product on the Wish shopping app, Wish may detect that the product infringed the intellectual property right. In such cases, Wish issues infractions/alerts to sellers. Therefore, the seller must address this infraction urgently, or Wish may charge a penalty for the same.
The Shopify Wish integration app lists all the infractions raised on your product over here to save sellers from such penalties.
Penalty
The seller must do product listing as per the wish policy. Wish may impose a penalty on the seller for a variety of reasons. It can be levied for wrong listing, Product infringement, unresolved query/ or complaint, any complication in-store or even when manipulated, or doubtful product rating is observed.
The app separately shows all the penalties imposed by Wish so that the issue can be resolved urgently, and no further penalty could be raised.
Currency Conversion
Now you can convert your Shopify store currency according to the currency set in your Wish Shop. All the price calculation is done according to the conversion rate you enter or the prevailing market rate.
The section has been developed for you to convert your pricing when selling in different regions. Here, the product(s) inventory price is converted from Shopify store currency to Wish currency. You can make the edit with your rate, which gets reflected in the Wish product pricing.
The app converts the Shopify store's products currency to the currency of the Wish marketplace for the ease of the buyers.
MSRP
MSRP is the "Manufacturer's suggested retail price," It is the actual cost price of the product. It has psychological benefits for the shopper. When a seller introduces a discount, the discounted price is written beside the "MSRP." So now shoppers know the actual worth and are now more lured to buy that product especially considering the huge discount.
Brand as Vendor
To help sellers sell better, Wish introduced Brand tagging. Through this, you can get your brand name registered in the Wish Brand directory.
Using the "Brand as Vendor" feature, you can use a similar name. The vendor name will be the same as the brand name, and the same will appear while uploading and selling the product.
Wish Notification
Receive all your Wish messages and notification under one section without going back and forth on multiple apps. It not only saves time but also ensures that you focus on your core competencies.
Contact us
Best-in-class Support Service, 24X7 Live Chat, and a Dedicated Account Manager are just some of the many addons that come with our app. But with the "Contact Us" feature, you can simply drop your queries in the "Contact Us" section. And someone from the team will reach out in no time with the most suitable solution for you.
Major Takeaway
These app updates are not only exciting but make the entire idea of selling on Wish much more appealing. Especially when the new era of online shopping is at its peak, these Wish Marketplace Integration app updates can streamline your selling experience and make everything smooth. If you're looking for help to configure the Wish Marketplace Integration for your Shopify store, then our CedCommerce experts are right here to help you set up for your success in no time. Our team of experts can also create custom apps or set up existing apps for you to go beyond the basics of the app and turn your site into a well-oiled machine for your business. Experts will come up with a feasible solution for you and provide consumers with value simultaneously. Experience the benefits of our powerful Wish marketplace integration solution. Contact Us for more detail.