This Festive Season Ace Your Wish Shipping Game Like A Pro
Running short of time? Get PDF of the blog in your mail.

Play Now
The festive times are some crucial months when most ecommerce businesses expect a spike in orders. One of the most effective ways to build your online business is to have an excellent shipping strategy. Wish shipping provides sellers with a wider scope to ease their business and fulfill orders in the best possible way. For sellers, the holiday season is the most crucial time of the year. It's important to have an apt shipping and fulfillment strategy in place to keep up with the unexpected volume in such a short period of time.
"Shipping impacts the customer experience."
Customer experience encompasses a customer's whole 360-degree perception of your company, including everything from the brand image to the products you sell, as well as your customer service, post-sale relationship, and shipping experience.
Have a Clear Understanding Of Wish Shipping policy
The Wish shipping policy is crystal clear. When a customer places an order, the seller needs to provide an estimated delivery date as per the available shipping methods. Any order generally takes up to 7 days to be processed and shipped. The estimated date is sent to the customer via email and once a product is shipped. The seller must update tracking detail on the Wish shopping app. Wish shipping policy allows you to choose any shipping carrier of your choice, but the chosen carrier must come under the Wish Shipping carrier list. Or you can also opt for Fulfillment by Wish, wherein Wish takes all responsibility from packing orders to its delivery.
Various Shipping Methods To Consider For Your Wish Store
Wish is the fastest growing mobile-first online marketplace where customers can explore and buy products from various sellers. Depending on the goods and the location, sellers may provide a variety of shipping options. The shipping process in ecommerce includes everything from receiving a customer purchase to getting it ready for last-mile delivery. There is no such thing as a shipping strategy that fits everyone. Your audience, budget, margins, product, and a variety of other criteria will all influence the best Wish shipping plan for your company.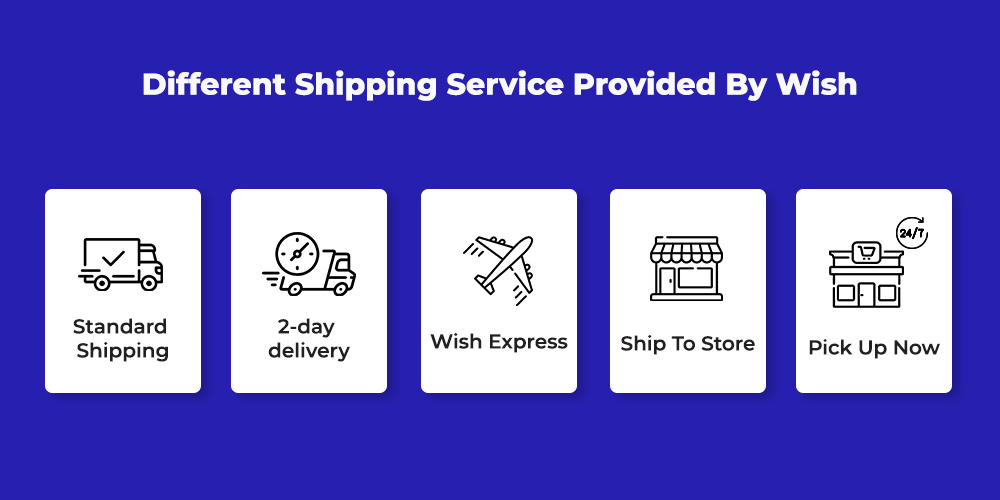 As a general rule, providing a mix of speedy and economical delivery options can assist reduce shopping cart abandonment and boosts conversions.
What is Wish Standard Shipping?
This method allows sellers to opt for any shipping carrier available in the destination country. Standard shipping is a low-cost option for delivering a modest to a large standard shipment that does not require overnight delivery or any other particular requirements. Within seven business days, most standard shipments arrive at their destination. Wish sellers can look for any shipping courier that they find cost-effective and can deliver the product safely. With the "Wish integration app" by CedCommerce, you can simply choose a shipping carrier that Wish allows and integrate the shipping process between your Shopify store and Wish. Many times, the shipping carrier may have different names on Shopify and Wish. And this is when carrier mapping comes into play.
Carrier mapping helps you link Shopify carrier with Wish Carrier. Suppose you use a different carrier in your Shopify store. Then, you can easily map it with the available Wish Shipping carriers so that the shipment details can be updated on other platforms.
Standard shipping usually includes a reasonable delivery time and full tracking, allowing both the sender and the receiver to see when the parcel has been delivered in real-time. The standard delivery time is seven to ten business days; however, it may take a bit longer if the destination is far away. To maintain low Wish shipping costs, sellers should choose an economical shipping option based on the buyer's location and the size of the order. Once the parcel reaches the destination country, it will be handed over to a local carrier for the final leg of delivery.
What is Wish Express?
Wish Express is a delivery program that provides online buyers with expedited shipping. The products under the Wish express program get delivered within five days, assuring customer satisfaction. By demonstrating to customers that merchants can dispatch goods quickly, sellers gain customer trust and potentially more impressions. Wish marketplaces encourage sellers to opt for Wish express due to its expedited benefits.
"53 percent of buyers think quickness of delivery is a critical factor when buying online."
What is 2-day Delivery in Wish?
You can also list your product for 2-day delivery eligibility. But as a seller, you must deliver what you promise. The Wish shipping method lets sellers choose their warehouse and shipping carrier at their convenience. It also improves search ranking. When you add a 2-day tag in your product listing, it automatically ranks higher in search and thus reaching more shoppers. Shoppers can utilize the 2-day delivery filter to search for products or restrict their search results by 2-day delivery products only. Wish 2- day delivery products receive additional marketing impressions to wish consumers across all apps, websites, email, and other marketing channels.
What is Ship To Store?
This is one of the shipping methods wherein sellers deliver the products not at customers' doorstep rather send the product to a nearby store. Then the customer ultimately picks the product from the store.
What is Pickup Now?
This option allows shoppers to pick up an item that has already been placed in a local store near their home. The seller can use the Ship to Store (STS) feature to optimize their inventory across several sources for in-store pick-up (ISPU) orders.
Create And Set Your Shipping Templates Well In Advance
As a business looking to take advantage of the holiday shopping season, getting your logistics in order well ahead of time is crucial. It will assist you and everybody engaged in getting those orders out the door to have a better experience. You can use shipping templates to handle your shipping parameters for multiple products at once (e.g., shipping regions, transit times, and shipping rates). The fast shipment has obvious advantages, but you might assume that free expedited delivery is expensive, especially for small and medium enterprises. And you are absolutely right. However, by combining your shipping settings configuration and several carrier options, you may create a rapid shipping plan that benefits both the shopper and your brand. You can do just that using the "Wish integration app" new Shipping Templates!
Leverage The Power Of Wish Express
Wish Express is a program that provides merchants with increased exposure and impressions. Other benefits include increased visibility as a result of being listed in the Wish Express Tab and positive product reviews. Exclusive promotions and preferred product placement on the internet provide Wish Express products up to 10x more visibility on the market. Customers appreciate the fast shipping, especially if it's free. Wish Express promotes you as a seller who ships quickly, which can lead to more sales and favorable customer feedback.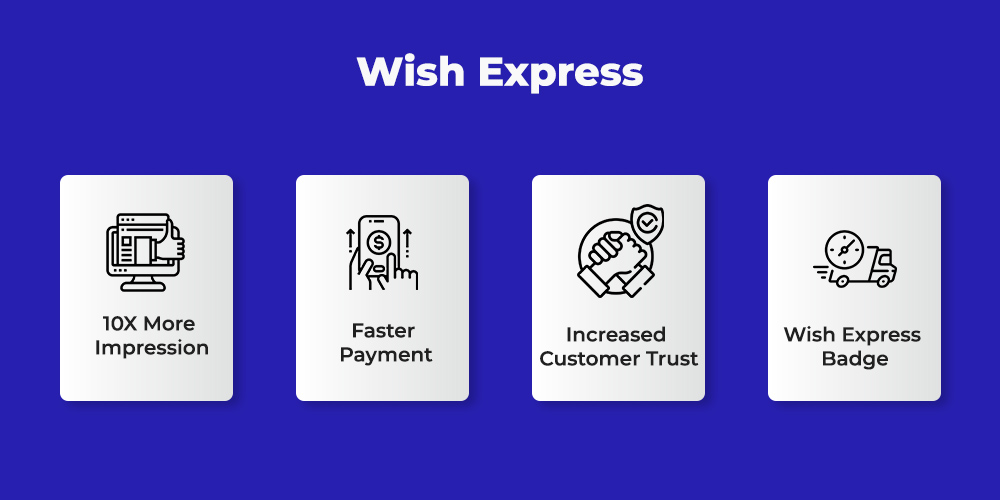 The Untapped Potential of Reverse Fulfillment Logistics
Reverse logistics is a difficult issue for many businesses. After all, most supply chains are designed to get items out the door, not back in. Online ordering has been simplified to a one-click operation. E-commerce as a whole has been created with the user in mind. When a seller waits too long to issue a refund after a return, it can undermine its relationships with the customer. The way it handles returns can make or ruin a company's reputation. Returns have a detrimental impact on a company's reputation, but when handled effectively, they can strengthen the company's image and encourage consumer loyalty.
Best Shipping Strategies to Look for this year
Offer Free Delivery
Free delivery is becoming a more popular choice for online purchasing, as it eliminates the need for buyers to pay an additional shipping fee. Customers who value straightforward price structures find free delivery appealing, making it a possible competitive advantage for online retailers.
Clearly, Mention Expected Delivery Date
Customers want to know how long it will take for their order to arrive. As a result, make sure to emphasize in the checkout how long each delivery choice will take.
Track Package
If you don't want to leave customers in the dark after they buy something. Give them a way to track their order. Share tracking information with buyers, so they stay calm and composed until their package arrives.
Unboxing Experience
Consider customized packaging for this festive season. Also inserts, a little gift, or a call-to-action urging shoppers to share their experience. It will boost social sharing. This can be as simple as giving them a little business card with your social media accounts, a hashtag, and a request to share your items on social media if they like it.
What Should You Do?
Every online business needs a good shipping strategy, especially when customers expect fast, free, or low-cost shipping. Every ecommerce firm should and must prioritize providing a seamless user experience. Unlike high-resolution photos, faster-loading pages, and email marketing campaigns, which all contribute to a consistent consumer experience. Your shipping strategies must be intact and in place. You must make sure that reputable carrier providers provide your Wish shipping services. It makes a significant difference. Your product and service may be excellent. But if your customers do not receive their orders on time. It can negatively affect their shopping experience. And, as a result, your revenues. Get in touch with an expert and streamline your Shipping and fulfillment policy for the upcoming holiday rush.