2021 Marketing Trends You Can't Miss: Design Your Promotion Strategy For Wish
Running short of time? Get PDF of the blog in your mail.

Play Now
What comes to your mind when you think of "2021 marketing trends and strategies"?
Most people would say "Advertisement," and you are right, but it is much more than just advertising.
With the right combination of the right strategies, you can reach the right audience at the right time. It's mid-September already. And the festive season is approaching with a boom; what's your plan to outshine in this festive season?
This post will take you on the journey to a handful of 2021 marketing trends you wouldn't want to miss out on.
Keep Up With Trends
Stay updated with the latest trends that surround ecommerce. Search is fluid and continually evolving, thanks to technological advancements, particularly improvements in artificial intelligence. Voice search, mobile search, and visual search are currently some of the most closely observed 2021 marketing trends. These developing trends may necessitate modifications to your SEO efforts. And therefore, they should be closely monitored this year to see how your company can best capitalize on them.
Social Media Marketing: The Ultimate 2021 Wish Promotion Strategy
Social media is in itself a powerful influencer. Businesses can hear directly from their customers via social media. SMM can help you achieve multiple goals like increasing website traffic, raising brand awareness, improving conversion rate, etc. Additionally, Wish sellers can engage their audience with a solid social media strategy and the ability to offer exciting content.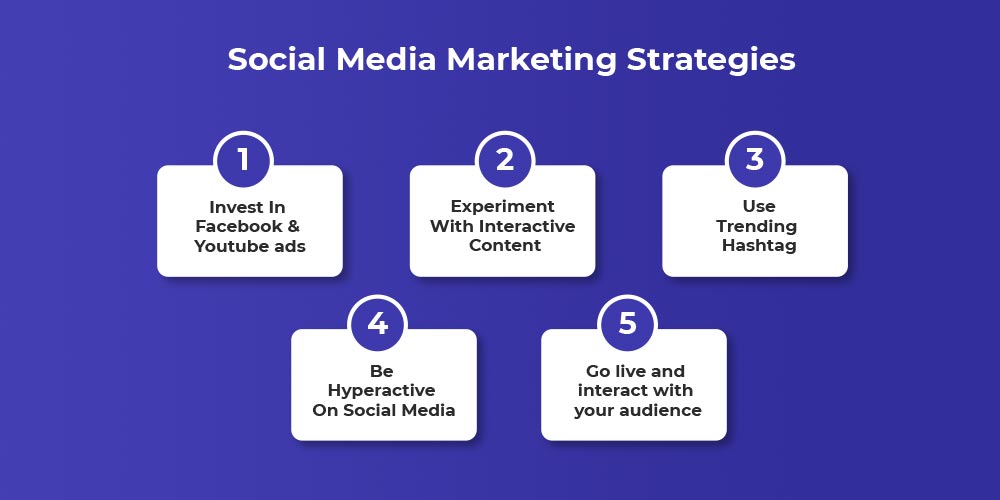 Invest in Facebook and Youtube ads
Experiment with interactive content
Use Trending Hashtags
Be hyperactive on social media
Go live and interact with your audience
Offering promotions that benefit your digital followers will build a larger following and increased popularity and satisfied customers. Create a social media page for your brand as soon as possible if you don't already have one.
Video Marketing Can Boost Your Sales Incredibly
Videos are indeed highly engaging. As per google, CTVs are the latest boom. And it leaves behind an opportunity for brands to connect with a highly engaged audience. So, why stay aback by 2021 marketing trends?
In the new era of CTV, 71% of co-viewer experience more robust emotional responses. For brands, it's worth noting that when individuals view an ad with someone else, they have twice the emotional response they do when they watch it alone.
Now avail video marketing services at flat 50% off!
Connect now!
By adding video marketing into your Wish Promotional Strategy, businesses may capitalize on the growing demand for video content.
Lend Your Ears For Feedback
Customers enjoy interacting with companies that make them feel heard and allow them to participate in entertaining and innovative ways. Anything that makes your audience feel more acknowledged on a personal level is a fantastic start. This festive season, let your audience open up.
Consider various ways to hear from your shopper:
Go live on social media to directly talk to your shopper.
Ask your customer to fill in a feedback form.
Conduct polls and surveys.
Try exploratory customer interviews.
On-site activity (via analytics)
Collaborate With Small Businesses To Meet High Demand During The Holiday Rush
Community support is crucial, especially when the economy is still recovering from the Covid impact. Collaborate with other business houses having similar business or interests. At the time of holiday, when you are overwhelmed with the response. You can connect and collaborate with small businesses or local businesses to fulfill the increasing demand.
It will not just fasten your order fulfillment process, but it will also create a good social image in the shopper's eyes.
Did you know 83% of millennials prefer to buy from merchants and brands that align with social values? Millennials value community and want to feel connected to the products and services they purchase.
You are also supporting the local community by supporting a small business. It not only assists small business owners but also aids in the long-term development of your brand image. It gives you exposure to a wider audience and an opportunity to feel connected to your shoppers.
Wish Wholesale is a wholesale platform that gives business owners quick access to Wish's best-selling products to resale.
Through the Wish Wholesale program, you can easily contact other merchants dealing with the same goods and can communicate with them about your requirements. To assure quality, products placed for sale through Wish Wholesale are carefully picked from Wish marketplace top-rated offerings.
Have Your Eye On Previous Data To Stay Updated With 2021 Marketing Trends
One of the crucial steps before you plan your Wish promotion strategy or before you decide on Paid Marketing Campaign for Wish is to look back at what worked the previous year.
You can also review your previous Wish Promotion strategy to understand audience behavior better.
You can have a deeper understanding of previous trends and how they influenced your success. Soliciting all of the data will aid in defining objectives for a more effective paid marketing campaign for the Holiday season while selling Wish.
Embrace Wish Express For Fast Shipping
By establishing to shoppers that sellers can send goods quickly, you gain customer trust, obtain potentially more impressions as a result of the quick delivery, and attract repeat customers. The Wish Express program offers merchants a variety of rewards for eligible, fast-shipping products and orders to encourage them to offer accelerated shipping alternatives to their customers.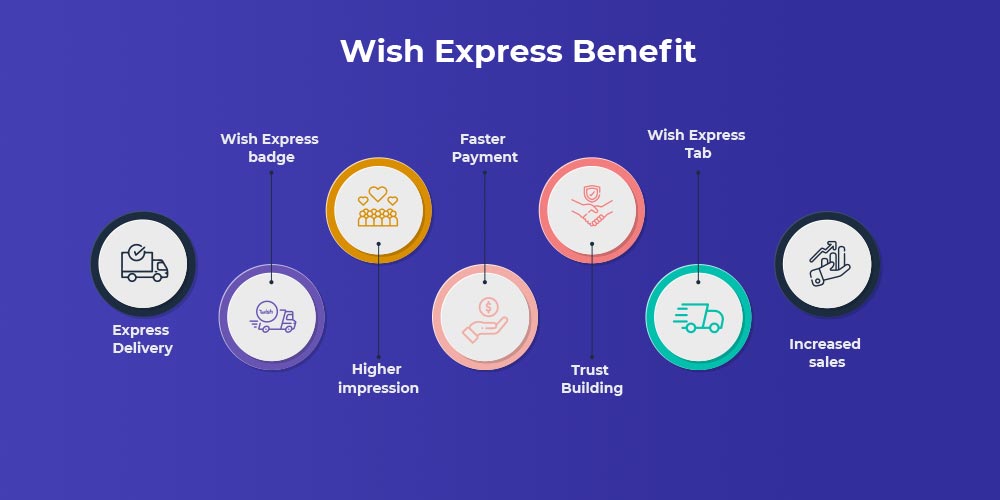 Helping you with expedited shipping, Wish Express helps in fulfilling orders on time.
Wish Express is a program that provides merchants with increased exposure and impressions. Other benefits include increased visibility as a result of being listed in the Wish Express Tab and positive product reviews.
Tackle Smartly with Cart Abandoners, Create FOMO
We are all afraid to miss out on the crucial events or offers or any trendy product that everyone is talking about. Similarly, shoppers are considerably more lured to a rare product or in limited quantity. In your cart abandonment emails, you can utilize the FOMO effect.
The average rate at which the average consumer abandons their shopping cart before making a purchase is 81%, which extends to about 90% during the festive season.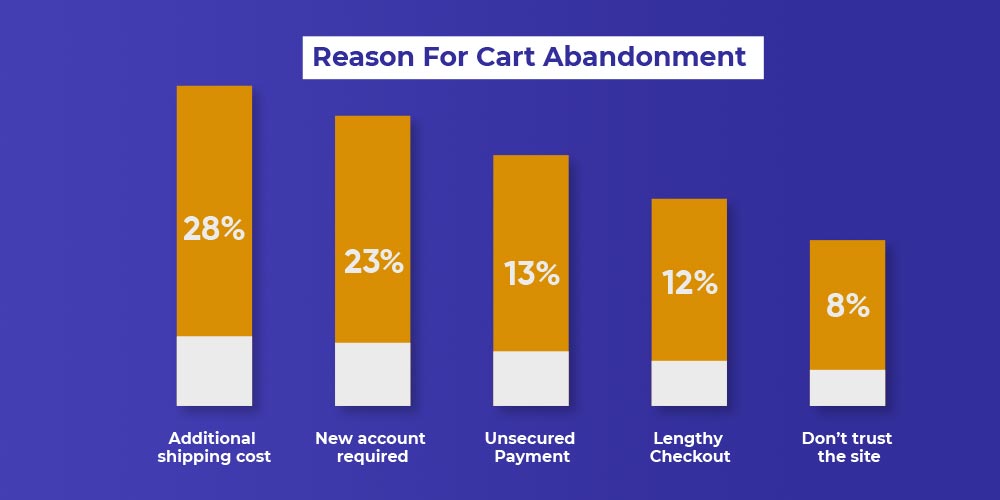 Include tactics to deal with cart abandonment in your Wish promotion strategy. Let's see how you can reduce your chances of Cart abandonment:
Make navigation easy in the app.
Offer multiple payment options to facilitate transactions.
Establish trust among your shoppers.
Optimize your page loading time.
Check various solutions through A/B testing.
Include a catchy subject in the abandoned cart email.
Set a timer and send alerts for "Stock Over.
Leverage The Power of Product Reviews in Your Wish Promotion Strategy
"People trust reviews more than advertisements."
Your shopper can learn more about your product by reading reviews. In some circumstances, you may find it challenging to provide this information only through the product description and specification.
Customers understand that various users may have varied experiences with a product. Therefore they will read several reviews. They will, however, trust the overall impression provided by the reviews.
This festive season, inculcate the habit of featuring positive reviews in your paid marketing campaign for Wish. This not only hypes your chances of getting more impressive but also brings a factor of trust in your shoppers.
Take Advantage of Ad Automation
This festive season leverage the power of ad automation. Include paid marketing Campaign for Wish in your promotion strategy. CedCommerce's "Wish Marketplace Integration has a number of features to assist you in automating your holiday campaigns, including the attribute to start and end campaigns based on your choices of time and schedule. You can set a start date and can also select days you want to run your campaign and days you don't want to run them.
Ad automation enables you to provide timely and real-time information to your shoppers. Ad automation can assist you in achieving higher marketing ROI and overall growth. With this incredible feature, you'll have more time to focus on overall strategy and nurturing the prospects that show real potential. As a result, you'll have more prospects and clients.
Plan Your Festive Offer
Holidays are the time of giving. Shoppers generally shop to gift their loved ones. But who doesn't like some extra cheese on their Pizza? Wish sellers can share the art of giving and make their shoppers feel valued. It not only boosts your sale, but you can also gain more customers in the long run.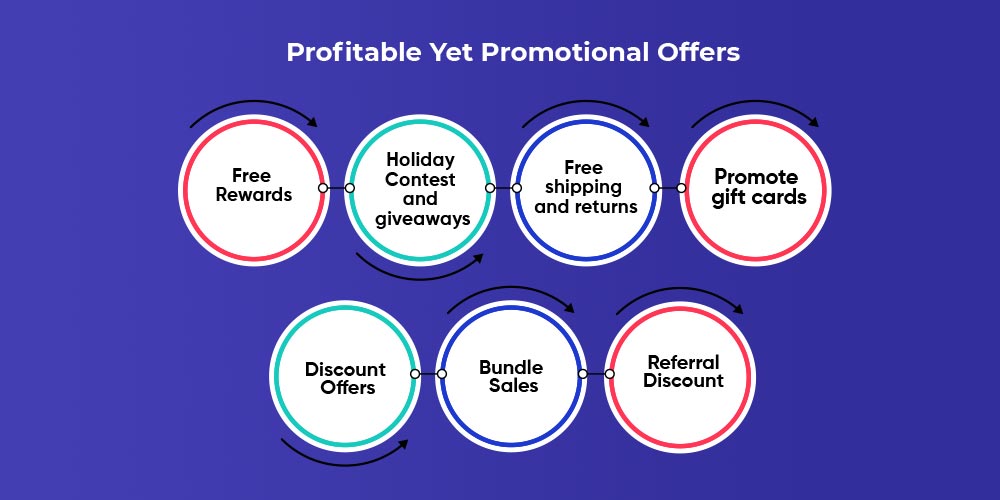 Offers can be provided in multiple forms like :
Free rewards
Provide your shopper with some additional discounts or offer a free item on minimum purchase. Certainly, it encourages buyers to spend more and shop the most.
For e.g., Offer a freebie on a purchase of $50, so even if a person is willing to spend only $30, he would prefer to spend a little more and get the additional product.
Holiday Contest and giveaways:
There are indeed various tactics when it comes to offering discounts and freebies. But don't underestimate the power of Social media. You can plan and organize giveaways and contest to engage more shoppers.
It is like an opportunity for you to build your brand image. And, its 2021 marketing trends that no seller should ignore
Free shipping and returns
28% of shoppers leave their product in the cart due to an extra shipping charge. How about introducing free shipping and return policy this festive season in your Wish promotion strategies.
It will encourage your shopper to give you a chance and build trust in your brand. By easing return, you assure to take responsibility in any circumstances.
Promote gift cards
It's ideal for hesitant gifters, last-minute shoppers, and anyone giving a gift to someone they don't know.
Given the fact that many gift cards go unused throughout the holidays, it's an ideal Wish promotion strategy for sellers.
Discount offers
When a visitor comes to your site for the first time, they may not be ready to buy. Offering a discount code that they can use immediately is probably the greatest trick.
Bundle sales
One of the smartest ways to upsell is by creating bundles. You can offer products that are closely related to each other together. It gives your customer a feeling of "More" at almost the same price.
Referral discount
It is an absolute 2021 marketing trend that you must follow. Referral discounts can help you lift the number of orders you receive throughout the holiday season.
You can boost your orders tremendously by offering discounts to consumers who refer and arrive through a friend's referral.
To boost your sales at this time of year, highlight special offers, discounts, and free promotions wherever available.
Are You Geared Up For Festive season 2021?
"Brands who prepare are brands who win."
2020 faced many ups and downs, and the prediction was nearly impossible. But with these 2021 marketing trends, you can mark your comeback strongly. 2021 is the year of opportunity that you must seize. You can also opt for Paid Marketing Campaign for Wish, enhancing your chances of winning over more customers. Pandemic has taught many things, and one of them is the power of social media. Let your marketing strategies speak for you. Contact experts for any doubt or query.