Selling on Wish: Automate Your Selling Process With Wish-Shopify Integration
Running short of time? Get PDF of the blog in your mail.

Play Now
Selling through the leading cross-border marketplace like Wish.com and connecting your Shopify store with it, can be a great multi-channel selling opportunity. It will help you reach more than 300 million customers worldwide. However, a seamless solution through Wish-Shopify integration app can simplify your multi-channel selling process well. And if you want to leverage the benefits of the integration solution for your store and Wish marketplace, CedCommerce is the best to connect.
Through Wish Integration solution by CedCommerce, sellers can synchronize their product inventory, prices, orders and so on, between their store and Wish.com in one go. Being the Official Development Partner of Wish marketplace, CedCommerce offers integration solutions for all major frameworks such as Shopify, Magento 1, Magento 2, BigCommerce, WooCommerce, PrestaShop and Opencart.
Wish Integration For Shopify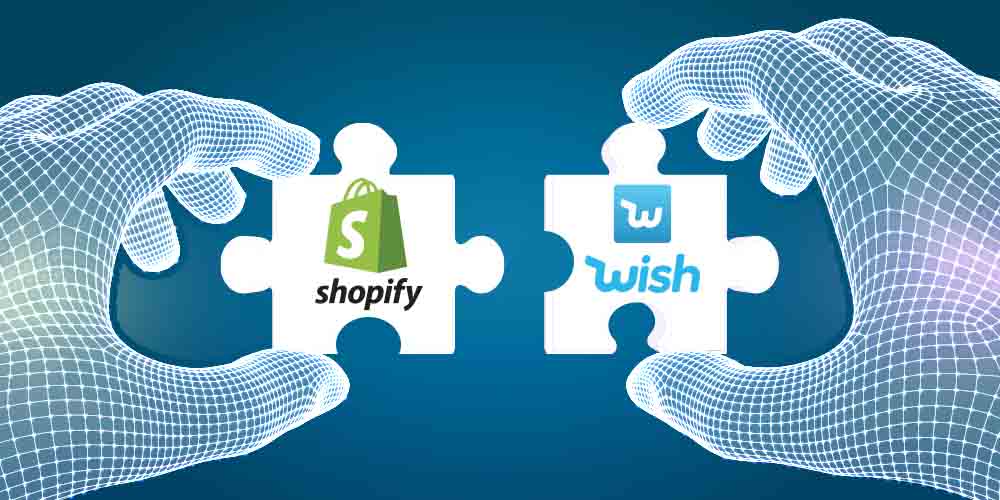 If you are a Shopify store owner and spending too much time on manual product upload or order management between your store and the marketplace, it's time to install Wish-Shopify Integration app in your Shopify Seller panel. The app will benefit you with great features such as low stock alert, automatic order update, wish product category mapping and so on.
Now, to know better about this integration app, let's take a look at its exclusive features.
Key Features Of Wish-Shopify Integration: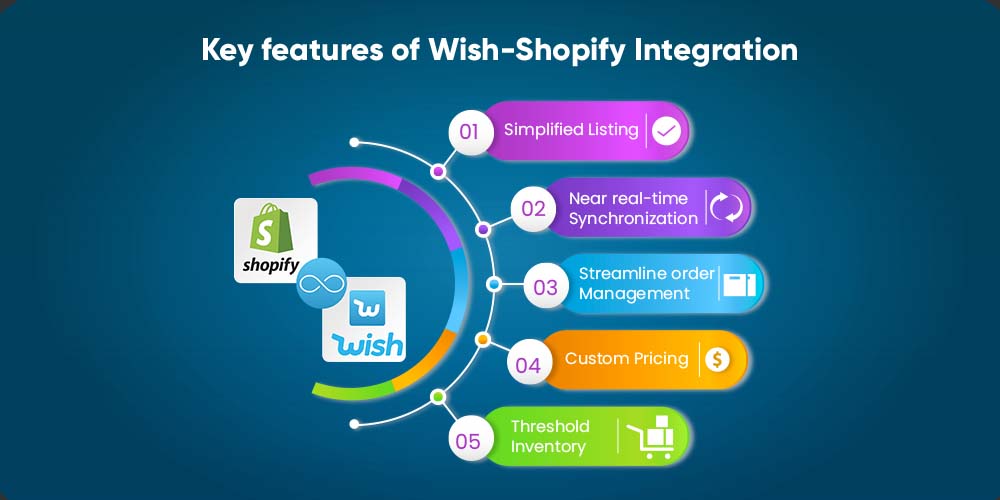 Simplified Listing
The app enables you to upload your Shopify store's products on Wish.com with a single click. Sellers can set different pricing plans, fulfilment rules, and product details on Wish as per their requirements.
Furthermore, managing inventories on your Shopify store and Wish seller panel is made easy with this integration app. For more details on how to manage products on Wish, click here.
Near Real-Time Synchronization
Automatic product synchronization avoids overselling and helps you stay up to date with the latest inventory updates. The feature saves your time for other tasks. Real-time syncing of product data, orders or any other updates on your Shopify based store also ensures that sellers don't miss any important inventory update.
Streamline Order Management
With the help of centralized order management feature, sellers can manage all their orders from a single admin panel. Orders can be acknowledged or cancelled easily through that panel. Moreover, the app imports the details of the order placed on Wish.com to your Shopify store instantly. And the shipping and tracking details are also synced to the app and on Wish accordingly.
Custom Pricing
The custom pricing feature of the Wish Marketplace Integration app enables you to update the price of the products on Wish. It provides the liberty of uploading products on the marketplace at an increased or decreased price according to your choice.
Threshold Inventory
The Threshold Inventory feature enables you to set a threshold limit for your products. So that whenever it is equal or low, the product will start showing as "Out of Stock" on Wish.com. Also with this feature, sellers will receive regular notifications on their integration app's Dashboard.
Additional Features-
Sync already published products – The feature enables you to sync products that are already published or listed on Wish.com
Enrol products in return – The app also allows you to enrol in Seller program that cut down the losses born on return or refund of products. Through this feature, you can keep a check on products that are returned or claimed for refund.
Check and Reply on tickets – Keep a track on the tickets generated for problems or issues on Wish directly from the app.
Check infractions – Keep a check on the penalties and infractions raised or imposed on the product on your Wish Merchant Center, from our Integration app.
Brand tagging – Tag top brands to their respective products to ensure product visibility and increase impressions.
Manage Express warehouses – manage multiple warehouses from one place, and distribute inventory accordingly with this integration app.
Benefits of Wish Integration App By CedCommerce
Sellers can embark their online sales journey on Wish.com with CedCommerce. While the app is full of features indeed making your selling process easy, there are certain benefits as well.
Timely order fetching and synchronization
There is no need for category mapping
Sellers can manage shipping in their own ways
Stay up to date with all the latest updates of Wish Marketplace
The app saves your precious time on manual work and improves the flow between your Shopify store and Wish Seller Panel. Moreover, in these crucial times of the COVID-19 pandemic, we are here to help you 24/7 with great discounts on our apps. Also look for the latest Wish updates implemented during this global pandemic. 
Check out this video for better understanding on How to Sell on Wish Marketplace from Shopify with CedCommerce.
How to get started with Wish-Shopify Integration app?
For getting started with the integration, you need to
Get the app installed from the Shopify app store, and you will be redirected to "Registration Page."
Fill up the general details asked on the "Registration Page" and click on "Next."
Next, to connect with Wish.com, you need to follow the Wish configuration step wherein you need to enter login details of your Wish Seller Panel
Then you need to confirm permission for CedCommerce integration access.
And lastly, start importing products.
Tap on the link here to know more about How to connect your Shopify store with Wish.com through CedCommerce.
And to connect with our Shopify experts and avail the exclusive benefits of Wish Integration app, Click here.