Important Wish Updates To Help You Sell Better During COVID-19
Running short of time? Get PDF of the blog in your mail.

Play Now
In the rapidly changing times of COVID-19, Wish is proactively monitoring the needs. The leading marketplace is making adjustments accordingly. After closely observing the operational and business challenges faced during these hard times, it is coming up with certain essential updates. And these latest Wish Updates offers several exclusive benefits to the merchants.
Whether you are an existing or new seller, these updates will help you on local and global levels both. Being a mobile-centric marketplace, it focuses on updates that help reach customers of all types.
Founded in 2010, Wish has grown to be one of the largest eCommerce marketplaces globally. With selling over 200 million products in a day, it offers an extensive international presence delivering items in more than 139 countries. Over the years, Wish has become-
#1 Shopping app on Google store
#2 on the Apple store
Wish has generated a revenue of $1+ billion, with 3X speed in increasing revenue year-over-year(Source: wish.com)
It is a great platform to choose if you are seeking ways to sell across borders and reach out masses. And, for seamless selling process Wish integration app by CedCommerce is the best option.
What Are The Latest Updates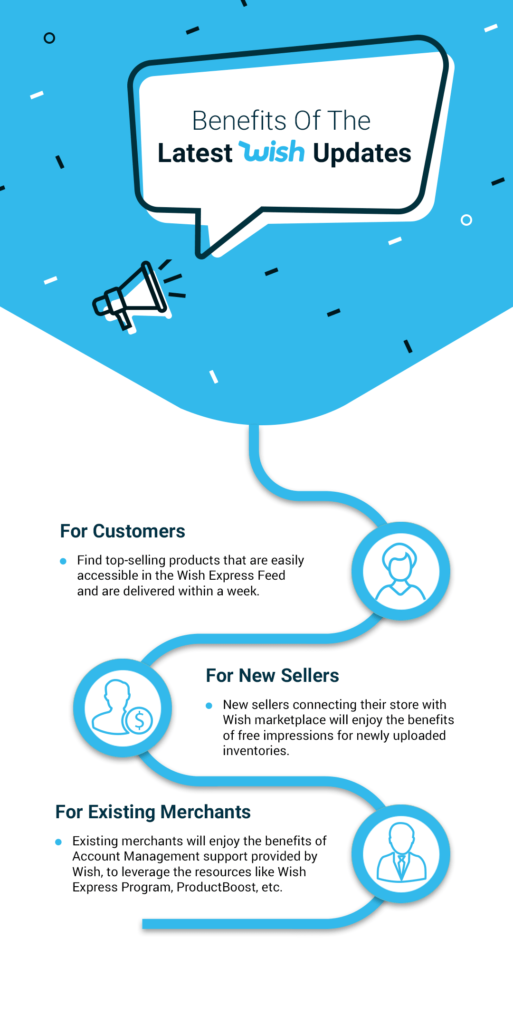 For Customers
Seeing the surge in engagements and purchases, Wish is helping customers by surfacing easily accessible products in the Wish Express Feed. The Wish Express Feed is a feature that lists products that can be received within a week. And such items are usually listed with an Orange badge in the shopping feed.
For New Merchants
New Sellers seeking ways to connect with Wish through CedCommerce, will be enjoying the benefits of free impressions for new products. Newly uploaded inventories will be getting extra free impressions. And products with more impressions are discovered more by the customers.
For Existing Merchants
Likewise for selected merchants, Wish is offering Account Management support determining Merchants' adoptions. It also leverages resources like ProductBoost, Wish Express, and so on.
So, these are the major adjustments, Wish.com is bringing into action. And it helps both new and existing sellers with extra support and benefits.
Why CedCommerce For Selling On Wish?
CedCommerce, being a trusted partner of Wish marketplace, offers a comprehensive Wish integration solutions with all major frameworks such as Shopify, Magento 1,  Magento 2, WooCommerce, Bigcommerce, Prestashop, and OpenCart.
Whether you are an existing seller or a new seller on Wish.com, you can make your selling process on this platform effortless through the Wish integration app by CedCommerce.
Now, when you know where to go for the best Wish Integration solution, let's take a look at salient features of Cedcommerce's Wish Integration App
Salient Features Of Wish Integration App By CedCommerce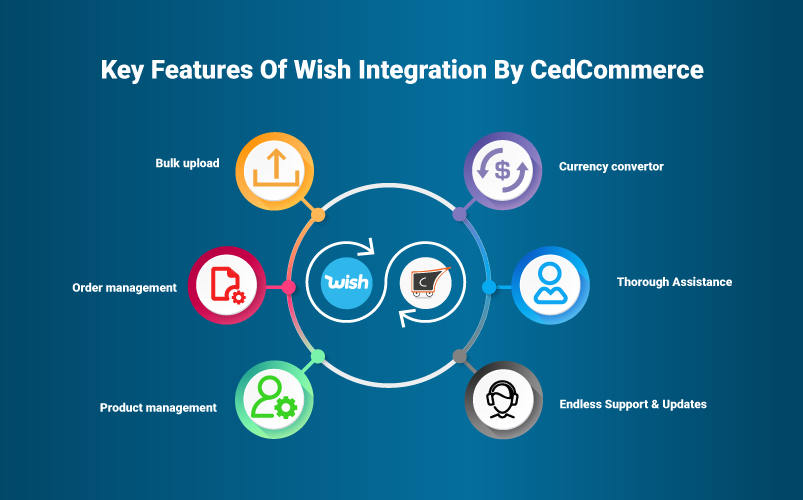 Selling on Wish becomes easy with Wish Integration App by CedCommerce as it establishes seamless connectivity between your online store and Wish seller panel. Furthermore, you are likely to enjoy the following features –
1. Bulk Product upload
The integration is helpful in the bulk upload of inventories in one go, and this saves your time and energy.
2. Order management
The app fetches the orders received on Wish.com and create them on your online store for fulfilment.
3. Product management
Product details like price, images, description, inventories, etc., updated on your online store, will reflect in the same manner as on your Wish Seller panel.
4. Currency converter
Currency converter displays the rates in the currency acceptable in different countries. Customers will be able to buy products in currency acceptable in their country.
5. Thorough Assistance
Through the Wish Integration app by CedCommerce, you will be in constant touch with a dedicated Account Manager available at your service for help throughout the process.
6. Endless Support & Updates
CedCommerce is the Official Listing Partner of Wish. And, it's Wish Integration solutions ensure both technical and non-technical help 24/7.
Conclusion
To sum-up, it can be said that the latest Wish Updates are meant to provide better support to both new and existing sellers in the selling on Wish. These updates offer great benefits to the sellers who wish to expand their business during the pandemic.
And to enjoy effortless connectivity between the online store and the Wish marketplace, Wish Integration App by CedCommerce can be the best solution to choose.
For further details, reach out to our professionals