Best holiday shipping strategies to boost your ecommerce sales
Running short of time? Get PDF of the blog in your mail.

Play Now
Implementing holiday shipping strategies during this holiday season that are well thought of is a great way to improvise on your online store services. Shipping trends have evolved since last year and businesses are trying to provide better services to fulfill their orders on time. Working upon this domain will definitely help your business in providing better services as compared to last year.
The e-Commerce scenario has completely changed since 2020. Businesses are left with no choice but to leverage technological tools to boost their services. Business owners are adding faster solutions to appease their customers.
These businesses are preparing for the order spur they faced back in 2020. In 2020, brick-and-mortar stores were not a safe option, so the majority of sales happened online. Therefore, e-retailers saw an unexpected influx of orders. Managing orders became challenging, and people experienced shipping delays.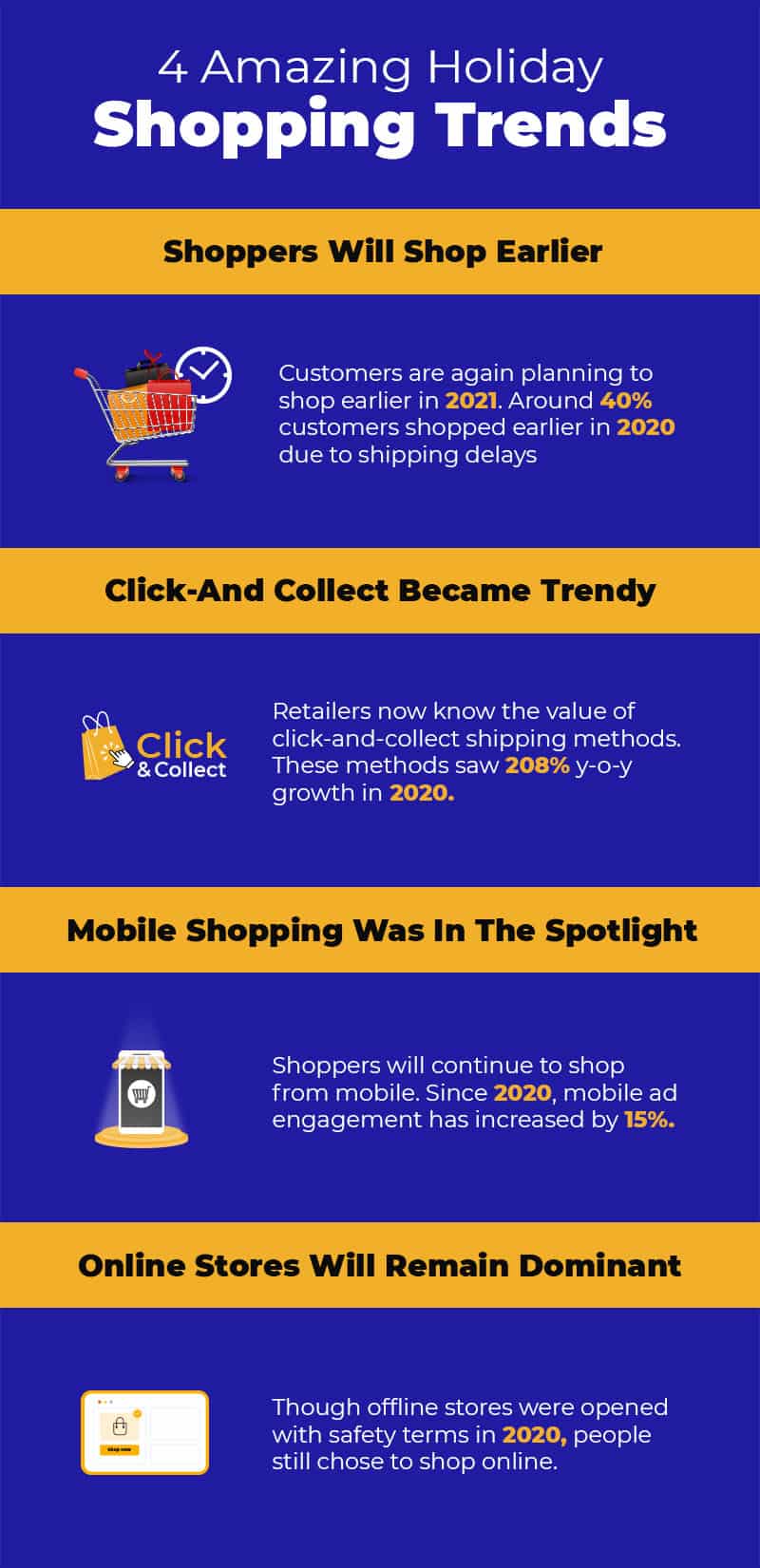 Third-party fulfillment centers and last-mile delivery services helped them to overcome most of the delays. They were able to speed up shipping and satisfy shoppers. BOPIS and curbside pickup further helped businesses augment shipping challenges. These alternative methods were preferred the most by customers. Retailers even optimized their websites for mobiles, tablets, and other devices to deliver the best omnichannel experiences.
Consumers expect such services from your ecommerce shipping system for this holiday season too. They are even planning to shop online for their holidays in advance. The season will again observe the same rush on their online platforms and make great sales. According to a Mastercard study, holiday retail sales are expected to rise by 7.4% in the big sales season of 2021.
These peak seasons cause mishandling of shipping systems which could increase your bounce rates. Therefore, it is vital to chalk out strategies for your ecommerce shipping before you miss any opportunity.
Fulfill your orders with these holiday shipping strategies
Adopt these ecommerce shipping strategies to manage fulfillment well. You will be able to fulfill orders within hours without investing much in your ecommerce shipping system expenses.
Strategy 1- Maximize your inventory to deal with order spur
Organize your warehouse with complete stock before the season begins. Keeping your warehouse well-stocked enables you to deal with order surge. This ecommerce shipping strategy enables you to complete most of the orders and make your shoppers happy. You can process your ecommerce shipping system smoothly during the peak season.
But, maintaining your warehouse for the holiday season might change your working patterns or increase workload. You can also even engage your desk job workers in your warehouses. Another possibility could be your warehouse running out of storage space. Thus, gearing up your warehouse becomes a time-taking process.
A well-structured plan would further cut down resources and help you manage orders efficiently. Plan your holiday shipping by following some of these simple shipping models-
In-house shipping
In-house shipping is suitable when you want every shipping step under your control. In this model, you have to hire a dedicated team to manage the shipping systems for your brand. They arrange carriers, frame policies, and manage other shipping requirements. Though it requires your complete attention, this shipping type incurs less cost than third-party providers. Plus, you can directly connect with your team whenever needed.
Outsource shipping
Outsourcing shipping to third-party service providers prepares your platform for the holiday season within a few days. As the holiday rush does not last for a long time, outsourcing shipping seems highly recommended. Arranging every shipping requirement on your own will delay your preparation. But outsourcing shipping would prepare it in time and later flourish your platform. Though it is pretty expensive, third-party logistics service providers would greatly relieve you from the immense load.
Dropship your products
Dropshipping is suitable for small businesses that run out of storage. You create your inventory and fill it up with products from other manufacturers. You later ship those products through your system.
Strategy 2- Include a variety of methods for your holiday shipping
Fast and affordable shipping methods reduce cart abandonment and increase conversions. Methods that became popular recently are-
2-Day Shipping
This ecommerce shipping method has become synonymous with online shopping. Investment in this shipping will be high, but retaining customers through it would be easy. You can offer this method within your budget in other ways. For instance, many shoppers are willing to pay more to deliver gifts on or before the festival. Thus, you can increase shipping costs.
Same-day Shipping
Shipping and delivering orders within a few hours improves your brand image. There is no better option than third-party fulfillment companies that offer such quick services.
Direct-To-Consumer(DTC) Shipping
Retailers highly leverage DTC shipping methods in the current times. Especially the eCommerce giants largely favor this method. In DTC, you directly sell and ship to your buyers instead of selling products via third-party sellers. This approach increases your brand's visibility among your target audiences.
Click and Collect Shipping
Omnichannel practices of retailers put forth the benefits of curbside pickup and BOPIS. Retailers prevent ecommerce shipping delays by enabling customers to initiate orders online and pickup from your nearby store.
International Shipping
International shoppers can send gifts to their loved ones through your e-commerce store only during the holiday season. Make sure you can fulfill their orders in other countries efficiently. Acknowledging yourself with tax and customs rules and the shipping rates of a particular country would be helpful for an easy shipment. It is not as tricky as you think. Shipping carriers can cancel out these complications. These guarantee you express services, negotiated shipping rates, and service to over 220 countries and territories.
Strategy 3- Brand-package your orders for best holiday shipping
Your packaging speaks much about your brand. Customers perceiving positive or negative perceptions of your brand depends upon your packaging. They engage with your brand more through the paper you use, brand logo, colors, order details, and much more. So considering these details would help choose the right packaging practices to appease your customers.
Your packaging practices not only affect your customer but also your budget. Choose your e-commerce shipping system strategies that meet all of your business requirements. Here's how to make sure your brand can interact with your customers in the best ways-
Consider these helpful product details for efficient packaging
Shape
Weight
Appropriate size
Fragility or durability
Customize packaging for your brand
A high-quality packaging consists of your brand's name. Customizing it according to your niche and brand increases your value as shoppers engage more with it.
Adopting a sustainable approach for the packaging
Retailers are also responsible to be mindful of the environment while creating attractive packaging patterns. According to the Environmental Protection Agency, one-third of the waste generated by households consists of packaging material. Hence there should be a consideration upon reducing waste in the holiday shipping strategy along with driving business. Pack your orders with papers that are eco-friendly and reusable.
Labeling your package
Clear labels prevent packages from getting delivered to the wrong addresses. It will not get lost or stolen midway. Labels specify important package details such as its origin and destination, address, order number, packaging, etc. Producing a wide array of labels for bulk orders is a hectic task. But through eCommerce shipping system solutions, multiple labels can be processed for bulk orders. This would simplify the process while adding value to your services.
Strategy 4: Simplify returns and replacement
Offering easy returns is a huge selling point for ecommerce platform(s). Easy returns drive more customers towards your online platform. This practice is crucial during the holiday season. Customers want to make sure that their recipient is happy with their gifts even if that requires easy exchanges. You can offer easy shippings in a few ways-
30-day return policies
The policy of returning products within 30 days can cause customers to miss their return chances. But great deals can offer extended periods.
Offer one-click returns
Instead of your customers contacting sellers, they should be able to avail returns within a few clicks. They will shop from you again with the thought that under odd scenarios, delivered items can be easily returned to your website.
Strategy 5- Integrate powerful shipping solutions
Outsourcing your shipping services would reduce your workload. Shipping solutions look after your shipping rates, packaging, returns and replacement, and shipping methods. They should be added in time for the Holiday season. This can also help customers to order gifts for their loved ones in time.
Check out robust shipping solutions

There are various solutions for your ecommerce shipping system that deliver orders both internationally and domestically. They also ensure that orders get delivered to the correct person. They do not leave any chance for orders to get stolen, lost, or delivered to the wrong address. Therefore, effective shipping solutions can get you better returns. Some of the best solutions you can look for domestic as well as international shipments are-
Conclusion
Customers have already started shopping for their festivals now. To prevent any holiday shipping delays, customers are preferring to shop in advance. Gear up your online store or online marketplace to gain their attention and fulfill their orders.
Frame your ecommerce shipping strategies with CedCommerce to easily create promo offers, manage returns and exchanges, and implement multiple methods. Avail Cedcommerce Marketplace solutions at a Flat 20% OFF for this holiday season to boost your shipping process.
Revamp your checkout process along with your shipping services. Click here to know-how: Revamp Checkout Experience: Let Not Be There Any Abandon Cart During Holiday Season