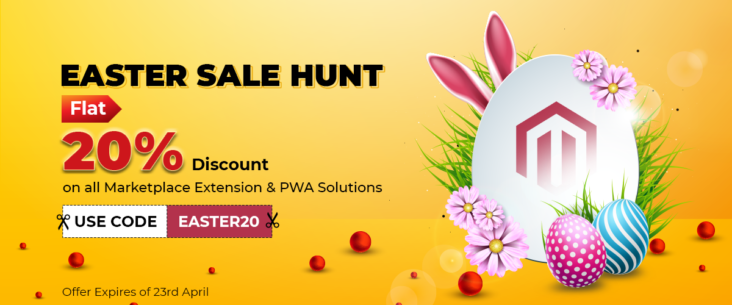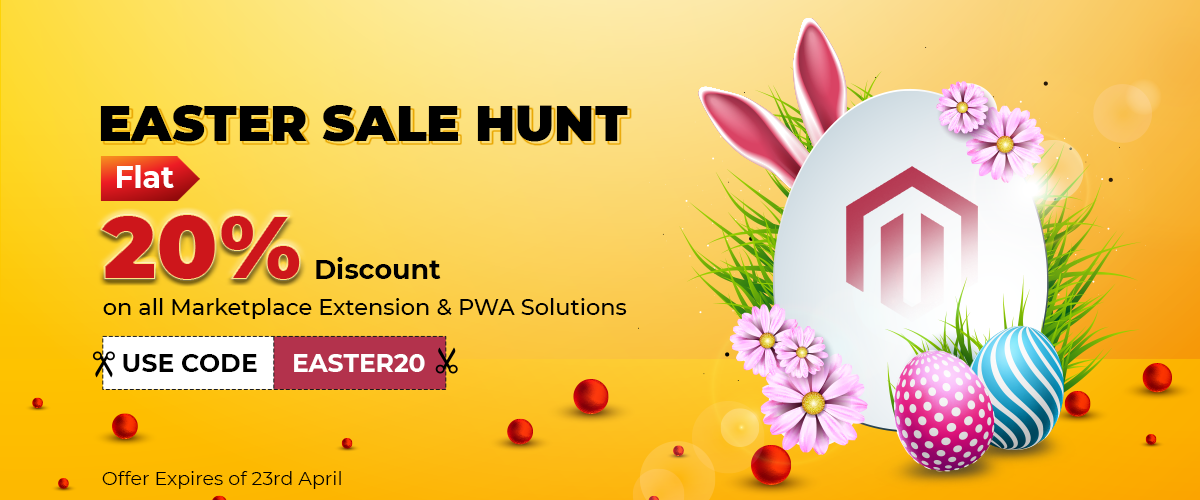 How to increase sales on your eCommerce Platform this Holiday Season?
Running short of time? Get PDF of the blog in your mail.

Play Now
However flourishing, big or small your e-commerce platform might be, it goes without saying that you intend to increase sales figures this holiday shopping season.

Competition is getting tougher in the industry, more so in the time of holiday season. The need of the hour is multi fold, to stand out and deliver , to ensure customer loyalty as well as to attract new customers, all while staying relevant.
The stage is being set for the upcoming Easter holiday shopping season. Credit goes to the rising confidence in eCommerce dealings resulting in customers turning in large numbers for shopping online. As we head into 2023, the holiday season remains a crucial time for retailers to boost sales and set the tone for the coming year. With online shopping on the rise, it will be important for businesses to focus on their digital strategies and adapt to changing consumer behaviors in order to succeed. Additionally COVID has also played a defining role in changing how people prefer to shop during the holiday season. The changing preferences and altered patterns during COVID will be setting the stage for this shopping season as well.
In the year 2020, holiday season shopping reached $750 billion, demonstrating an increase of 8.3% from the year 2019. The fact that online shoppers shelled out billions availing great offers and having great shopping experience speaks highly of the future of eCommerce in the year 2023 as well.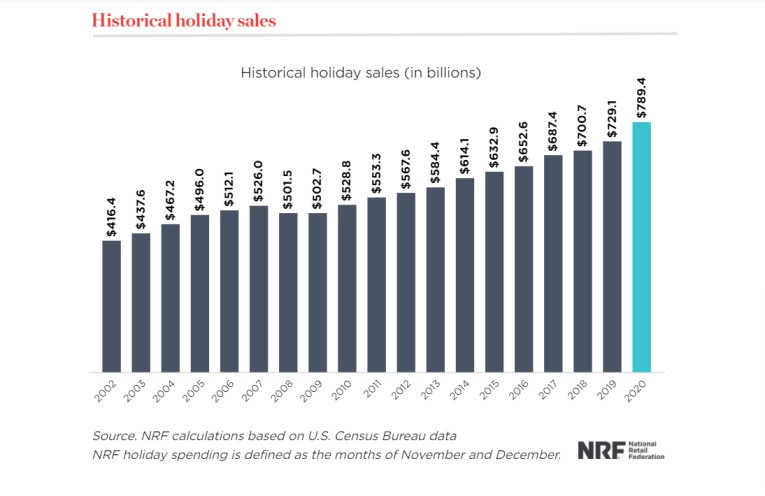 Do you a own Magento eCommerce store and are looking to increase sales in the holiday shopping season? A fleet of extensions can add many promising features to your marketplace within no time and make it holiday-ready. It's all about asking the right question that what are the best Magento 2 extensions to help boost sales during the holiday season.
Also, it's not always about bringing in new visitors to your online store but also about improving the conversion rates. It's time to ask yourself where the problem lies. Are you getting enough leads which are somehow not converting or the online store is not getting visitors entirely?
At times all these improvements can be observed with only some minor tweaks in a place or two whereas at other times it might require some drastic changes in the way you present and market your products.
As the Easter Holiday 2023 Shopping Season brings online store owners to take on aggressive marketing strategies on every media. Relying entirely on social media is not necessarily the best bet in times of such immense competition. For the very purpose of sales-boosting several Magento extensions could be of great help.
Also Read: 2023 Holiday Shopping Predictions and E-Retail Strategies
Online sales during the holiday season surpassed expectations, with global sales totaling $1.14 trillion in November and December, despite being flat compared to the previous year.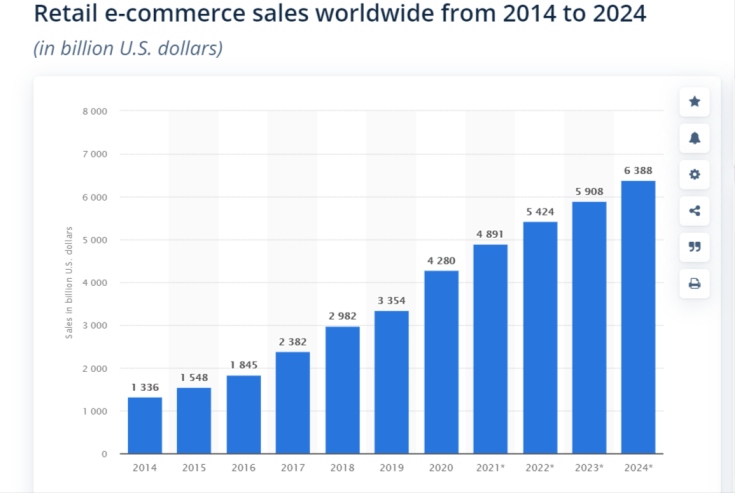 Source: Statista
The question that arises is that even with online shopping being one of the most prevalent web activities around the world, how come only the top 3-4% e-commerce websites experience most of the activity. The answer lies in the strategies deployed by them at every stage right from the strategic positioning of products, to the pricing to the cleverly thought out cross-selling and upselling measures, deals and discounts, etc.
Considering you own an online marketplace or are contemplating building an e-commerce platform we believe you must find yourself wondering how you would go about increasing your revenue during the approaching festive season. Although there are several best practices that if followed will eventually lead to better cash flows on your e-commerce platform. With Easter Monday just around the corner here we bring to you a list of feature enhancements that could be obtained with some go-to Magento extensions for holiday season sales.
How to increase sales on your Magento eCommerce store this Holiday Season?
1-Optimize your online store for speed
It's a given that the loading speed of online stores impacts their conversions largely. Anything more than a few seconds, 3 to be specific according to surveys results in visitors backing out and losing interest. Working on website loading time reduction helps improve the overall conversion rates and better returns over marketing efforts.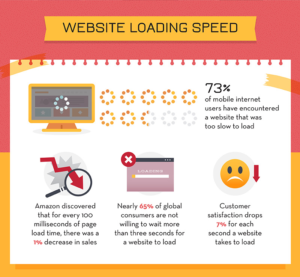 Source: Acquisio.com
Nobody wants to visit a webpage that takes forever to load. People want to find what they are looking for in an instant. With a world of options available no shopper would spend time on a slow-performing website.
Hence a page that takes a lot of time to load may become a lost opportunity for your website which you would surely not want. Therefore speed optimizing the online store would be the best decision you'd take for your venture.
2-Make your online store mobile-friendly
Trends point out that particularly during the holiday period a larger number of sales are made through mobile devices such as smartphones and tablets. It's crucial to have a mobile-friendly website for your customers to have a good experience browsing on their mobiles.
As per a recent study over 52% of customers said they would not want to engage with a company that doesn't offer a good mobile experience. 
Search engines too prefer mobile-friendly sites. Google tends to prefer mobile-optimized sites. So even if you have an amazing website but it fails to run smoothly on mobile devices you may experience a downfall in your ranking. This is the right time for businesses to realize the versatile role mobiles are going to play in the future of ecommerce. So better adapt a future-proof strategy by shifting to PWA websites loaded with features and enter the era of mobile-first eCommerce.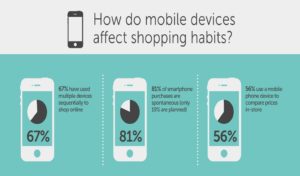 3-Offer Attractive deals
Who doesn't love offers? Sales, deals, and discounts are the absolute favorites of customers. With multiple e-commerce websites selling the same products, any special discount goes a long way in convincing the user to make the purchase. Constantly pulling in your customers through attractive deals could be an effective customer retention strategy to follow.
Several popular methods that e-commerce marketplaces commonly use for sales are mentioned below:
1-Discounted sale prices:
Displaying sale prices along with the regularly marked price of the product is perhaps the most commonly used method for displaying discounts on e-commerce websites. They somewhere take away the shopping guilt from the mind of the customer by convincing him that he/she is purchasing the product at a low, discounted price and is, therefore, making a smart decision. Also, the idea that sale prices may not last forever tends to bring about a sense of urgency in the minds of the buyer.
2-Reward/Loyalty Points:
This is another very commonly seen concept on e-commerce marketplaces where a customer is rewarded by points for every transaction/purchase made by them on the website. Rewarding the customer for his purchases helps in bringing them back repeatedly, therefore, ensuring long-term engagement from the customers.
What could be a better time to offer some rewards to your loyal customers than the holiday period – the season of giving. Some reward points for redemption would most likely end up improving the average order value of the customers on your online store.
Occasional introduction of innovative offers and discounts be it during the onset of a new season or prior to any festival would be instrumental in bringing about increased sales.
3-Gift Cards:
Gift cards can be thought of as a powerful marketing tool around the year as against the common understanding that gift cards result in effective sales only in the season of celebrations. Gift cards have been most sought after gift items in the year 2018. This directly implies that customer traffic might be drawing towards your competitor's store if they're offering gift cards.
The National Retail Federation's 2015 survey says that gift cards have topped the list of most requested gift items for the nine years in a row.
4-Clean Website Navigation
Shopping is more of an experience than it is an activity. If the customers visiting your e-commerce store find it to be organized and easily navigable, the likelihood of them staying and looking around increases which eventually raises the probability of them making a purchase.
On the contrary, in a cluttered store, the user would have to spend a lot of time trying to figure out stuff rather than utilizing it by actually looking at the options available. This might lead the customer to leave the store either at the beginning or somewhere in the middle of his buyer's journey.
Rational classification of products and then displaying them in their respective categories will help the customers make sense of where to find the items that they intend to look for. A confusing and haphazard arrangement of products will kill unnecessary time and may irritate the person searching for a product.
Focus on decluttering the website and making it simple. Avoid displaying products, categories, and offers in a way that could confuse the customer.
5-Display quality product images
As they say, what you see is what you get..' Seeing' in a brick and mortar store goes beyond simply watching the product. It involves touching, analyzing, comparing and getting a feel of what exactly the product looks like. This is another very effective way to increase sales on your eCommerce platform. Hence purchase decisions are made faster than on its online counterpart.
The absence of being able to experience a tangible product online creates doubts and confusion in the mind of the reader, which can be overcome to some extent by providing a good quality product image.
An attractive image is bound to hold the customer and get him to check out the product. Consumption of visual content is way more than textual one which explains why a product with a great description but a poor image may not grab as many eyeballs.
Also Read: Ecommerce for SMBs in the wake of Covid-19 pandemic
6-Efficient Email Marketing
Emails being one of the most popular and also the most commonly used marketing tools are undoubtedly effective. It has been widely used for years in the industry to market products and services. With the holiday period approaching it could be one of the most crucial tools to improve sales on your eCommerce platform.
A suitable email marketing campaign for the holiday season is a must. The emails that are being sent out shall not just be focussed at selling your products/ services but shall also be able to establish a connect with the recipient, in the sense that they are engaging and helpful.Some renowned email marketing companies or developers of software that help in inbound/email marketing are: HubSpot (HubSpot Email Plugin and HubSpot E-commerce Bridge Integration), InfusionSoft, MailChimp, Salesforce, and many others.
As the trends demonstrate the top 5 days for Email marketing alongwith the percentage of retailers sending mails to their customers are:
1-Cyber Monday -93%

2-Free shipping Day-87%

3-Green Monday-84%

4-Thanksgiving Day-83%

5-Christmas-80%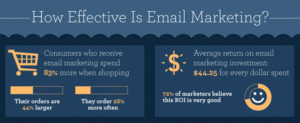 Source:https://www.lyfemarketing.com
7-Multiple Payment Methods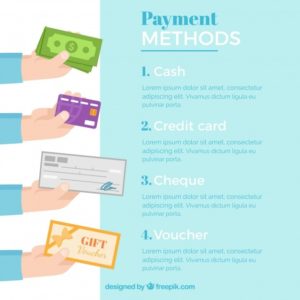 Online shopping is all about convenience.
All your efforts that go into improving the look and feel of your e-commerce marketplace would go in vain if the customer leaves due to the absence of his favored payment methods. Customers prefer to pay using their favorable option but at the same time like to have choices.
Ecommerce marketplaces these days strive to provide numerous payment options to their customers. Be it the flexibility to choose between credit/ debit cards, cash on delivery, net banking, e-wallets or the latest Buy Now Pay Later method online stores are leaving no stones unturned.
Buy Now Pay Later feature is the latest addition to the already existent list of eCommerce payment methods. It is an extension of the concept of microcredits allowing customers to shop on credit. The Customer Credit limit helps in improving conversions as well as relieving the buyer from the pressure of making payments from his pocket instantly.
The method is quite similar to credit card payments provided that here as well the seller of the product does not receive the payment immediately. The outstanding bills are settled at a later time.
Another must-have is the option to pay through Digital Wallets.
Digital Wallets allow customers to successfully process online transactions as store money for use at a later time in the future. The bank account in addition to the credentials of the customer are linked with the digital wallet and that's how money gets virtually stored for use in the future. Ecommerce websites are largely making use of the digital wallet feature because it helps all stakeholders carry out smooth transactions. Wallet Extension works for all eCommerce websites built on the Magento framework.
8-Clear and Effective CTAs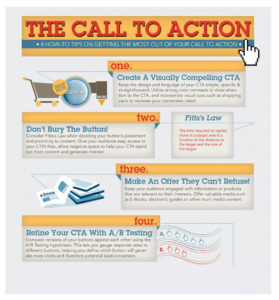 Source: thewholebraingroup.com
A CTA refers to those buttons on any webpage that direct the visitor to the next action that they can take. Some tips to be used while placing CTAs:
1-A better approach to use the CTAs effectively would be to have them placed strategically and in bold contrasting colors to the website.
2-Secondly, the CTAs would be more targeted if they focus on customers at different levels of the sales funnel differently.
If the call to action buttons are placed well and convey a clear message it guides the customers to the next step and helps them move a step ahead in the sales journey.
9- Offer Attractive Referrals
Another very popular method for quickly increasing new sign-ups/registrations of your online store is offering attractive referrals. During the holidays, the idea could gain more mileage and end up attracting new customers. These referrals provide incentives acting as a driving force for new leads.
Offering referrals brings in refined leads, encourages online shopping, along with ensuring customer loyalty. This marketing method takes place majorly through word of mouth effortlessly hence cutting the cost per lead.
If you don't have a referral program in place the upcoming Easter Holiday Sale Season is the best time to begin. Get your own referral program to skyrocket sales on your online store.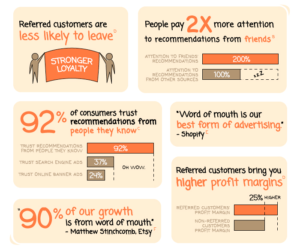 10- Offer Pincode checker
If you would have explored an eCommerce store you would have come across a Pincode checker that's almost always available on such sites.
Pincode checker allows the customers to check if a certain product could be delivered to their area. This extension becomes all the more relevant in the holiday sale season wherein people are looking for urgent and efficient deliveries.
Customers like to know the fulfillment timeline before they place their order. With Pincode Checker, admin can share with the customer an estimate on the expected days for delivery of the products before they move towards the final stage of online shopping.
11- Opt for an all-encompassing marketplace solution
An all-encompassing marketplace is the one that is built considering the problems vendors and customers face on the platform. Whether it be the complicated registration process, the inability to create multiple product types, a cluttered vendor dashboard, commission fixing for the vendor or simply the issue of website loading time. A look into the problem areas of the online store will help in better identification and easy resolution.
Enable vendors on your website to manage orders, create invoices on their own, create different product types, in a way decentralizing control. Features like allowing customers to sign in using social sites, ability to review vendors are highly appreciated and one of the most used features on any eCommerce websites.
The right marketplace solution can help you revamp your store to perfectly fit the requirements of your customers this holiday shopping season, thus helping to increase sales.
12-Go the PWA way
PWA is a combination that offers functionalities of both websites and apps. They come as a complete package offering reliability, engagement and speed, basically all that an eCommerce business asks for. The list of business benefits that can possibly be derived from PWAs is endless. Not only does it act as an engagement booster but also helps reduce bounce rates and increase conversions. Deploying PWAs during the holiday season will help you gain traction and open doors for a world of possibilities.
You can visit our demo page to get an insight on what a PWA store will look like, it's functioning, and much more.
Get our Cenia Pro Theme for Magento 2 PWA, a complete solution for your eCommerce business.

Use coupon "EASTER20″ to avail FLAT 20% off on all Marketplace solutions and Magento extensions
Final Thoughts
As the Easter holiday approaches, you just need to pull up any loose ends that are on your online Magento store to increase sales. The task stands accomplished if you have at your disposal the right sales booster Magento extensions. Be it adding payment methods or effective shipping ones, be it providing a gift card or referrals nothing is impossible with the must-have Magento 2 extensions for the eCommerce store by CedCommerce.
A well-equipped online store along with holistic marketing strategies on different media undoubtedly prepares your eCommerce store for this Easter holiday offer. Get ready to increase sales on your eCommerce platform.


It all eventually comes down to presenting to your customer's exceptional online shopping experience. An outstanding journey on your site is crucial for having the customer returning back for more such shopping experiences.
Enjoyed Reading?