2021 Holiday Shopping Predictions and E-Retail Strategies
Running short of time? Get PDF of the blog in your mail.

Play Now
The bunch of benefits online platforms provided to buyers in 2020 paved the way for 2021 holiday shopping predictions. These benefits brought confidence among retailers that having an online platform in 2021 brings potential revenue growth.
Even EMarketer forecasted that total 2021 holiday retail sales in the U.S will expand by 2.7%. This growth is expected to result in a $1.093 billion sales value. Online platforms will largely contribute to this growth. The sales through online platforms around this season will rise by 11.3% which will result in a total value of $206.88 billion.
Create your marketplace to earn better in this holiday shopping season

COVID-19 and the following online holiday shopping trends in 2020 caused digital platforms to become the one-stop destination for almost all of us. We worked on it, took knowledge, entertained, and got ourselves fit. This huge culture shift led to positive 2021 holiday shopping predictions.
The online holiday shopping trends will prevail this year even before the season begins. As again, the 2021 holiday shopping season will be about big sales, big profits, and big crowds.
It's because shoppers made up their minds to the only shop from online platforms for their celebrations. Last year, they saw tremendous offers. This year too, they expect more than discount offers and free shipping. That is why 2021 online holiday shopping trends will take a swipe at a much greater pace than ever.
Based on the 2021 holiday shopping predictions, retailers need to strategize their online selling tactics at an early phase.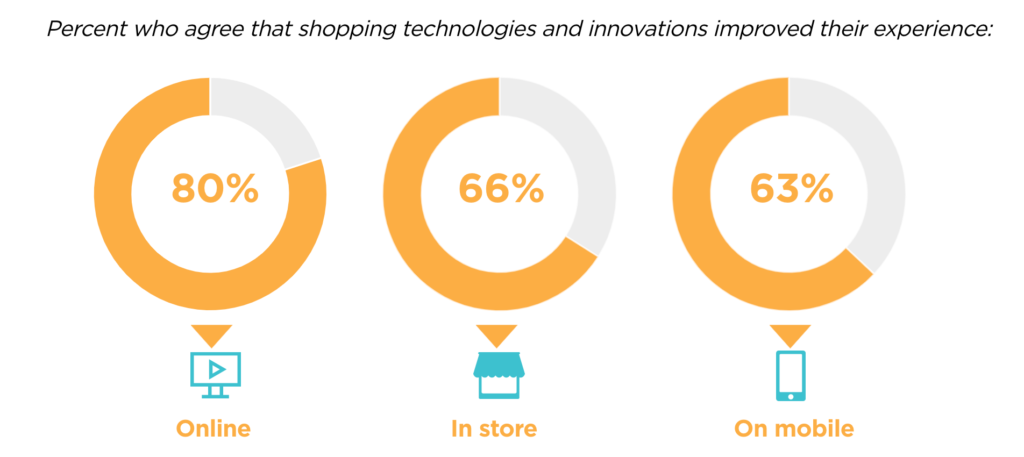 Image source: Sleeknote.com
How did 2020 holiday shopping trends change shopping behavior forever?
According to a Radial report on consumer insights, consumers did not bring change in their expenditures in the 2020 holiday shopping season. In fact, they spent more conservatively in 2020. Retailers expected the expenditure to be the same as it was in 2019.
But we saw one evident change in the behavior of shoppers last year. The fear of contracting coronavirus hyped among them.
This fear of COVID-19 may not have affected the 2020 holiday shopping season. But it prompted people to stay at home in every possible way. They used all the means online retailers implemented to aid their home isolation.
People used curbside pickups, free shipping offers, gift card offers. Last year they entertained their festive enthusiasm while saving money and their health.
The pandemic resulted in customers spending more time and money on online platforms. This customer behavior for online spending will continue to persist according to 2021 holiday shopping predictions too.
Another survey conducted by Qubit found out that people shopped more online than offline. What we denoted here is that the holiday shopping season in 2020 moved people to shop from online platforms only.
As the online platforms became a center of attraction during this holiday shopping season, retailers and online businesses ensured to prepare themselves for it.
Also Read: Increase sales in the holiday season
What are 2021 Holiday shopping predictions? Plan for your online platform sales in 2021
Online retailers will put their best efforts to make a treasurable holiday shopping season this year for their online businesses. Will you do the same? The holiday shopping predictions for 2021 based on the previous year's trends will help you to strategize your online store sales. Let's bump into the predictions and the strategies you can frame for now-
2021 holiday shopping predictions- consumers expect promotional offers
Consumers try to save their money while ordering their most wanted product. Thus, 2021 holiday shopping predictions hold that they expect discounts on your online store. This expectation resulted from consumers being greatly dependent on online platforms in 2020.
THE LEARNING: The expectation meant a constant flow of promotional offers on your online platform. Promotional offers incentivize consumers. They get personalized experiences and decide to shop from your platform again.
In a Black Friday survey for the year 2020, 44% of the respondents looked for special deals such as discounts on their total purchases. They also expected free shipping.
Thus, it's essential to use the upcoming holiday shopping trends of 2021 as part of your marketing plan. Consider running a specific sales plan that suits a certain holiday. This strategy when applied increases enthusiasm for festivals among your consumers.
Consider using gift cards to upsell at the time of checkout. Also, include services such as free gift wrapping. Run campaigns for a limited time around the holiday season to create a sense of urgency.
Holiday shopping predictions: Great sales from mobile devices in 2021
The lockdown time in 2020 amplified the use of mobile and the shopping experience on it. Its use increased by an average of one hour each day worldwide in 2020.
This mobile shopping scenario means you should strategically focus on digital ads for mobile devices besides desktops. Social media ads are also best viewed on mobiles.
Mobile sales are predicted to account for 72.9% of eCommerce sales in 2021. A number of consumers turned up to purchase from mobile in 2020. This year too, your e-commerce mobile experience is vital for them. The forecast of mobile sales also leads to 2021 holiday shopping predictions that retailers will face massive competition for consumer attention.
THE LEARNING: If your mobile website is not attractive, consumers will stop engaging in it. 38% of consumers said they would stop engaging if a website's content or design is unattractive. Personalized merchandising helps you to achieve this engagement. For this strategy to work, analyze the shopping behavior of users. The analysis helps you to deliver content and product recommendations that are relevant to them.
To deliver great content during the holiday shopping trends of 2021, some of the best practices you can follow are-
Determine which products you have to showcase this holiday season.
Have a holiday-specific category to sell products dedicated for the 2021 holiday season.
Implement communication modes such as chatbot and voice search.
Improve your online store's mobile apps and PWAs for the 2021 holiday season.
Holiday shopping predictions: Simplifying payment processes is going to be a hit in 2021
According to 2021 holiday shopping predictions, consumers expect a simple payment process. This process includes easy checkout and multiple payment methods. Let's study them in detail-
Multiple payment methods-
It was visible why online sales soared despite disruptions. The extended holiday season, excess of shopping on mobile devices were the reasons. Besides, payment options such as buy now, pay later(BNPL) and alternate credit offers popped up. It shared popularity with mobile wallets too.
Credit and Debit Cards dominated the payment method trends. Around 46% and 44% of consumers made card payments respectively during the holiday shopping season in 2020.
Whereas, 44% of shoppers use mobile wallets with Paypal being the most used one. It became crucial to meet the everlasting expectations of customers. That's why retailers preferred multiple payment methods in their online stores.
Easy checkout-
Consumers being directed to the checkout page means they've decided to make a final purchase. Therefore, this checkout process should be seamless. A seamless process takes less time in making transactions which is impressive for consumers.
For such an experience, it's recommended to keep only one checkout page. This page consists of all of your billing details, different payment methods, a summary of items, etc.
The guest checkout option is also recommended. Checking out as a guest reduces your buyers' task of creating their accounts while enabling them to purchase quickly.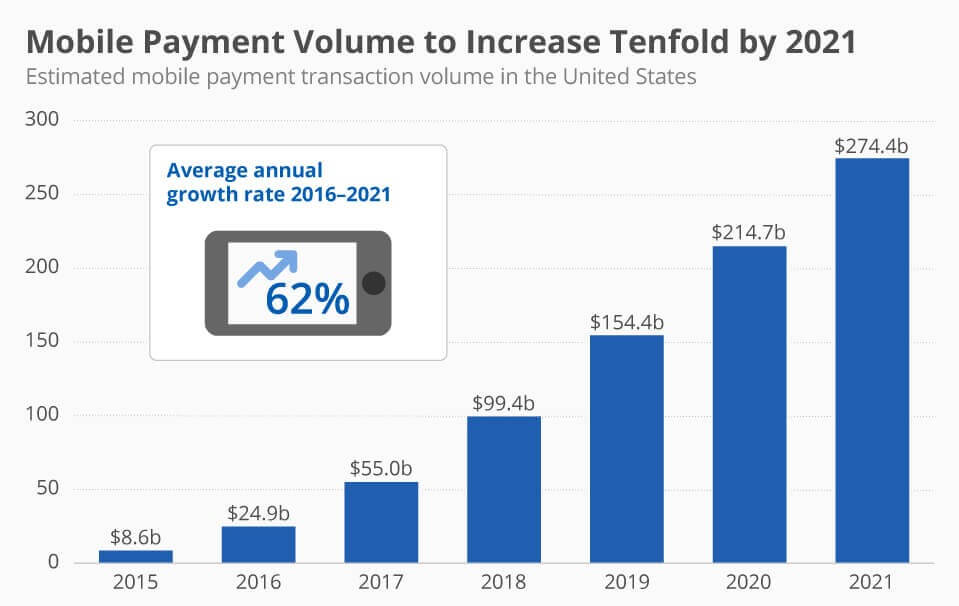 Image source: Statista
2021 Holiday shopping predictions- Multi-channel retailing will bring more consumers
The late imposition of lockdowns in many countries led to the increased adoption and growth of multichannel retail- support of online sales from physical stores. Retailers offered consumers options such as collect from stores or curbside pickup. This multichannel retailing strategy increased in five out of six countries during the holiday season of 2020.
THE LEARNING: Observing the 2020 trends, 2021 holiday shopping predictions hold that this year too, multichannel retailing will penetrate more than the last year.
Multichannel retailing opens several channels of revenue. Shoppers prefer to spend on all of their sales channels. It also supports your online platform- enabling them to learn about products on it and picking up from your physical store.
With the above-mentioned predictions and the suggested strategies, you can leverage your online store for this upcoming holiday season. Expectations from online stores tremendously increased this year. People this year too expect the online platforms to provide the same level of facilities as before.
So, It's time for you to implement these strategies and get ready for the biggest holiday season sales. Make your platform as convenient as possible.
Enhance your relationship with your customers with Hubspot CRM

Also read: How to create an online marketplace? 
Some extra tips for the online retailers to grow their sales quickly 
It's obvious that online retailers panicked during the virtual holiday shopping 2020 season due to excessive demands. But high sales kept their spirits alive. No doubt, that the 2020 holiday shopping season was a virtual one.
But the best part for retailers was that people spent dramatically on virtual platforms! They are now ready to recover their losses in 2021. The 2021 holiday shopping predictions now grumbled their confidence in recovering those losses at this time.
So, here are some tips for online retailers to manage holiday shopping trends for 2021 effectively and efficiently:
Shift your focus to personalization- Ensure that the e-commerce experience for your customers is personalized and relevant. This personalization will help you to increase your sales and revenue. On the other hand, it will keep customers coming back to your online store during this holiday shopping 2021.
Polish your marketing strategies– A large base of your customers can mainly be found on social media. So, it's very crucial for you to provide them with updates on all the social channels and other digital touchpoints. If you haven't planned your messaging and email strategy yet, hurry up and plan it now! Try to keep it as specific, authentic, and professional as possible.
Acknowledge the consumer expectations and demands- According to a survey conducted by Radial based on the time range of the holiday gift deliveries and half of the respondents said that 5 days of delivery were reasonable. But you need to cover up as per the expectations of the rest half as well.
Get the offer: Boost sales of your multi vendor marketplace with extensions and add-ons all available at 25% off. 
Conclusion
This is it from our side. Note these points attentively since this is the exact glimpse of the future of the holiday shopping season. With these holiday shopping trends, try to acquire the trust of your audience by following what we said in the earlier sections.
At CedCommerce, our main goal is to help retailers throughout their e-commerce journey with the help of our advanced and efficient marketplace solutions and extensions. Our team at CedCommerce is always looking forward to helping you out in order to enhance your e-commerce experience. Got any queries? Connect with us today!