You Believe Your Store is Ready for Holiday Ecommerce – Think Again!
Running short of time? Get PDF of the blog in your mail.

Play Now
Holiday selling ecommerce tips makes selling seamless and boost product visibility. You might be wondering if your store is fully prepared or not for the upcoming holiday season? Instead of simply wondering, it is better to run a comprehensive check. Hence it is mandatory to rethink and refine the crucial parameters that can make or break your
The parameters below will help to segregate a well-optimized store from an ordinary one that is poorly designed to manage the high traffic during peak hours of the holiday season.
Social Media (Here Your Target Audience Pays Maximum Attention So Must You)
The millennials and gen-z are more likely to engage over social media than through other mediums. Moreover, these target customer groups prefer buying the product after rigorous research over popular social media platforms.
Hence, your social media frontier must be a stronghold. During the festive season, social media marketing can impact shoppers purchase decisions in your favor.
With that in mind, here's the checklist to evaluate your social media preparedness ahead of the holiday season 2021.
Announce sales over social media in the form of bite-sized videos and infographics. Remember to do it sufficiently ahead of the competitors.
Be thankful to customers for engaging with your products and content. Even better will be to reward them with gift cards and early access to discounts.
Engage customers with Instagram hashtag contest and make it lucrative by asking to post the pics. The benefit is it is mandatory to follow the account and participate in the contest. Your account followership experience a boost.
Make it super easy to participate in content with 1 or 2 clicks to complete the registration. Also, offering multiple methods to participate in the contest will help in reaching a bigger audience.
Photo Content on Social Media ( A not to be missed holiday selling ecommerce tips) 
Naturally, your target audience will not be reluctant to share their pics to participate in the contest. Take it further by asking them to share it, and the winner will be one with maximum likes.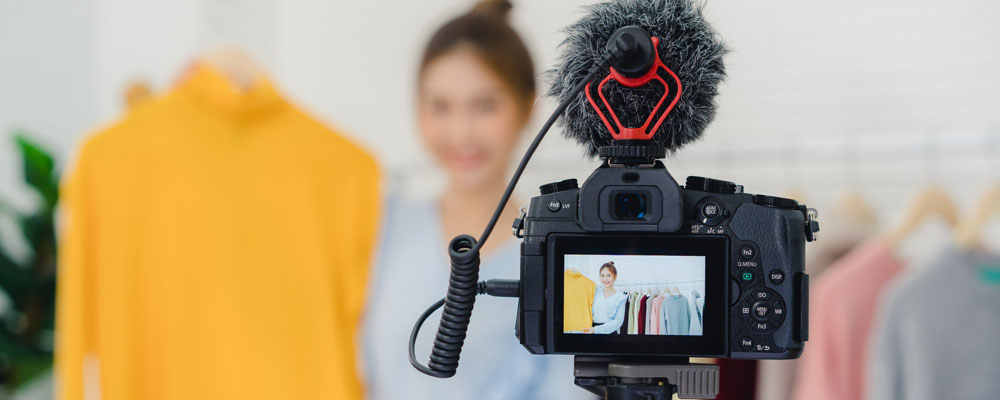 As a result, you will gain information (from users commenting on posts by contest participants) about possible leads interested in products listed on your store.
The Pro Tip: 9 in 10 millennials are brand conscious and serious about their looks. It Sounds easy to convince them over social media. Hence have a solid strategy to reach them.
Discount is Your Best Friend During Festive Season (If done Correctly)
What makes discount an excellent holiday selling e-commerce tip to boost conversion rate? The harsh truth is that not every discount will fetch you outstanding results. Add an expiration date to discount offers that are numerically big enough to keep customers eye glued to it. Moreover, the short time span after which an offer will expire will induce fear of missing out .
With that said, you will not have to put your best. Further it can be made more attractive by highlighting the highest perceived value as below.
If a 20% discount is on a $20 item, then instead of displaying $4 off, it will be way more effective to say 30% off. As 30% off sound high in perceived value as well as convincing than $4 off
Implementing personalized discount offers (7 in 10 shoppers prefer it).
Extra rewards for loyal customers
Demand Surge in Visitors and Sales
Demand sure during the holiday season is inevitable. This surge is also good but as long as your store is prepared for it. Here's a checklist that must be considered to avoid failure and to embarrass the customers.
Page load time to be lightning-fast for both desktop and mobile.
Prefer dedicated hosting over shared hosting at all cost.
A payment processor that can handle multiple request simultaneously.
Payment gateway capable of payment reconciliation to handle payment failure.
A web host with 99% uptime and high performance servers.
Merchants should strengthen their e-store capacity as per above. As a result, you won't regret that despite having the best products and sticking to the right pricing strategy, few technicalities failed the store.
Page Load Time – Speed it Up (There Ain't An Alternative)
The page load time is undoubtedly a game-changer. When optimized to its best, a crucial parameter that will increase sales by 7% and help to increase pageviews by 11%. After all, its customers' first interaction with your brand. Hence, you must employ the best holiday selling ecommerce tips.
What Will You Gain With 2 Second Page Load Speed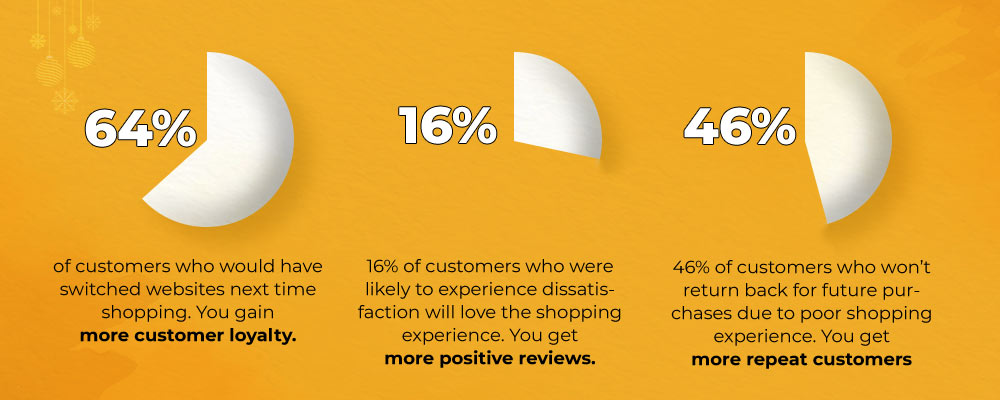 Moreover, shoppers usually have a huge shopping list during the holiday season. Therefore, expecting them to be patient enough and not switch to another site is next to impossible.
Also, slow loading pages raise customers' eyebrows and force them to think, is the site legitimate? Will it be reliable?. It puts your brand value at stake.
Don't Lose Customers Keep Your Page Load Speed Lightning Fast. Every Second Matters!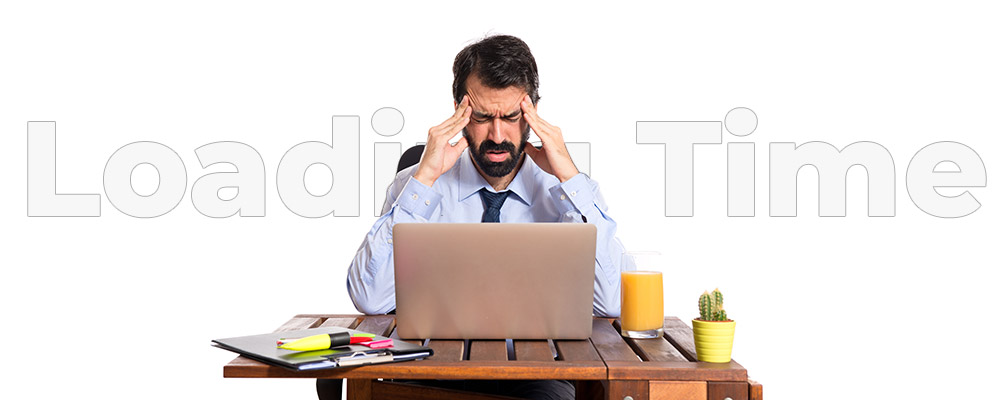 Reduce it to 2 seconds. After all, 40% of your customers are expecting it that fast. 
What Can I Do To Keep Page Load Speed Under 2 Seconds
Compress the images to the correct size.
Minify Javascript and CSS of the store.
Enable browser caching for your store.
Opt for the web host with a fast response time.
Dedicated server hosting will ensure page load time doesn't increase even during high traffic on the site.
Disable excessive redirects on your store to lessen the HTTP request and response time.
The Pro Tip: Page load speed is a decisive ranking factor. You will not only enable a smooth shopping experience, but Google will rank a site high enough in SERPs for better product visibility. It is one among the great holiday selling ecommerce tips.
Is Your Store Ready to Connect with and Convince the Millennials and Gen- Z
The majority of online sales results from online shopping eagerness shown by millennials and Gen-Z consumer groups. Moreover, it's comparatively easy to engage tech-savvy shoppers and sell more to them.
With that said, Here is how to hook them on your ecommerce store.
Share bite-sized snackable content to convey the most important message in the least amount of time. It can be in the form of visually appealing infographics, gifs, or image text. After all, Millennials and Gen- Z have a really short period.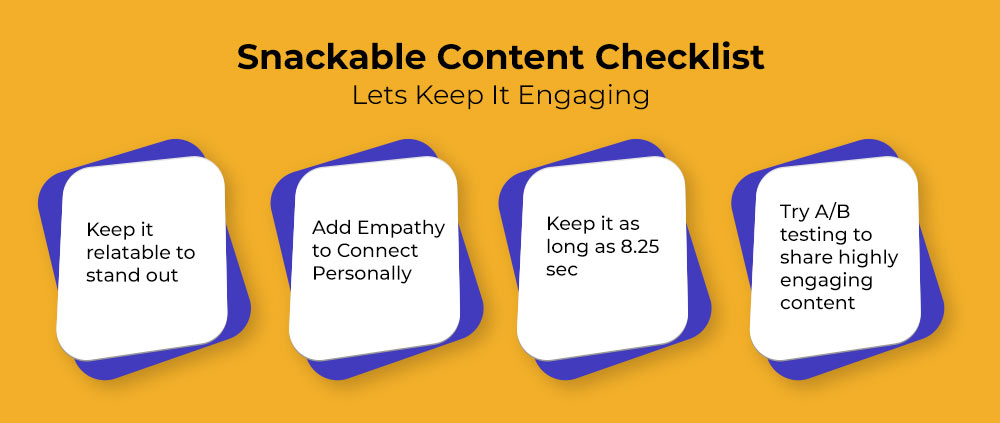 User-generated content is another solid strategy to keep millennials hooked on your store. Here is how to nail it.

Identify loyal customers
Delight them with personalized offers and discounts
Request for short product review videos
Upload these videos over social media platforms
Share it in the form of an image with text over email
Remember, the secret sauce is to keep it short and let customers appreciate the worth of your products and brand. Moreover, having a few such loyal customers will be more helpful in engaging customers than any other format, with less effort and minimum investment required.
Advertise Your Brand (Be Persuasive Not Pushy)
Are the paint points fully elaborated?
Craft the content to empathize and convince the audience that they need it.
The body of advertisement must justify and support the claim made in the heading.
Use of you and your will effectively engage the users by connecting them on a personal level.
Highlight the sense of urgency by including the end dates of the offer
Use numbers to paint a better and bigger picture. 4 weeks sound better over one week.
Are You a Pro At Offering Impeccable Customer Service
The holiday season brings loads of sales. Hence, a rise in return is inevitable. But the return process is not always only a setback provided it is managed in a customer friendly manner.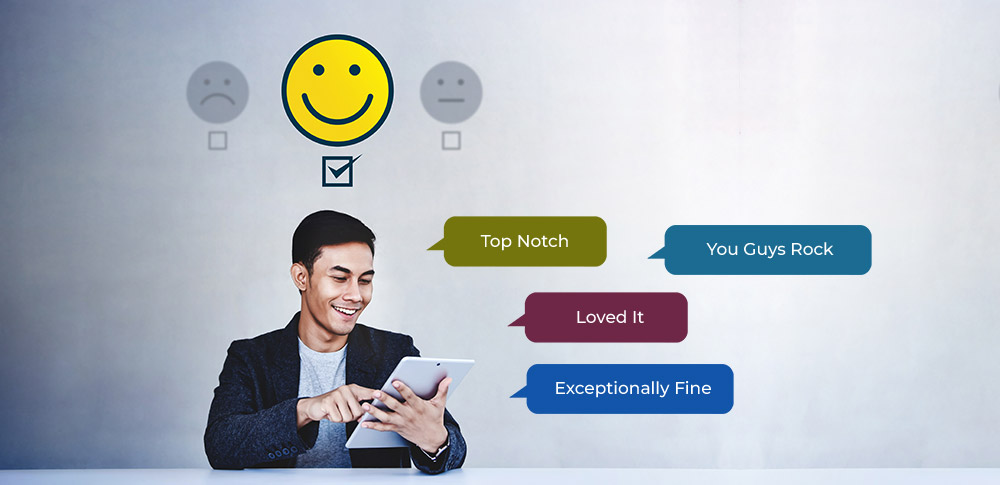 A Happy Customer Becomes Repeat Customer And An Asset
Following are holiday selling e-commerce tips helpful in delivering hassle-free return processes during the holiday season.
Have a dedicated FAQ page that caters to all common queries. The answer must be in-depth.
Have sufficient skilled resources ready to respond to pre-purchase and other doubts on all touchpoints. It includes email, live chat, social media, and telephone.
Train customer service agents to first completely listen to customers then respond (instead of interrupting in between) to the problem with full empathy.
Be active on live chat 24/7. Shoppers expect immediate response over it. Don't let them lose patience and feel irritated.
Turn all major queries that require a lengthy process to solve in illustrative knowledge base blogs. As a result, the customer won't bother the agent—moreover, more resources to cater to other shoppers' queries.
Deliver The Safe Shopping Ecosystem
Safety is a primary and the first concern irrespective of everything else. Making a customer feel safe is no less than a milestone. After all, a complete sense of security initiates the bond of trust.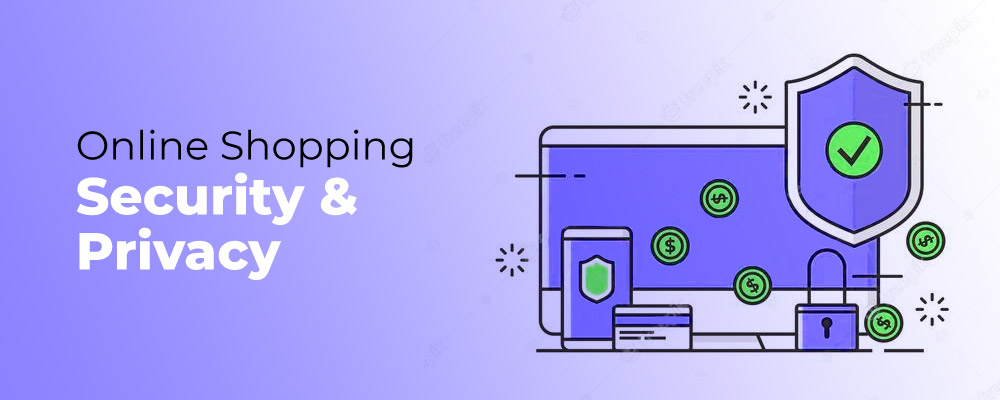 Shoppers are smart enough to decide if the website is sufficiently safe or fraud-prone. With that said, make your shopper feel his credit card details won't be compromised.
HTTPS is a must. Customers won't enquire about it but switch to another website.
Implement SSL to encrypt payment data. Hackers won't be able to breach it.
Web Application Firewall to filter and block the malicious content.
Keep the plugins updated. Outdated plugins are an invitation for hackers, and data breaches will be a matter of minutes.
Request site visitors to set up strong passwords.
Explain on the privacy page how you intend to use and protect the customer sensitive data.
Check reviews (on your store and third-party websites) to ensure none of them indicates a bad experience due to a security loophole.
The Pro Tip: By highlighting the security of your store, you can double assure customers about 100 per cent security. Simply an infographic on the privacy page about how different security features safeguards customer data.
It will make a big difference and have a positive impact on brand perception. After all, hardly merchants are making customers feel secure in an engaging manner.
Shipping Accuracy (Have Long Term Impact)
The holiday season is not only limited to deals and discounts. Customers have high expectations and have planned to purchase gifts. With that said, no one would be okay with a long craved gift arriving a day or two after the promised day or getting replaced with anything different.
Moreover, killing the joy of shopping has a long term impact on customer lifetime value.
The Checklist to Measure Shipping Readiness During Holiday Season.
Tracking details enabling customers with real-time tracking.
Trust only experienced 3PL (third-party logistics) capable of handling the shipment volume spike.
Audit the order before shipment.
User-centric refund policy for delayed delivery with extended window frame.
Be an early bird and start procuring packaging stuff to reduce order packaging time. Thus, you can ship orders on time.
Arrange the warehouse by keeping most in-demand products near the packing zone. It will minimize the unwanted delays.
If you are a newbie or with a minimal idea on shipping, opt for Shipping software.
All Things Considered – Get The Gears Turning Leave No Stone Unturned
An ecommerce store ready to deliver a smooth customer experience Is imperative to your business success during holiday sales and when the store is overwhelmed with more than expected visitors.
Give a try to above mentioned holiday selling ecommerce tips and tactics. It will equip your store to turn first-time visitors into repeat customers. As a result, you have an enormous opportunity to increase your loyal customer database. Moreover,  They will help you reap benefits from customer lifetime value.