What are the best Holiday marketing strategies to increase sales and revenue?
Running short of time? Get PDF of the blog in your mail.

Play Now
In the US, the Christmas holiday shopping season customarily starts with Black Friday. Retailers start implementing Holiday marketing strategies and start promoting sales in the beginning of November. In the year 2021, the holiday retail sales increased by 4.4% over the past 5 years.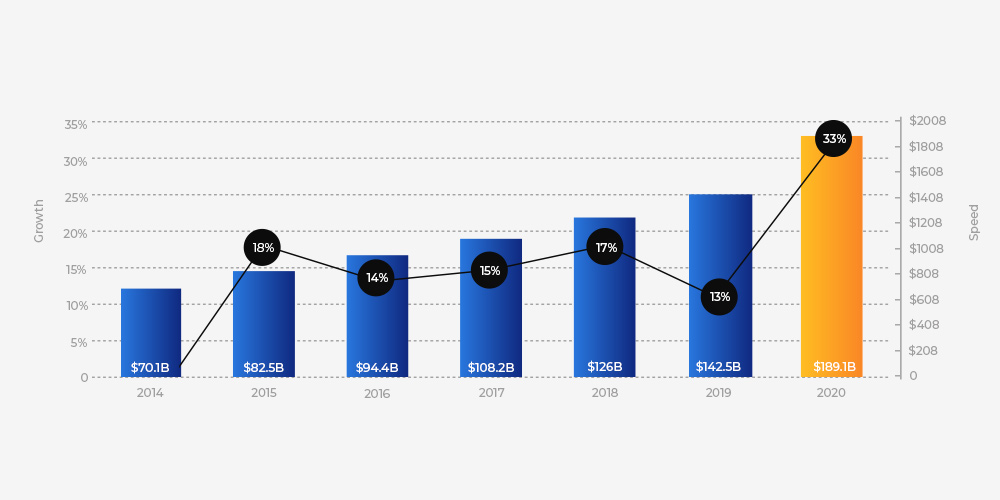 In the year 2021's Cyber Monday, 62.8 million US citizens had planned to shop something  online and in 2020, the Cyber Monday sales reached $10.8 billion.
What is Holiday Marketing?
Holiday marketing is the way of taking intensified measures through various marketing channels to draw the customer's attention, to cater them with additional important offers and massively increase the revenue during the holiday season. So the main aim of holiday marketing is to gain the maximum number of customers and generate maximum revenue from them by offering them attractive discounts and offers.
Boost your online sales during the holiday season with an unabashedly fast Mobile app
More shoppers are moving towards mobile shopping during the holiday season
Besides desktops and laptops, most US buyers are moving towards mobile shopping. It is reported that 61% of the holiday sales are generated from smartphones which show a 27% Y-O-Y growth. With everyone using smartphones, it is convenient for a marketer to produce sales through smartphones.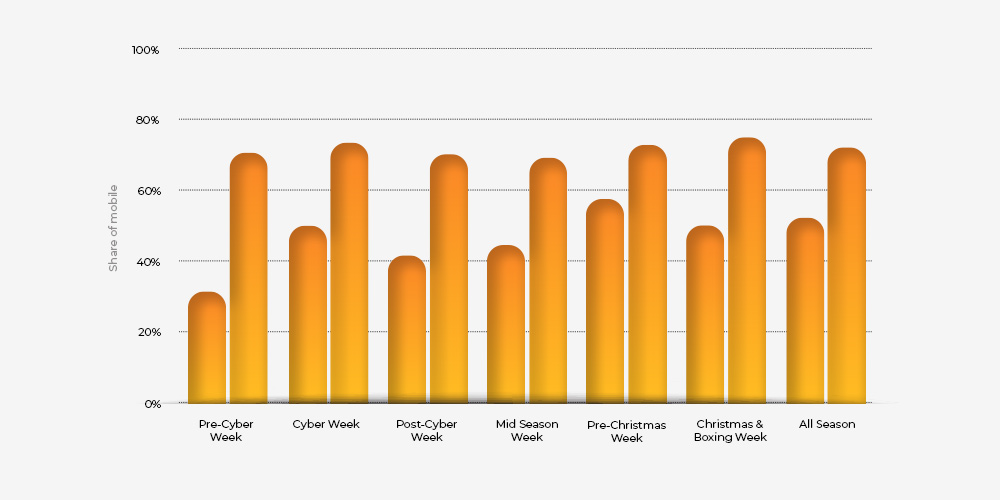 How to Prepare Effective Holiday Marketing Strategies?
Online Marketing trend most commonly seen during the holiday season, is the early promotion of sales and offers among the retailers. Early promotion is done to generate maximum revenue, as this is the peak sale period for US retailers. 
Read Also: Get Your Online Business ready for Christmas and New Year Sale.
Over the years, books, event tickets, and travel were some of the main categories that shoppers preferred to purchase from online rather than offline. Due to reasons like less stress, multiple payment options, and convenience; the main advantage is to do shopping from their home.
There are a few important points you need to consider for an effective holiday marketing campaign during the holiday season:
1- Create a plan
Crafting a powerful plan is very important for achieving any goal, the same is the case of holiday marketing. You need to create a plan and powerful marketing strategy for better results. A successful marketing strategy is a deliberate and well-judged strategy. There are numerous marketing channels available and you need to pick the best among several channels available in the market.
2- Collect useful Data
To craft a powerful marketing strategy it is very important to learn from user behaviour and past experiences. So collect data as much as you can in advance to satisfy your customers with personalized and targeted offers. Also, customise subscription forms to collect essential data for future holiday marketing.
3- Email Marketing Campaign
Email marketing is one of the best marketing strategies used during the holiday season. Use well-crafted emails will attract templates for different occasions like New Year, Black Friday and Christmas.
4- Reach your Customers at Perfect Timing
Pitching customers frequently is not a good thing for marketing. For effective marketing it is very important to prepare a marketing plan and reach customers at the right time in the right manner.
Why is there a need for holiday marketing?
Holidays are a special occasion when most people buy different products from groceries to apparels. During the holiday season, the buyer's base increased automatically, and it is an excellent opportunity to acquire more customers. So there is also a need for a unique and effective holiday marketing strategy that could reach many audiences. Here are a few reasons why there is a need for holiday marketing.
Shopping is a part of holiday rituals.
Festivals are a time to celebrate with family and loved ones. During the festive season, people make preparations many days before the arrival of the festival. They used to buy new things for their home decoration, clothes, and other items. So shopping is an important part of every occasion.
Read the Success Story of AmorEarth after using MageNative Shopify Mobile App
Encourages creativity
Drawing the viewer's attention during the peak holiday period is a daunting task. Organizations and marketers should push their creative skills and develop relevant and emotional content to captivate savvy customers.
Beneficial for both brands and customers
Holiday marketing brings attractive gifts and discounts to customers, concurrently rewarding brand efforts with increased revenue and reputation.
Read Also: How to enhance mobile app user experience?
Best practices and tips for holiday marketing strategies 
Set up your goals
Set up your goals about what you want to attain with holiday marketing, and what assets you have available with you to carry it out. Try to set realistic Goals and find out which types of discounts will be beneficial for you and your customers.
Appealing holiday Marketing Emails
Create appealing emails for your buyers, something related to the purchasing process. Not just provide your customers a generous holiday proposal. But you also need to offer them the spirit and positive vibrations.
SMS campaigns and Personalize email
Leverage data from the past experience and learn what your users will expect from your holiday mails. try to fulfill them with targeted proposals and complete personalisation.
Check out: Benefits of Shopify Mobile Apps – See What Your Business is Missing Out Without an App
Don't be too frequent
Sending too many proposals can be irritating to your users. So the best way is to send them the right message only at the right time. This will be more effective and convince more customers to make a purchase.
Create a yearly holiday marketing
Don't stop your holiday promotion work with Black Friday, Cyber Monday and Christmas. Craft power holiday strategies for more holidays . For example If you run a vegetarian restaurant, craft a holiday campaign for vegetarians on World Animal Day.
In a Nutshell
During the holiday season more and more people start to make purchases, and it is the perfect time on which you can generate maximum revenue. To attract maximum customers and to generate increased sales and revenue, you need to prepare a strong marketing strategy. For this there are some points you need to consider while creating a holiday marketing plan. As more buyers are now turning towards mobile shopping.
For successful online marketing, there is a great need for a mobile app with advanced features. So if you are looking for a fast mobile application with advanced features, you can start with a free app trial by MageNative . MageNative offers an application with outstanding features like Push Notifications, abandonment cart notification, wishlist and lots more.