What is Mobile Deep Linking? How Deep Links Increase App Engagement
Running short of time? Get PDF of the blog in your mail.

Play Now
Mobile deep linking is a crucial part of a mobile marketer's toolkit.
Now, most users expect a personalized experience from their mobile app. App development firms use personalized push notifications to keep the customers engaged.
Deep linking enables push notifications to send users directly to the pages where they want. And make it easy for the users to view new content, reconsider abandoned carts, and explore new features of the mobile app.
Here we will discuss mobile app deep linking and how you can use them to please your customers.
What Is Mobile App Deep linking?
Deep linking is the ability to redirect users directly to a specific location in the app.
Instead of redirecting users to the home screen, deep links bring users directly to the screen you want. New content, profiles, product pages, or shopping carts. Deep links can be used in different places like
Websites
Messages
Ads
Social media posts
Push notifications
For example- if you are trying to sell something online, where do you want to land your shoppers? Obviously, on the product page, where your shopper could directly make a purchase seamlessly.
Mobile deep linking is divided into three categories as follows
Standard Mobile Deep Linking
This is a standard approach in which visitors are directed to a specific part of the app. It is also known as universal linking.
Standard Mobile Deep Linking is for the users who have already installed your app on their mobile devices. It overcomes the problem that arises in traditional linking. In the case of traditional linking the user clicks a link, it takes users to the browser version instead of opening the mobile app. So standard linking has made the process much more streamlined and optimized for mobile users.
Deferred Mobile Deep Linking
Deferred deep-linking works in the same manner as the standard mobile deep linking, except it, does not need an app installed on the mobile. It ensures that users reach the page where you want them to be after installing an app from the app store. This is the optimal way to drive users from an advertisement to a specific location in the app.
Contextual Deep Linking
Contextual deep linking, also called onboarding enables developers to give users a much more targeted and personalized experience when they open the app. This type of deep linking can be applied to both kind deferred and standard deep links. This type of deep link not only brings the user to an app but also redirects them to a specific piece of content.
Read Also: What Is App Maintenance and Why Is It Crucial For Your Business?
How Mobile Deep Linking Helps Improve User experience?
With the increasing demand for mobile commerce and mobile applications, there is fierce competition in the app development field. Every app development firm competes to offer outstanding features that attract and retain users. Now mobile addicted buyers demand a personalized experience. And that's what deep links help to offer.
Deep linking enables app developers and marketers to ameliorate the way users interact with their apps. By utilizing deep links, marketers can create personalized campaigns that help users provide relevant and useful content instead of simple CTA.
What are the advantages of Mobile app deep linking?
Deeplinking has now become a crucial part of mobile apps. The potential to improve app discoverability and enhance user experience, downloads, retention rates, and conversion rates makes it valuable for both users and developers.
1- Enhances The User Experience
With the help of deep-link, visitors can easily gain access to the content you want to redirect them with little navigation. Moreover, you can make your users directly reach the specific screen without going to the home screen. So in case you want to showcase something to your users, you can directly take your users to that screen seamlessly.
Turn Your Online Store Into A fast And captivating Mobile App
2-Promotion of specific content in an easier way
One of the crucial advantages of a deep link is that it enables you to create links on social media, sites, email content, etc., that allows you to link back to certain content within your mobile app. It serves as an effective promotional tool that lets you redirect your prospective customers to the special deal or product they want to highlight. You can directly take your visitors to the page you want to take them.
3- Improves User Engagement, Retention, And Usage
Deep linking plays a crucial role in improving user retention, engagement, and conversion level. It can be easily observed that deep-linked apps witnessed double activation and retention than non-deep-linked apps.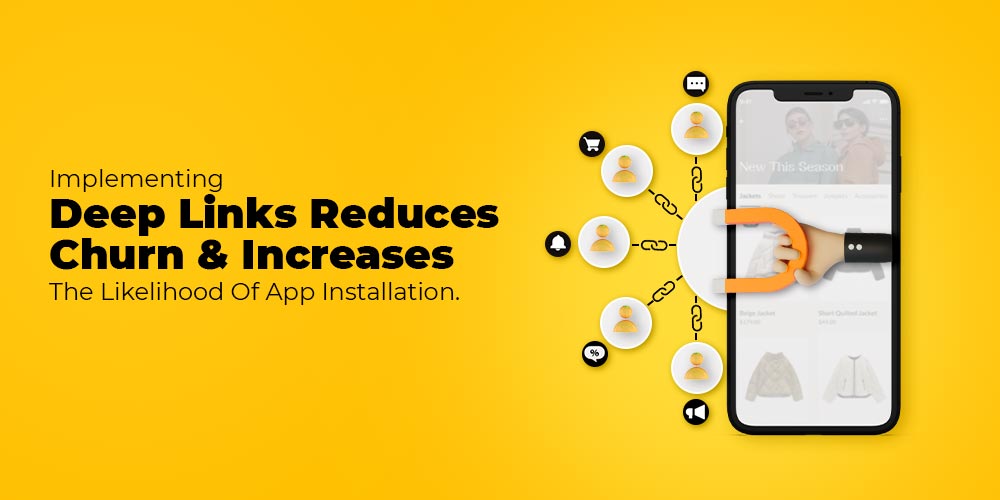 4- Improves Discoverability
Search engine indexes deep links; it will show your app's content in search engine results like a website would. This increases the probability that new users will find your app easily through google search.
5- Help Re-Engaging Users
Deep links also help you to re-captivate your dormant customers. You can re-engage your users by redirecting them directly toward the specific content of your app(i.e., New offers, new arrivals, special discounts, etc.) rather than directing them toward the home screen.
In A Nutshell
Mobile deep links are among the most effective app features that help increase user engagement and retention and enhance user experience. You can directly take your users to the page or content where you want them to take rather than taking them to the home page. So building a mobile app with this feature is imperative for the growth of your business. Get your 30 days free trial with MageNative.