FLAT 20% off on Magento 2 Marketplace Solutions for Holiday's
Running short of time? Get PDF of the blog in your mail.

Play Now
Portland, Oregon (USA)- CedCommerce is running a special discount of FLAT 20% OFF for this holiday season till 31st December 2022 On All Magento 2 Marketplace Solutions and Magento marketplace extensions.
The holiday season is around the corner followed by the joyous Christmas time. Consumers await the big Christmas sales throughout the year to make actual purchases from their shopping list. So we bring to you a heavy discount on Magento solutions for ending 2022 successfully. Continue reading to unlock our holiday offer on Magento marketplace and PWAs.
Last year, retailers in the US witnessed the highest growth in holiday season sales in the last 20 years. The overall sales jumped by over 16% to 1.22 trillion in 2021. The forecast for 2022 suggests that this number will rise up to $1.262 trillion, with m-commerce getting the major share. 
Therefore this time is a great chance to revamp your marketplace at affordable prices with the ongoing holiday offer on Magento marketplace and PWA. CedCommerce aims to prepare your multi-vendor e-commerce platform for competing well during this upcoming season. So, grab this opportunity and activate the offer by using the code HOLIDAYSALE2022 throughout the end of this year.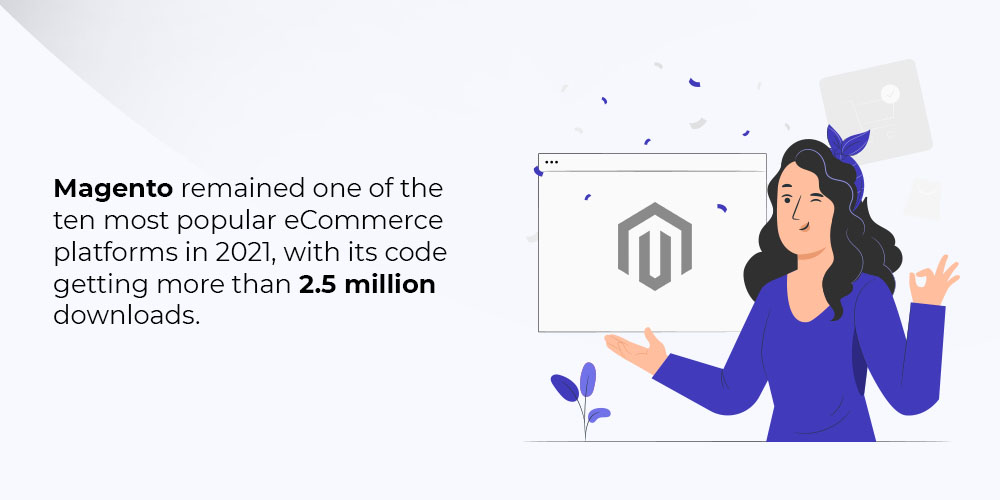 The Magento 2 marketplace solutions available at this offer attract even more customers to your marketplace website. These solutions provide easy payment methods, a wallet system, and smooth shipping facilities. Your marketplace allows sellers to easily upload their products and receive email notifications related to their orders. No doubt, these solutions, and Magento 2 extensions are doing wonders in growing multi vendor platforms exponentially.
Magento 2 Marketplace Solutions by CedCommerce
We hold a wide catalog of various Marketplace solutions and extensions suitable for all types such as grocery, food, booking. They transform your online store into a multi-seller marketplace in minimal time and effort. Following are some of the solutions-
Advance Marketplace Extension [M2]
The Cedcommerce B2C Advance Marketplace Extension package revolutionizes the B2C marketplace solution to bring sellers and buyers together in one marketplace to trade online with a personalized shopping experience digitally. Our Multi-Vendor/Seller marketplace solution has flexible and armed features that facilitate business processes from order placement to fulfillment, whether you are a merchant, brand, or startup.
Marketplace Platinum Package [M2]
Now create an even powerful Magento 2 store with new and advanced features thereby making it more automated, efficient, and convenient for your vendors to use. Marketplace Platinum Package for Magento 2 provides a complete eCommerce marketplace software package consisting of Marketplace Basic extension along with 9 other necessary add-ons at affordable prices.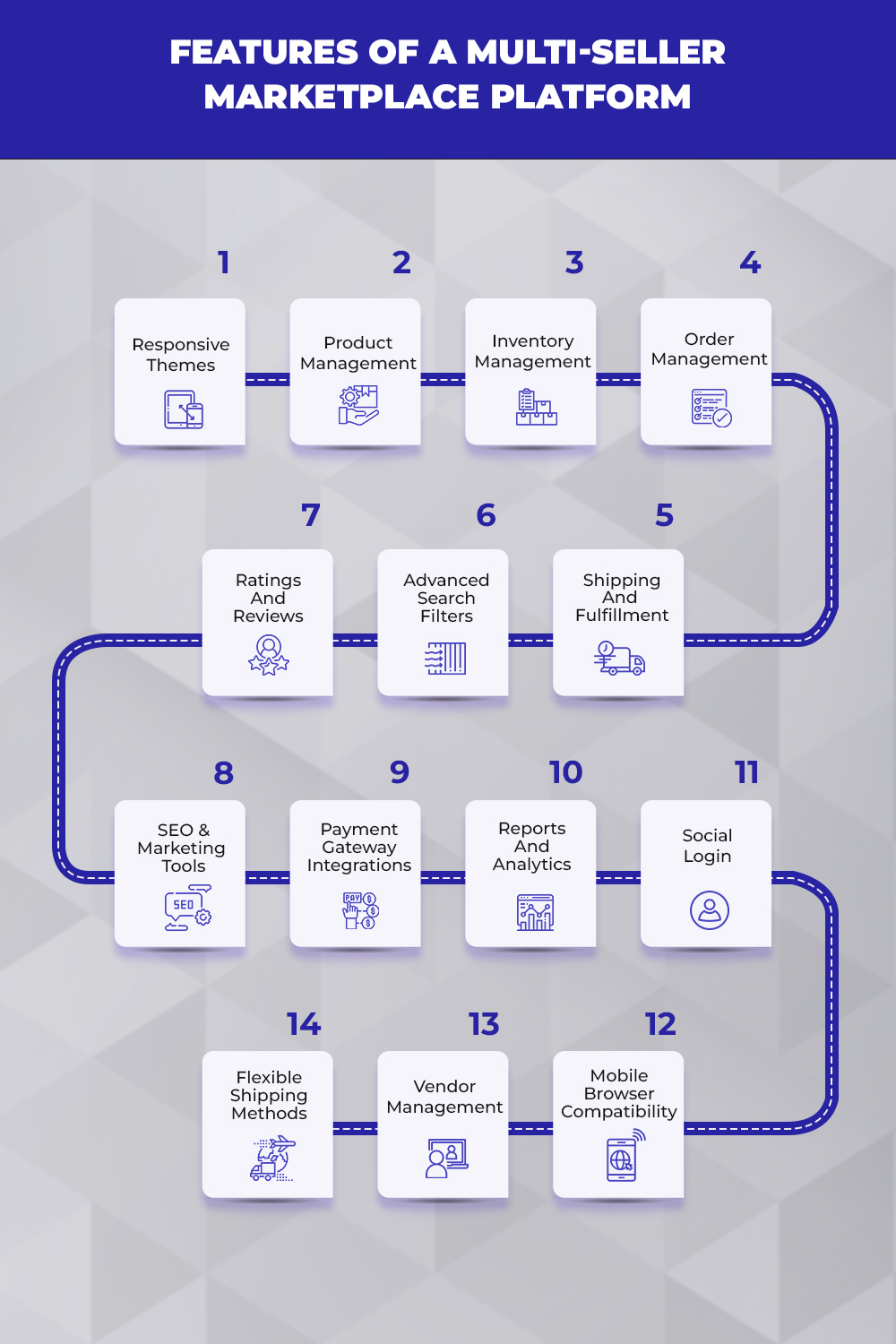 Grocery Store Pro
Grocery Store Pro solution is designed for grocers to quickly launch their online grocery store. Using this solution, grocers pave a smoothly functioning online grocery store with effective vendor management and buyer-specific features. Powered by the hyperlocal functionality, the solution allows vendors to set their delivery locations while finding the nearest grocers for buyers.
Grocery Store Startup Package [M2]
Grocery Store Startup Package is a comprehensive end-to-end Magento 2 based online grocery solution which is designed exclusively for grocers. Our solution provides everything you need to build an e-grocery marketplace. Bundled with innovative features, it allows you to engage with customers and fulfill their orders at a reasonable price.
B2B Basic Marketplace Package [M2]
B2B Basic marketplace solution package converts your single vendor Magento store into a powerful B2B multi vendor platform. It lets you compete against big players such as Indiamart, Alibaba, and ThomasNet. The package comes up with the most innovative add-ons that provide you with the necessary functionalities that a Magento 2 B2B marketplace should have.
B2B Marketplace Pro Package [M2]
Considering the rising need of B2B Marketplace businesses, CedCommerce provides a solution for creating an online Magento 2 based B2B Marketplace. This solution helps businesses to transcend from a one-to-many to many-to-many B2B business model. The package revolutionizes the e-commerce experience for wholesalers by creating a website that covers features relevant to them and their customers.
Online Food Store Marketplace Solution [M2]
The Online Food Store Marketplace Solution[M2] is an out-of-the-box solution that provides unlimited must-have features to an online food store. It is easy to integrate with delivery management platforms, payment gateways, and inventory management software. Integrating this solution enhances the operations of your existing online food store platform to make it more efficient.
Magento 2 Marketplace Extensions
A wide range of powerful Magento 2 marketplace extensions that enhance your online business through powerful shipping, payment modules, credit limit, wallet system for quick and easy shopping, customer & sales motivation extensions, and much more.
PWA Solutions
Living in a mobile-first world calls for a totally different set of experiences to be designed for eCommerce. Get over slow-loading pages and non-engaging content and choose a swift and reliable progressive web app that loading pages quickly and delivers a great user experience with Magento 2 PWA theme for eCommerce or Magento 2 Multivendor Headless PWA Studio Solution for amazing results.
Along with these solutions, you will also enjoy end-to-end benefits. Benefits you will get from the offer-
3 months free support
Lifetime free upgrades
24×7 support available
One-time free installation of Modules.
Click below to view the offer

About CedCommerce
CedCommerce has been servicing merchants with robust e-Commerce and marketplace solutions for over a decade now. These solutions come with endless features to aid the development of a rich multi-vendor e-commerce marketplace. Our holiday offer on Magento marketplace makes Magento 2 Marketplace solutions more affordable for merchants.
The products are ready-made solutions having reasonable prices. A marketplace that is supported by these dynamic solutions undoubtedly possesses best-in-class features. For building your own multi-vendor marketplace platform and seeing what our satisfied customers have to say about our offerings, do visit CedCommerce.
Here are a few resources for tips to make this Holiday Season a success: 
Holiday Season Checklist for Magento stores
Is your website prepared to handle the traffic surge? 
Easy way to boost online sales during holiday season