2022 Holiday Shopping Predictions: A Retailer's To-Do List
Running short of time? Get PDF of the blog in your mail.

Play Now
Both retailers and customers eagerly await the holiday season. And for obvious reasons! The holiday season brings in more great deals, offers, and discounts for customers. While retailers get to showcase their best products, attract more customers, and earn more revenue. Today, we bring you the online holiday shopping trends 2022, the driving factors influencing those trends, and how retailers can prepare for the 2022 holiday shopping predictions.
Table of contents
The pandemic has made online marketplaces the one-stop destination for almost all of us. The huge behavioral shift witnessed in customers led to fairly positive 2022 holiday shopping predictions. Furthermore, the holiday season this year seems to be going big despite the high inflation rates and the ongoing supply chain disruptions.
The holiday shopping trends 2022 will continue to prevail this year even before the holiday season begins. Moreover, the 2022 holiday shopping season will be about big sales, big profits, and big online crowds.
It's because shoppers prefer the ease and convenience of buying online. Furthermore, it's the heavy discounts offered by online stores that attract them the most as compared to the physical stores. Unlike the holiday season of previous years, customers expect more than just discount offers and free shipping. Personalization and engaging customer experience are the keys to success this holiday season. Furthermore, 2022 online holiday shopping trends will take a swipe at a much greater pace than ever before. Based on the 2022 holiday shopping predictions, retailers need to plan their online selling strategies at an early phase.
Holiday shopping predictions for 2022
As we head into the busiest time of the year, particularly for eCommerce websites, it's time to prepare for the holiday season 2022. Below, we list the 2022 holiday shopping predictions to help retailers get ready and make the most of the holiday season:
Mobile commerce will be at the forefront of the holiday season strategy
A report from Sensor Tower, a market intelligence provider, noted that "top US live stream shopping apps grew installs 77% year-over-year to 2.3 million" in the first five months of 2022. However, it does not count downloads of popular video apps, including TikTok with its several eCommerce features.
More holiday season shoppers will buy gifts via their mobile devices, according to Practical Ecommerce. The total US eCommerce sales from mobile devices should hit $115 billion, a 20% increase over 2021.
It seems we are still discovering new ways to capitalize on mobile commerce as mobile shopping apps and PWAs expand their functionalities and deliver improved online shopping experiences. The US m-commerce is expected to nearly double its share of total retail sales between 2020 and 2025.
What do these holiday shopping predictions for 2022 mean for retailers? Simply, mobile commerce must be at the heart of your holiday season strategy. Furthermore, everything from your marketing to your website, product catalog, and customer support should be user-friendly and accessible on mobile devices.
Currently, PWA is the most effective course of action to leverage mobile commerce. Let us help you in your journey from a traditional website to a new-age PWA.
Holiday purchases will begin early
The previous two holiday seasons also saw an early start despite supply chain disruptions, inflation, labor shortages, etc. eCommerce businesses started rolling out 'Black Friday' deals by mid-October. Furthermore, Cyber Monday stretched into an entire week, instead of a fixed, single-day slot on the Monday after Thanksgiving.
Nearly one-quarter (22%) of adults have already begun their holiday shopping to avoid future price hikes.
It is very likely that retailers will continue this trend this year as well, given the success they have seen by extending Black Friday and Cyber Monday deals in recent years. With more businesses jumping on the early deals bandwagon, customers will be able to get their shopping done earlier to avoid the crowds and shipping delays that are common during the holiday season.
Customers are also worried about inventory issues and rising prices due to record-high inflation rates. Thus, customers are planning on completing their holiday shopping by Super Saturday (the last Saturday before Christmas), as illustrated by the graph below.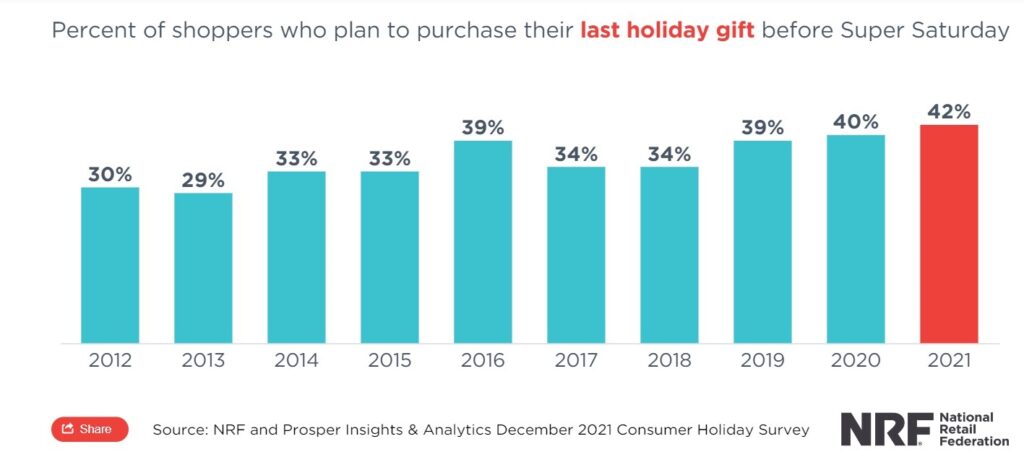 Moreover, Black Friday and Cyber Monday will likely generate a smaller share of total holiday retail sales.
Marketplaces will facilitate most sales
Amazon and other similar online marketplaces will grow at a faster rate as compared to single-seller eCommerce stores in general during the 2022 Christmas shopping season. Furthermore, customers are more likely to use premium subscription-based services, such as Amazon Prime, etc. to keep shipping costs down for the gift-giving holidays. Some will purchase many gifts at once from the same online seller or marketplace to avoid spending on shipping every time they purchase.
With 16% of shoppers saying they will increase their use of online marketplaces this holiday season since these allow consumers to easily compare prices, navigate deals, and ensure a quick delivery. Furthermore, the marketplace model is a prominent approach to expanding product assortments on your online store and generating more revenue.
Impact of social media influencers
2022 holiday shopping predictions aren't complete without the inclusion of the impact social media influencers will have on the holiday season. Brands will be leveraging social media influencers to build interest in their products, drive more traffic, and generate more sales. During the last year's holiday season, social media influencers played an important role in elevating BCFM campaigns. Social media's mix of branded content, influencers and the content they create are quite adaptive to the changing customer behavior.
Customers are also likely to turn to their favorite social media influencers for product recommendations. A report from Meta shows that 29% of US consumers state that influencers help them discover gifts during the holiday season. Furthermore, influencers can also help your brand to drive sales during the holiday season of 2022 as 25% of US shoppers say they're likely to buy a product faster if promoted by an influencer, according to the same report from Meta.
According to McKinsey, 58% of consumers agree that social media influences their holiday season buying decisions. The significant impact social commerce has had on home-grown businesses is indisputable. For obvious reasons, social commerce is one of the most irreplaceable holiday shopping trends for 2022. In 2022, more than half of all US adults will make a purchase through social media. Depending on which social media channels your potential customers are most active on, you can start preparing a social media strategy earlier than usual.
Furthermore, you can tailor your social media strategy to stay in line with the latest updates. YouTube was recently voted the number 1 most trusted platform for social commerce. It suggests that the platform shall offer robust social commerce features to brands in the run-up to the holiday season. If you are planning to use Tik Tok and Meta, preparations for the holiday season will look a little different. Meta is prioritizing Reels content while TikTok is undergoing a restructuring. Lastly, Instagram will be allowing its users to purchase products directly through DMs.
Click-and-collect options
The pandemic compelled many retailers to offer click-and-collect options, such as buy online, pickup in-store (BOPIS) and buy online, pickup curbside (BOPAC). These store fulfillment trends haven't lost their charm due to the convenience and cost benefits it brings to consumers.
BOPIS improved the customer experience for 70% of surveyed consumers by increasing convenience, according to NRF. Since 90% of consumers surveyed by NRF are more likely to choose a retailer based on convenience, incorporating BOPIS and BOPAC is essential to boost sales this holiday season.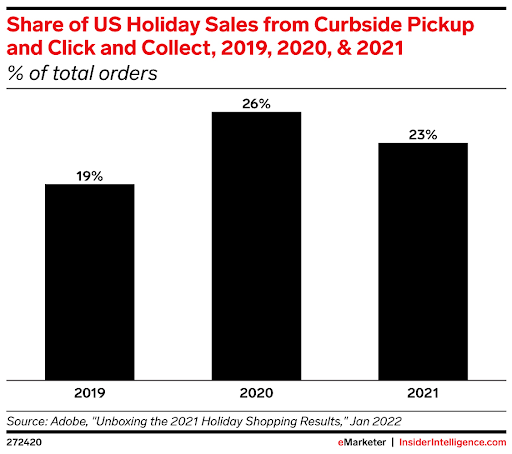 Statista predicts that click-and-collect retail sales will keep growing at an annual rate of more than 15% until 2024. With 2022 holiday shopping predictions like these, it's no wonder most retailers might implement BOPIS strategies.
Online holiday shopping trends 2022: Will inflation have an impact?
So far in 2022, America is witnessing the worst inflation in more than 40 years. According to data from the US Bureau of Labor Statistics (BLS), the annual US inflation rate was 10.3% in 1981, where — the 12-month percentage change for all consumer goods was based on city averages. On August 10, 2022, the BLS reported that in the previous 12 months — through July 2022 — the prices Americans pay for all items had risen by 8.5%.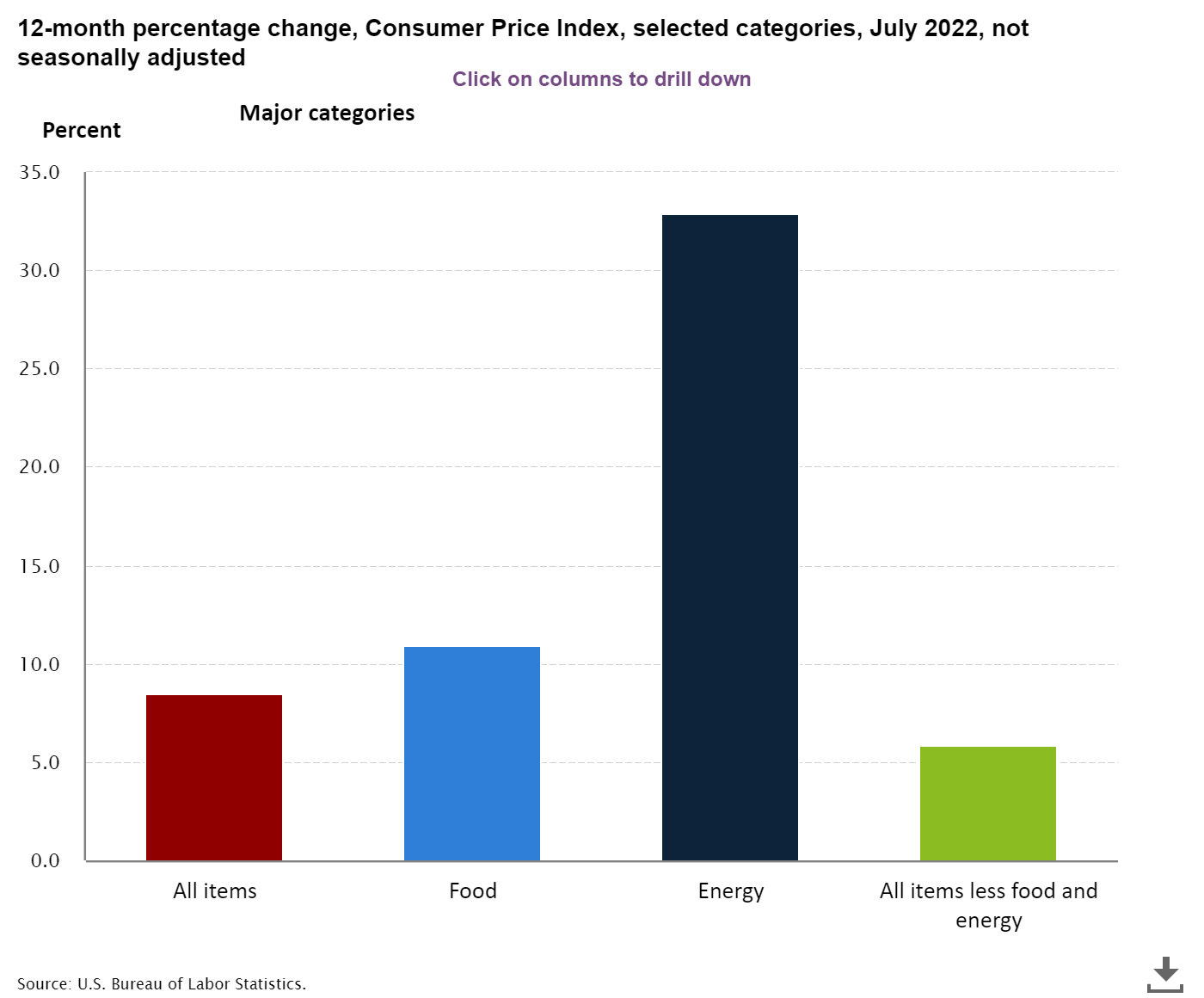 Practical Ecommerce predicts the growth of overall retail sales in the US at 3.5% to roughly $1.3 billion. However, it will be less than the annual US inflation rate, which might end up as high as 10%.
And it's not just the US. Inflation will impact retail sales globally – it already is. The Pew Research Center looked at inflation rates for 44 nations with 'advanced economies' in June 2022. For 37 of those nations, "the average annual inflation rate in the first quarter of this year was at least twice what it was in the first quarter of 2020," according to Pew. Though the inflation rates in the US have quadrupled in the last two years, it's risen more in several other countries.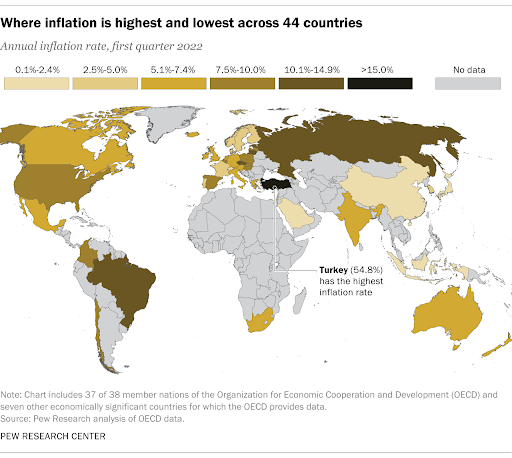 The direct impact of inflation on online holiday shopping trends 2022 will be seen as shoppers get more budget-conscious and spread out their purchases instead of buying everything at once. Moreover, tight budgets will encourage the early buying of gifts. More customers will turn to online marketplaces to avail of heavy discounts, cut costs on shipping, and buy products at competitive prices.
Over one-third (38%) of US adults are expected to spend less this holiday season, according to a Digital River survey conducted by Opinium.
Top 5 ways retailers can prepare for the 2022 holiday shopping predictions
The above-mentioned holiday shopping predictions for 2022 call for effective marketing strategies. We have enlisted the four components of all marketing, regardless of how these strategies change with businesses and trends.
An early holiday shopping spree preparation
The above numbers suggest that customers will begin shopping for the holiday season earlier this year. The primary reason for an early start is the fear among customers regarding stock-outs and price surges during the peak season. According to a recent Prosper Insights & Analytics survey, a majority of consumers (51%) expect product shortages to continue for at least the next six to 12 months.

Furthermore, customers are also anticipating early deals and discounts from brands. Thus, you must meet your customers' expectations mid-way and deliver more than what they're hoping for. Along with starting early for holiday promotions, get active on social media. Let your customers know what you've got in store for them.
Prioritize mobile commerce. Insider Intelligence expects mobile commerce to hit $116.98 billion, or 49.6% of the overall eCommerce sales.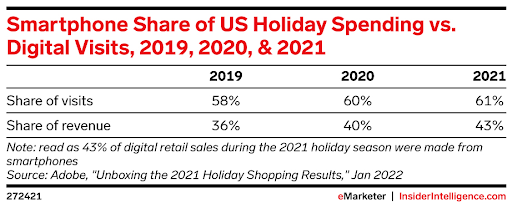 Optimize your website for traffic surge
Optimizing for a traffic surge implies getting your online store ready for more traffic during the peak season. It includes testing your eCommerce website for speed, security, inventory management, and more. You wouldn't want your customers to leave without making a purchase, particularly when there are infinite retailers vying to get customers' attention. Optimizing is essential to secure success during the holiday season of 2022. Sudden spikes in online traffic can cause your website to experience a significant drop in performance.
Start with reviewing your web hosting plan. Small businesses often use shared hosting which can be problematic during busier business times since the server has to be shared with other businesses. Eventually, it causes websites to experience downtime during traffic surges. Thus, you must ensure that the host server can meet your website's needs during the holiday season.
Implementing in-system automation can help you identify potential gaps, including plug-ins, extensions, systems, strategies, and more. Furthermore, implementing automated systems can help reduce manual errors and fulfill orders effectively, particularly when you are already busy with the holiday season. You can automate several tasks – all tasks that can optimize your eCommerce website to better handle traffic surges.
Leverage AI for better inventory decisions
Artificial intelligence and virtual reality have pushed the boundaries of what eCommerce can achieve. Deploying chatbots for customer support is probably the first thing that comes to mind when you think of implementing AI for assistance. However, the use of AI and machine learning shouldn't only be about efficiency.
"Your entire strategy should operate in terms of overall effectiveness rather than 'squeezing out output. Therefore, AI and machine learning should improve process flow instead of trying to find process anomalies and defects," warns Ali Hasan R., co-founder, and CEO of ThroughPut Inc.
Furthermore, AI can analyze mountains of data in real-time, and make estimates about the inventory you will need during the peak sales season. Eventually, it allows you to be more effective in the decision-making process when preparing your inventory.
Create a well-rounded customer experience
Exceeding customer expectations is the key to your success. There are several ways you can take customer experiences up a notch. These include testing your website speed since 70% of consumers say page speed affects their decision to buy from an online retailer. Furthermore, use your website design to bring your brand to life and enable cart abandonment notifications. Personalize the shopping experience, help your customers find what they are looking for, optimize checkout, and more.
Prepare your eCommerce Store ahead of Holiday Season. Get FLAT 20% OFF on Magento 2 Marketplace Solutions and PWA Theme. View complete offer details!
2022 holiday shopping predictions: What mistakes do retailers make?
"There's so much uncertainty in this environment – you can't just do the things that worked last year, or in 2020, or especially in 2019, which is ancient history in the retail world. I'd say the biggest mistake a retailer can make this holiday season is not preparing for the unexpected. You have to learn the resiliency lessons of the last few years." says Marc Gorlin, CEO of Roadie
Economic conditions will be an impending factor that can either make or break these 2022 holiday shopping predictions. Inflation and gas prices have already made 2022 a difficult year for customers. While retailers have faced similar challenges due to loss of business and a shortage of labor. Thus, it would be safe to assume that customers will be spending strategically as compared to previous years.
Retailers can focus on aspects they can control, remodeling the supply chain for resiliency. Retailers can't mitigate all risks. However, it's important to know where the biggest threats lie and what they can do to prevent them.
The primary risk area is the dependence on one supplier. It is referred to as concentration risk. It leaves you with few to no options if your current supplier fails to meet your inventory requirements. Having backup suppliers puts you in a better position to keep up with customer demands throughout the peak season. Furthermore, diversifying your supplier base can also help create a more competitive supplier landscape.
Next, stocking up even when there are slow-moving products or deadstock at the warehouse. Retailers should consider running flash sales or other promotions to speed up the sales of such products. Furthermore, retailers can also perform regular warehouse and equipment audits to help optimize efficiencies and safety during high-volume sales times.
Conclusion
"You're going to see a holiday that starts to look a little bit more like what we saw pre-pandemic," says CEO Corie Barry
The holiday shopping season comes but once a year. Thus, it's your once-in-a-year chance to go big. It is always a good idea to plan ahead for the holiday season 2022. Start early to ensure your business experiences the sales it needs to thrive between the holidays.
At CedCommerce, we are preparing for the holiday season 2022 in full swing. While you prepare for these holiday shopping trends 2022, let us take care of all the technical stuff for a hassle-free eCommerce journey. Our advanced and efficient marketplace solutions and extensions are specially designed to enhance your eCommerce experience.
Still have any queries?