How to improve customer experience: The 4-D approach for ecommerce
Running short of time? Get PDF of the blog in your mail.

Play Now
For your business to grow – improve the experience and not the product. Rightly said, improving the customer experience for your ecommerce store comes with its own set of benefits. With the ongoing Holiday Experience competition, you would definitely want to deliver the perfect online customer experience! This article will also help you understand how to make the user journey flawless.
For example, word of mouth is always the best marketing strategy that a business can adopt. Well, it only comes when a customer experiences a positive connection with your service. It is pertinent to enrich the customer's journey during peak seasons like the Holiday Season.
It is during the peak that new customers are attracted to your online store. Hence, there is added pressure of meeting the increased demands. Connecting individually with each one of them becomes tough and thus widens the engagement gap. In this article, you will learn about:
What is customer experience and why is it important for online businesses
Latest trends around customer experience and the Gen-Z expectations
Top features to enrich the customer experience
Business values that promote a positive experience
What is Customer Experience in the ecommerce ecosystem?
Customer experience is the virtual relationship that connects the customer with the seller. The magnitude of this experience depends upon how closely the offerings connect with the customer. There are tools that help you to monitor the way a customer feels and responds to your online store. Some of the basic factors that instantly level up the experience include:
Loading speed on both mobile and web interfaces
Convenience in navigating through online stores and marketplaces
Appeal quotient in the promoted services
Friendliness of technology implementations
Why is it important to improve customer experience?
Companies and brands that are selling online are relying upon positive reviews for successful results. These are an outcome of a synchronous shopping experience that meets the expectation of customers. Keeping customers at the heart of a business model is the key to achieving positive results.
Is your e-commerce store in the vibe for the right Holiday Experience?
Conversely, a disconnect between the customer's expectations and the business approach creates a gap in the strategy. This in turn affects the overall performance of your online store and hampers the customer's perception. Moreover, bad experiences are driving away potential sales faster than ever!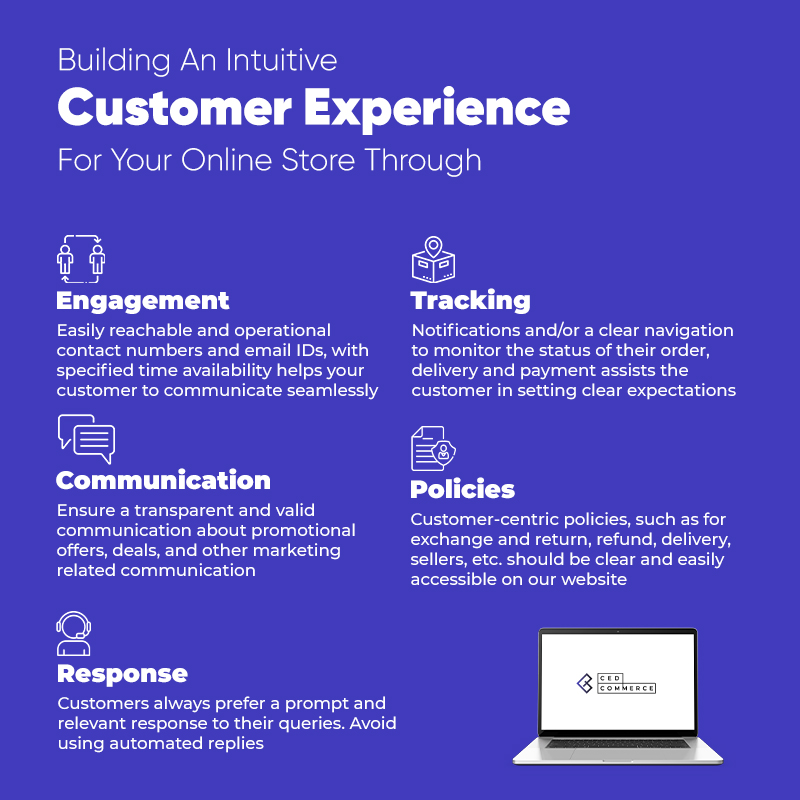 With the onset of the Holiday Season, expectations of the customer rise in terms of service and offers. Thereby businesses need to focus on improving the customer experience for multiplying revenue during this season.
The Gen-Z expectations: Seamless User Journey
Today's shopper has multiple options to shop for a single product or service. The increase in variety has also increased the competition for sellers. This means a more intuitive and personalized shopping experience needs to be adopted.
Growth in revenue is only proportional to the customer's wallet. Therefore by offering a user-first approach online businesses can capitalize on the increasing spending power of shoppers. Don't forget to get benefitted from the Holiday Experience!
The new-generation shopper is on the lookout for more convenient, friendlier, and intelligent experiences. These are the findings from the Customer Experience Survey conducted by PwC. Other parameters that have evolved include more relevant interventions, easy payments, fun elements, amongst another tech yet human-like solutions.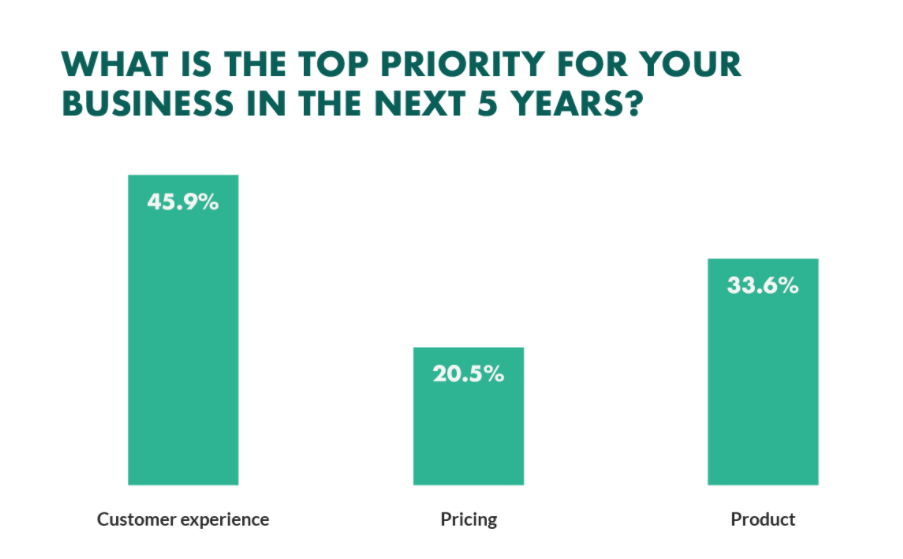 The above survey was conducted on approx. 2000 business professionals to access their priority for the next 5 years. Results suggest that improving customer experience has been the top-most preference for businesses, outranking pricing and products. These findings are also synonymous with other studies revealing similar insights.
E-commerce store features for improving customer experience
Amidst the rising availability of technological tools, it is important to rightfully identify the one as per your business needs. The objective is to meet the customer's expectations without confusing them with an abundance of features. As per the changing trends, we have curated some easy yet effective areas that online businesses can bank upon. These are:
1. Design
Design is the first element that catches the eye of the customer. It communicates a range of thoughts to the customer and portrays an image of the services. This is where the customer's expectation sets in. The first impression in the user journey of the customer, the online store design is the most thought upon element.
While working on the design element, take help from the below tips that level up the customer experience journey:
A design that is simple and minimal offers clear communication. This also makes it easy to grab customer's attention
It should follow an organized sequence that helps the customer to navigate through the store easily
Pop-ups and notifications should not act as a hurdle in the purchase journey of the customer
The entire customer journey should be tested for prompt responses before going live
Design should be optimized for seasonal promotions and key highlights, such as the Holiday experience
Answer below in comments : Did you experience an increase in the website traffic during the Holiday Season ?
2. Delivery
There is a range of delivery options and features that are available to the online shopper. These include – same-day delivery, domestic and international shipping, shipment tracking, delivery boy tracking, etc. The customer experience journey around delivery is a deciding factor to assess whether the customer would return to your ecommerce store or not.
Some of the delivery features that entice customers are listed below
Real-time updates on shipment tracking to gain trust
Global shipping availability that expands reach
Choosing a convenient delivery slot that provides comfort
Completing payment upon delivery for flexibility
Free shipping that makes the customer feel special
3. Deals
Offers are always welcomed by shoppers, with or without an occasion. As per a post-COVID survey report, 89% of Millennials in the US would make a purchase from a new brand. The only condition being that they should be offered a discount code. Hence deals and gift cards are a proven way to attract shoppers.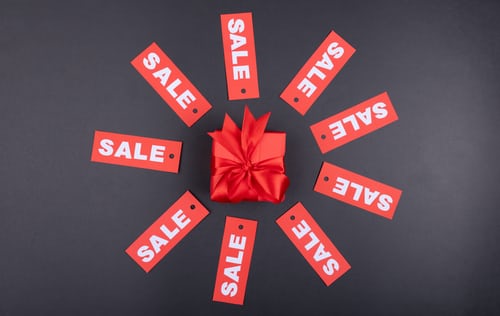 Some effective ways to add to the customer experience journey are:
Gift cards to offer a personalized feel-good factor
Reward points that add to the value for money concept
Referral bonus to promote the brand association
Membership programs that enhance the customer experience journey
Affiliate solutions for marketplaces to make extra earnings
Occasion – specific offers that sync in with the vibe of the season
4. Device
Considering the shift in device preferences of online shoppers, identifying where your users are will help you in making informed decisions. With the rising expectations of online customers, focus on fine-tuning your eCommerce store as per the device type. This will not only improve the customer experience in general but also boost the Holiday experience.
For example, the display size of a beauty product would vary for different mobile devices. If it's kept the same, the product may not be fully visible to some users. This again creates a negative experience and may lead to a higher bounce rate.
Stores that operate separately on a web framework and native app spend double efforts to optimize the experience. However, progressive apps make this process of optimization easier. Through a single approach, changes can be implemented for both mobile and web users.
Progressive Web Apps also provide an uninterrupted Holiday experience to customers.
Business values for an ideal customer experience journey
In addition to technical advancements, how businesses operate also impacts the way customers feel about your business. And for Marketplaces, the impact is dual with both vendor and seller experiencing differently impacting the overall experience.
Transparency
Maintaining transparent communication with customers instills confidence and a sense of belongingness. Apart from direct communication, transparency about services and processes is also important. This develops confidence in customers, especially in the online environment. This surely strengthens the customer journey.
By adopting a transparent approach in the business strategy, companies can also cut down on negative feedback and complaints. This saves the added efforts and resources that may otherwise go into resolving these negative reviews.
Communication
An effective communication strategy works wonders to gain the trust of customers and create a longer association with them. There is a fine line between overdoing this communication and rightly doing it. Analyze your customer demands and provide flexibility in choosing the mode and frequency of communication. This is a safe bet to hit the right spot!
Activating a CRM tool has also helped eCommerce businesses to control their communication with customers while satisfying their expectations. However, adding a human touch to this automation will multiply your efforts to deliver a soothing customer experience.
Responsibility
Depicting responsible behavior throughout the customer's journey creates a positive impact on customers. Responsible behavior also displays that there are no loopholes in the business. This further assures the customer of a wonderful shopping experience.
Online customers go round in circles between departments for queries very often. Lack of ownership on queries also widens the gap in understanding with customers. This further hampers the confidence of customers and they tend to withdraw from keeping any future associations.
From now on, take that ownership upon you first and resolve it internally later!
Flexibility
It is quite easy to leave a lasting impact on online customers by offering services that are flexible. For example – flexible shipping methods, flexible payment methods, flexibility on the shopping cart, flexibility in redeeming offers, etc.
Online services in the current scenario are mostly experimenting with innovative ideas to lure customers. This has somehow increased customer expectations and they believe that there is a way out to all of their demands. This may not be true for all online businesses to achieve. However, they must take the extra mile and try to achieve as much as possible to win over their customers.
Final say: Improve Customer Experience to Up-sell!
If you are planning to scale your ecommerce business, implement strategies to help you first measure and then improve the customer experience. Build onto experiences that are more intuitive, prompt, and relevant. Make efforts to understand the customer expectations well and then plan actions that meet these expectations. Experiment with the best-performing solutions that meet your objectives.
At CedCommerce, great customer experiences have turned into greater success stories. Some of our most preferred solutions on the customer experience journey are:
Need assistance over a best-fit for your eCommerce business?