Boost holiday sales with PWA: Attract mobile and web customers
Running short of time? Get PDF of the blog in your mail.

Play Now
With the holiday season approaching, businesses know that the planning and strategizing for an excellent season of holiday shopping has to start now. Much like last year, Covid-19 continues to change the way customers research and buy products. Here we aim to show you how you can boost holiday sales with PWA, a different approach for your online business.
Increasing holiday sales is the primary focus for most businesses which can be done by providing maximum benefits to customers and a hassle-free shopping experience. A lot of contemplation and a good strategy have to be put into place. Let's unfurl how that can be done with the help of Progressive Web Apps!
Also read- An introductory guide to Magento PWA Studio for eCommerce
How can you boost holiday sales with PWA through mobile and web commerce?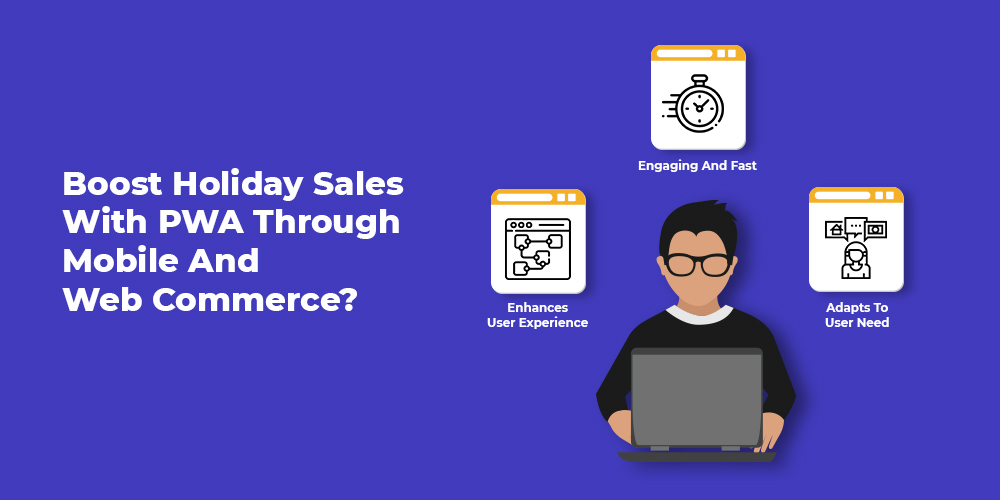 While the internet is flooded with recommendations to this query, we have a different approach. Invest in a PWA this holiday season to attract mobile and web customers that can help you boost your sales by enhancing customer experience.
Embrace the technological evolution and join the future of eCommerce with Magento PWA Studio.

With the pandemic and the focus shifting to work from home, businesses need to prioritize mobile and web commerce for the simple reason that most people are still working from home. Customers will be using their desktops/laptops as well as their mobile phones.
By using Progressive Web Apps, businesses can successfully tap both mobile and web customers. Most people have the misconception that PWAs focus solely on being mobile-friendly. While PWAs promote mCommerce by providing a mobile-friendly experience to the customers, it gives the same benefits for web users.
While many of you must be wondering about PWA for the web? Let me start with an example.
The most famous example would be that of Alibaba. Yes, Alibaba is also a desktop PWA which saw exceptional growth in desktop user interactions. For that matter, if you have used Pinterest or even Instagram from your laptop/desktop/browser, you have used a PWA.
Be it on a mobile device or through a browser, PWAs enhance user experience, personalizing it and adapting to user needs by being engaging and fast.
Progressive Web Apps allow merchants to provide their customers with a fast and engaging mobile experience via mobile phones and desktops. Let's see how you can increase sales with PWA for the  holiday season for both web and mobile commerce, but before that, a glance at what this holiday season will look like.
Holiday shopping in the post-pandemic world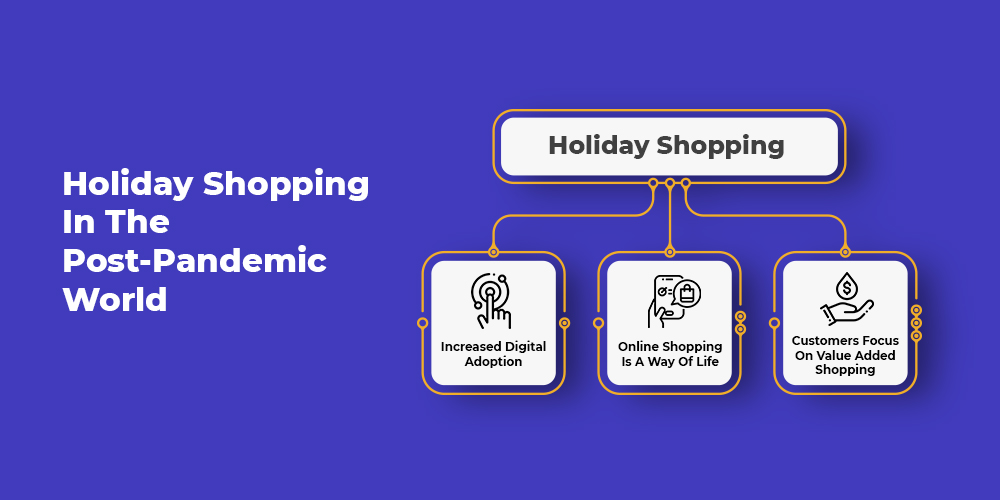 The pandemic has been ongoing for almost two years now, which has increased digital adoption twofold across many sectors. The pre-Covid era saw shops abuzz with customers and retail outlets filled with happy shoppers. While online shopping was gaining momentum for the holiday season pre-Covid, it has now become a way of life. The pandemic has forced us to adopt online shopping; previously, it was a choice.
Convert you website into a PWA. Get 20% OFF on our PWA solution today. Hurry up limited period offer
With almost every business going online, the shoppers have a wide variety to choose from. This is the reason brands are now focusing on providing a value-added shopping experience to their customers.
An article from GreenBook reports that this year's holiday shopping trends include customers shopping early and looking for value-driven brands. Businesses must understand that to retain and attract customers this holiday season; they have to provide something unique and reliable to their users.
Check out the Cenia Pro Theme for Magento 2 PWA, a complete solution for your eCommerce business.

Adopting a PWA for their business can provide reliability and a unique experience for their shoppers. This will help in re-engagement and attract customers who are looking for a value-driven, smooth shopping experience, a primary way of increasing sales with PWA.
What does PWA have to offer for retailers this holiday season to boost sales?
Retailers constantly think of ways to increase their reach. With digitalization and another year of the eCommerce-driven holiday season, they have to think of ways to keep up with the competition. Keeping this thought in mind, how can PWAs be of help?
Could you think of how we shop in present times? When shopping online, are we satisfied with a slow and glitchy app? No. It doesn't matter how good the products are; if the app doesn't work well, we would not want to purchase it, especially first-time shoppers.
Join the future of eCommerce with Magento PWA Studio. Watch the video to know more.
This proves that whether customers are shopping from desktops or mobile devices, a fast and engaging experience is the primary reason for returning customers, i.e. a good customer experience. 
Almost 75% of U.S. shoppers who plan to shop this season said they would shop online more than last year, which means it's crucial to stay in the competition to derive maximum sales. Increase sales with PWA by creating an engaging experience for your shoppers that would leave them wanting to return.
While we always associate PWAs with having native app-like features, they are much more than that. PWAs are for both mobile and desktop. Opting for a PWA this holiday season can help you attract customers from both the web and mobile by providing them with a good customer experience.
How can PWA help make your retail store more visible to customers this holiday season?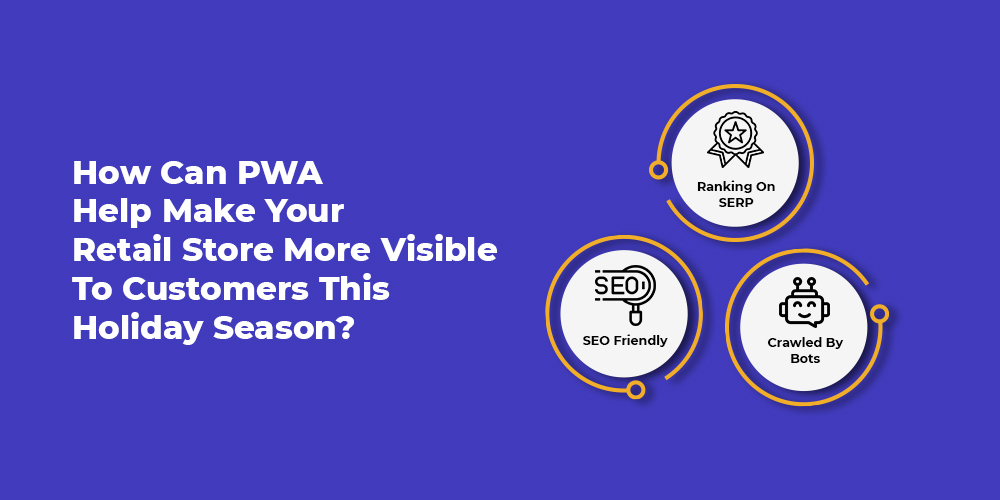 We use Google for nearly everything. Shopping is no exception. Especially during the holiday season, we look for various things, and Google is the best place to get suggestions from. But have we ever gone to the next page of the search result page? Rarely.
Check out the Cenia Demo Page here

This is how vital being visible to shoppers is. If you cannot rank on the first page of the search result, you are as good as invisible. So how can PWA help your brand's visibility this holiday season?
Google's algorithm changes from time to time, but a few parameters like popularity, accessibility, content, consistency, customer experience, and performance, to name a few, remain the same. Progressive Web Apps help your business to achieve these parameters by being fast, easy to access, and engaging. PWAs are scrawled by bots that can help your business with SEO.
In short, PWAs can help boost your online presence, thus helping to attract customers from both the web and mobile.
Also read- Why it is the best time to invest in Magento PWA theme?

How is Magento 2 PWA reviving eCommerce for mobile audience?
So why will shoppers want to use a PWA this holiday season?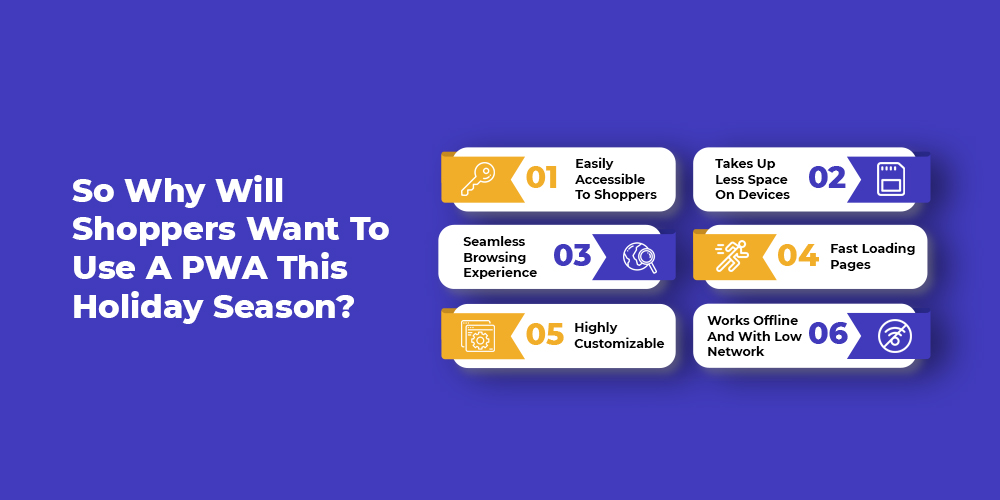 Let's suppose you are an occasional online shopper, attracted by an offer or a discount. Simply installing a PWA by clicking on a link from your mobile device or desktop is more beneficial for you than downloading an app.
Another factor is space on our devices. PWAs take up a fraction of the space than a regular app would.
PWAs offer a seamless browsing experience, and fast-loading pages can help shoppers save time and facilitate a better shopping experience, enhancing customer experience. Speed is crucial, be it for purchase or load times.
Avail the Cenia Pro theme Guide here

PWAs are highly customizable and attractive products, and banner sliders can attract customers or showcase holiday shopping discounts.
PWAs are a boon for busy shoppers too. Customers can view products offline and add them to the cart to the bill later. PWAs can be accessed anywhere in any network condition.
Concluding thoughts
Increase sales with PWA this holiday season. They are highly customizable and have great features that can help you tap both mobile and web customers. PWAs cater to both desktop and mobile customers, all the more reason to give them a try.
While a good plan needs to be put into action for attracting customers, the easiest way to do so is by providing them with value for what they shop for. And PWAs can help you do just that by enhancing customer experience.
Check out Magento 2 PWA Studio Cenia Theme on GitHub
After reading this, I hope you can understand how PWAs can attract customers for mobile and web this holiday season. If you still have queries regarding PWAs or want to know more about how you can increase sales with PWA, contact us. Being Adobe Bronze Solution Partners, we provide robust PWA solutions to clients that cater to their all-around business development needs, and we would be happy to guide you too.